Stopped by Menotti after our dinner at
Zambuca
for desserts as the 50% discount on all desserts after 10pm offer was still valid. Ordered the Musa, Soffiato and Diplomatica to share.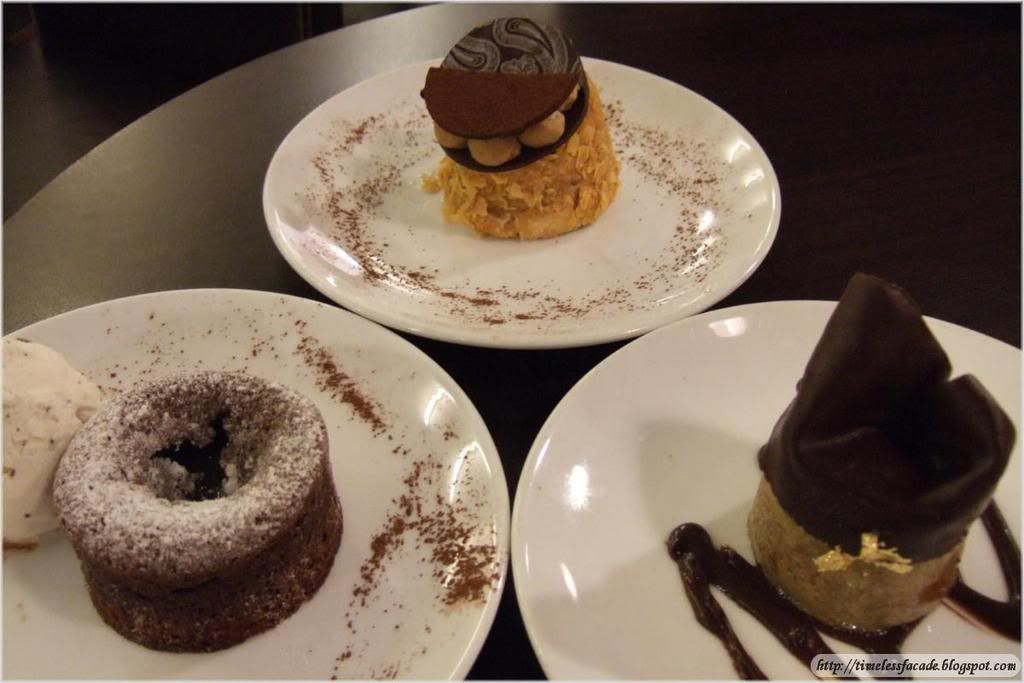 Musa
(Bottom right of picture) – Pancake wrapped chocolate cream with banana flambé
Rating:
6/10
I found the Musa's pancake a little too chewy and tough. The chocolate was a little bitter, which was nice. However, I couldn't detect any taste of banana. A nice dessert, but not nice enough to warrant high marks.
Soffiato
(Bottom left of picture) – Warm dark chocolate cake with chocolate chip ice cream.
Rating:
6.5/10
I like this dessert best as it has nice sweet chocolate embedded within a chocolate cake with a scoop of ice cream. However I do have some grouses. Firstly, the embedded chocolate was supposed to be liquid and ooze out when I cut into the cake. Instead it looked pretty solidified. Secondly, the cake wasn't warm at all. Talk about misrepresentation. I digress a little. The Soffiato tastes and looks exactly like the Chocolate Soufflé. I'm guessing that they are the same, just termed differently in different languages. Someone please correct me if I am wrong. Thanks!
Diplomatica
(Top of picture) – Puff pastry and sponge cake layered with hazelnut custard and chocolate
Rating:
5/10
Honestly, I feel that the Diplomatica is just plain gross. It tastes familiarly like Bonjela, the clear gel that is sold in pharmacies and used to treat mouth ulcers. If you like that taste, then by all means try it.
$10.45 for the 3 desserts is a steal, which will serve to motivate me to come back again and again for their after 10 special. They need to buck up ALOT on their service though. Though not unfriendly, the waiters need to learn a little on being pro active and attentive, especially with the 10% service charge being levied.