Chummeez was where I had my first date with my gf, so naturally it brings back good memories whenever we dine there. To mark a special occasion, we decided to return to Chummeez for dinner last night, bringing the totally number of visits in the past 6 months to 3 times. A pretty respectable number especially since we are always trying new places and even excellent food outlets don't get revisited until very much later.
When we got there at about 1845hrs, the place was practically deserted. (Groups of people did start streaming in at about 1930hrs. I counted 7-8 groups) We had half a Peking Duck, Tofu with Roast Pork and Prawns with Broccoli in XO sauce.
Fresh with the exquisite taste of
Min Jiang at One North's
Peking Duck, this Peking Duck seemed lacklustre in comparison. The egg crepes tasted a little to floury for my liking and the skin had quite a bit of fats beneath. I had requested the remaining duck be carved up and served as it is. This proved to be an ok choice as the duck was reasonably good.
The Tofu with Roasted Meat was disappointing. The gravy was bland and so was the tofu. The only redemption was the roasted meat, which was lean, albeit a little bland as well. They probably forgot about the salt.
I honestly have no idea what in the world is XO sauce. I probably have tried it, but I just can't remember how it looks or tastes like. So it was with some uncertainty that I tried the Prawns with Broccoli in XO sauce. I liked it. The Broccoli was crunchy and had a slight butter taste whereas the prawns were huge and crunchy. The XO sauce seemed like a mess of chilli seeds which wasn't very spicy at all.
Overall the bill came up to about $61 for 2 pax. A little bit on the high side, but a pretty filling meal nevertheless. Food quality is probably a little above average only and service is pretty average. Being relatively uncrowded, I find it a better alternative to the expensive and crowded Lao Beijing and House of Hunan located just nearby.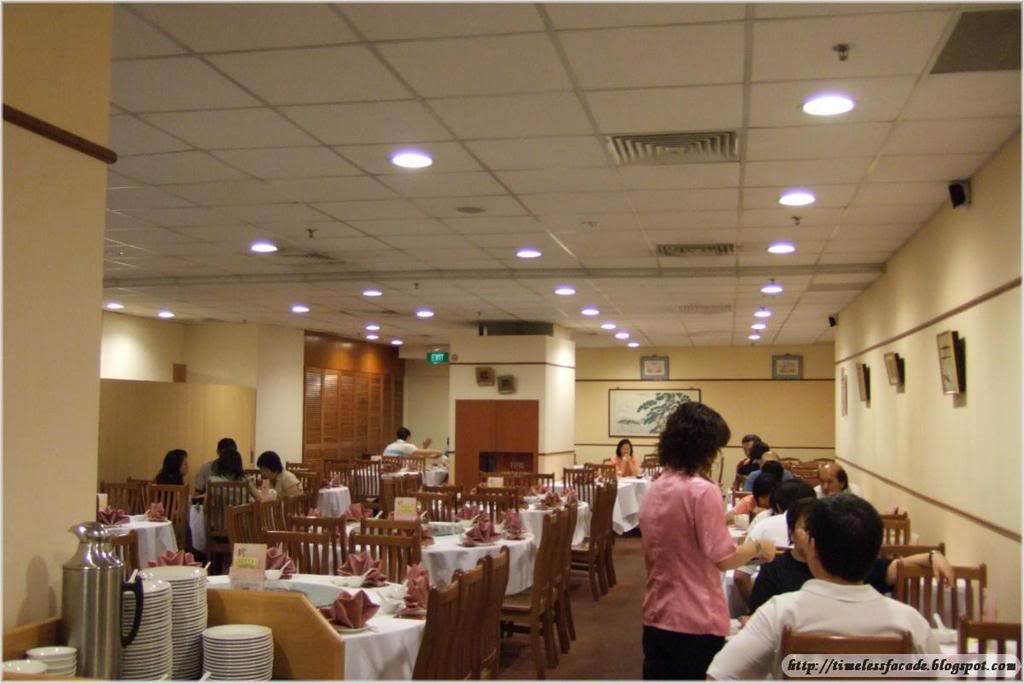 The interior



The menu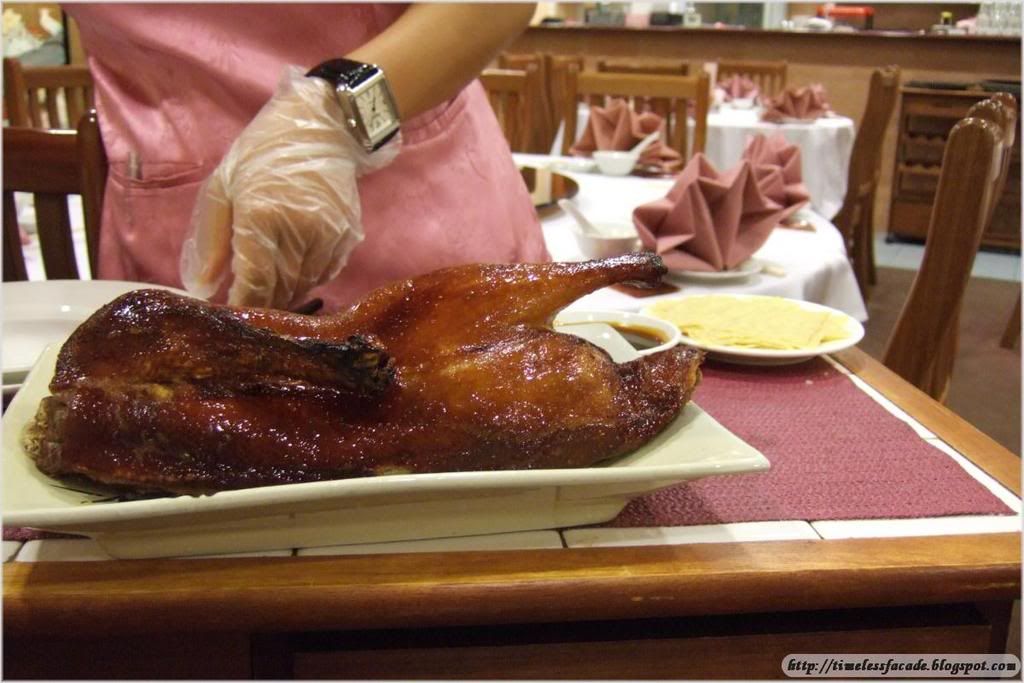 Half a Peking Duck



Peking Duck skin in Egg Crepes



The carved up Peling Duck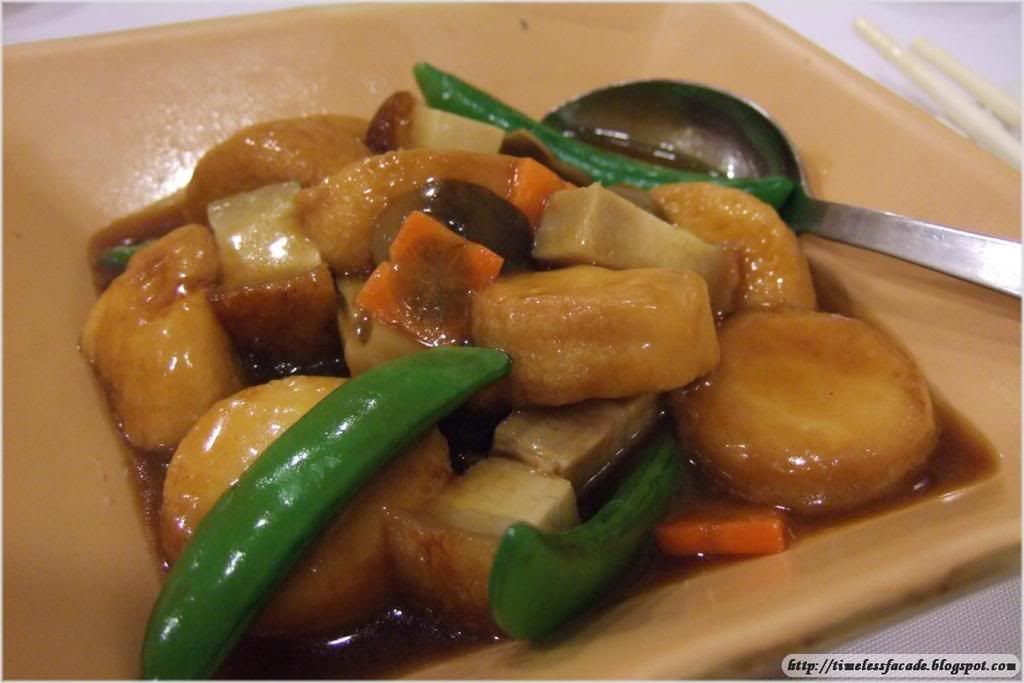 Tofu with Roasted Meat



Prawns with Broccoli in XO Sauce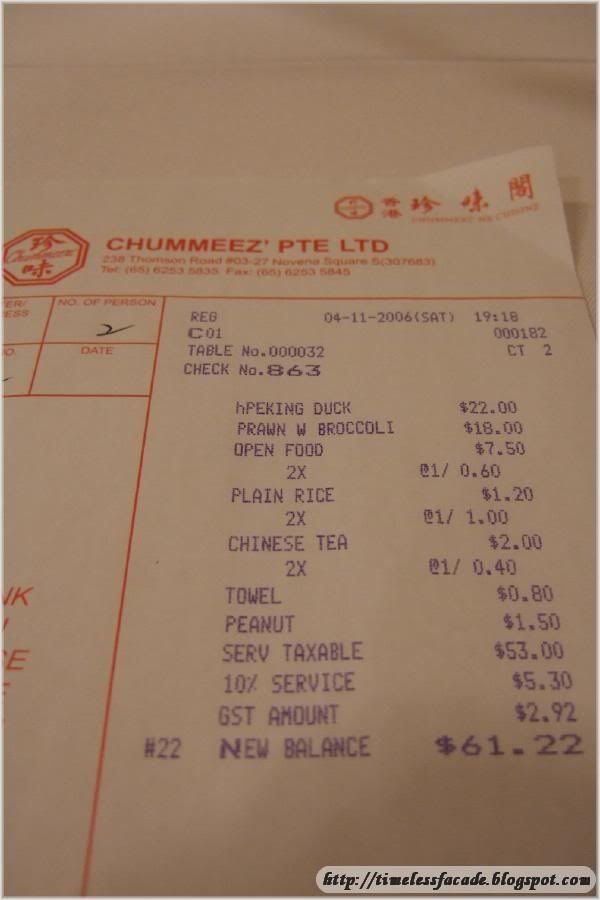 The bill
Final Verdict:
Ambience:6.5/10
Service:6.5/10
Food:6.5/10
Value for money:6.5/10
Overall:6.5/10
Address: #03-27 Novena Square.