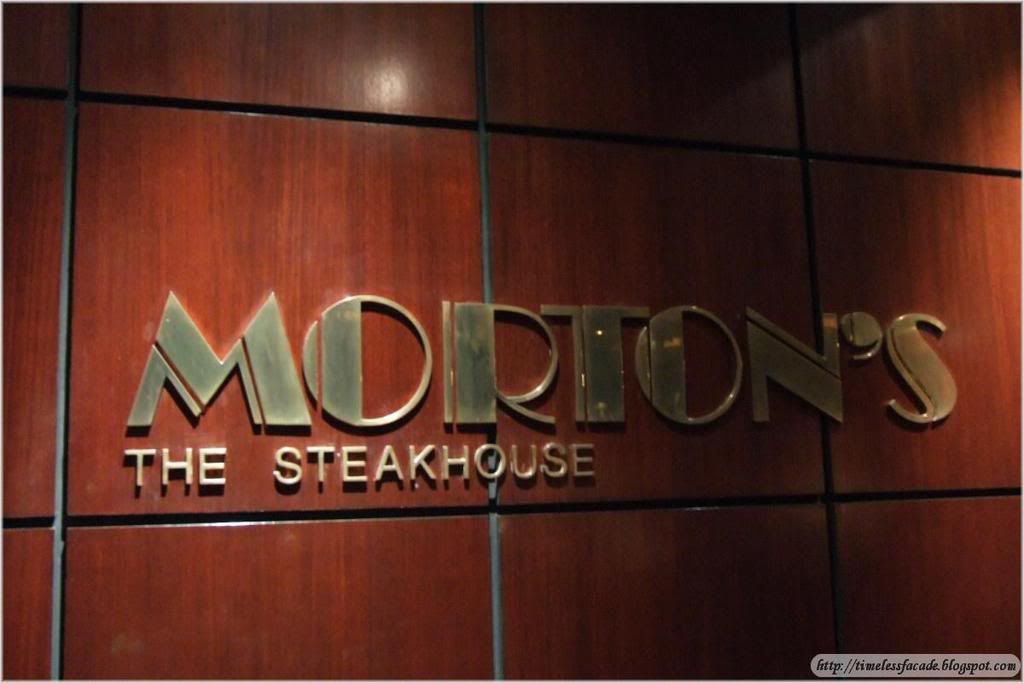 Had an impromptu dinner last night with a few of my makan khakis at Morton's Steakhouse. The choice was initially IL-Lido, but they didn't have tables until 9pm so we settled for Mortons. (Actually Mortons didn't have a table till 9 as well, but it was in town, so that made it easier for everyone)We were punctual for our reservation and was promptly shown to our table. Even at 9pm, the place was still packed to the brim and rather noisy due to the incessant chatter from the customers. Ironically, the noise made the entire atmosphere pretty exciting and relaxing at the same time. Conversation wasn't difficult as the decibel level was within a reasonable range. That being our first visit to Mortons, we were given a thorough introduction to the variety of mains, sides and desserts as well as the cuts of meat available by a very friendly waitress who tended to us that evening. After some recommendations, we ordered the Double Cut Fillet Mignon, Porterhouse Steak, sides of Hashbrown Potato, Sautéed Wild Mushrooms, Steamed Fresh Broccoli, with the Morton's Famous Hot Chocolate Cake and the Upside Down Apple Pie as desserts.
Breads are always a bad way to start off your meals as they fill you up really fast, but I couldn't help stuffing myself with the complementary Onion Bread that was served. Served with smooth butter, it was really quite good. However, we ate it after it had turned cold as we were busy taking photos, so my guess would be that it would taste much better if it had been taken fresh from the oven.
The star of the mains was undoubtedly the Double Cut Fillet Mignon. Perfectly done medium rare and emanating unadulterated sweetness with every bite, chewing on it was sheer ecstasy. The outside of the steak was slightly charred, giving it a nice and subtle grilled taste. Everyone liked it, no questions about it. It was a little small though. We estimated it to be about 16-18 oz only. By the way, just for general information, the fillet mignon is one of the best cuts, if not THE best cut and its also the leanest.
The Porterhouse was one side Rib Eye and the other Fillet Mignon. I had some grouses with this one. The steak was a little underdone. Medium rare turned out almost rare, which was a little too much for me to bear as there was this metallic taste. The Fillet Mignon side of the steak was also a little underdone, but tasted really good, as with the Double Cut Fillet Mignon that we had ordered. This Porterhouse was a giant, weighing in at 24 oz. (There's the double Porterhouse as well, at 48 oz)Nice big steak. Pity about the cooking though.
The sides were a gargantuan affair. Each side was simply huge. I mean they are supposed to be sides, yet they look like mains! Nevertheless, we polished every bit of them. The Hashbrown Potato tasted and looked just like Rossi which is(was) sold at Marche. I had expected it to look like those hashbrowns in MacDonalds, so surprise surprise. Top the hashbrown with sour cream and freshly grilled bacon bits and you are ready to go. A little charred and crispy on the inside, soft on the inside. The Steamed Broccoli looked nothing out of the ordinary, yet it was nicely steamed with a tinge of buttery slickness. The Sautéed Wild Mushrooms were pan fried I believe and was quite tasty. However, I did find it a little too soft for my liking.
What's a meal without desserts? The desserts didn't disappoint one bit. The Upside Down Apple Pie was made from top grade apples and tasted a little sourish. Complementing and balancing the sourish taste was a scoop of smooth homemade ice cream.(Vanilla I presume)
Morton's signature Hot Chocolate Cake was simply my favourite. Hot Godiva chocolate encapsulated within layers of soft and dense sponge cake with a slightly hardened exterior. Slicing the cake allows the hot and thick chocolate to slowly ooze out. Extremely sweet and sinful. No wonder many ladies are said to have taken a liking to it.
All in all, an extremely hearty meal. Good food and good companionship - one of the simple pleasures of life. Grand total was about $315 for 3 pax. Definitely expensive, but well worth the money paid. Service was excellent with our waitress being friendly and chatty. Ambience wise, it isn't really a romantic restaurant, but it does have private rooms which look nice and exclusive. I highly recommend checking this place out. On a side note, Oriental Hotel has a very pretty interior. Seeing is believing :)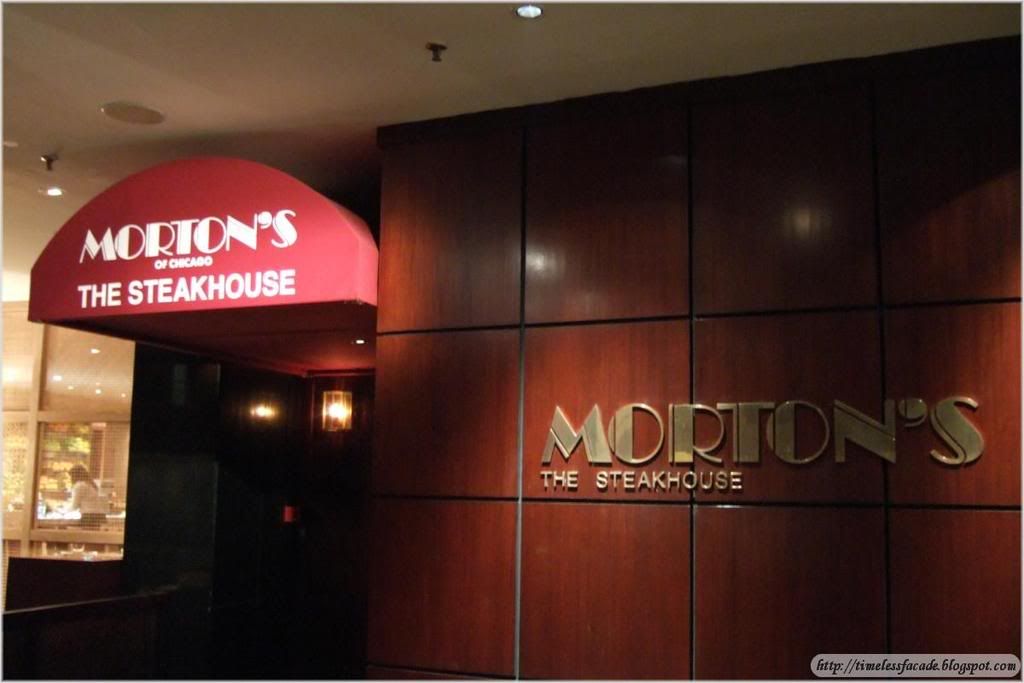 The facade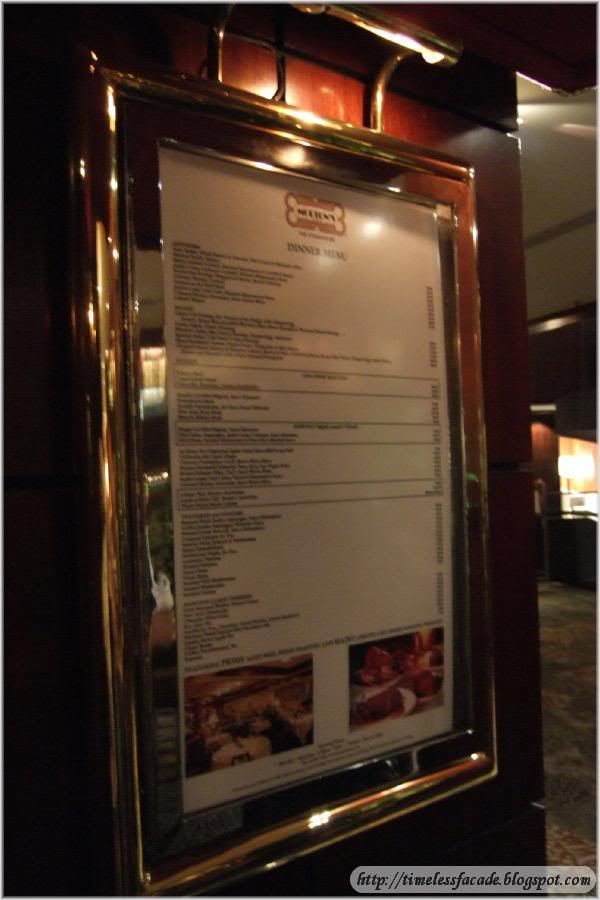 Menu at the entrance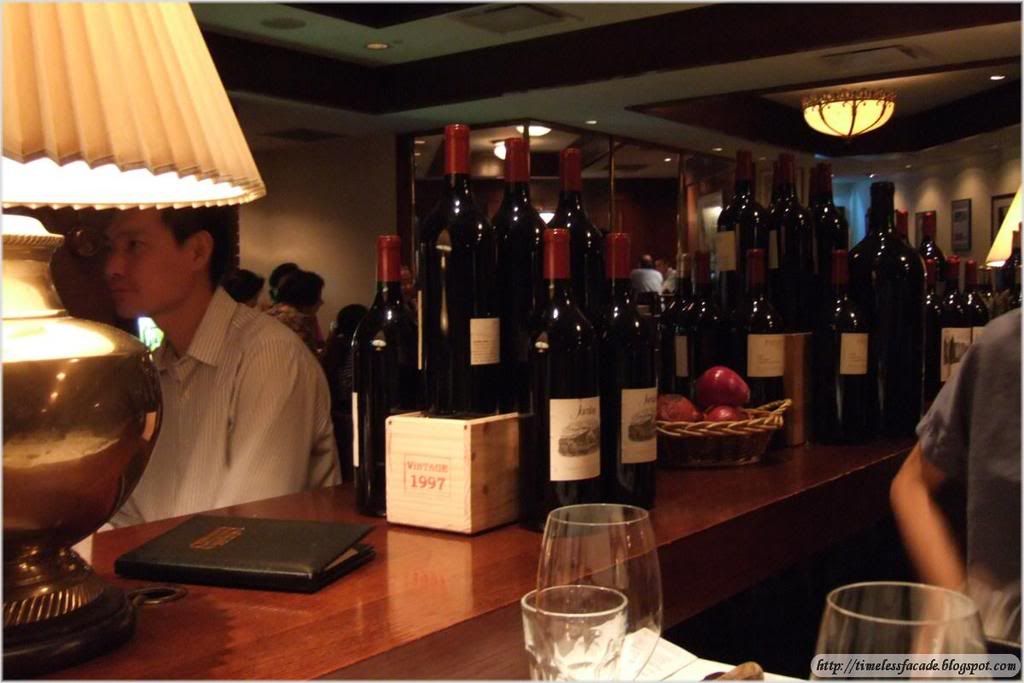 Interior part 1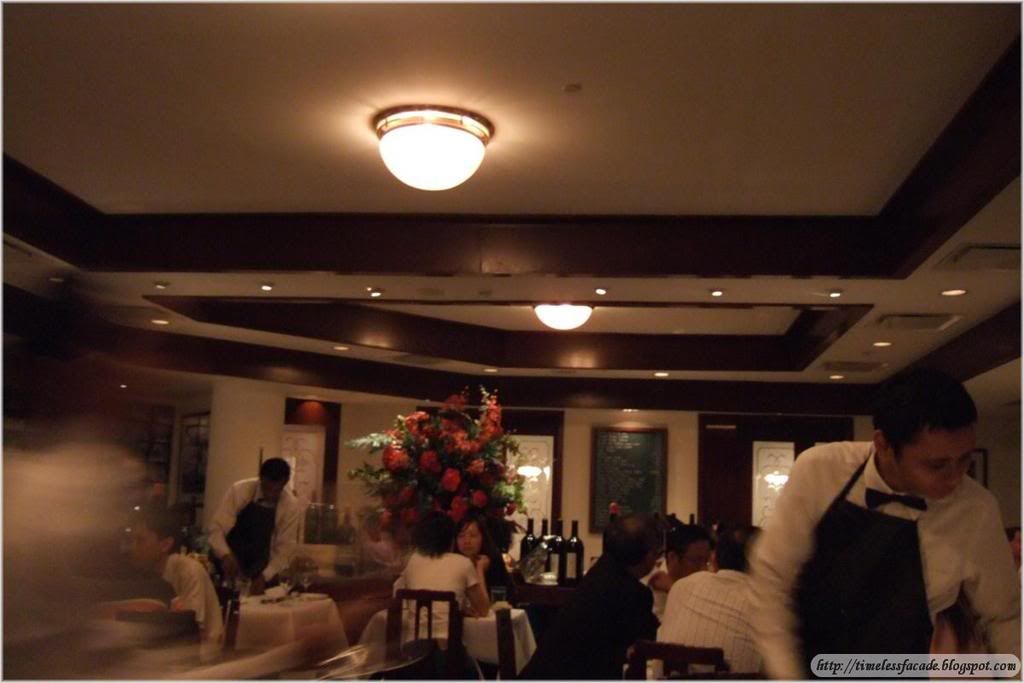 Interior part 2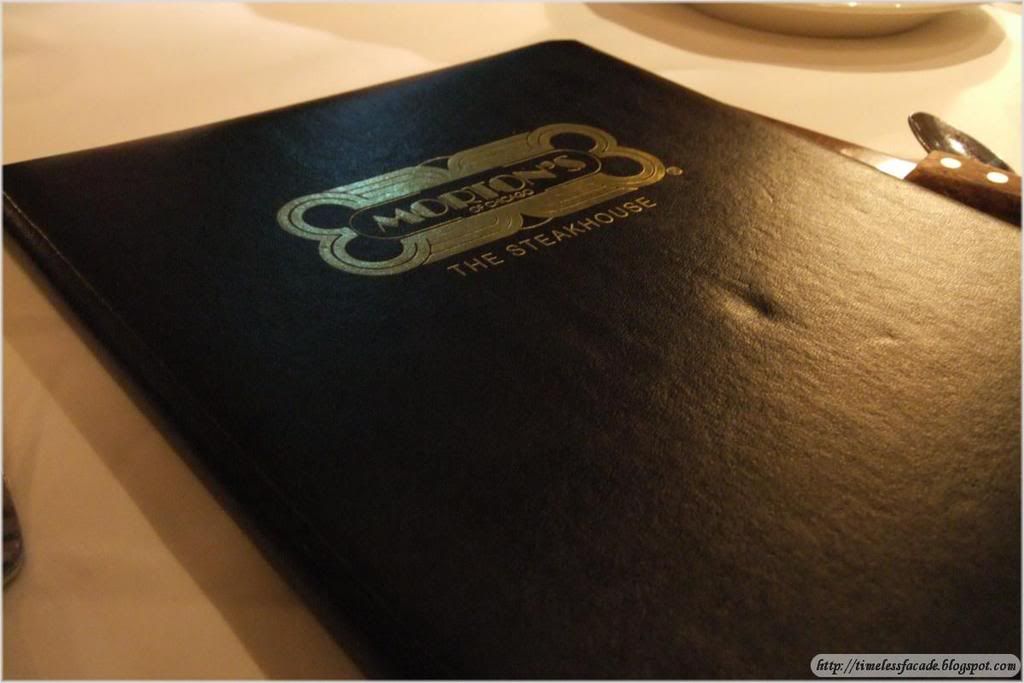 Drinks menu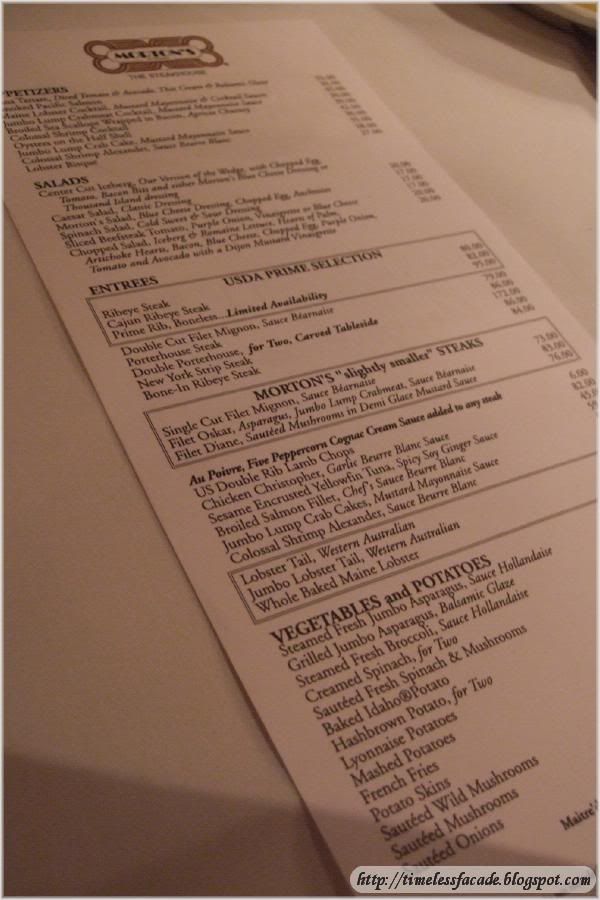 Food menu




Our friendly waitress explaining the menu to us




The different cuts of meat available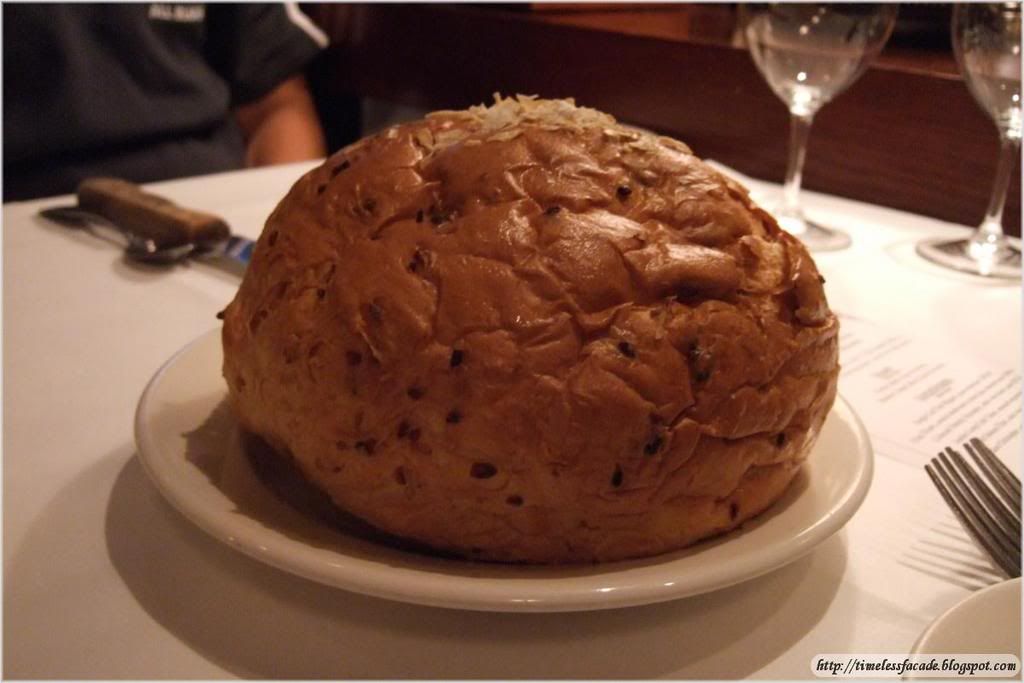 The humongous Onion Loaf




Drink of the day - Sparkling water!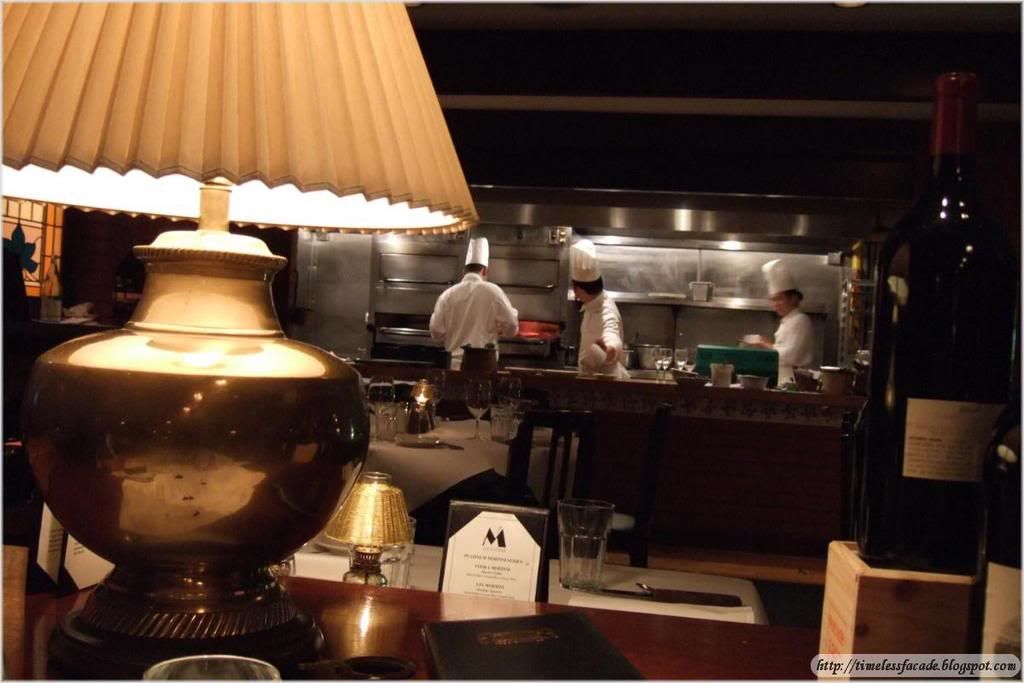 View of the kitchen




One of the chefs with the meat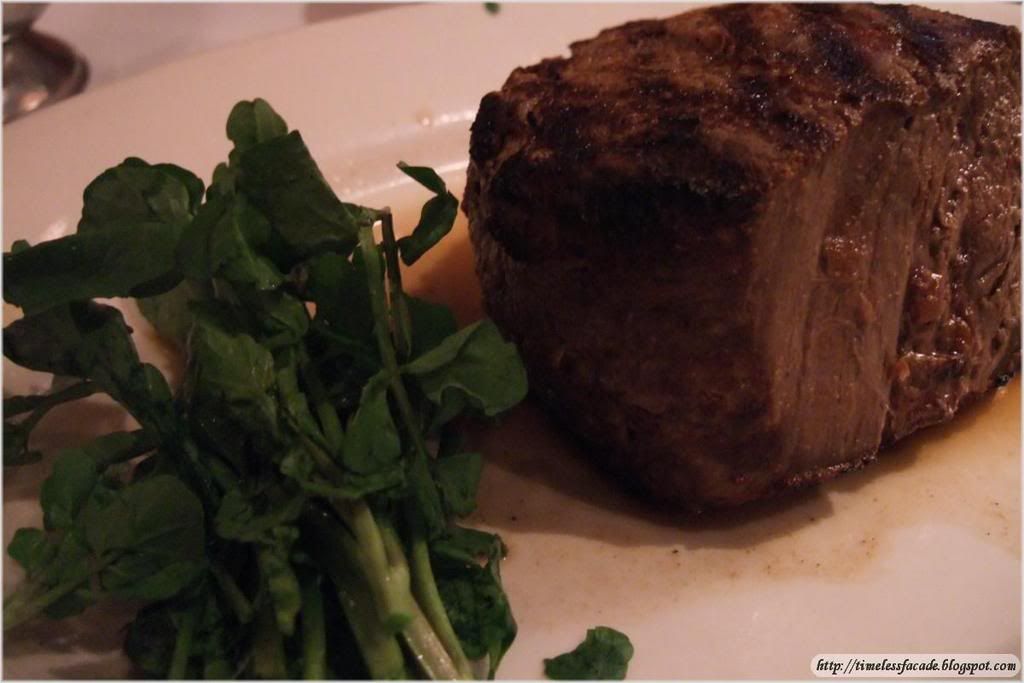 The excellent Fillet Mignon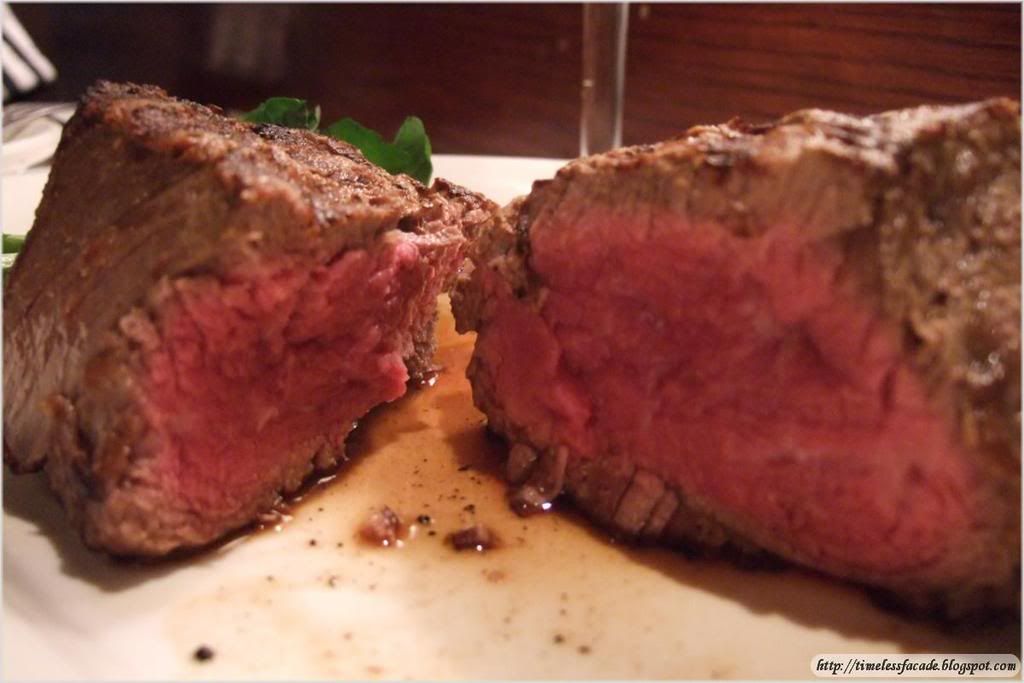 Cross section of the Fillet Mignon




The Fillet Mignon again!




The 24 oz Porterhouse Steak!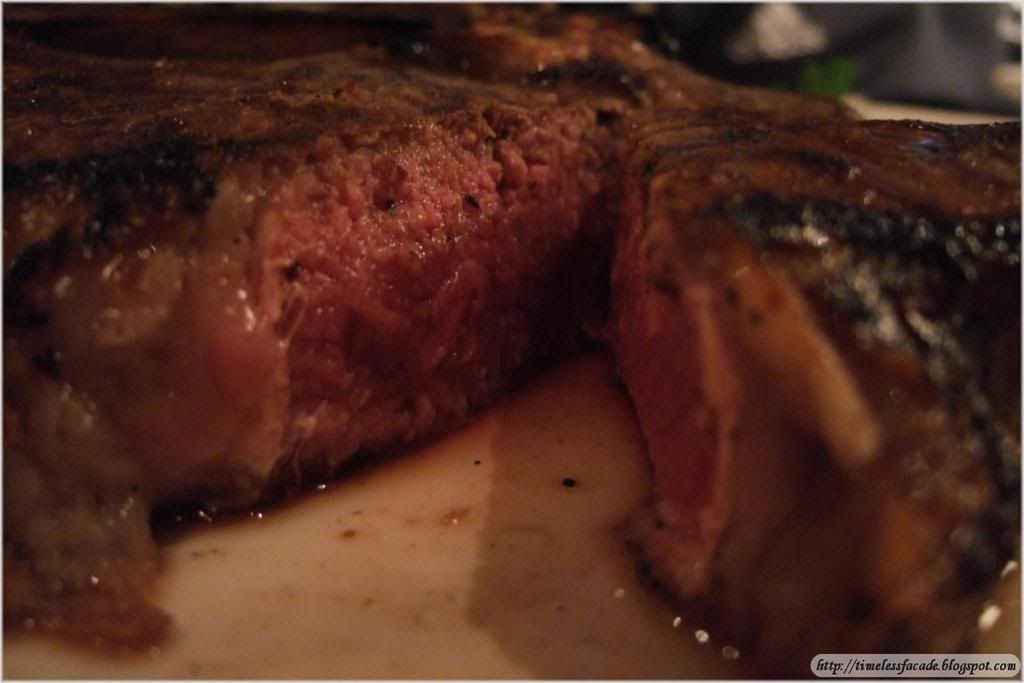 The Porterhouse dissected!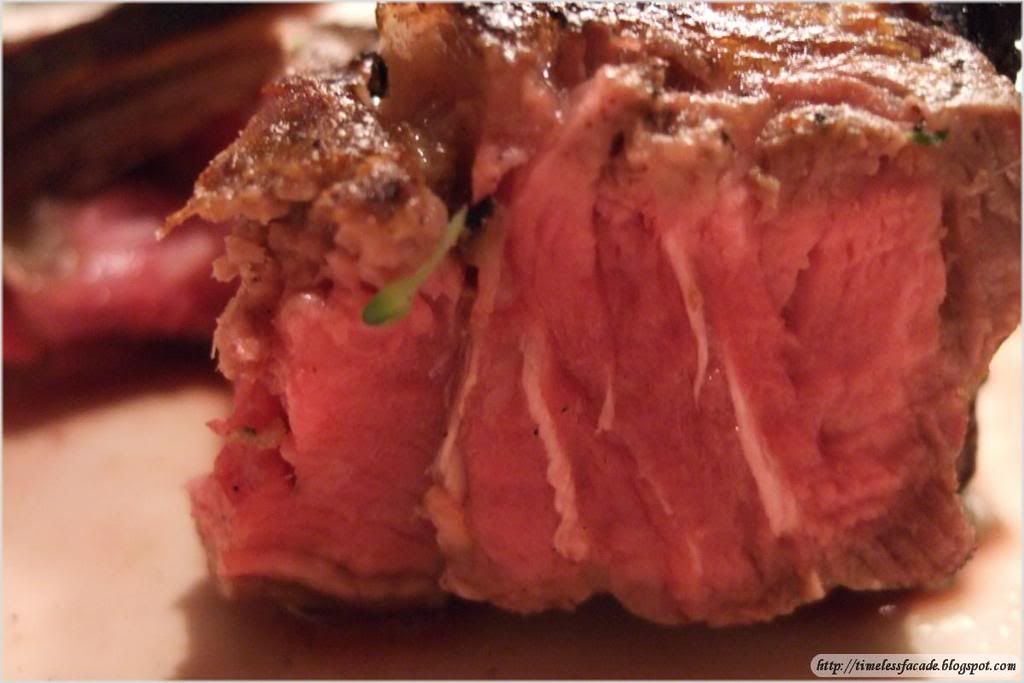 Notice how rare the Rib Eye side of the Porterhouse is?




Hashbrown Potato




Steamed fresh Broccoli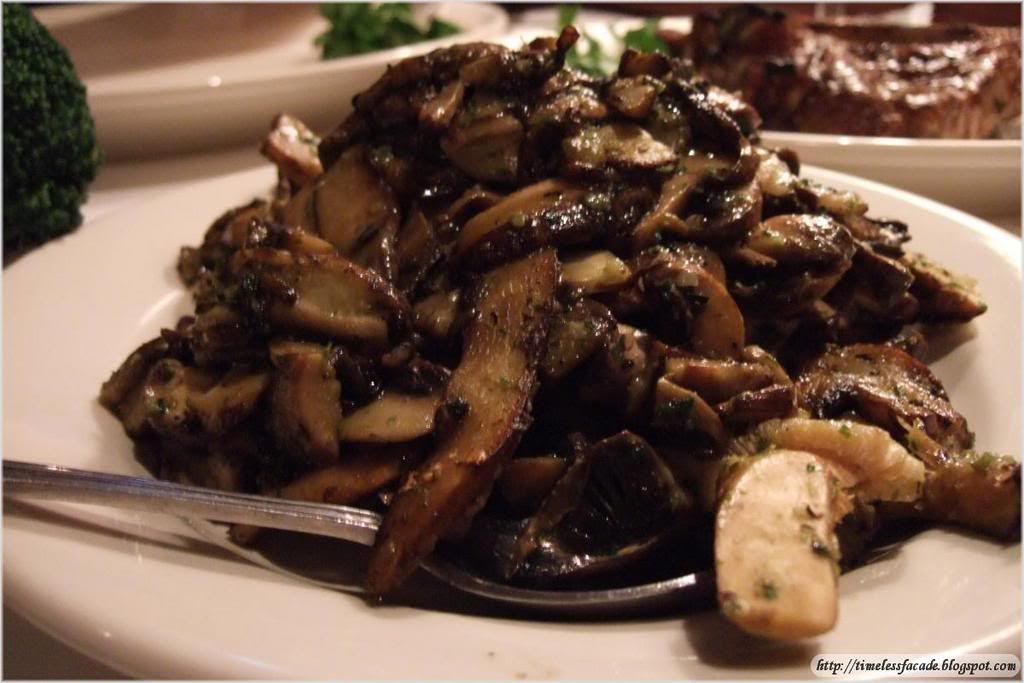 Sautéed Wild Mushrooms




Morton's famous Hot Chocolate Cake




Slow oozing chocolate part 1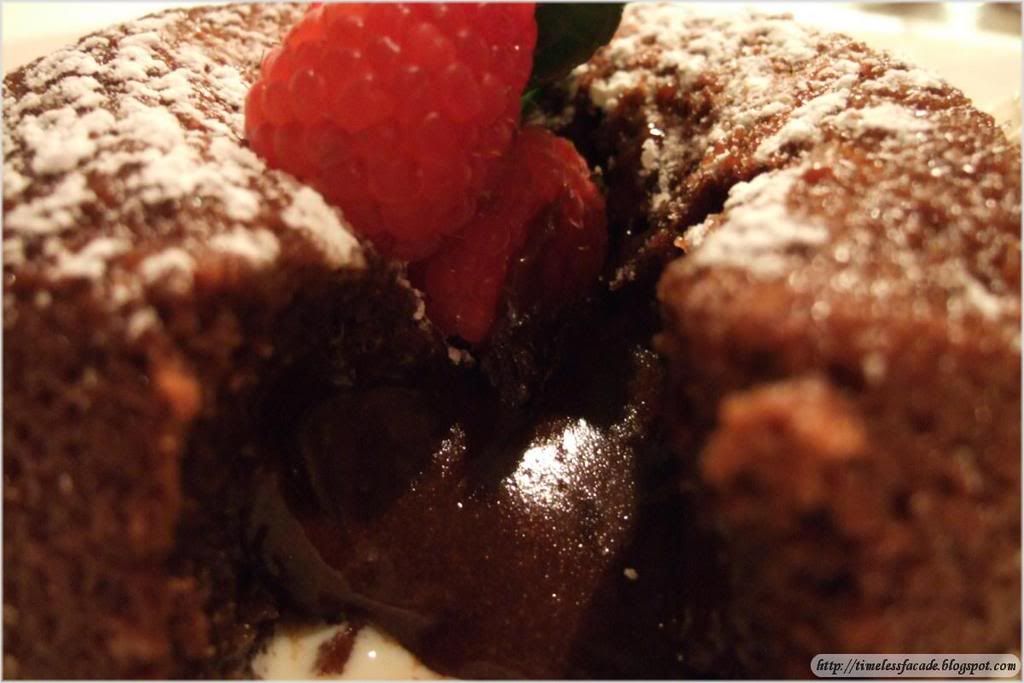 Slow oozing chocolate part 2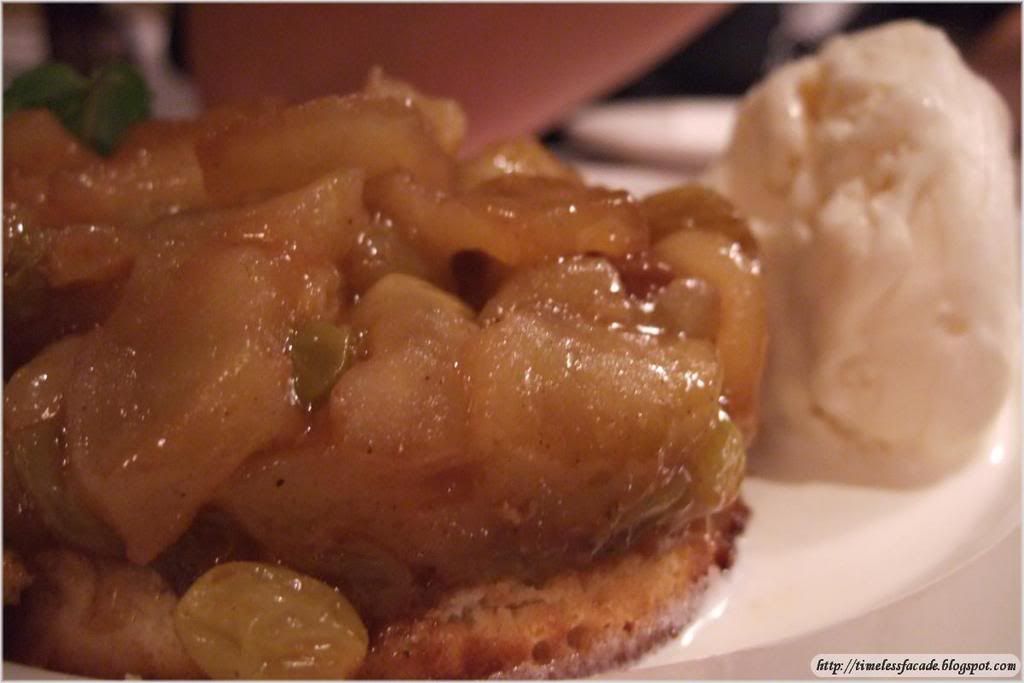 Upside Down Apple Pie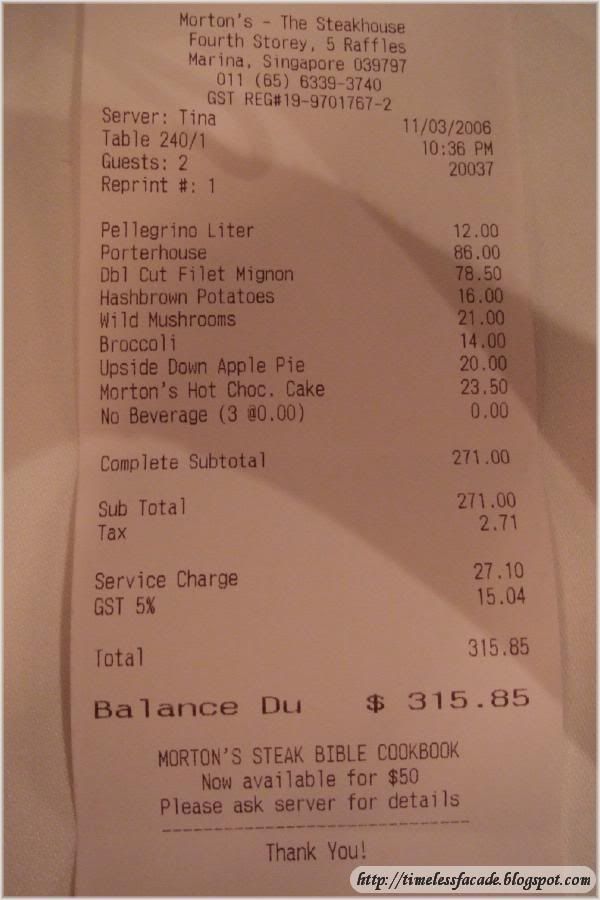 The bill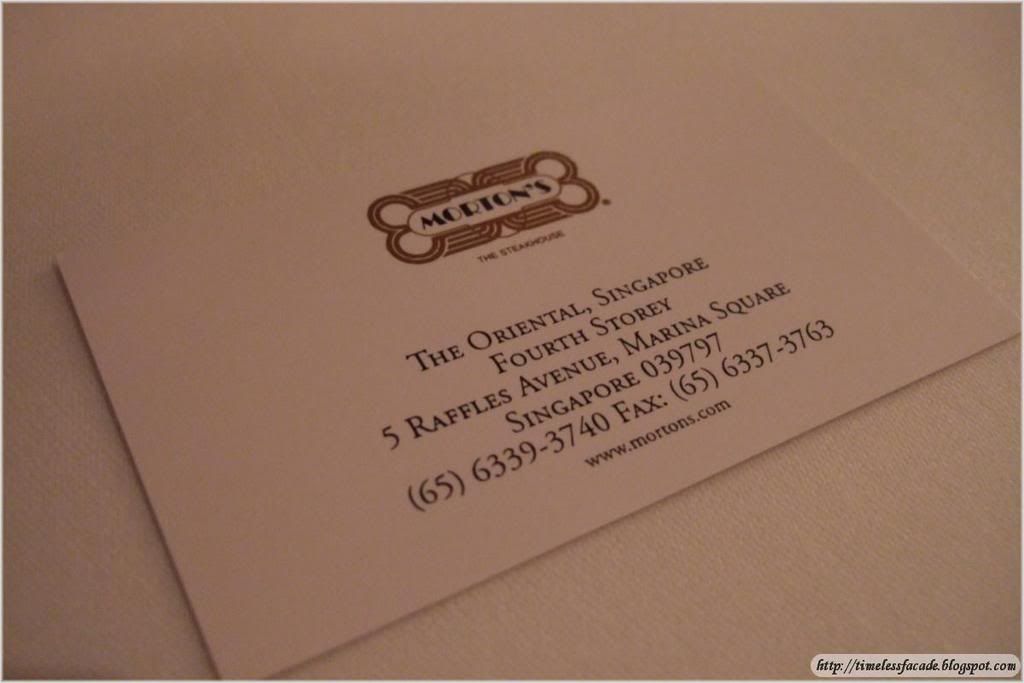 The calling card
Final Verdict:
Ambience:7/10
Service:8.5/10
Food:8/10 (8.5/10 for the Fillet Mignon and Chocolate Cake)
Value for money:6.5/10
Overall:7.5/10
Address: Oriental Hotel 4th Floor. Reservations highly recommended especially on weekends.