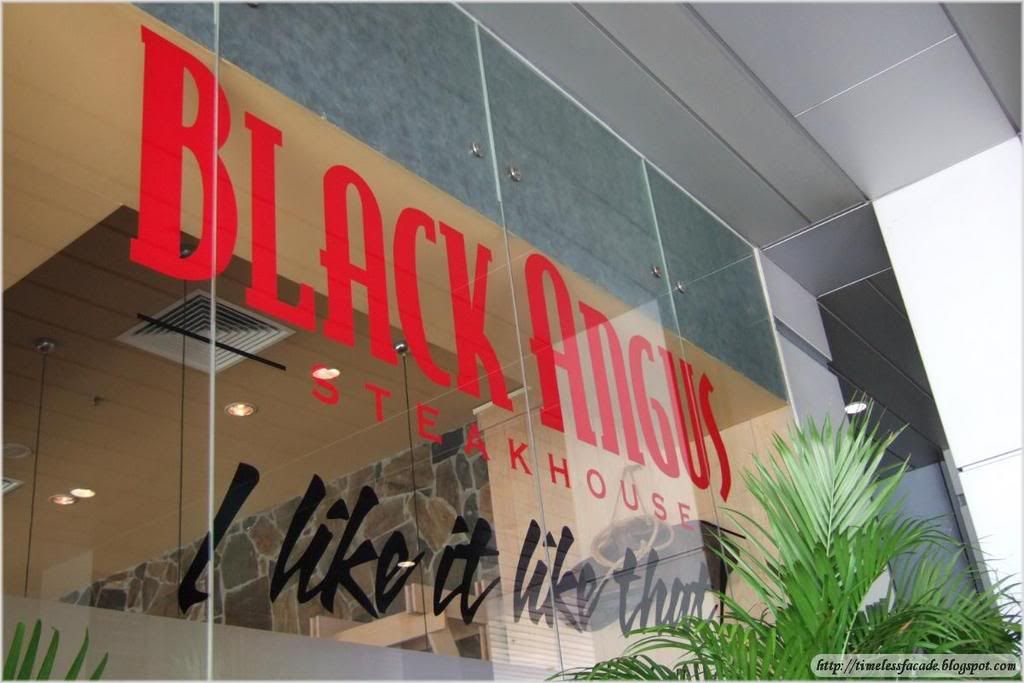 Fridays are a good day for leisurely lunches as it marks the end of the week and heralds in the weekend. A leisurely and delectable lunch with the day's papers in hand. Ahh, the simple pleasures of life. To compensate for the breakfast that I didn't have (I woke up late), I decided on a solitary journey to savour some good food. The options were pretty limited actually – St Julien at the Boathouse, Pierside Kitchen and Bar at One Fullerton and Black Angus at One Fullerton as well (All of them were within a 10 min leisurely walk from my office). After much thought, I settled on Black Angus. (Actually I was just being a cheapskate. Black Angus offered the cheapest set lunch, so it was pretty much a no brainer.) On a side note, this is not my first visit to Black Angus, having been here countless times, but this is my first review of it, so do forgive me if I take certain things for granted.
Black Angus has a very nice décor, which shines through especially in the night. Soft lighting coupled with semi private circular seats makes for a romantic night out. Wait stuff are polite and speak in unhurried tones, although they could do with more wait staff during the peak periods as they seemed rather short handed. I had the set lunch with the Prime Rib as my main, Chocolate Cake as my dessert, Caesar Salad, Steak Soup, Coke and Coffee.
The Steak Soup was pretty tasty without being too heavy on the flavours. Servings of carrots and barley balanced out the chunks of steak in the soup. Little wonder it comes highly recommended. The Caesar Salad didn't really look appetizing, but I liked it because it was homogeneously tossed in Mayonnaise and shredded cheese. What cheese, I couldn't tell.
I had my 5oz prime rib medium rare and it was literally medium rare. The centre was reddish whilst the sides were well done. I couldn't fault the meat though as it was succulent and sweet in the middle portion. Only grouse was that it was a little tough and dry at the edges. The Broccoli that came with it was steamed with butter, which gave it a nice buttery taste. However, it was not homogeneous and some parts had the buttery taste while others didn't. The Broccoli also didn't seem too cooked as I could still detect the strong raw after taste. The fries were pretty decent. Fresh and a little crispy.
The Chocolate Cake was a let down. Although it was nicely chilled, I found it a little too dry. The layer of chocolate was thin and uninspiring. Very edible, but definitely not on my to order list. The meal ended with a nice big cup of English Tea.
The lunch cost me $25.50 after tax, which I feel is very reasonable given the quantity and quality of food. Do note that they do not offer set lunches on weekends and there are no set menus available for dinner, so be prepared to fork out a lot more. (Probably about $50-$60/pax) For those who have a constant craving for steak but can't afford or are unwilling to go to
Morton's
, this is the place to go to get your fix.


The Signage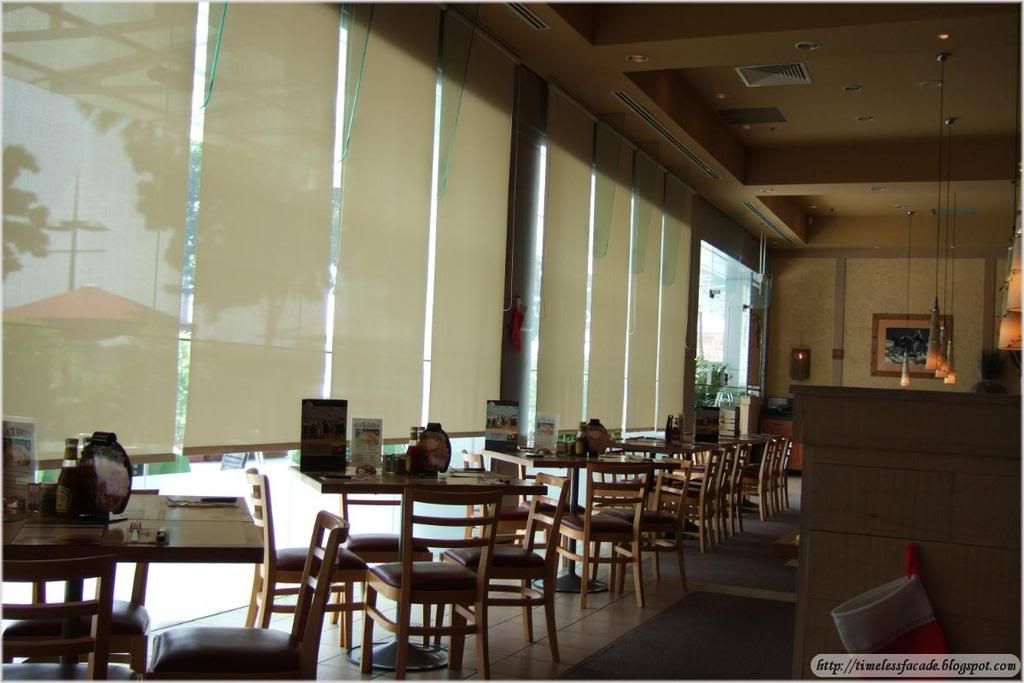 The interior



Set Lunch Menu



Steak Soup



Caesar Salad



The 5 oz Prime Rib



Is it just me or does the meat look rare?



The forgettable Chocolate Cake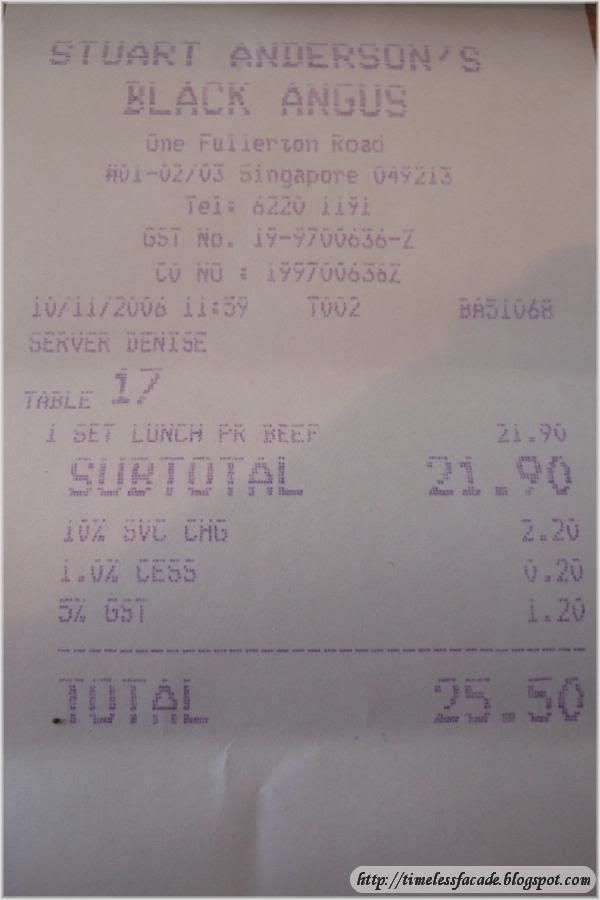 The bill
Final Verdict:
Ambience:7.5/10
Service:7.5/10
Food:7.5/10
Value for money:7.5/10 (Only applicable for the Set Lunch)
Overall:7.5/10
Address: One Fullerton.
Contact: 62201191