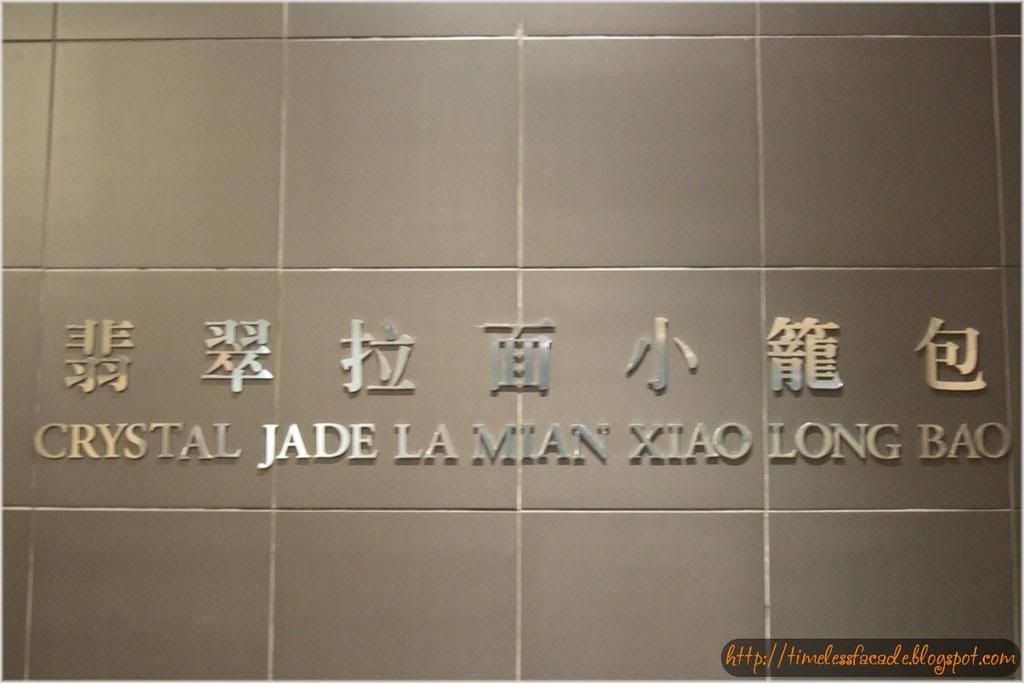 I'm sure everyone is familiar with the name Crystal Jade. Their restaurants just seem to be everywhere, albeit with a different permutation of the name. The one my gf and I went to on a sleepy Thursday afternoon was Crystal Jade La Mian Xiao Long Bao at Ngee Ann City. We ordered the
Sauteed Egg with Fish Meat
, the recommended
Fried Rice with Shrimp, Chicken & Ham
,
Xiao Long Bao on a Hot Plate
and a
Souffle Egg White Ball
for dessert.
The
Sauteed Egg with Fish Meat
was very bland. I couldn't taste any thing in it except for the egg white. It wasn't salty neither was it sweet. A could have been good dish let down by poor execution. The version by
Prima
is way better. In fact, its just about the best I've eaten so far.
The recommended
Fried Rice with Shrimp, Chicken & Ham
was at best slightly above average. The rice was thoroughly fried, as evident by the homogeneity of colours, but it lacked the "Wok Hei" taste which is the mark of good fried rice. The fragrance was also lacking, so all in all a very average eat.
Crystal Jade is well known for its
Xiao Long Bao
but the
Xiao Long Bao on a Hot Plate
was far from its usual standards. Granted, the skin was thin and juices were aplenty, but I found the skin a little too dry and hard from being left in the hot plate. However I must give them credit for the thin layer of egg which served as a base on which the
Xiao Long Baos
sit upon to minimize the drying of the skin due to the heat emanating from the hot plate. Innovative way, but a pity it didn't work out too well.
The dessert of
Souffle Egg White Ball
was reminiscent of the one I had at
Cheng Li Yuan
, just that it had bananas to go along with the red bean filling. A nice extra if you ask me, but the pastry itself didn't really match up. I found it a little too soggy and not as fluffy. Also, I realised that most of the sweetness came from the mounds of icing sugar sprinkled atop each pastry and not from the red bean filling itself, which really isn't what I'm looking for. Still a good dessert nevertheless.
A late lunch for 2 cost about $36. Not too expensive, but service was haughty and unprofessional. My table was already so small and full and yet they kept trying to squeeze everything in. That irked me quite a bit. Food was slightly above average, but for that price, I feel a little short changed.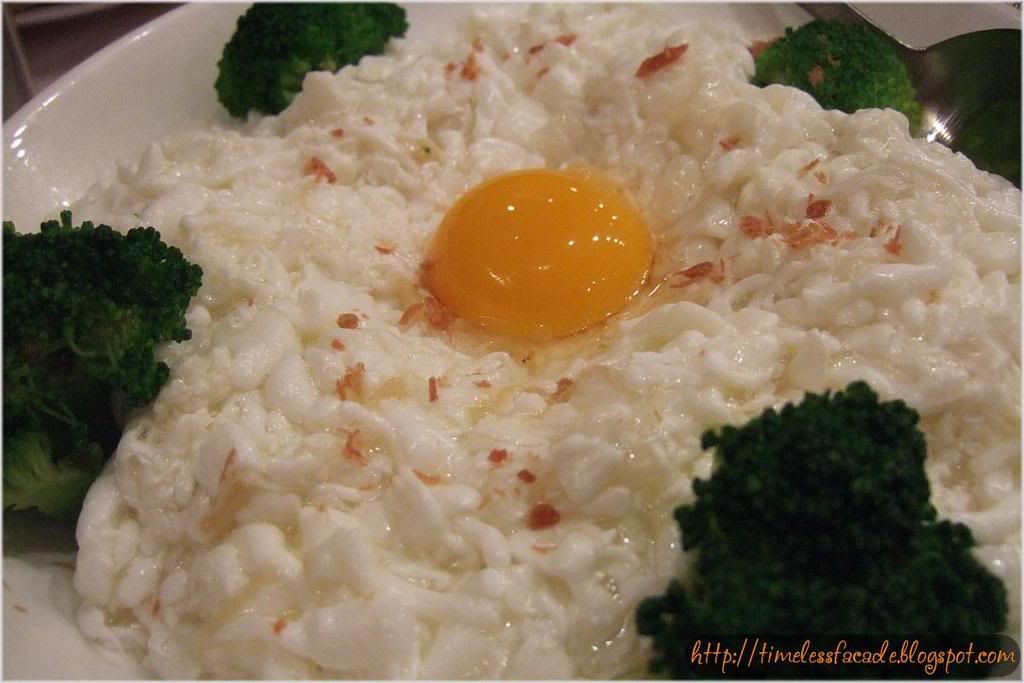 Sauteed Egg with Fish Meat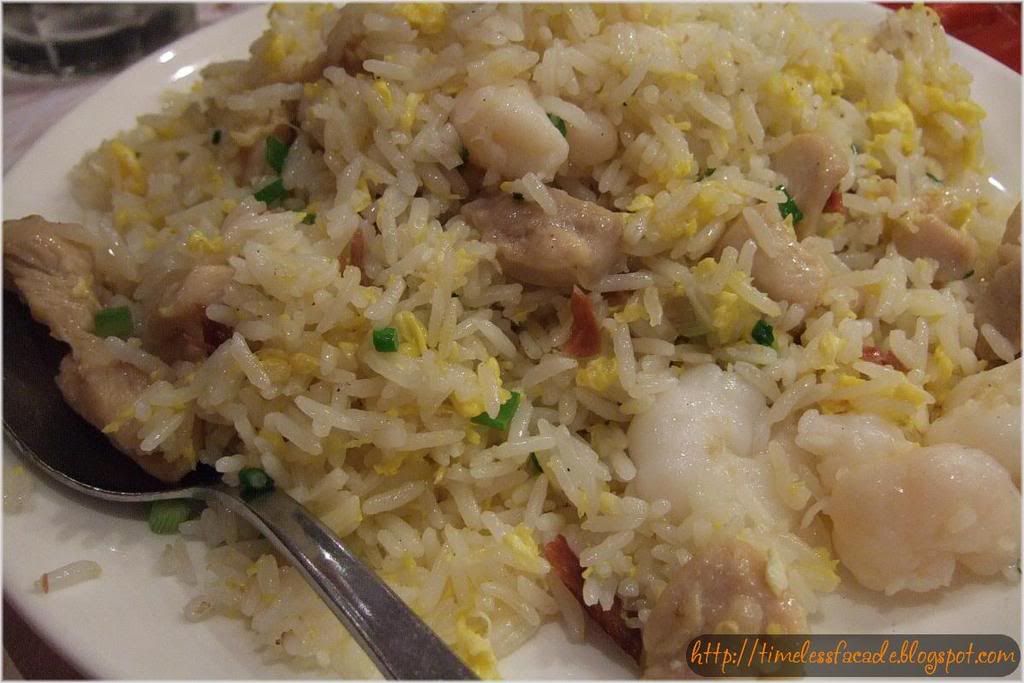 Fried Rice with Shrimp, Chicken & Ham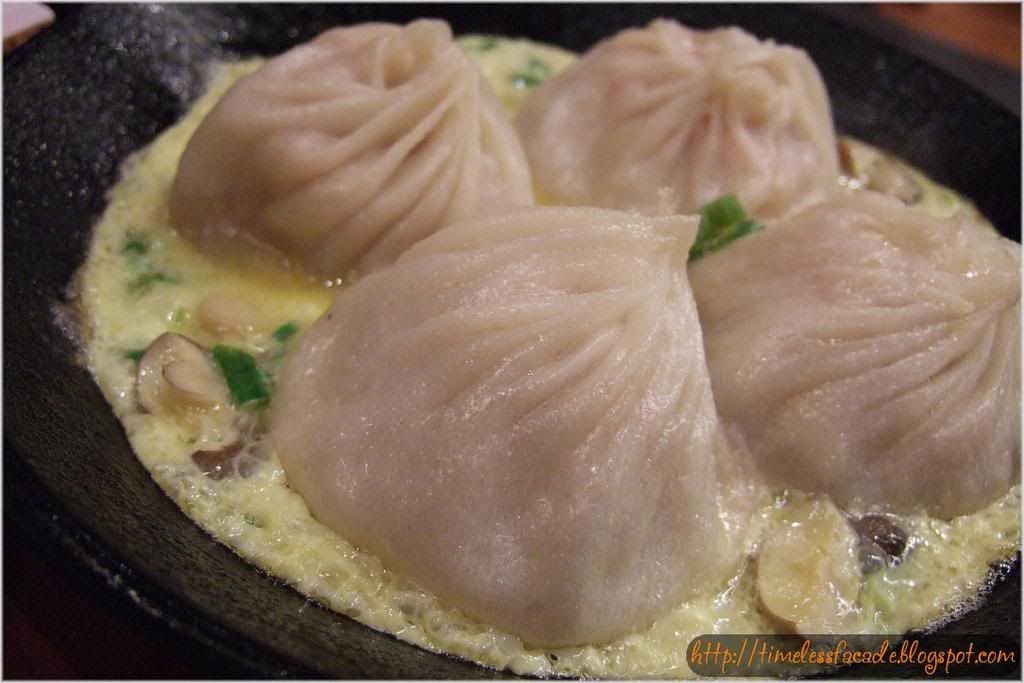 Xiao Long Bao on a Hot Plate



Souffle Egg White Ball



A peek into the Egg White Ball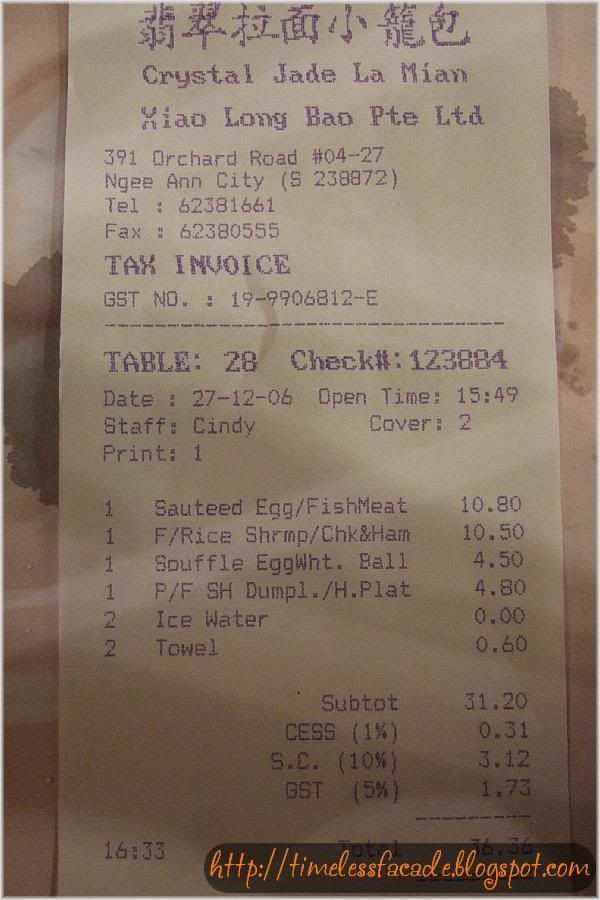 The bill
Final Verdict:
Ambience:6.5/10
Service:6/10
Food:6.5/10
Value for money:6.5/10
Overall:6.375/10
Address: #04-19 Ngee Ann City
Contact: 6735 2388
ps: Merry Xmas! Here's a nice tree for the festive season!