After reading
Juneoesque's
entry on Donut Factory, I decided to grab one to go since I was in the vicinity. It wasn't difficult to find as it is one of the two stalls that have any queues at all (The other being
Chippys
). After a 15min wait, everyone in the queue was told that the donuts were sold out and the next batch would be coming out in about 30-45mins. I almost fainted when I heard the news but luckily for me, I managed to buy the last piece of Donut off the shelves because no one else wanted it.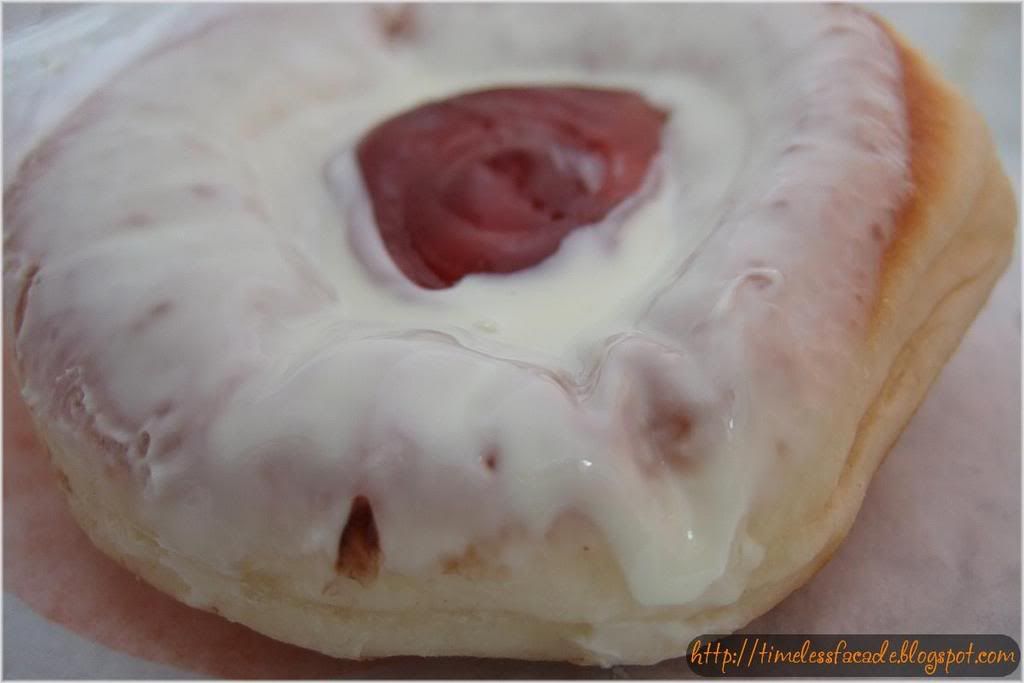 The last donut - a Strawberry and White Chocolate version. First and foremost, I found it too cold. Donuts should be warm for them to taste good. The pastry itself was good, but not as fluffy as I would have liked it to be. Upon applying pressure onto the pastry, it sinks in and stays that way. The strawberry and white chocolate were rather sweet, but suited me just fine. Donut Factory is a worthy contender to Krispy Kreme (Don't even mention Dunkin Donuts, they are not in the same league), but still has room for improvement in order to even meet Krispy Kreme's level. However, the more pressing problem for now is to find ways to fine tune their supply chain. I honestly cannot see myself queuing up for about an hour just to buy a few donuts.
Rating
: 7.5/10
Address: B1-61, Raffles City
Contact: 6337-6268
Comments: Opened from 12.30pm to 10pm daily
Updated: 13th Jan 07 - Tried the other flavours the past week and the rating stands.