The coffeeshops under the solitary block of flats in the Sin Ming Industrial Estate could have easily been passed off as just another neighbourhood coffeeshop that probably sold average food. But that is certainly not the case, for in the corner coffeeshop lies Hup Seng Duck Rice. Hup Seng's claim to fame is its
Kiam Chye Arh
, or
Salted Vegetable Chicken
and
Braised Duck
.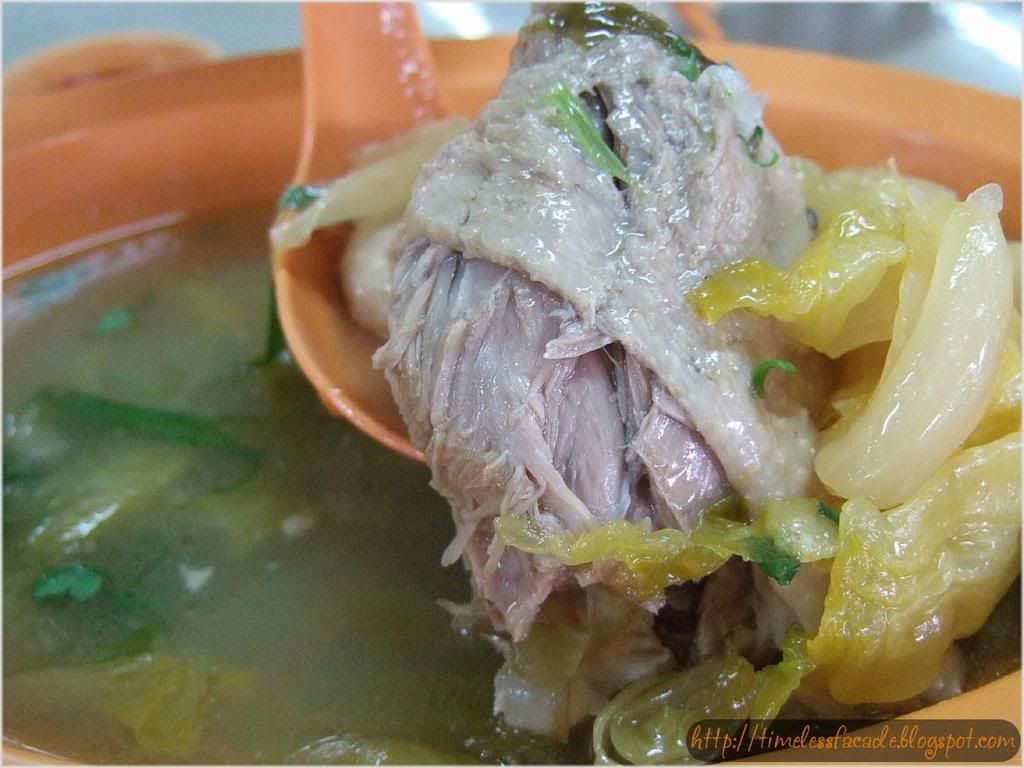 Kiam Chye Arh
The
Kiam Chye Arh
was pretty good, but I found the soup a little too salty due to the excessive amounts of
Kiam Chye
in it. The duck itself was a little chewy and firm, which evidently showed that it was cooked just right. The strong fowl taste was rather evident though , which might be a turn off for some. One of the better
Kiam Chye Arh
I have eaten, but I prefer the lighter and not so salty version prepared by my grandmother ;)
Rating
:7/10


Braised Duck
As with the
Kiam Chye Arh
, the
Braised Duck
was firm and chewy, with a rougher texture to boot. The duck was rather lean and the soy gravy was fragrant yet subtle in taste with a herbal tinge. Pity about the excessive oil in the gravy though. The secret to his fragrant and tasty gravy? Not changing the gravy since day one. Water and herbs are replenished with each duck he cooks and the pot is sealed and locked every evening. Multiply that by 25 years. Ewwww. I wish I didn't know.
Rating
:7.5/10
Total cost for the
Kiam Chye Arh
and
Braised Duck
= $14.40 for 3 pax. Not too sure if its considered expensive or not, so you decide.
Address: Bk 22 Sin Ming Rd, Eng Ho Hup Coffee Shop
Opening Hours: 9am-2.30pm (Mon-Fri)
9am-1.30pm (Sat-Sun)
Close on Thu