Was in the vicinity of Tanglin Shopping centre with my gf so decided to try out Jerry's for dinner. Located just above Bombay Woodlands, Jerry's currently has 3 outlets in Singapore, with the flagship store being the one at Jalan Kayu and branches at Club Street and Tanglin Shopping Centre. Decor wise, the Tanglin outlet was pretty simple with no inherent theme to it. We had 2 servings of the set dinner, with the
Southern Chicken
and
Spaghetti Seafood Alo Alo
as mains as well as a small serving of 4
Fried Crispy Wings
to share (I had initially wanted to try the
Buffalo Wings
, but thought the better of it as I had already tried the ones at
Buckaroo BBQ & Grill
, which is/was owned by Jerry and boasts similar wings). Our set dinner came with a choice of soup -
Minestrone
or
Cream of Mushroom
and unlimited servings at the salad bar.
In all honesty, the salad bar was quite pathetic. There was tuna, hard boiled eggs, vegetables and some sauces definitely not what I was expecting. But it came with the set, so no complains. I chose
Cream of Mushroom
for my soup and I was really disappointed. It wasn't really warm to begin with and the top layer of the soup had hardened and formed a layer, which meant that it had been out in the cold for too long. It didn't taste like canned soup, but it was a little too salty and the taste wasn't rich enough.
Remember the small puny wings you get at KFC or Nasi Lemak stalls? Banish those thoughts and feast your eyes on Jerry's
Fried Crispy Wings
. They use the exact same
Buffalo Wings
that made Jerry's famous, except that it is prepared in a different way. The wings are gigantic and tasty to boot! The skin is deep fried until its so crispy that every bite generates a "crunch" sound. Just one grouse though. It could have done with more seasoning or spices. The juices were plentiful, but had no flavours, thus rendering it rather bland. A good eat nevertheless, but a pricey one at that ($8.95 for 4).
My
Southern Chicken
was quite a size, half a chicken to be exact and topped with mounds of BBQ sauce, served with salad and mashed potatoes. I found the chicken to be well done with the flesh being very tender and easily torn off from the bones. Perfect for lazy people like me. However, the taste of the BBQ sauce was overpowering and I sort of gave up eating halfway. The accompanying mashed potato was just a disaster. I don't know how to begin describing it, but let me just say that KFC has better mashed potatoes.
Either my tastebuds had problems or my gf's
Spaghetti Seafood Alo Alo
tasted really bland. Even the prawns and scallops had virtually no discernible taste! My gf agrees with me, so I guess its the dish. But the pasta was actually not bad, a little chewy and overall the dish was rather light on the palate. Maybe its meant to be that way, but I would prefer a little more flavour.
Dinner for 2 came to a whooping $70/-. That might not seem like a lot of money, but for the quality of food, it sure is. The food was at best slightly above average and the service didn't go beyond serving our food and clearing the dishes. The drinks are a killer too. A can of coke sets you back by $3.95+++. Imagine that! Oh and either the tables are too low or the chairs are too high, as I found it rather uncomfortable having to hunch my back and slouch on the table just to eat my food.
I definitely won't be back, unless its for the wings, which still holds a certain allure. Other than that, I'm better off spending my $70 elsewhere.


Interior



Menu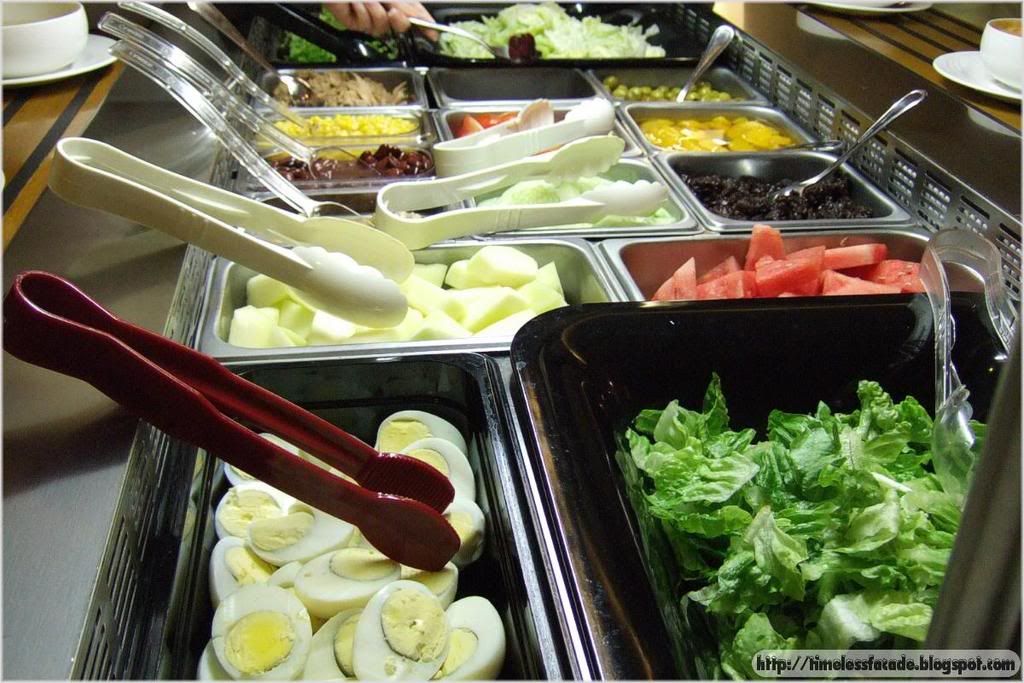 The salad bar



Cream of Mushroom soup



Fried Chicken Wings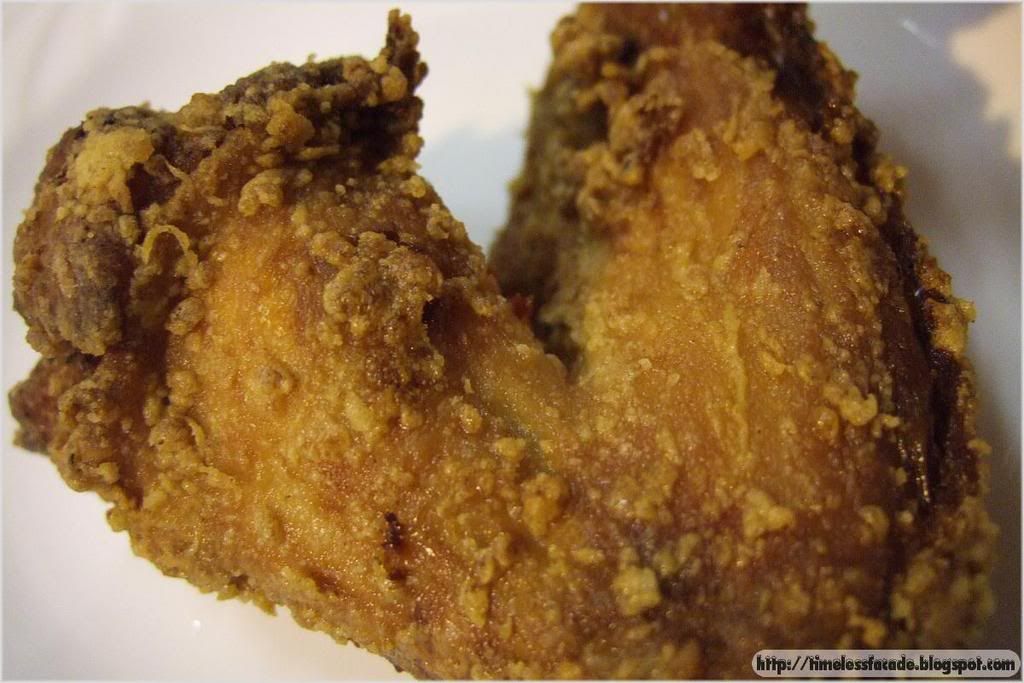 Look at how crispy it is!



Southern Chicken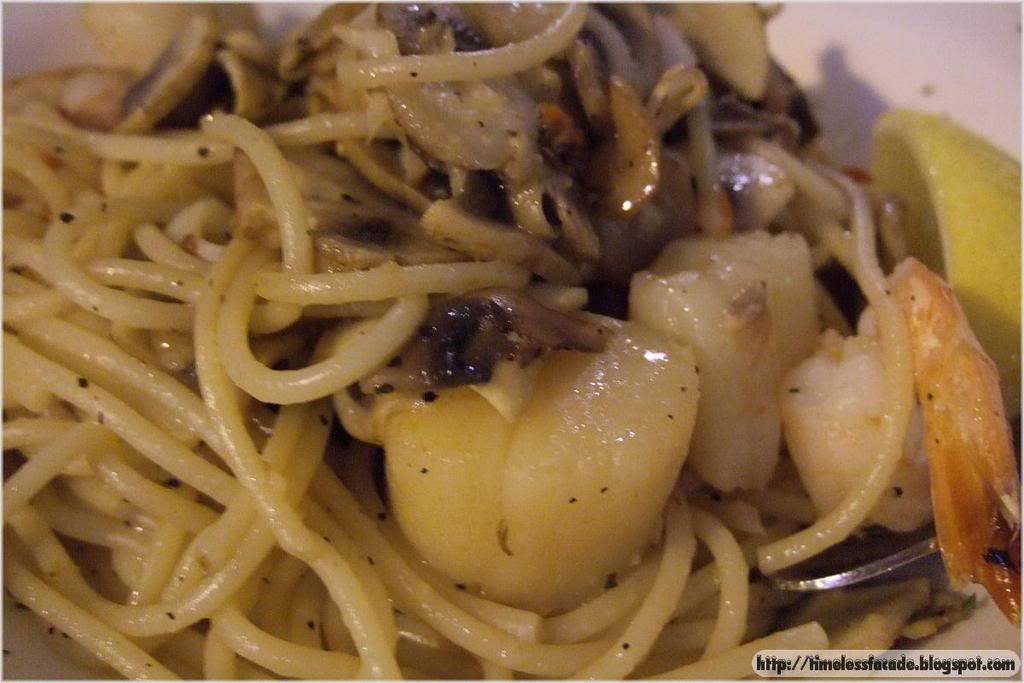 Spaghetti Seafood Alo Alo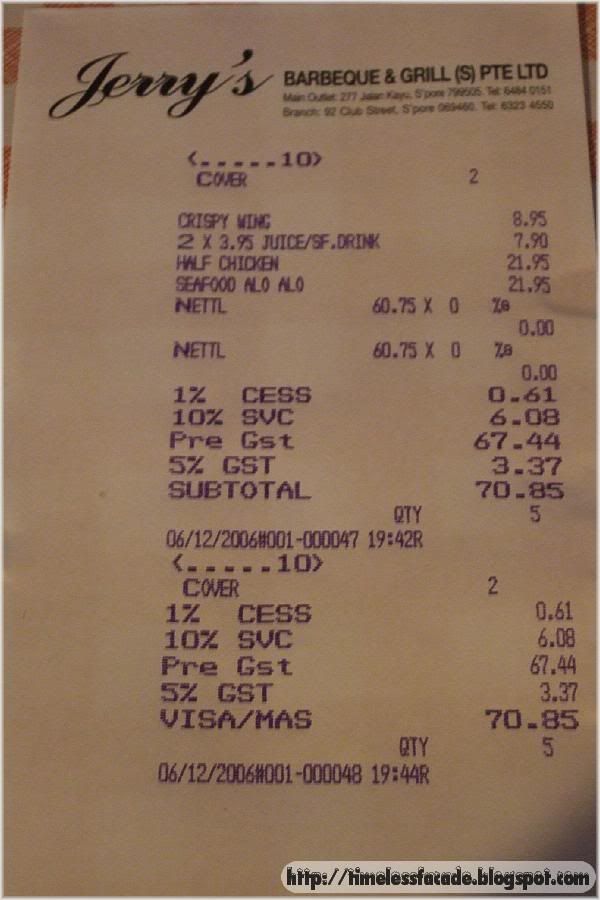 The bill
Final Verdict:
Ambience:6.5/10
Service:6.5/10
Food:6.5/10
Value for money:6/10
Overall:6.375/10
Address: #01-01 Tanglin Shopping Centre
Contact: 62351720