Had dinner at My Mum's Place again last night with my gf and her family - 9 of us. Since this isn't the first time I'm doing a review on this joint, I'll just do a brief roundup on the food that we ordered. My first entry can be found
here
.
First up was the
Salted Vegetables with Tofu soup
which I found to be lacking in sour department. I prefer my soup salty and sourish and this one was only halfway there. However, ingredients like prawns, tofu and meat were aplenty, so it sort of made up for it. The
Hor Fun
which followed was rather normal, although as with the soup, there was a generous amount of ingredients in it. What I did like about it was that the gravy wasn't too thick and starchy as with a lot of
Hor Funs
that I have eaten.
The
Sweet Potato Leaves
were quite nicely done, but I still don't fancy them, so there. I did find this dish a little lacking in fragrance though, unlike the one I had at
Joo Heng
.
Egg with Prawns
came fried with onions and it was nothing to shout about, rather normal if you ask me.
One of their signature dish is the
My Mum's meatballs
, which I didn't have the chance to try out the last time as they were sold out. We got lucky today and managed to get our hands on 20 of them. The meatballs had prawns and chestnut in them, making them crunchy and tasty. I hate to say this though, but they were merely above average, nothing to make me wow about. But it is still a dish worth ordering.
I personally don't really like squid, so it came as a surprise when the
Deep Fried Baby Squid
came across as rather pleasing. The squid is coated in batter and deep fried till its crispy and then coated with a layer of honey(I think), leaving it sweet with a little taste of the squid. I liked it so I popped quite a few of it.
We wrapped up the meal with 3
Durian Brulees
, which was still as soft and flavourful as before. Great ending to a decent meal!
Overall, dinner for 9 pax cost about $107. Still the same decent and homely food at reasonable prices. Thus, the rating in my
first entry
still stands.
Happy Makaning!


Hor Fun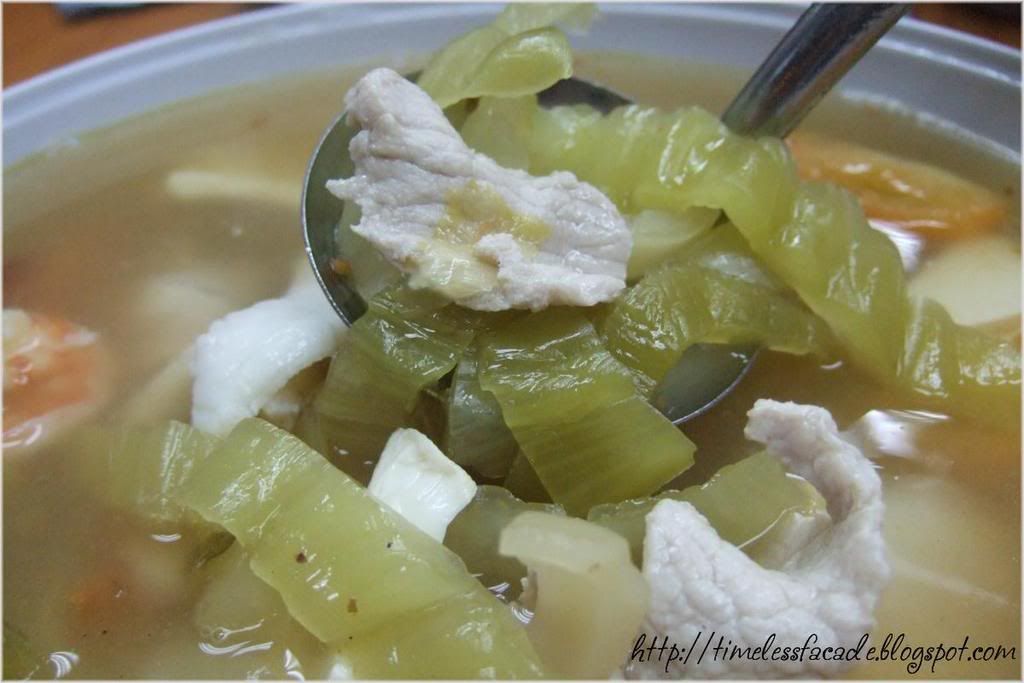 Salted Vegetables with Tofu soup



My Mum's Meatballs



Egg with Prawns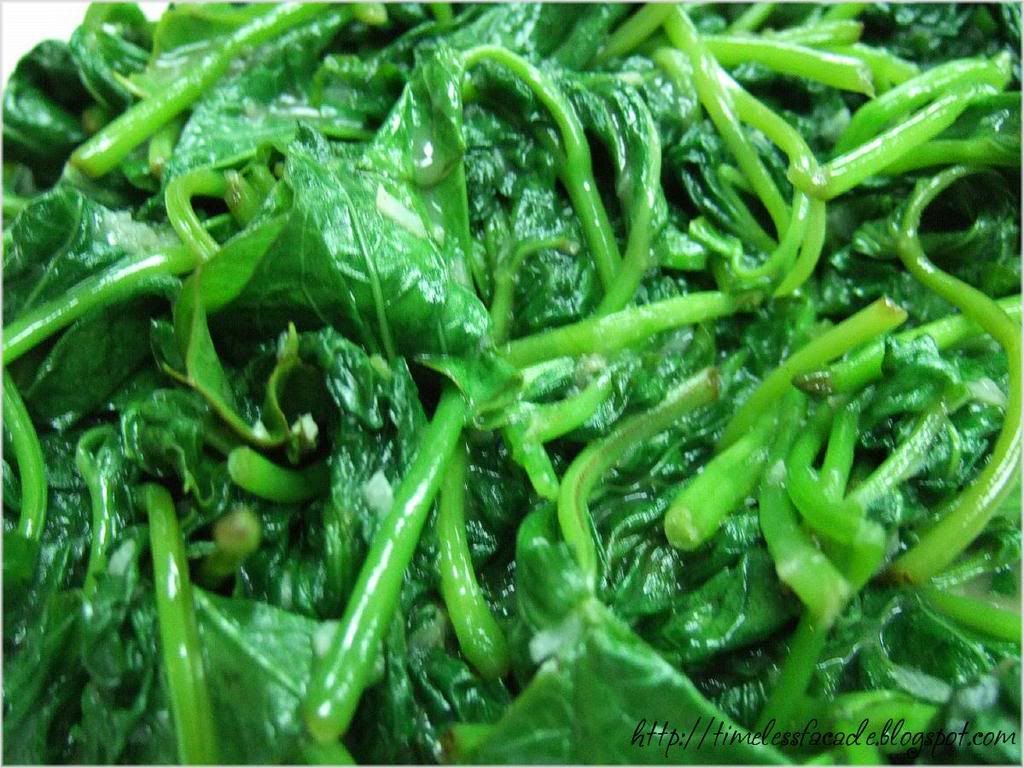 Sweet Potato Leaves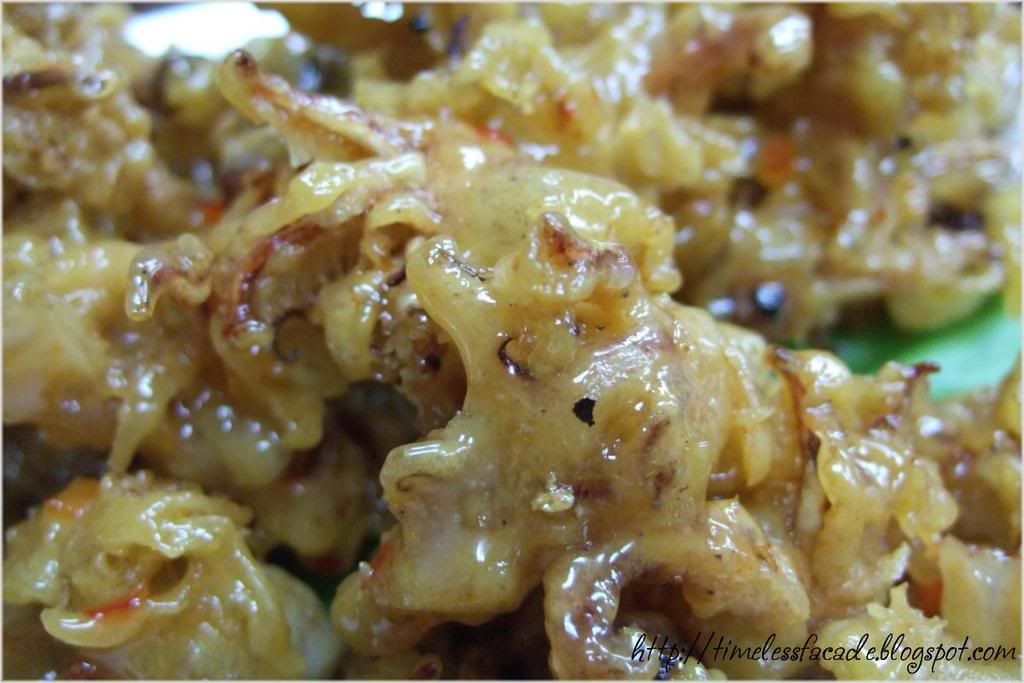 Deep Fried Baby Squid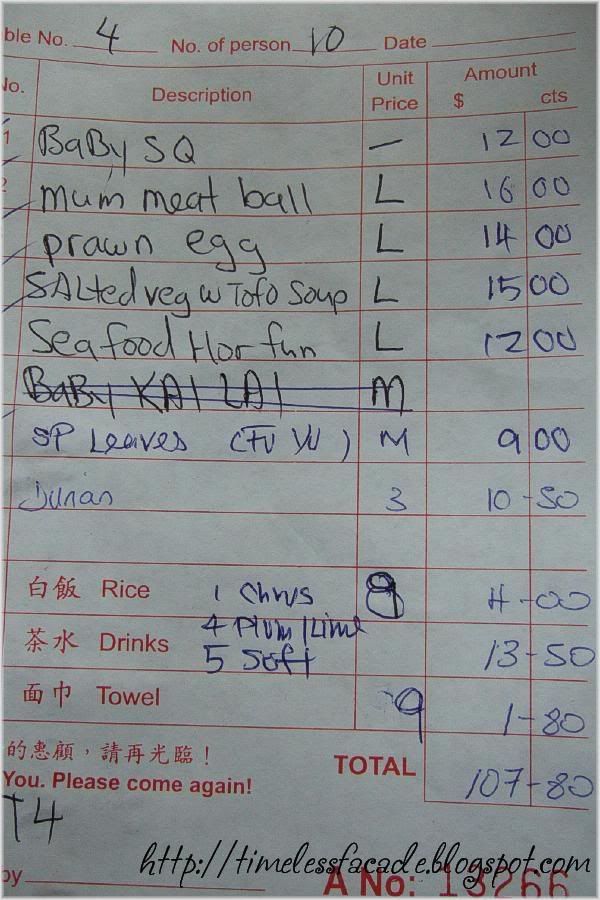 The bill