Along Club Street lies this quaint little colonial style building that houses one of Singapore's well known Italian Restaurant - Senso Ristorante & Bar. Established in 2000, Senso has received numerous awards and nominations for its ambience, food and wine. So it was imperative that we (my gf and I) tried out this place! Reservations weren't made as it was a rather last minute decision and we didn't think it would be too difficult to get a seat on a Sunday evening (Actually we were torn between eating at Senso and Grand Shanghai, but since the latter didn't answer my calls, we chose the former). We got there at about 645pm and were surprised to find that it only opened for dinner at 7pm. Anyway, it was but a short wait and at the stroke of 7, we were shown to our table in the courtyard. Please let me say this. We didn't opt to sit in the courtyard, but there wasn't a choice as we didn't meet the dress code.
It would be almost criminal not to dedicate at least a paragraph to the very pretty courtyard. From the moment I stepped in, it almost felt like I had been transported right into the heart of a warmly lit Tuscan courtyard in Italy, complete with a Greek statue that adorns the gardens. This is definitely one place you must see! There are strong fans around to help the customers keep cool whilst dining. However, it can get quite sticky because of the humid nature of Singapore's weather. The air conditioned interior was rather pleasing as well, with hues of orange and touches of elegance coupled with dim lighting. Decor aside, we had the
Mozzarella
for starters and the
Frutti Di Mare
and the
Ossobuco
for mains. On a side note, we had the chef divide everything up into 2 individual portions so that we could share.
The meal started off with a complementary serving of warm bread and bread sticks, with
Chick Pea Puree
as a dip. I personally found the bread sticks a little too hard for me, but it tasted quite good, especially with the
Chick Pea Puree
. The wheat bread was a little too dry for me. I couldn't make out the other bread, but it had onions on top and tasted soft and appetising. Following the bread was a tiny serving of
Chick Pea Salad
, complementary as well. I found this quite good as the chick peas had a tinge of zest coupled with the evident taste of the basil leaf. Small serving, but it sure packs a punch!
Our appetiser, the
Mozzarella
, was essentially pan fried Buffalo Mozzarella wrapped in Parma Ham, Marinated Raisins and Pine Kernels in Balsamico (Traditional Balsamic Vinegar). The huge chunk of cheese was a little chewy, yet didn't have too strong a cheese taste. Wrap a slice of Parma Ham around it and dip in the sauce (I think the sauce comes from the Marinated Raisins and Pine Kernels in Balsamico. It tasted a little alcoholic.) and you get nothing short of stupendous. It sure didn't look like cheese though, or anything related to it. Little wonder why this is one of Senso's signature dishes.
With such a wonderful appetiser, we thus looked forward to the mains. The
Frutti Di Mare
, Carnaroli Risotto with Octopus, Prawns, Mussels, Calamari, fresh Tomato and Basil, was very nicely done without being too heavy on the cream and with the rich texture of the Risotto. It was good, but not fantastic. The
Ossobuco
, braised Veal shank "Ossobuco" served with mashed Potatoes, Rosemary and Lemon Gremolata was very tender and fibrous, so much so that there was no need to even remove the meat from the bone. The natural Veal taste was very prevalent in this dish, which suited me fine, but people who don't like it might just want to stay away. The accompanying mashed potatoes were soft and had a tinge of butter, but nothing to shout about.
We racked up a total of $93.24 for a very satisfying meal (for me at least). I was stuffed up so much that I could barely walk, which explains the absence of dessert. This is definitely one place you should bring your date or that special someone to. The ambience alone puts many other fine dining restaurants to shame. Service is excellent and so is the food. What more do you need? Do note that prices are quite steep here, but hey, I reckon every dollar is well spent. Try it or regret! ;)
ps: Please pardon my photographs, especially those of the mains because I was seated in the courtyard and it progressively got darker, thus affecting the quality of my photos.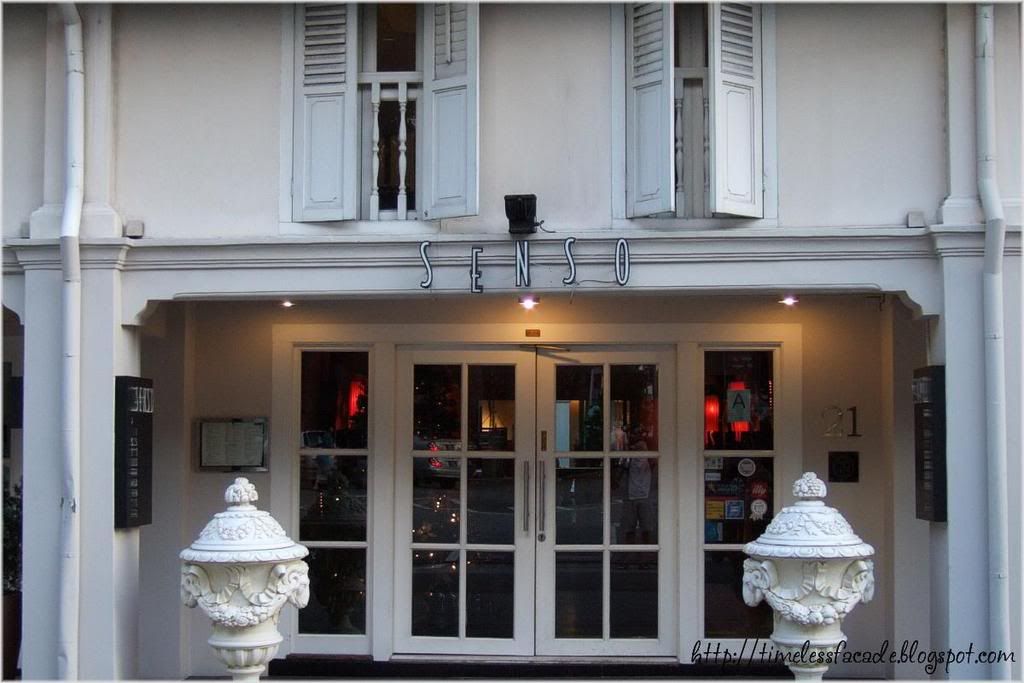 Main Entrance



The very pretty courtyard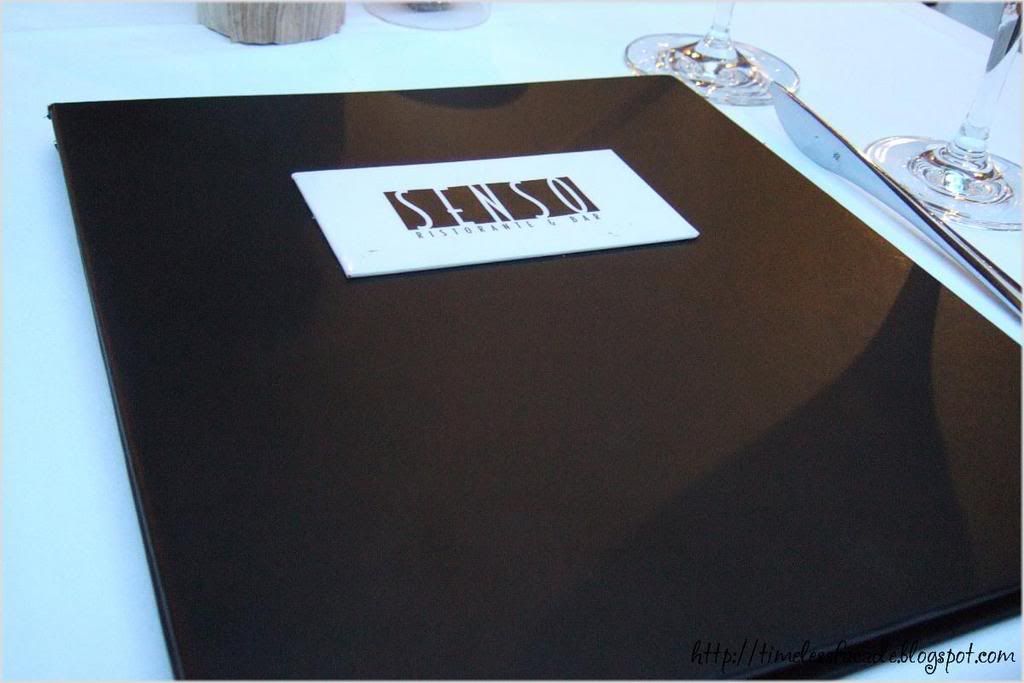 The menu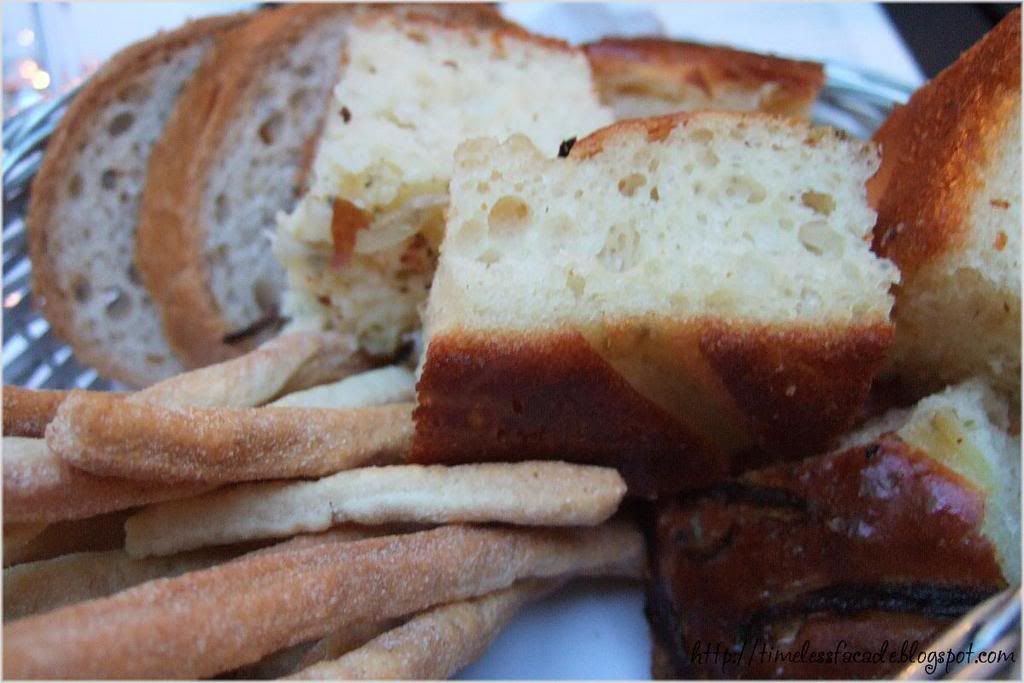 The bread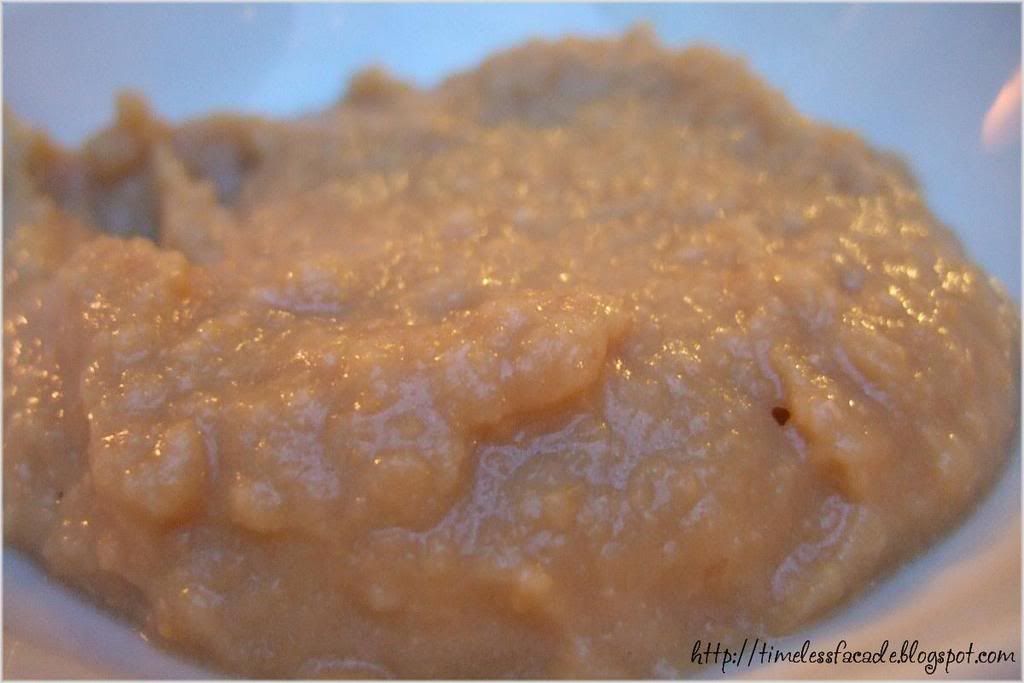 Chick Pea Puree to go with the bread



Chick Pea Salad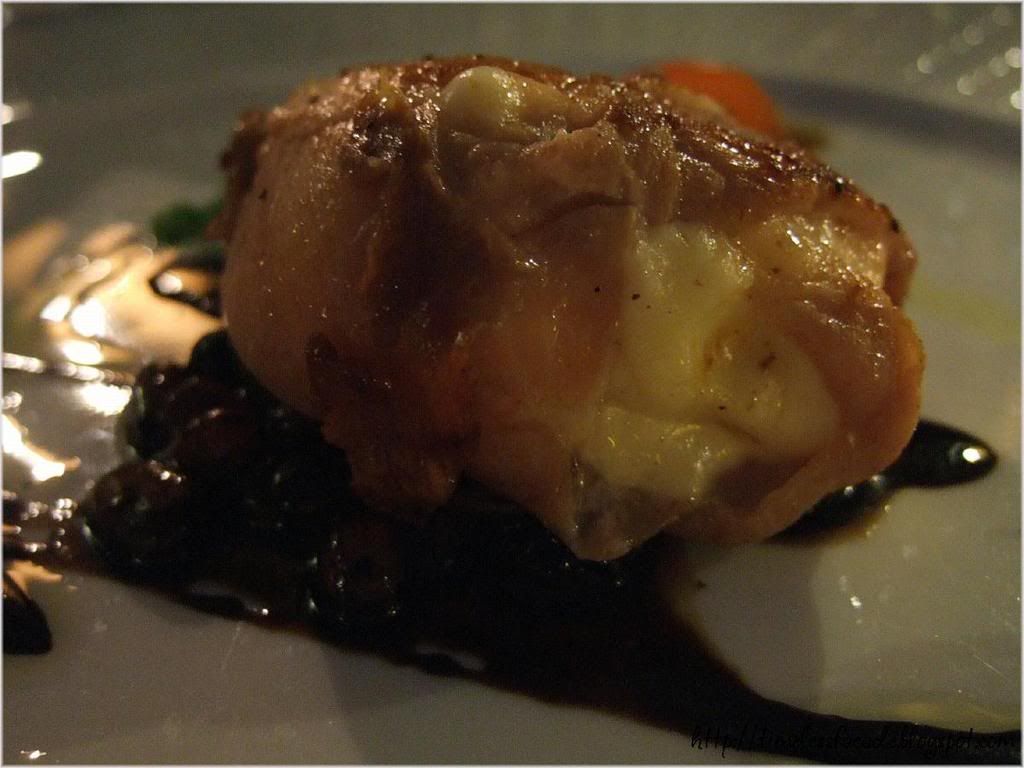 Mozzarella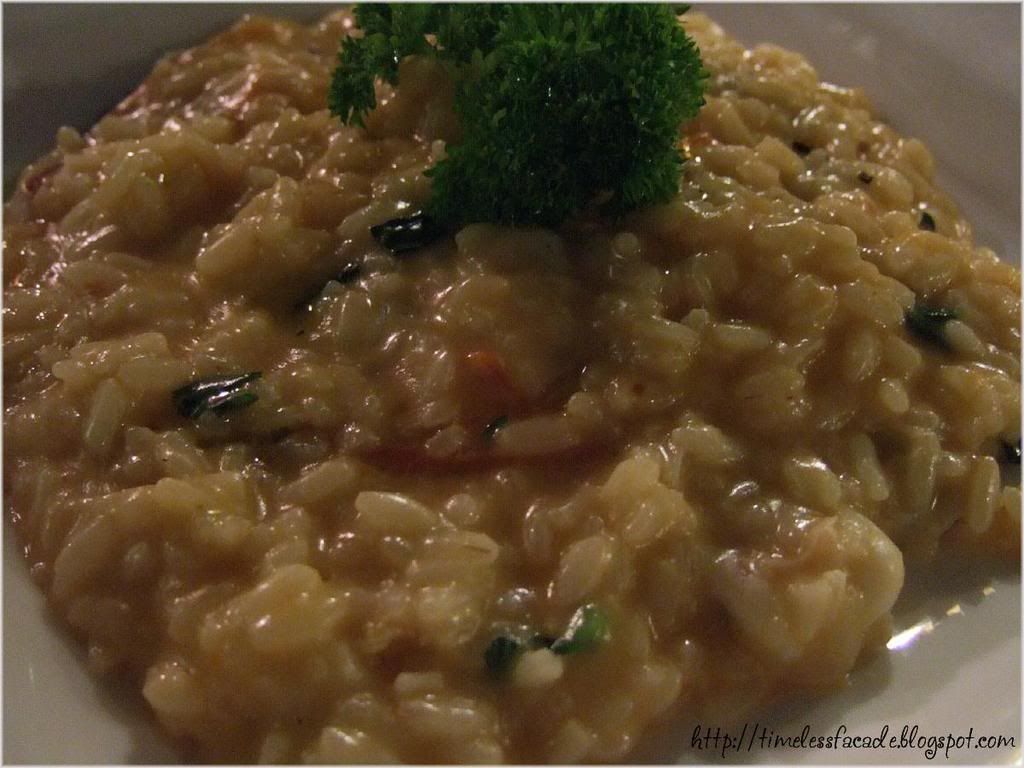 Frutti Di Mare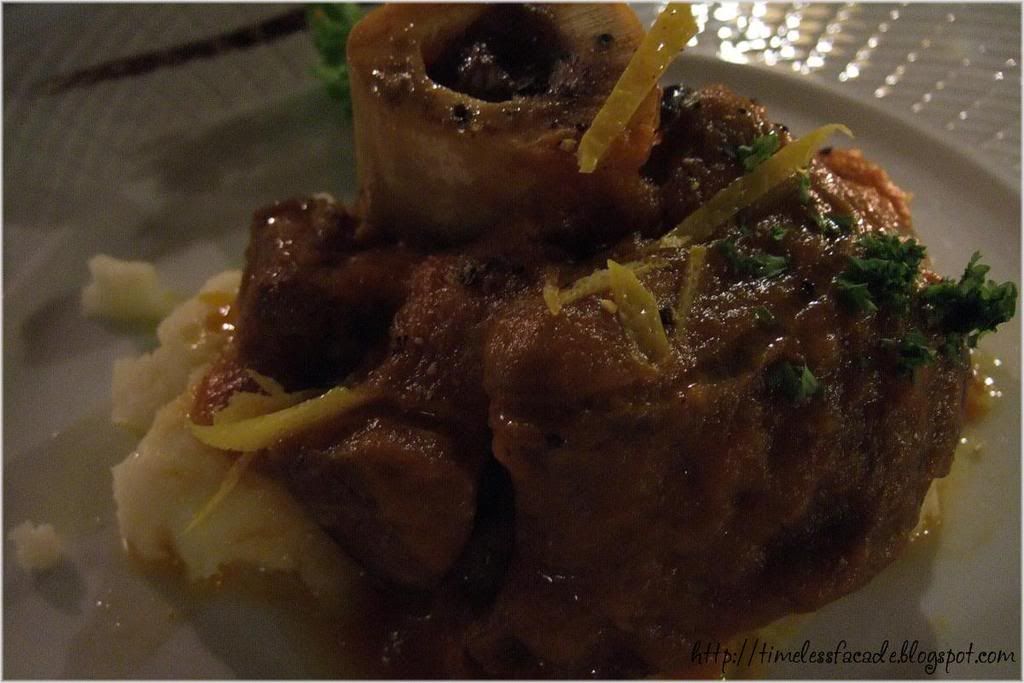 Ossobuco



The bill
Final Verdict:
Ambience:8.5/10
Service:8/10
Food:8/10
Value for money:7/10
Overall:7.875/10
Address: 21 Club Street #01-01
Contact: 62243534
Website: www.senso.sg
Comments: Senso is very particular about dressing. So guys, no shorts and slippers. Minimum is long pants with covered shoes. Not too sure about ladies though.