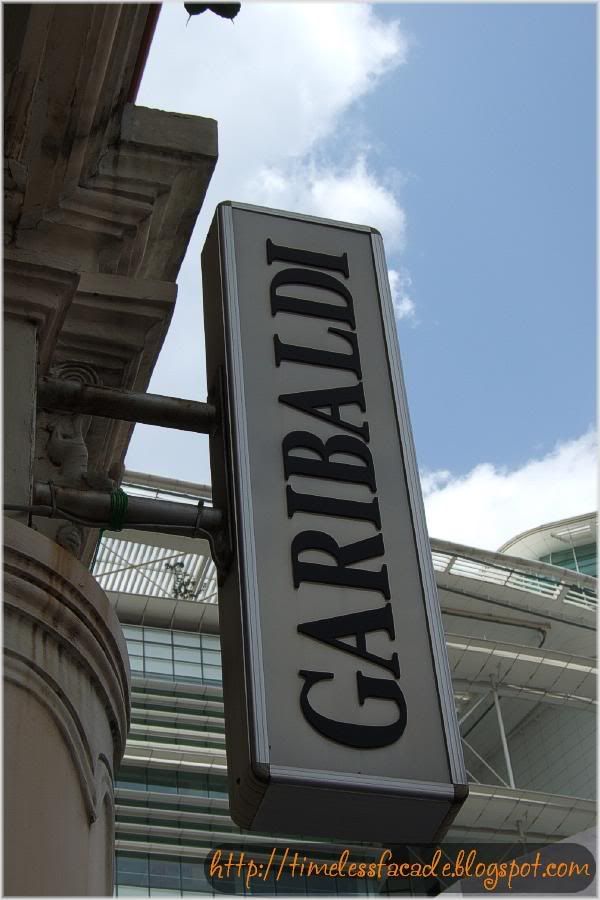 The name says it all. Garibaldi - a much revered Italian restaurant which purportedly serves one of the best Italian cuisine in town. Nows the time to find out if they really live up to their name. A few quick phone calls later and I had fixed up a lunch appointment with LSD to try out Garibaldi's set lunch.


Exterior



Interior



Menu
Located in the middle (almost) of Purvis Street which is teeming with eateries, you might just miss out on Garibaldi if you are unaware because the exterior is rather plain and discreet, save for the vertical signboard hanging by the side of the building. Now this is the first time that I've been to a restaurant which utilizes heavy sliding doors in favour of push/pull doors and that really says something about their target market - well heeled individuals/executives. The sliding doors act as a natural filter to "sieve" out your average Joe. Well lets just leave it at that. As you are being ushered into the small main dining area, which can probably seat about 30 people or so, the solemness of the interior weighs down on you. Decor is sombre and minimalistic, with racks of wine displayed prominently in the foreground. Seats are plush and comfortable, but can be taxing on your back if you don't lean backwards.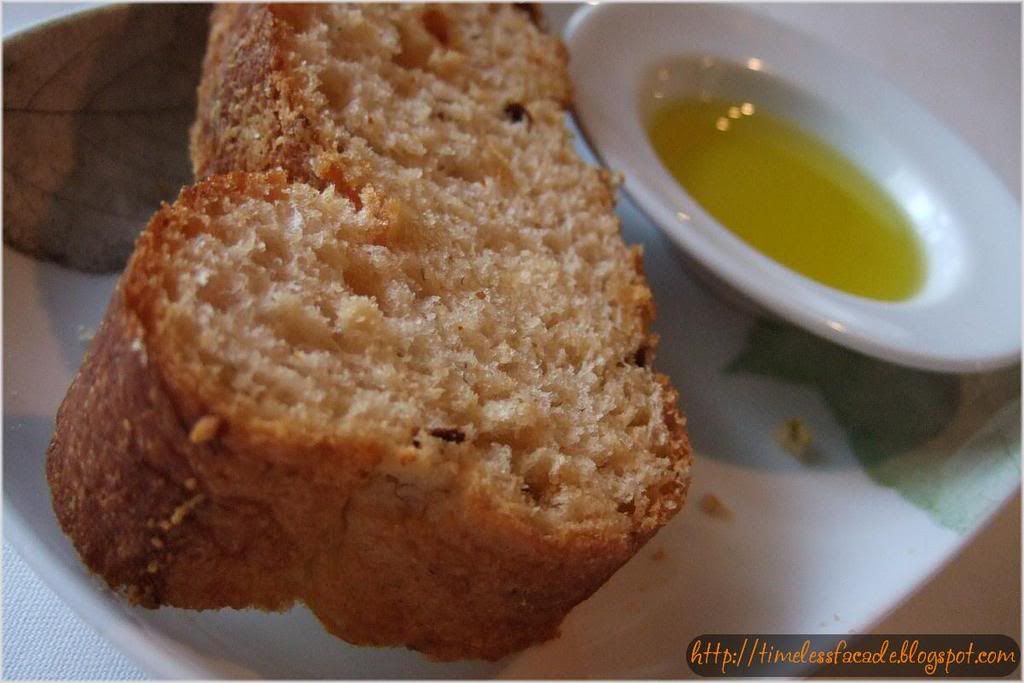 Freshly Baked Bread
I certainly feel that the complimentary servings of bread warrant a section all by itself. The bread was fragrant with a slightly crispy exterior that belied its soft and fluffy interior. However, what sets it apart from other breads is its taste. It had this slightly cheesy aftertaste which would melt the hearts of even the most ardent detractors. I attribute this great taste to the bits of Mozzarella cheese that I noticed on the bread crust. It would be a shame if you visit Garibaldi and not have second or third servings of this bread.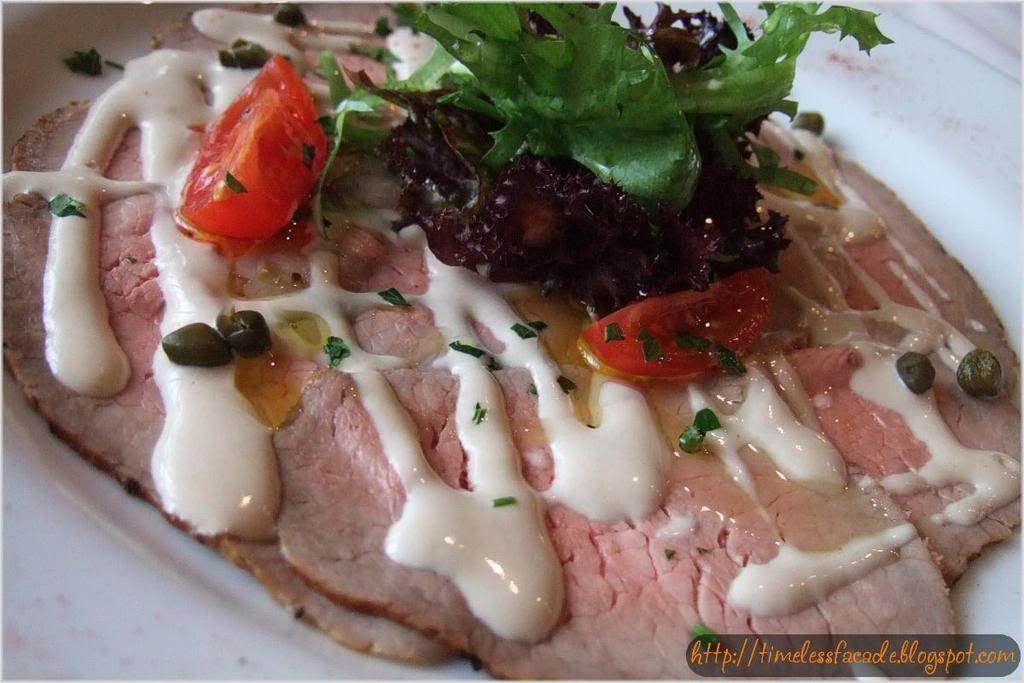 Roast Veal in Tuna Sauce
Compared to the veal I had at
PaPi
, which was laden with sauce, Garibaldi's rendition exercised more constrain and the tuna sauce was used sparingly. The result? A much better tasting veal with more bite which didn't look lost in a sea of sauce. However, having said that, I find it rather sad because tuna was the dominant flavour instead of veal.


Chicken Breast with Zucchini Smoked Cheese and Spicy Tomato
Its funny how you order chicken in an Italian restaurant and wonder how its going to turn out. Well, mine turned out just fine. The chicken breast was extremely tender and had some sort of buoyancy in it, which tasted a wee bit unnatural. Come to think of it, the chicken was so smooth and tender that I couldn't detect any fibrous shreds. Work of a master or something else? Taste wise, it was great, with the chicken absorbing the smoky flavours perfectly and with lots of succulent juices to boot. But it did tend towards the salty side. The zucchini with cheese was done right, as evidenced by the grill marks on the zucchini.


Dessert of Pistachio Ice Cream & Hazelnut Ice Cream
There wasn't a choice with the desserts, so everyone had the same thing, which was a scoop of Pistachio ice cream and one of Hazelnut. Personally I prefered the Hazelnut ice cream as it tasted familiarly like Ferraro Roche chocolates. The Pistachio ice cream, on the other hand, didn't taste quite like Pistachio and had a slightly creamy taste. Both ice creams were quite smooth, but I detected ice chips in them, which might have been due to poor handling.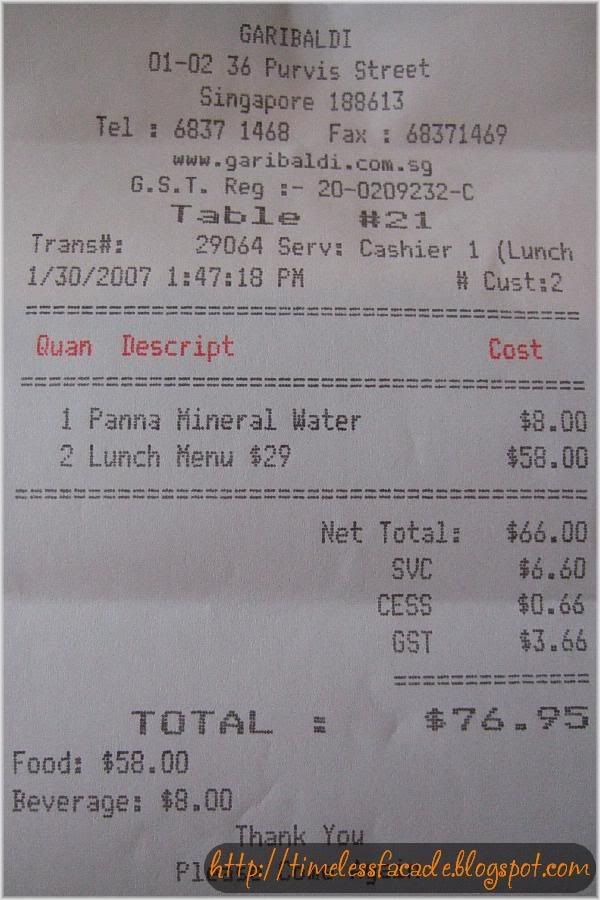 The bill
Set lunch with a bottle of still water came up to about $38.50/pax, which is rather expensive for the quantity of food. Honestly, we wouldn't have been full if not for the multiple servings of the wonderful bread. Quality wise, it is commendable and I find it comparable to
Senso
. However there is a sense that Garibaldi's food offers more finesse, albeit in smaller portions. Service is very professional and attentive but lacks friendliness. Chances of returning? Quite high, especially since I have my eye set on their degustation menu @ $98+++/pax.
Final Verdict:
Ambience:7.5/10
Service:7.5/10
Food:7.5/10
Value for money:6.5/10
Overall:7.25/10
Address: 36 Purvis Street, #01-02
Contact: 68371468
Comments: Valet parking is available during lunch and dinner. Visit their website @ www.garibaldi.com.sg