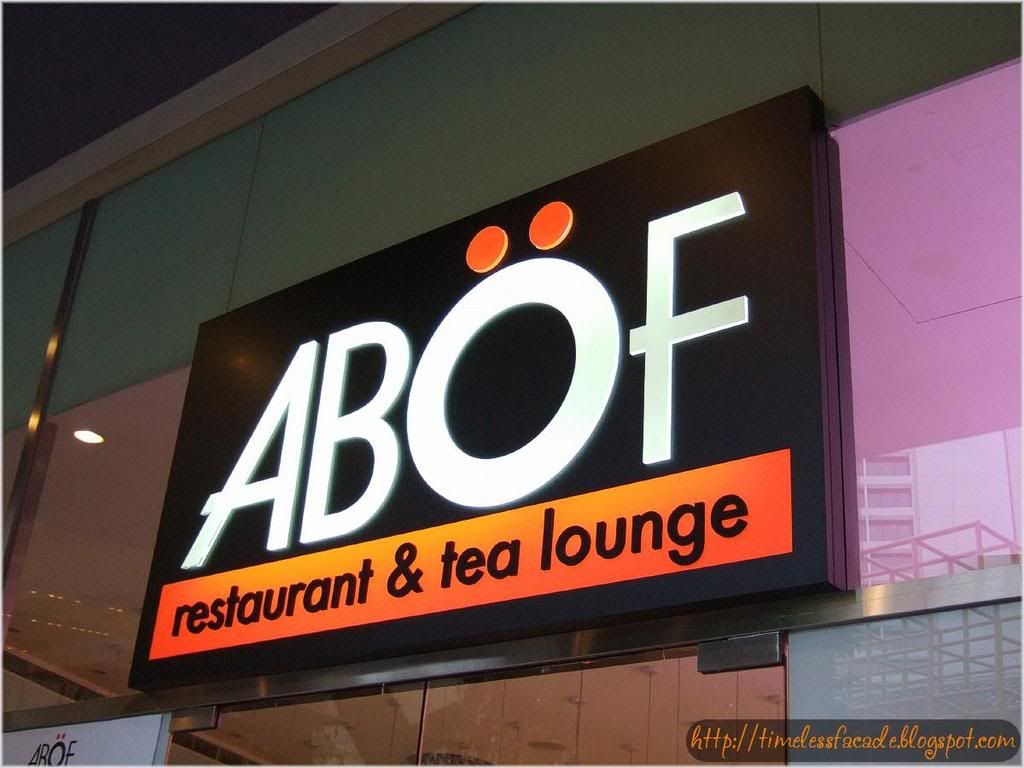 Heard about this Scandinavian restaurant at Millenia Walk so popped by with my gf on a weekday evening to try it out although we had totally no idea what in the world constituted Scandinavian food.


Interior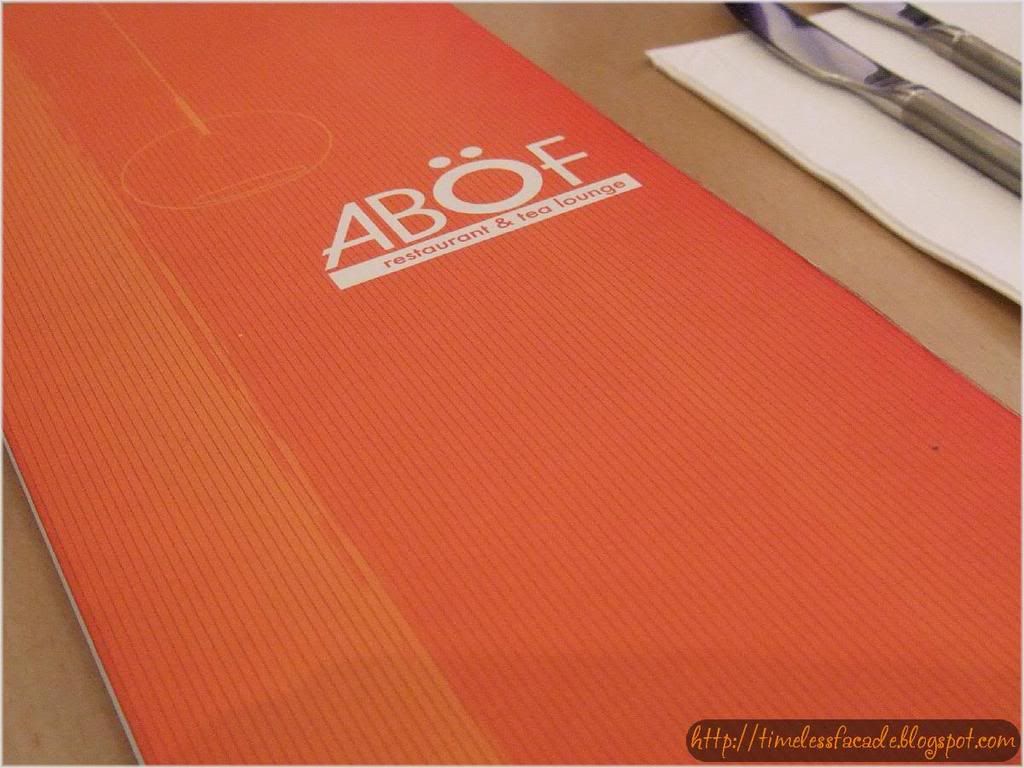 The menu
Tucked in a small corner of the shopping mall, it is prominent yet inconspicuous. Sounds like a contradiction doesn't it? Well, it has floor to ceiling windows and is located along the mall's perimeters but with its main entrance blocked from view (largely by a pillar and some potted plants). It doesn't help that there's a small Coffee Bean just next to it, which might lead you to erroneously believe that the entire area belonged to Coffee Bean. That aside, the interior was minimalistic yet oozed sublime charm with its repertoire of wine glass lookalike hanging lights.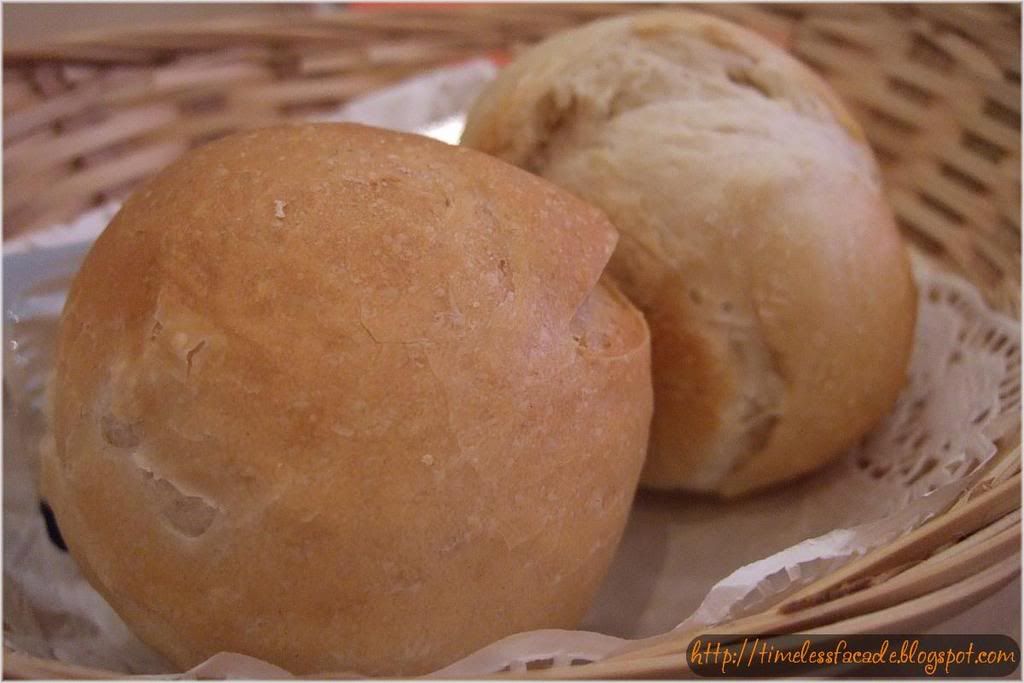 Complimentary bread
Complimentary bread is always welcomed and this one had no fancy presentation whatsoever. No napkin to keep them warm and no butter served on a platter - just bread on a platter with butter you buy from the supermarket. However, the bread was piping hot and the butter melted easily onto the bread. Simplicity at its best! Now who needs napkins?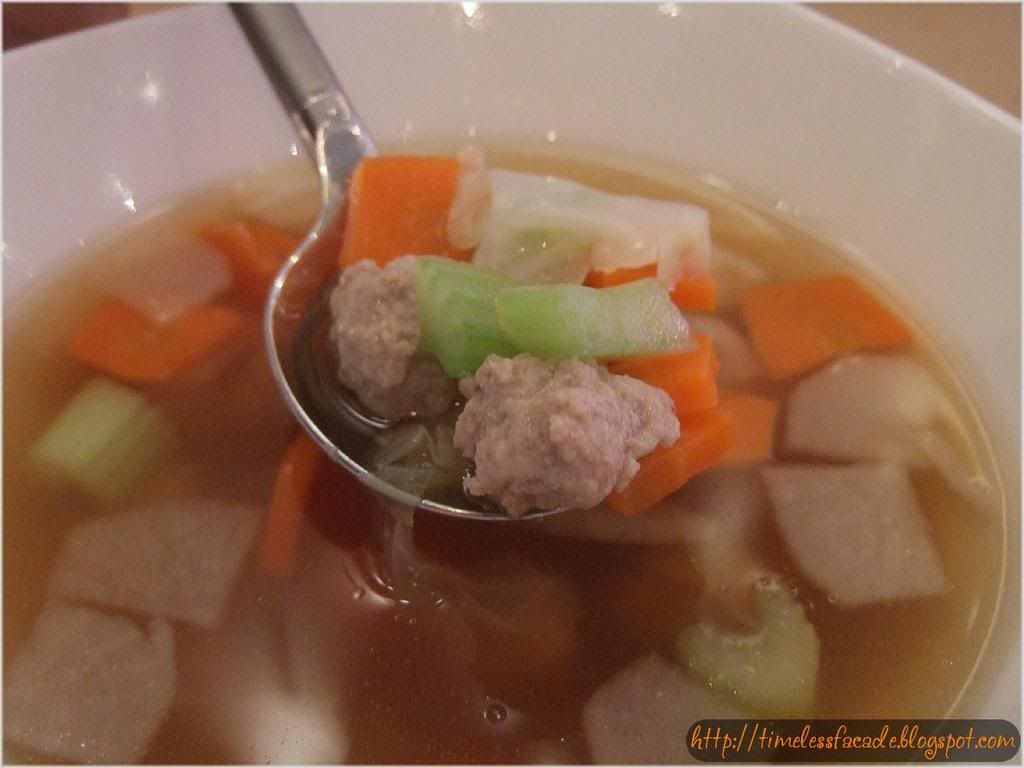 Traditional Scandinavian Soup - Meatballs and Dumplings in rich Broth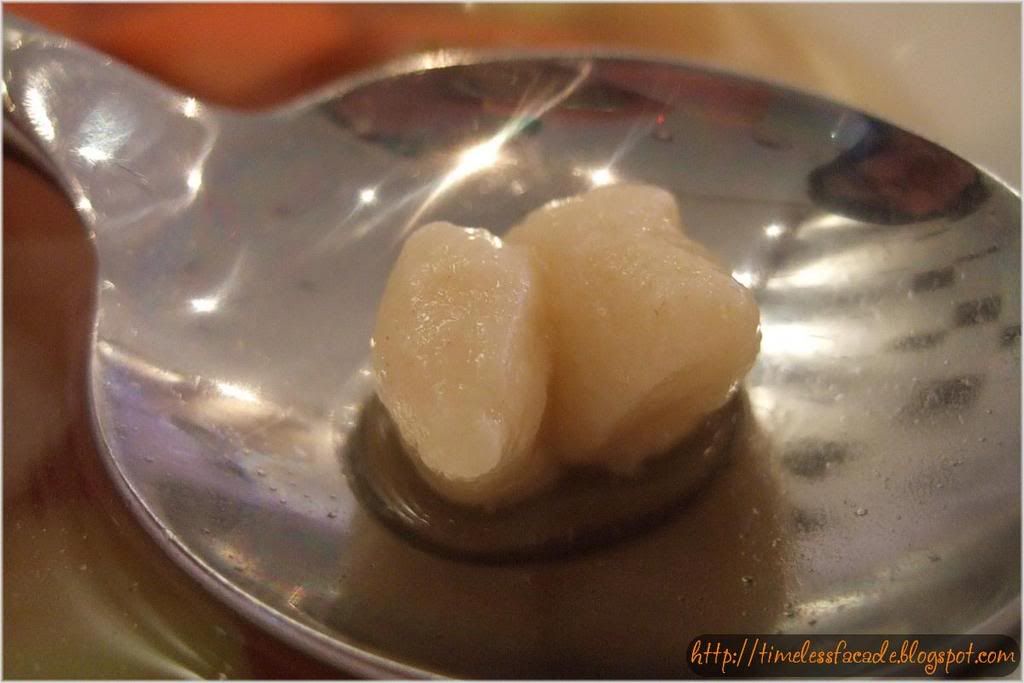 Gnocchi aka Italian Dumpling
Since we were trying Scandinavian food, we had to try their soup as well. Unfortunately, it wasn't as exotic as we had made it out to be and it tasted suspiciously like the
Capon Consommé
I had at
IL-Lido
. It was good nevertheless with the soup being tasty yet light. The dumplings were actually made from
Semolina Flour
and had this sweet and pleasing taste.


Fried Mushrooms and Zucchinis with Spicy Dip
This finger food came recommended by the waiter and I must complement his recommendation. The mushrooms and zucchinis were done tempura style. What makes this dish stand out is the surprisingly light batter covering the zucchinis and mushrooms, yet tasty from the salt granules and the dash of seasoning. The zucchinis would have tasted better if they had been sliced into smaller slices though.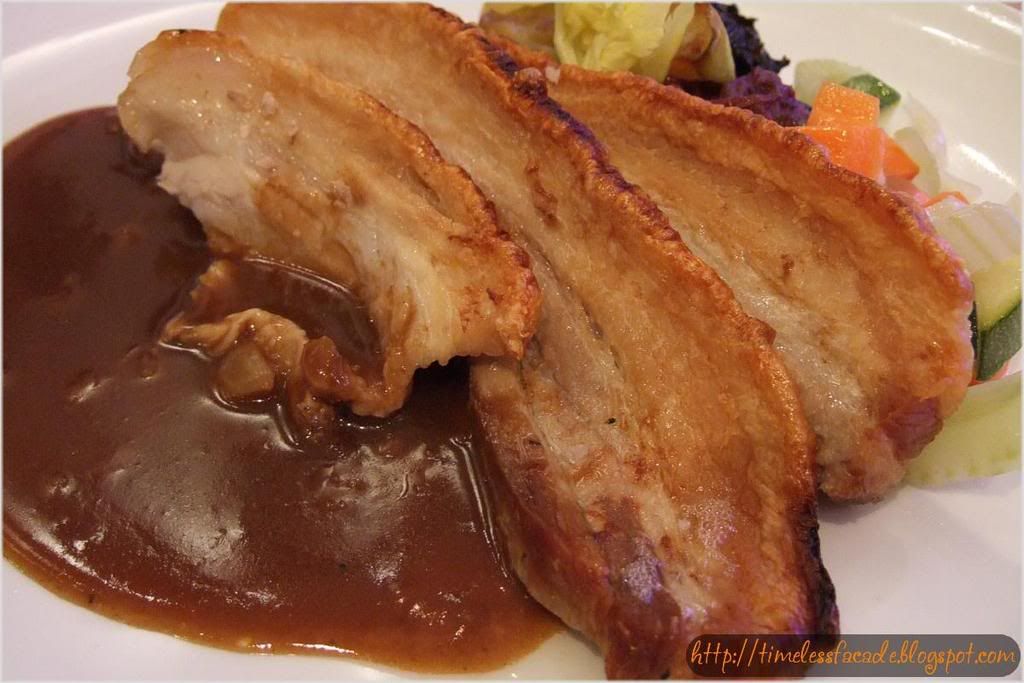 Scandinavian Roast Pork with Crackling Skin



Notice the crisp skin?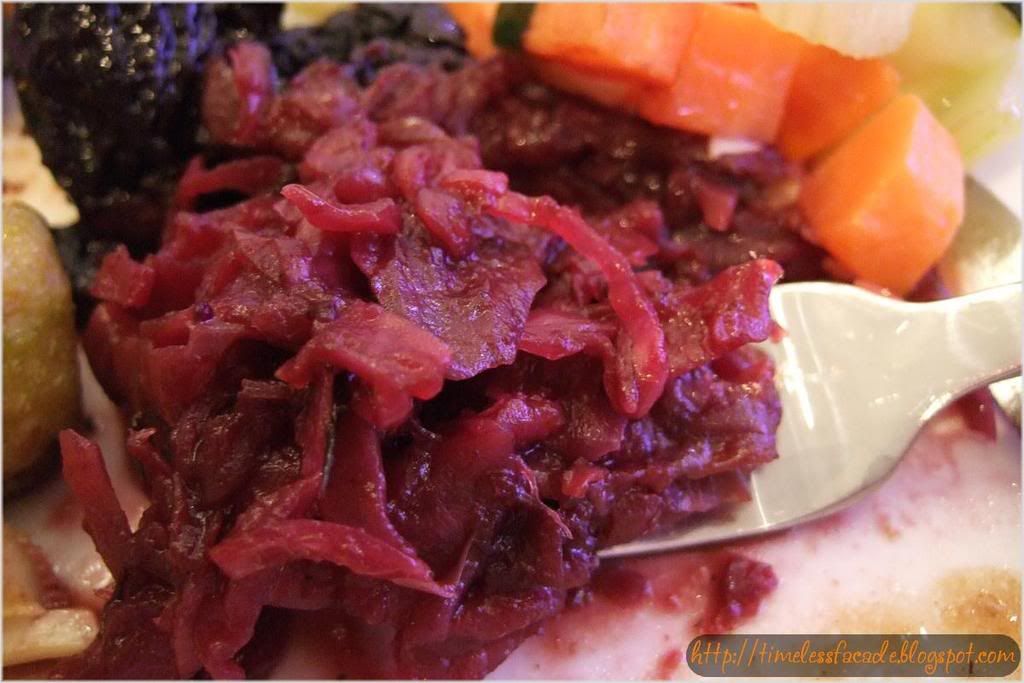 The side of Braised Cabbage in Red Wine
If the pictures don't tell you how good this dish is, I don't know how else I'm going to convey the message (Okay I might be biased because I fancy all things fried and crispy). The skin is seriously very crispy, so much so that you feel like you are biting through
Keropok
. Dip it in the accompanying gravy and you get a taste thats slightly burnt, salty and with a tinge of mushroom. I wouldn't call it out of this world, but it certainly is good. Another interesting thing about this dish is the side of cabbage(it certainly doesn't look like it) which is braised in red wine. The result is a very distorted cabbage with a sweet and strong red wine taste, too strong in fact, but certainly worth a try.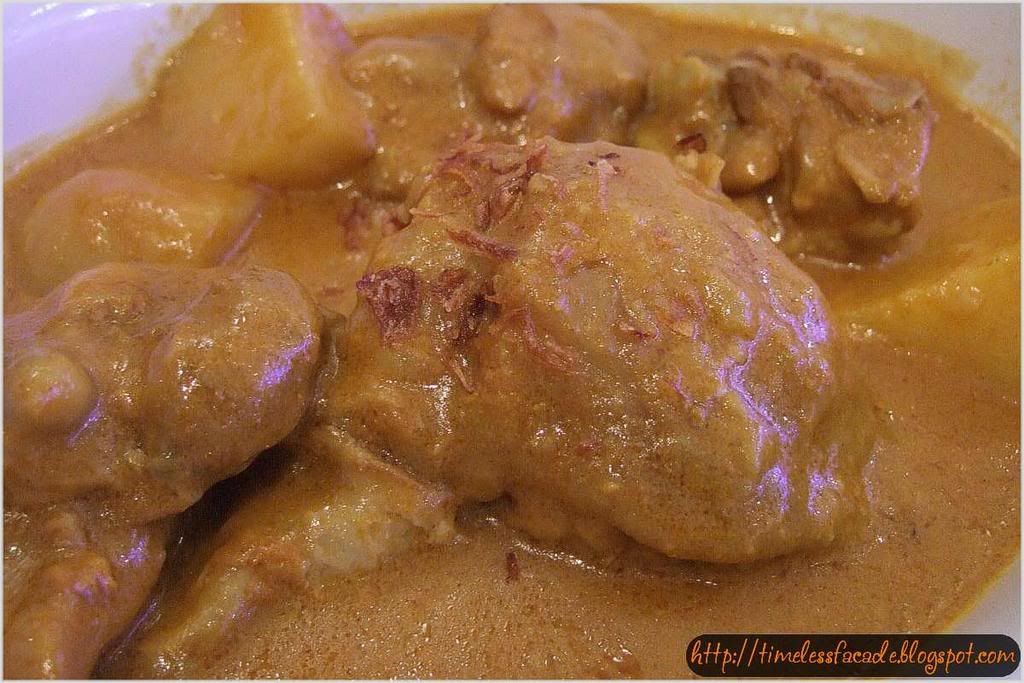 Curry Chicken
My gf had this and I tried some of it. This is one rather different curry chicken. No coconut or milk is used in the cooking of this dish, which inevitably leads to the question, "Wouldn't it taste weird without coconut or milk?" And my answer is no. In fact, it tastes exactly like the ones you eat outside minus the strong fragrance and starchy curry. Think of it as a watered down version without the fragrance. Certainly a healthier version as well. But hardcore curry folks might not fancy this. On a sidenote, the chicken was very tender and well cooked.


Warm Melting Chocolate Cake with Vanilla Ice Cream



Trickling chocolate
Notice how many times I have ordered this dessert? Practically countless. I'm just a sucker for chocolate cakes with warm chocolate in the middle. And I am pleased to announce that this gives
Morton's
Hot Chocolate Cake
a run for its money. Priced at only a third of
Morton's
rendition, it is almost as good. The outer crust is slightly hard while the inside is soft, moist and spongy. The only drawback is the molten chocolate which I personally found a wee bit too watery (they don't use Godiva Chocolate in case you are wondering). The accompanying vanilla ice cream was not up to my expectations as I could detect ice chips within the ice cream and it tasted just above average.


The bill
With a very reasonable price tag of $66 for 2 pax for such great food, great ambience and great service, I wonder where all the crowds have gone. The place was practically empty on a Monday night, save for 4 tables including mine. Don't miss this gem in the heart of town! As for me, I'm already planning the next trip down with my friends.
Final Verdict:
Ambience:7.5/10
Service:8/10
Food:7.5/10
Value for money:7.5/10
Overall:7.625/10
Address: #01-109/113 Millenia Walk
Contact: 63387113
Opening Hours: 8.30am - 11pm daily