My search for good Chinese restaurants continue and this trip saw 5 of us settling for Fujian cuisine at Beng Thin Hoon Kee Restaurant. Interestingly, although it is located right at the heart of the business district, not many people know of its existence. That's because it is located within the carpark itself of OCBC building and can only be reached via the carpark lifts. Take the ancient lifts(they still use the protruding black buttons) up to the 5th floor and a temple like facade greets you. You have to see it to believe!


Entrance



Interior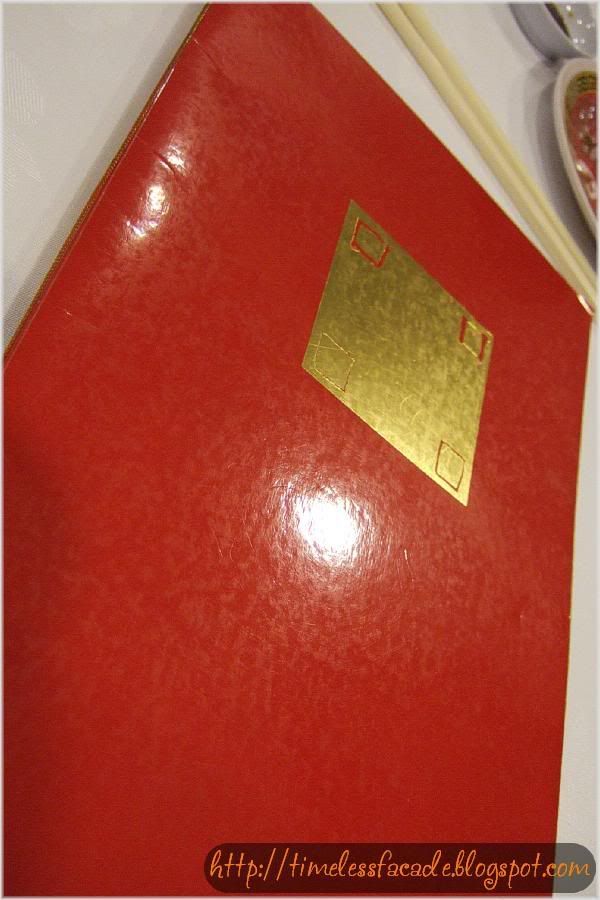 Menu
The interior was rather plain and the lady who took our orders seemed rather haughty. Since there were 5 of us, we ordered a set menu for 4 and added 2 other dishes in.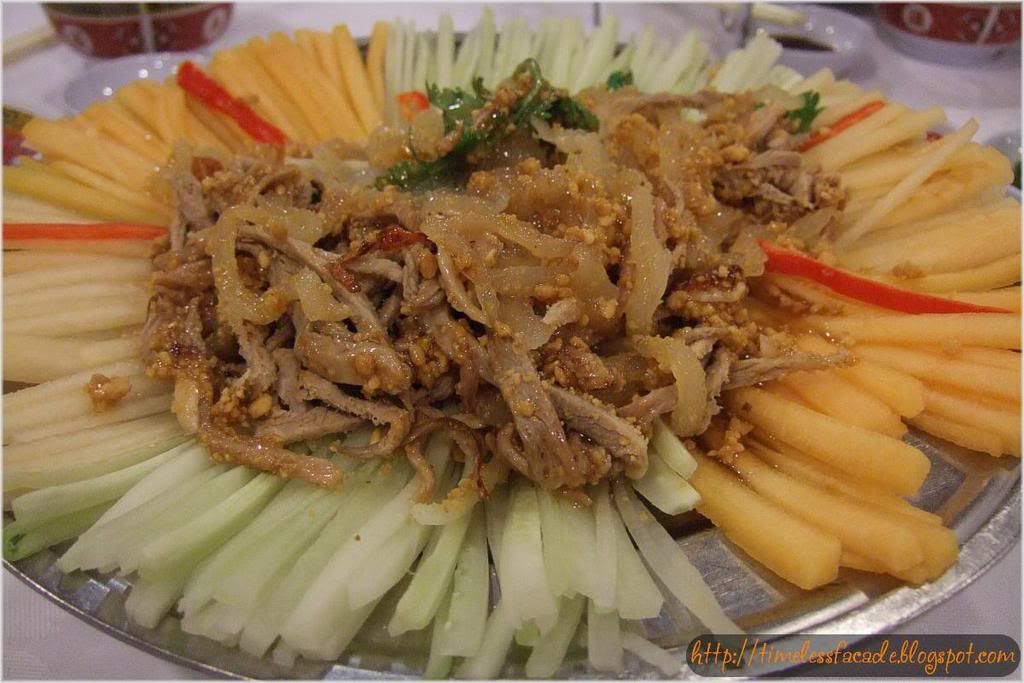 Beng Thin Duck Salad
The opening dish was the
Beng Thin Duck Salad
, which had a nice mixture of colours, flavour and texture. Slices of Cucumber, Chilli, Rock Melon and Duck mixed together and topped with a Peanut gravy. The result was a sweet salad with a strong fowl taste. In all honesty, I liked the salad only because it had the Satay peanut gravy on it. It helped to add a twist to an otherwise ordinary dish.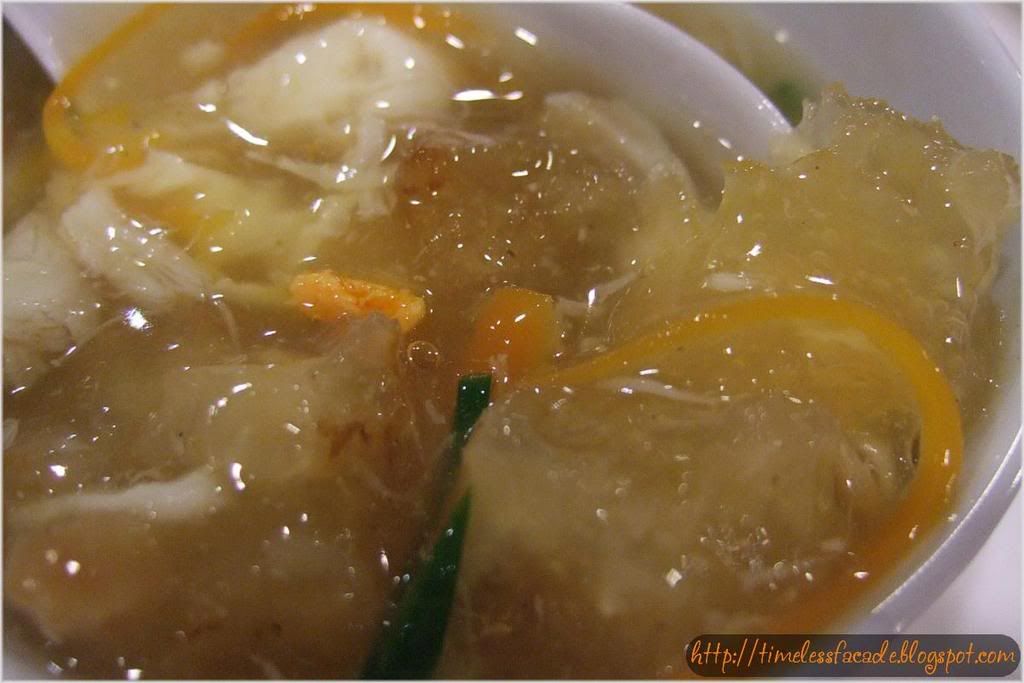 Crabmeat Fish Maw soup
I found this dish rather normal, although credit has to go to the rather generous amounts of Fish Maw inside. The Fish Maw was too soft and sticky for my liking and I prefer the one at
Beng Hiang
for flavours and texture.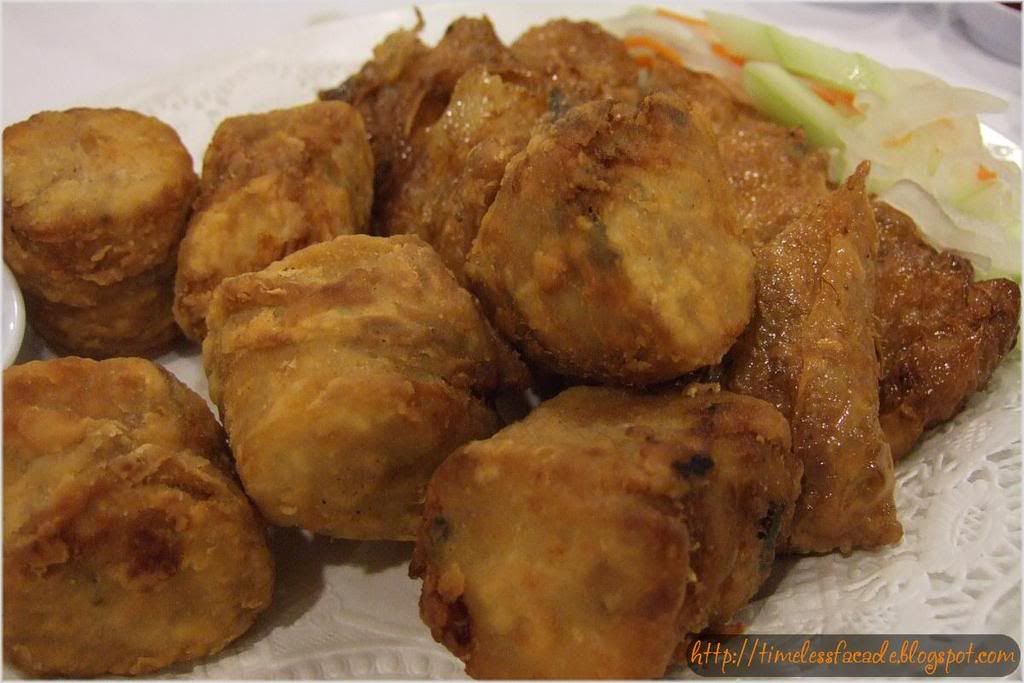 Fujian Style Ngo Hiang
I can't begin to describe how much I like
Ngo Hiang
. I practically grew up eating it! This
Fujian Style Ngo Hiang
was rather interesting as there were two parts to it. First part was a cylindrical roll of minced meat and some other stuff coated with flour then deep fried. It was not too bad, but I did find it a little too floury for my liking. The second part was the usual
Ngo Hiang
that you get outside. The ingredients are wrapped in beancurd skin and deep fried till its brownish. I preferred this to the flour one because it had more taste, was crispy and light on the palate. But having said that, I didn't find it fantastic either.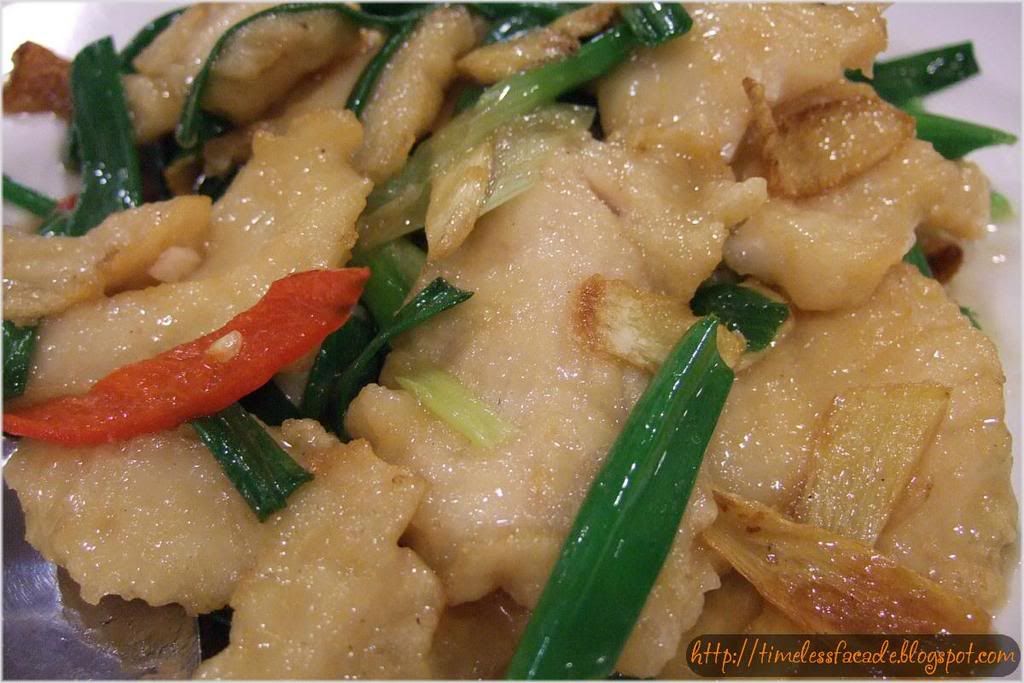 Fried Seasonal Fish Slice with Ginger/Scallion
This dish was a joke. I couldn't taste what fish it was, but it was too soft and puffy, which could be an indication that the fish wasn't really fresh.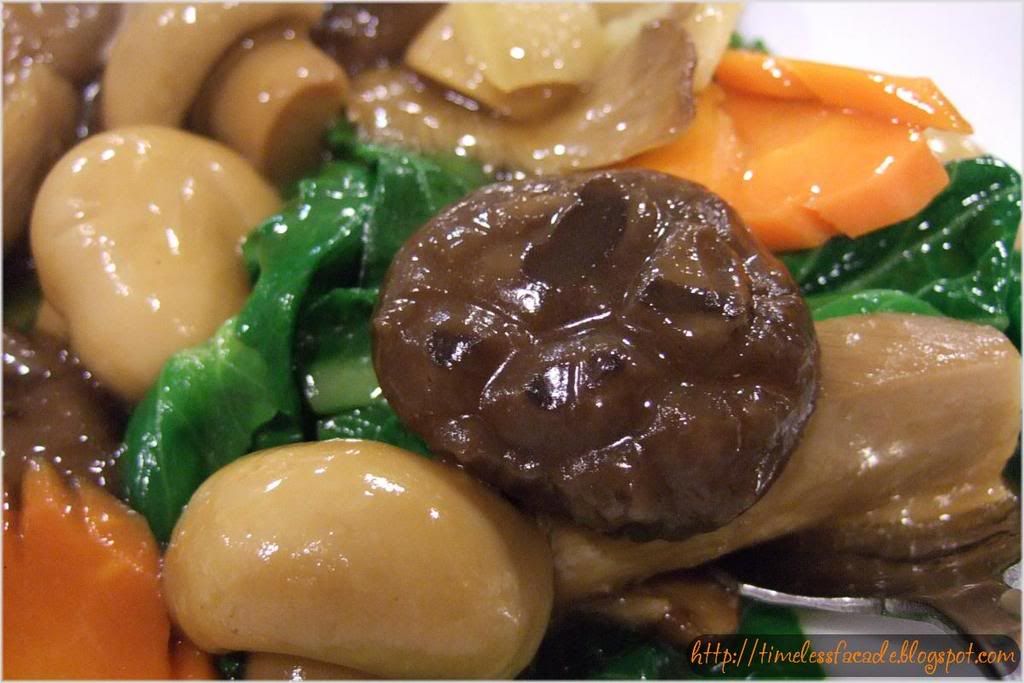 Mushroom with Seasonal Vegetables
This dish was rather normal, but the mushrooms were rather soft and tasteless. I believe the fault lies with the chef. Although the mushrooms weren't top grade, they might have tasted better if the cooking time was right.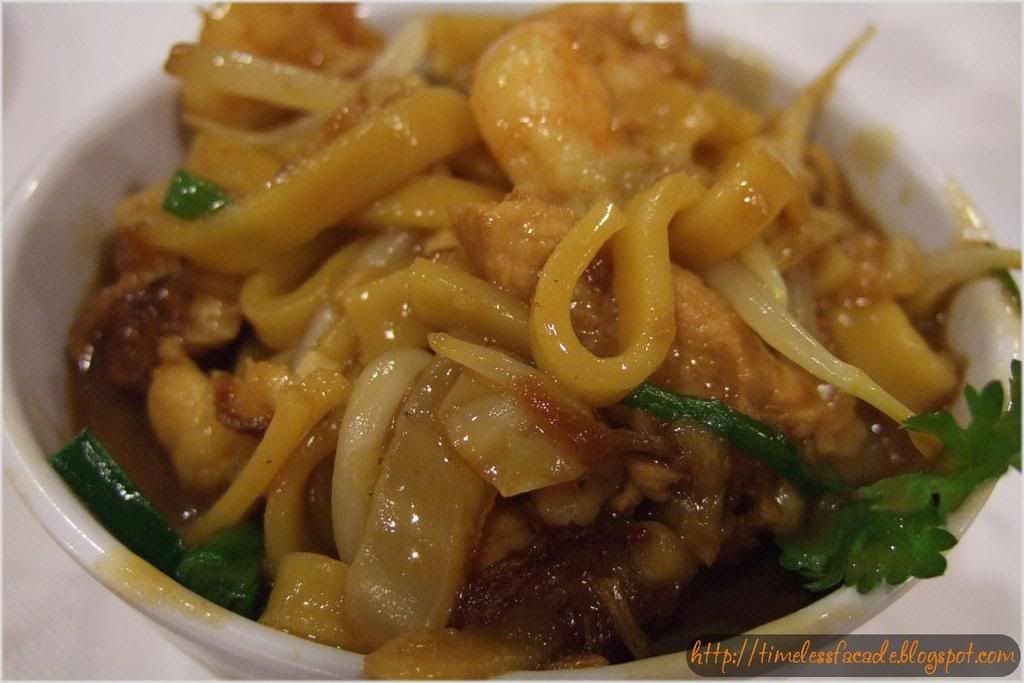 Hokkien Mee
The
Hokkien Mee
tastes slightly different to those you get outside, but
Beng Hiang
serves a similar rendition which tastes better. Beng Thin's version just falls flat with its rather bland gravy and very average egg noodles.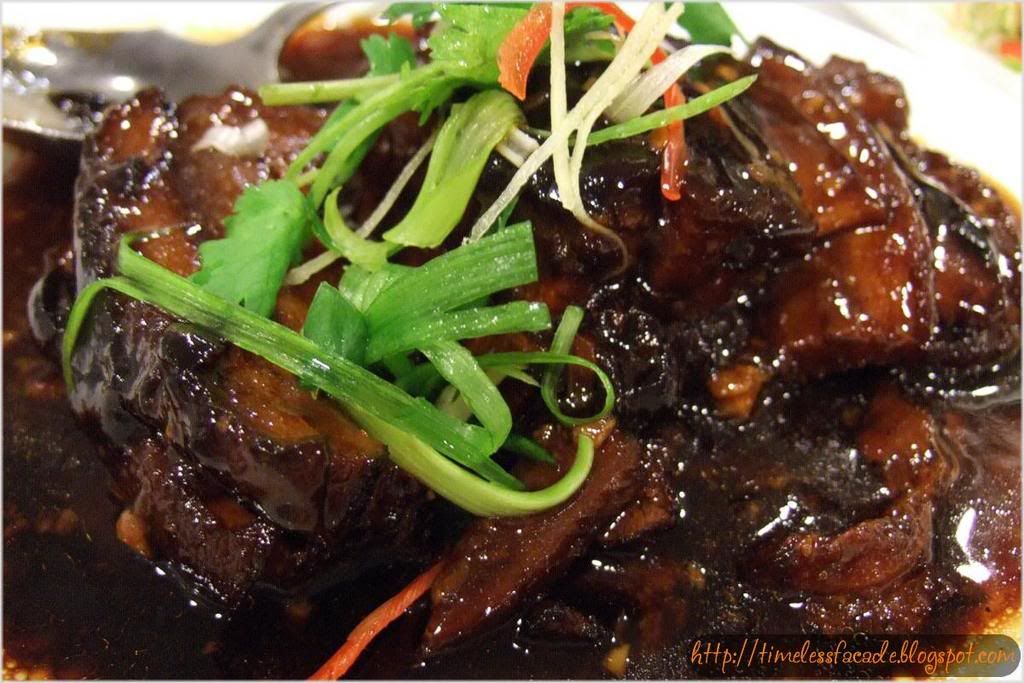 Kong Bak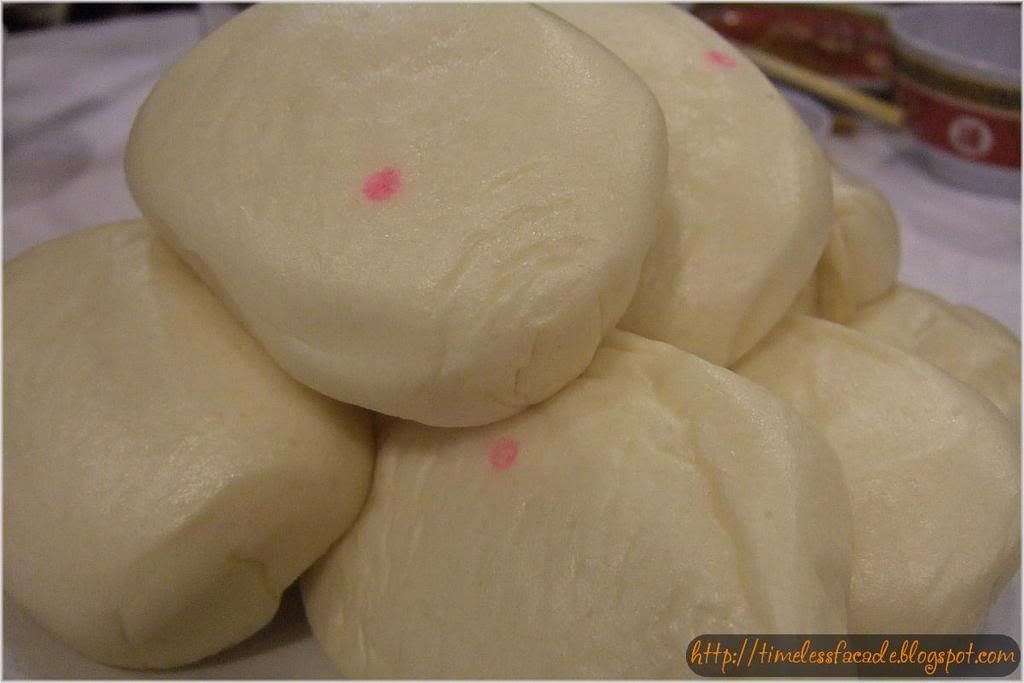 Pau
The
Kong Bak Pau
was one of the better dishes, but I still found it lacklustre. The
Pau
wasn't warm when served and it just smacked of supermarket prepacked quality. The
Kong Bak's
gravy was plentiful and very thick, which made for a good dip. Meat was tender, but not as quivery as I would have liked it to be.


Prawn Omelette
We had originally wanted to order
Oyster Omelette
aka
Orh Lua
, but my friend didn't take oysters, so we modified it to become
Prawn Omelette
. This dish was rather average with the fried eggs not being as crispy and the addition of too much flour. Pretty tasteless overall.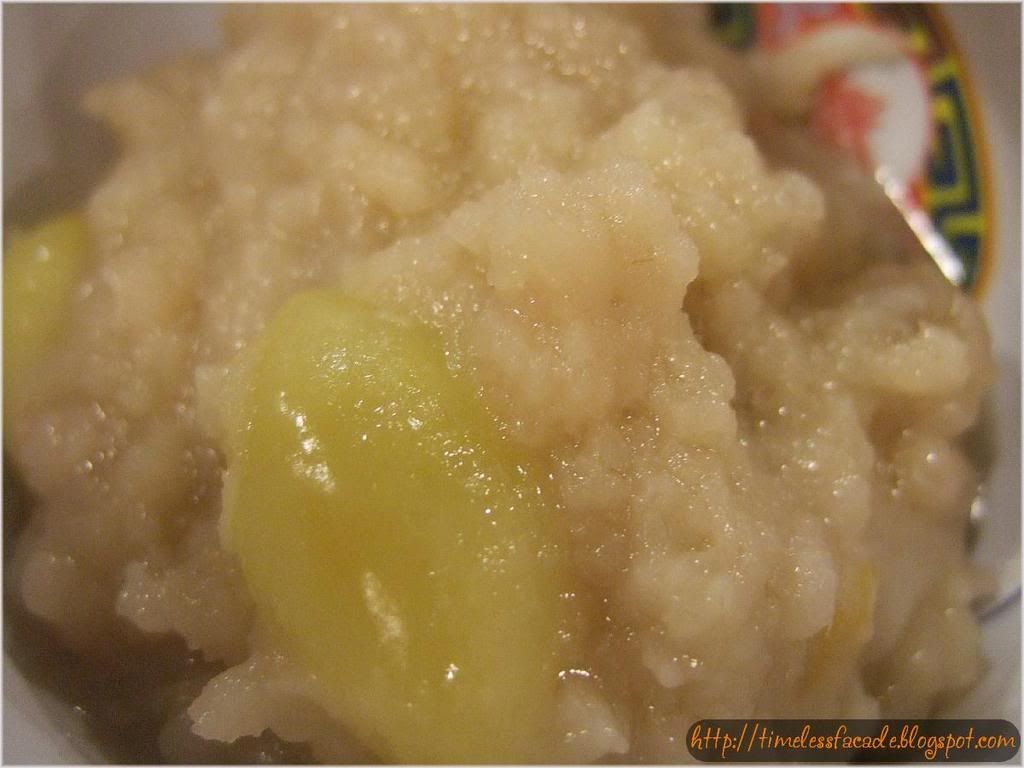 Orh Nee
Let me just say that I've very disappointed with the
Orh Nee
. I had heard good things about it only to be faced with the harsh truth - It was bad. There was no smoothness in the
Orh Nee
to talk about. Taste wise was rather light, very unlike the more robust flavour of
Huat Kee's
.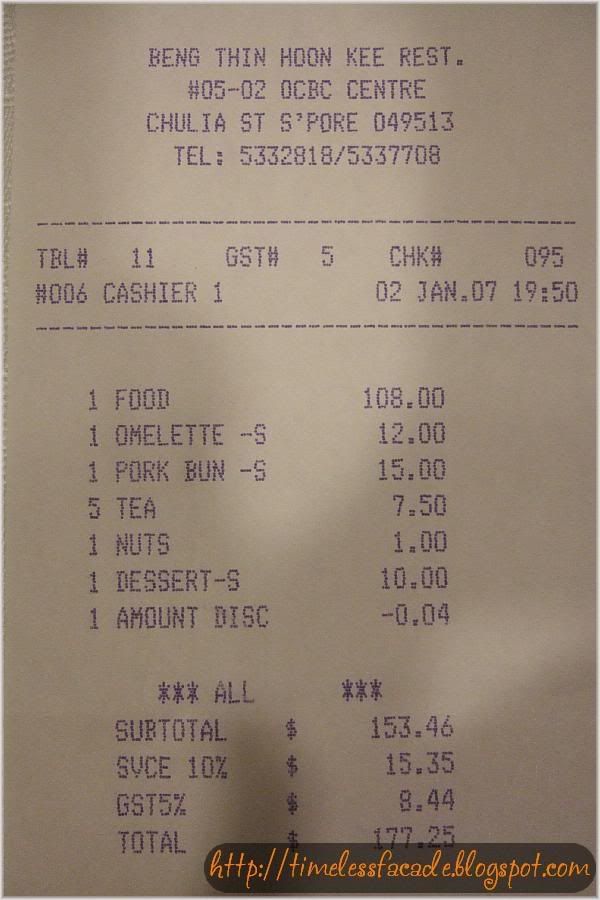 The bill
Well, dinner for 5 of us came to about $177. A little on the high side for the average quality of food. Overall the experience can be summed up in two words. Sheer disappointment (It probably had to do with our expectations). It would have been better if the service had been good, but no, it wasn't. As mentioned earlier, the lady taking our orders seemed rather haughty and the other waitresses were rather forgetful. I'm not suggesting that you give this place a miss, but do think twice.
Final Verdict:
Ambience:6/10
Service:6/10
Food:6.5/10
Value for money:6/10
Overall:6.125/10
Address: #05-02 OCBC Centre, 65 Chulia Street
Contact: 65332818/65337708