There is this new stall selling Vietnamese food near my house and it being a lull and rainy Saturday afternoon, my gf and I checked it out, not so much so for the food, but because we were plain lazy and didn't feel like going anywhere far.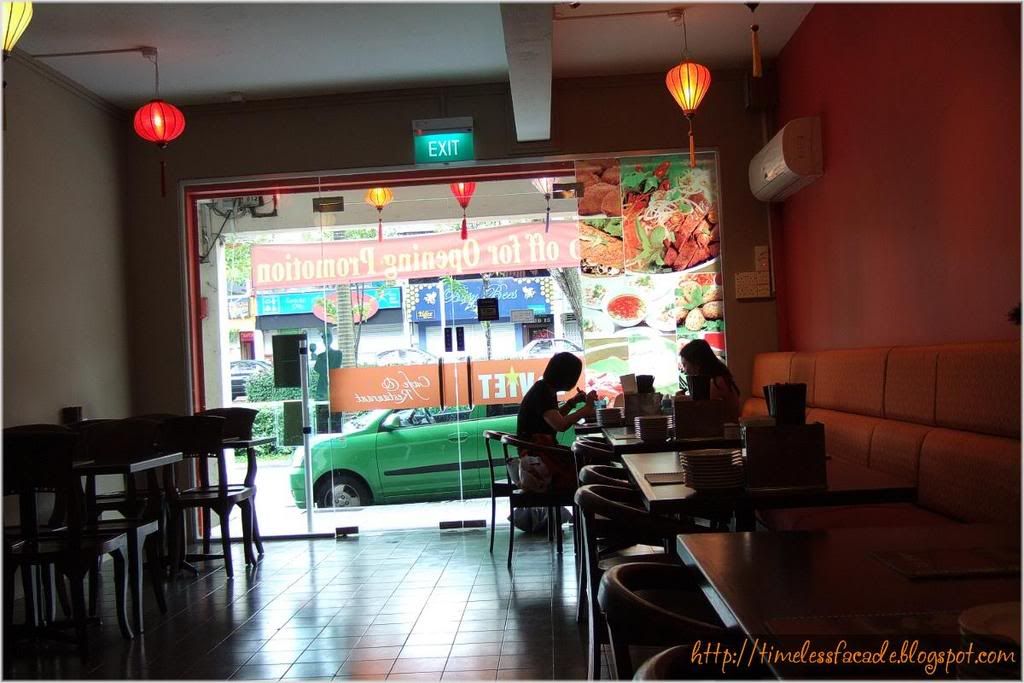 Interior



Menu
The above mentioned restaurant lies along a row of shophouses in a rather secluded part of Serangoon Gardens, where most people don't actually walk to unless you are looking for the OCBC bank. A rather weird choice for location if you ask me. The shop announces its presence via a huge red signboard on the outside and the interior is decidedly simple Asian.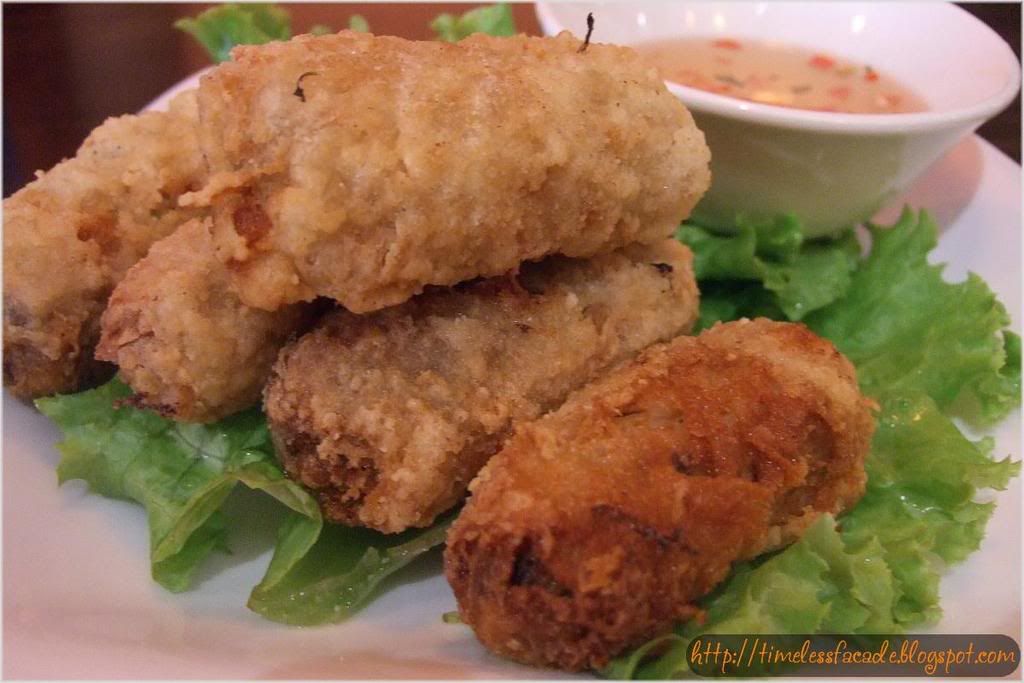 Cha Gio - Crispy Pork Spring Roll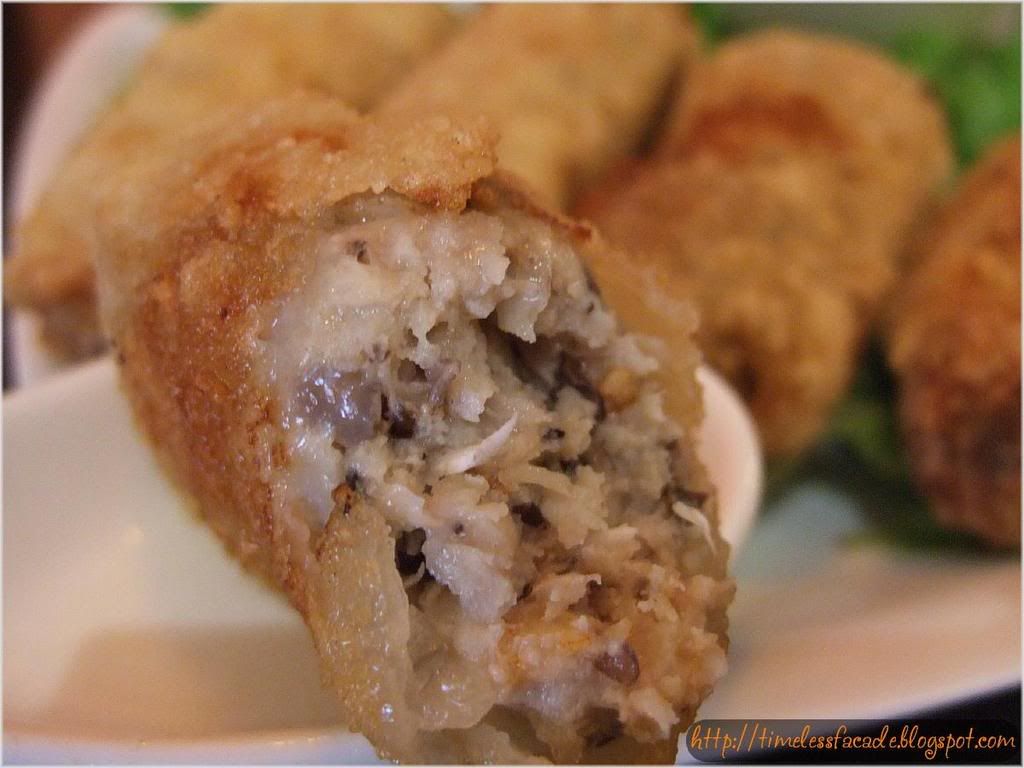 The filling
This dish came highly recommended in the menu and by the waiter, so we had an order of the pork variation (there's chicken as well). Honestly, I didn't think too highly of this dish as it wasn't the least bit interesting. I found it rather average, not that I've tried it before though. The exterior was deep fried until crispy and the filling of pork, shrimps and yam was bland. You probably have to dip it into the sweetish spicy sauce to get any flavour (actually, most of the dishes came with that sauce. Maybe its a staple?)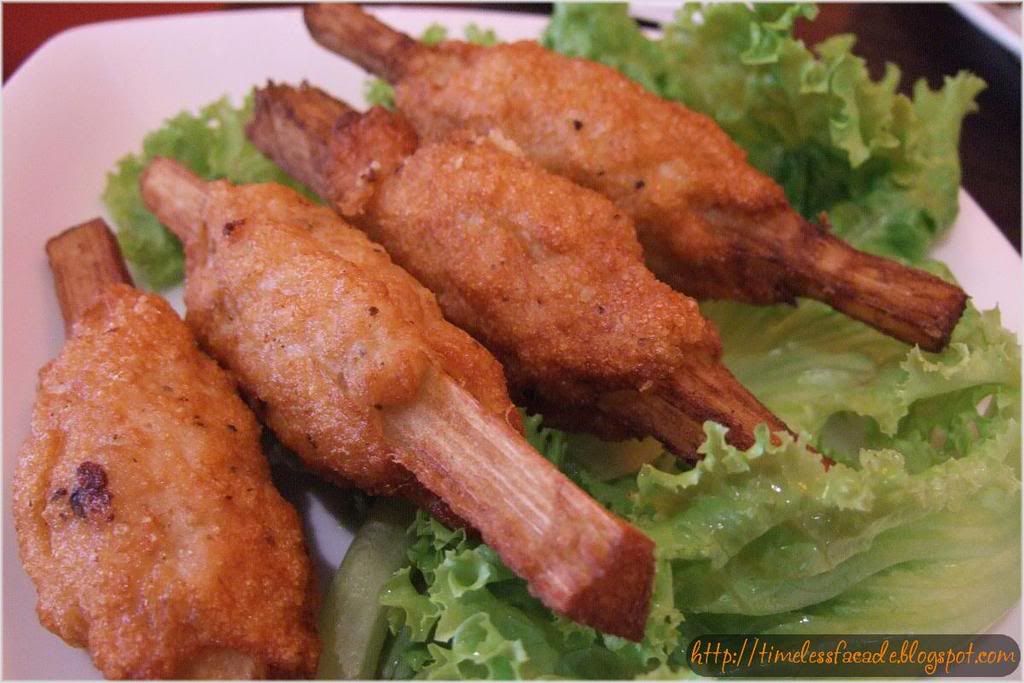 Chao Tom - Sugar Cane Prawn
This was also recommended and I fairly liked it. A most interesting concept of mincing prawn and fish into a paste and wrapping it over sugar cane. The paste alone was normal but when eaten together with the sugar cane (you have to chew on the sugar cane to get the juice. I don't really think you can swallow the pulp though), you get something which is a mixture of tastes - a perfect blend of salty and sweet. But chewing on the sugar cane can be quite a chore, especially for lazy people like me.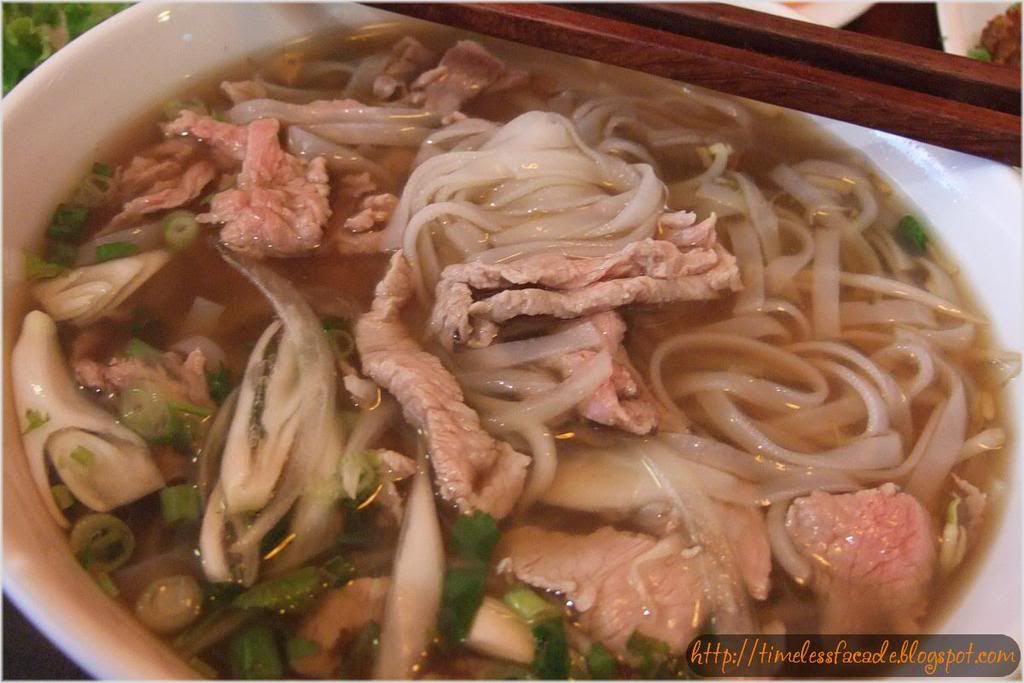 Pho Bo Tai - Beef Slice Noodles



The beef
I'm no stranger to Pho, having eaten it through my college years in North America at the dozens of Vietnamese stalls there. However, ever since coming back to Singapore, I've not been able to find one which matches up to what I used to have. Le Viet's rendition comes fairly close, but still lacks the stronger soup base with a more natural and stronger beef taste. The beef slices were medium rare but not as chewy as I would have liked it to be. Quite a generous serving of beef slices though.


Com Tam Suon Nuong - Broken Rice with Grilled Pork Chop
I had expected broken rice (ie. normal rice broken into smaller bits), but all I got was normal rice. So much for the name. The grilled pork chop tasted familiarly like
Char Siew
except for the fact that this one seemed a lot fattier. However, the garnishing of spring onion and fried garlic proved to be a winner for this dish. Pleasantly fragrant, it added another angle of taste to the grilled pork chop.


The bill
A very filling lunch for 2 came up to about $30 because of a 10% discount (promotion period I believe), which is a little on the high side considering what we had ordered. Bring it down to below $25 and I'll have reason to go back often. Other than that, it will probably be just a once in a blue moon thing. And service is quite good by the way.
Final Verdict:
Ambience: 6/10
Service: 7/10
Food: 6.5/10
Value for money: 6.5/10
Overall:6.5/10
Address: 903 East Coast Road & 76 Serangoon Garden Way
Contact: 64464567 (East Coast) & 68586875 (Serangoon)