Had dinner with LSD and a few other makan khakis at Magma German Wine Bistro. As the name suggests, it serves German food. Heard about this place quite some time back through some TV Chinese variety show so after much postponement, we finally got down to it on a wet Friday evening.


Exterior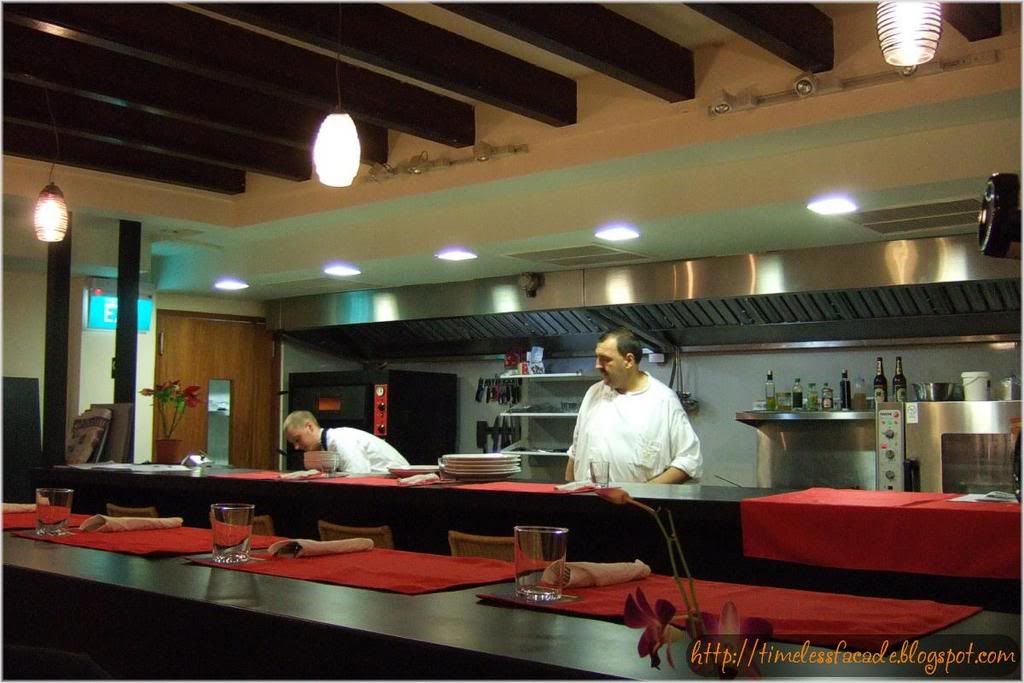 Chef's area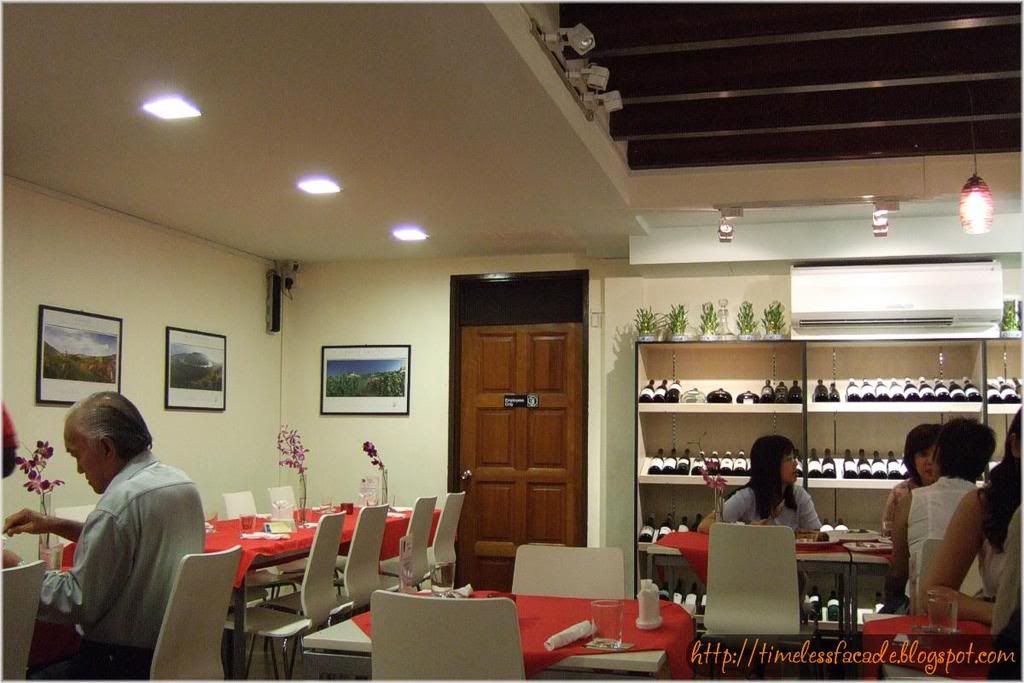 Interior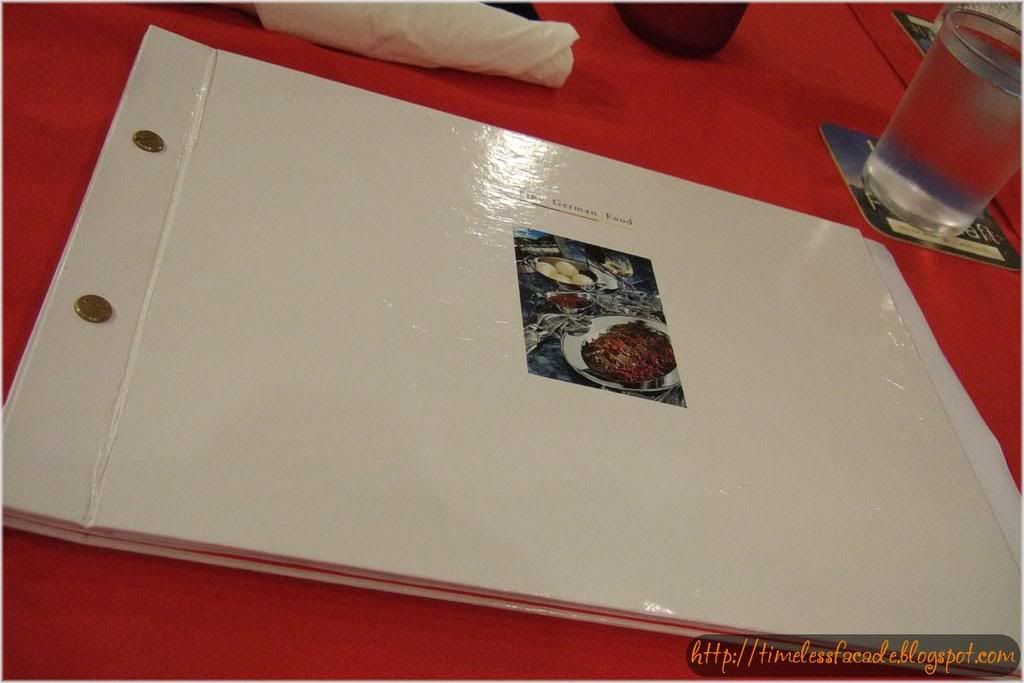 Menu
Magma occupies 2 units right at the start of Bukit Pasoh Road. Locating it proved to be a problem as it was discreetly hidden from view with no outstanding features or signs. But find it and you will be welcomed into a cosy and homely dining area with an open kitchen concept and racks of wine bottles. Though sparsely finished, the restaurant exudes warmth (literally as well. It was a little warm that day) and makes you feel right at home. They could do with bigger tables though. It was honestly a little cramp, which hampered eating and relaxed conversation quite a bit.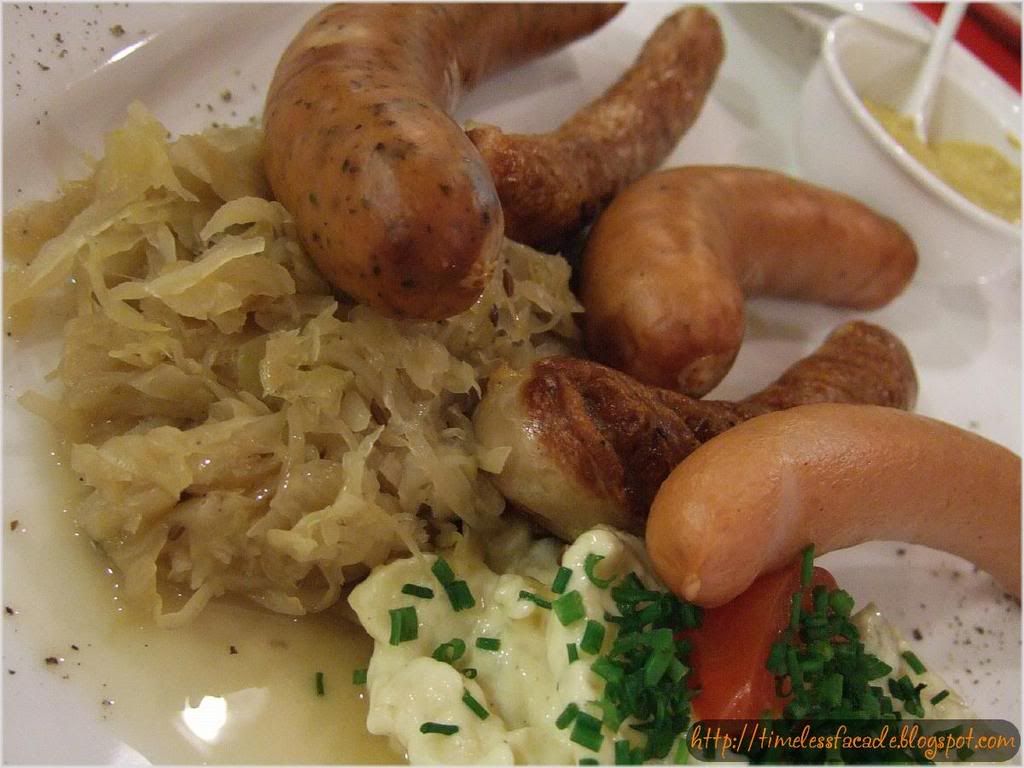 Wurstplatte mit 5 oder Wursten - Sausage Platter with 5 Sausages
We started off with the sausage platter consisting of 5 different types of sausages. Frankly, I probably have only eaten 2 or 3 of the varieties that were served, so I pretty much can't identify any of them except for one which was Cheese Sausage. Overall a rather pleasing dish with the sausages being crunchy and not too pressing.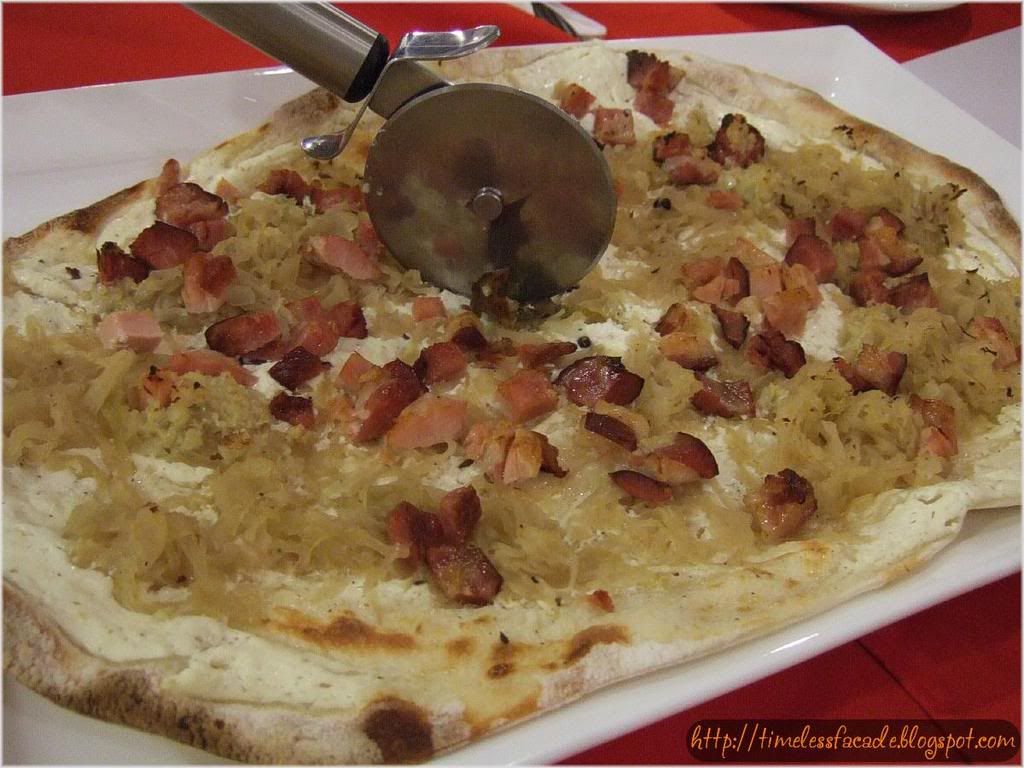 Kasseler, Knoblauch und Sauerkraut - Smoked Pork Loin, Garlic and Sauerkraut Pizza
Interestingly, the German's do their pizza differently. Sour cream is added in place of cheese or tomato sauce. Our
Kasseler, Knoblauch und Sauerkraut
came with generous toppings of Sauerkraut and had this garlicky taste although I couldn't detect any visible signs of garlic. The crust was amazingly thin (I certainly didn't expect such a thin crust from a German restaurant) and the pork loin was relatively well smoked, trapping in the smoky flavours. A unique dish, but I personally found the Sauerkraut topping a little too overwhelming.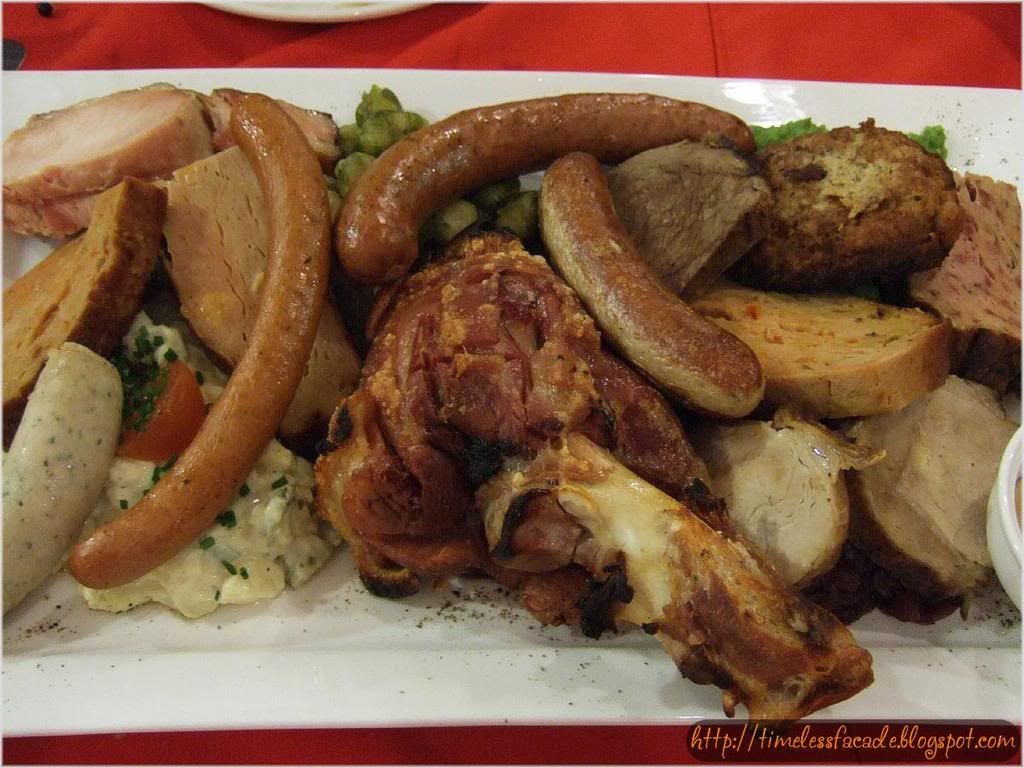 Gemischte Schlachtplatte fur 3 Personen - Mixed Butcher's Platter of all our Pork Specialities for 3 Persons
Words escape me when I try to describe the platter that was set before us. Humongous would probably come close. Just staring at the all pork dish sent shivers down my spine. I really couldn't imagine eating that. Well, we did anyway. I would very much like to go into details about the various cuts and items in the platter, but that would take too much time (there are about 8 different items?) and I honestly can't remember whats what. Only thing I can remember is the Pork Knuckle, which did seem a little too soft with the skin not being as crispy as I would have liked it (read my entry on
ABOF
for good pork with crackling skin). Overall, the whole dish tended towards the salty side. Actually, all the dishes were a little too heavy on the salt, not just this one.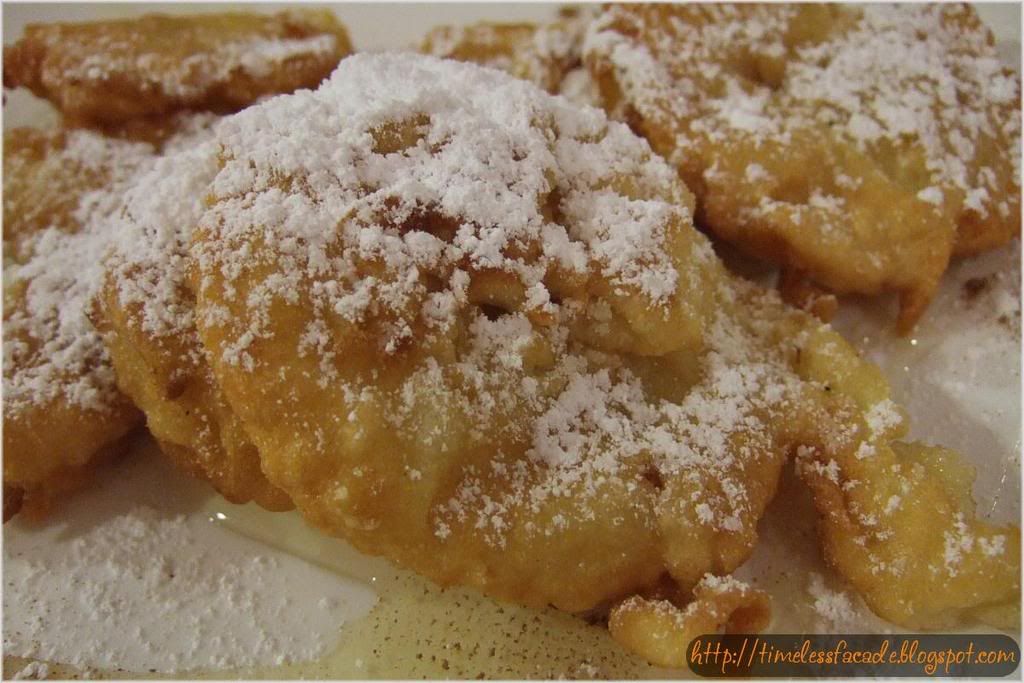 Gebackene Apfelscheiben mit Zimthonig - Baked Apple Slices in Puff Pastry with Honey and Cinnamon.
Ever wondered how
Goreng Pisang
with apple instead of banana would taste like? Well, this is your answer. A very interesting rendition of the conventional Apple Pie. The honey added a sweet twist to the dish but I couldn't quite make out the taste from the cinnamon powder. Also, the apple slices had their citrus flavour removed which was probably for the better.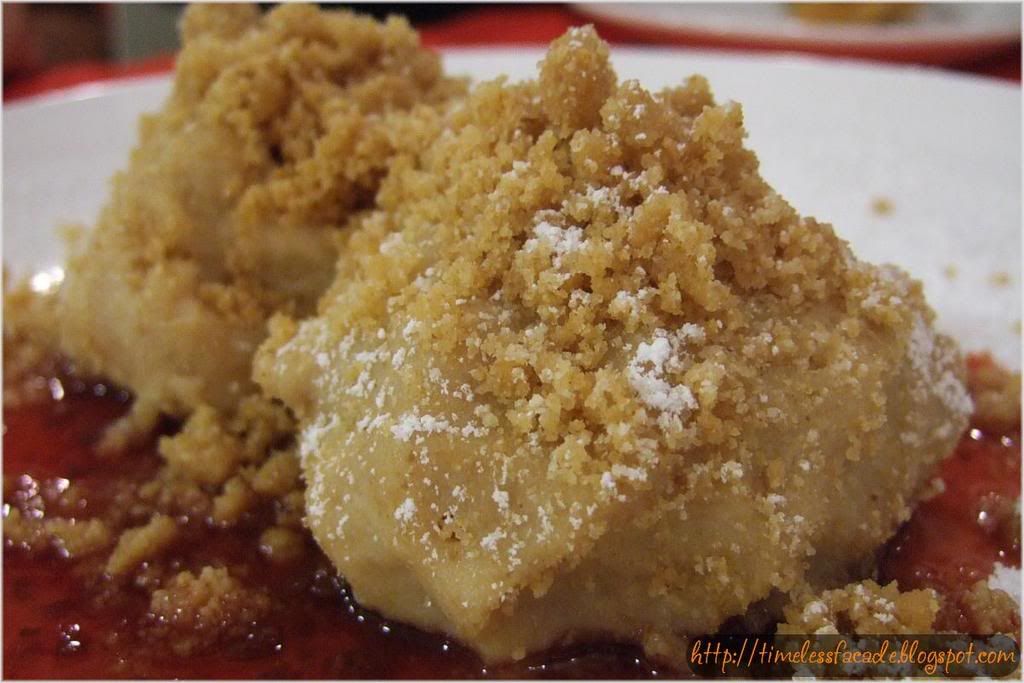 Baked Cheese stuffed with Gooseberries
I'm just guessing the name of this dish because its a daily special and not anywhere in the menu, so please forgive me if I get it wrong. Another very interesting dish. The whole thing actually tastes like pudding with a slight cheesy aftertaste, very much like the cheesecake kind of cheesy and not the right in your face kind. But I didn't think too much of it as it got quite sick after too much, probably due to the soft and wet cake like pastry.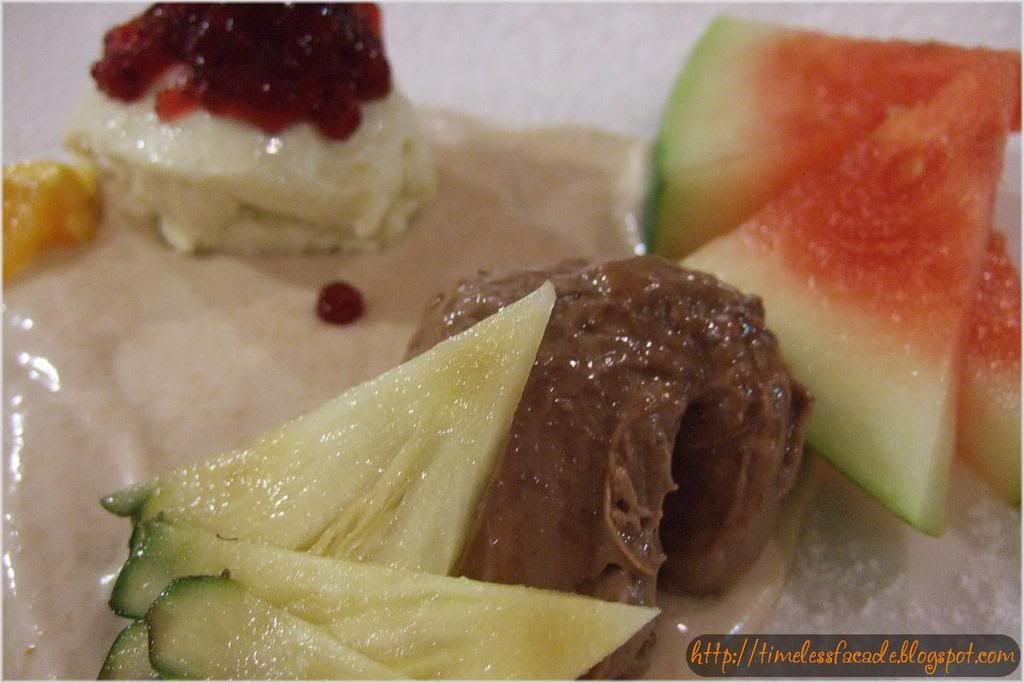 Chocolate Mousse
Interestingly, the Chocolate Mousse had but a faint resemblance to the normal ones you can get outside. There were 2 scoops(or is it moulds?) of Chocolate Mousse, one White Chocolate and one Dark Chocolate, sitting on a bed of Marzipan sauce. In all honesty, the White Chocolate Mousse didn't quite taste like White Chocolate. Instead it tasted creamy and had this mild spicy aftertaste. But as with the Chocolate Mousse, the texture was smooth and thick. From our conversation with the waiter later, the spiciness behind the White Chocolate Mousse was attributed to the type of Chocolate used (see picture below).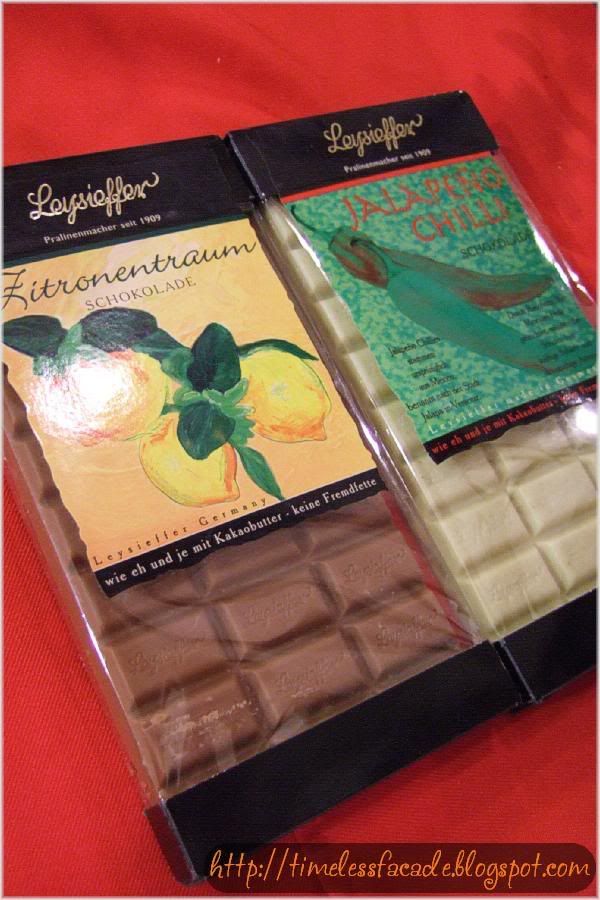 The culprits
And just for the record, the Marzipan sauce didn't taste like Marzipan. Instead, it had an almond taste to it.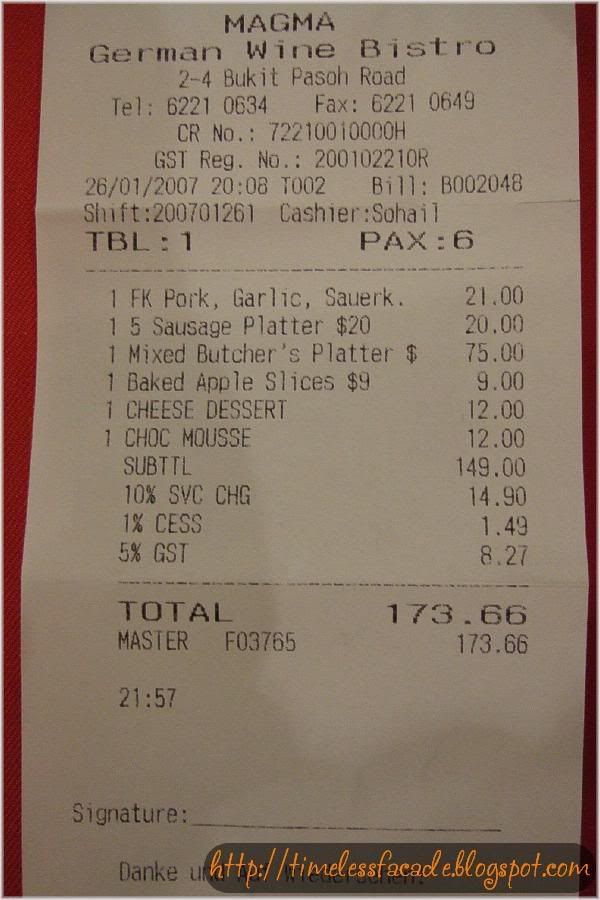 The bill
We chalked up a bill of $173.66 for a filling dinner for 6 pax. The general consensus is that its genuinely value for money. The food is of above average quality and service is great and the waiters actually know what they are talking about with regard to the food. The place could do with bigger tables(mentioned earlier) and a slightly better ventilation system because the open concept kitchen isn't seperated by a glass panel. Also, it would be nice if the food adopted a lower salt policy. That aside, a revisit is on the cards.
Final Verdict:
Ambience:7/10
Service:8/10
Food:7.5/10
Value for money:7/10
Overall:7.375/10
Address: 2-4 Bukit Pasoh Road
Contact: 62210634
Comments: Their menu can be downloaded off their website @ www.magmatc.com