Went on a tiny shopping spree with my gf at Suntec so decided to have dinner around the area. And as usual, every dining outlet at Suntec, down to Burger King, was bursting to the seams with people. We had noticed Pearl River Palace on one of our previous visits to Suntec, so thought of giving it a try.


Exterior



Interior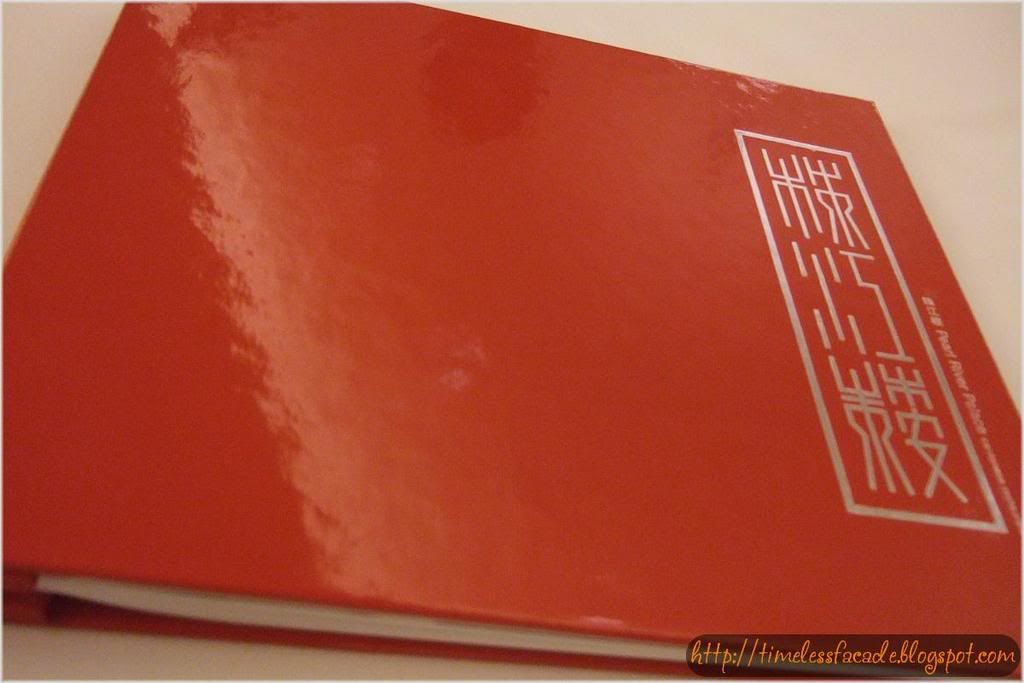 Menu
Doesn't it scare you when a restaurant is devoid of the usual mad crowd which throng food outlets during the weekend? But then again, Pearl River is hidden in a rather secluded area on the third floor of the Suntec convention area. The only trace of its presence is the huge neon light signboard plastered on the windows facing Marina Square. If you do manage to find it, a waitress greets you at the and ushers you into a huge hall which can seat at least 150pax upwards - only a tenth of which is taken up.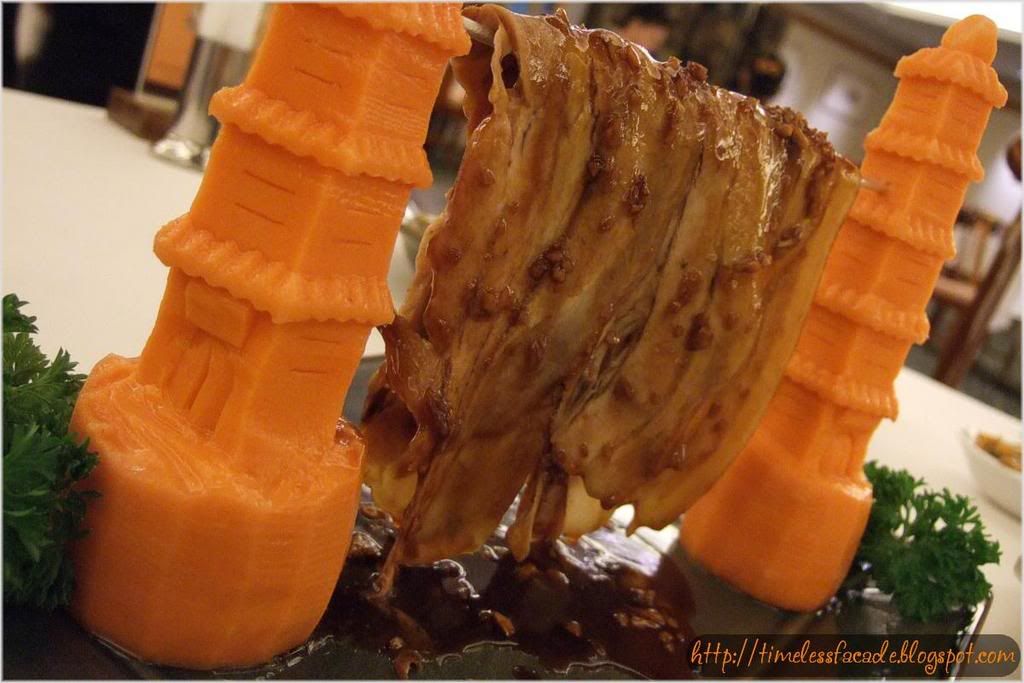 The Washing Line - Sliced Pork with Minced Garlic
I don't know what they were thinking when they coined the name "The Washing Line". Sounds rather crude to me, but I must credit them for their innovation in presentation. Two chilled carrots sculptured into towers and joined by a thin pole, with thin slices of meat draped across the pole and thick garlic sauce drizzled over - this is probably one of the most innovative dish presentation I've seen in a Chinese restaurant in quite a long while. Taste wise, I found it fairly acceptable, just that the garlic taste in the syrup was a little too strong and too sweet.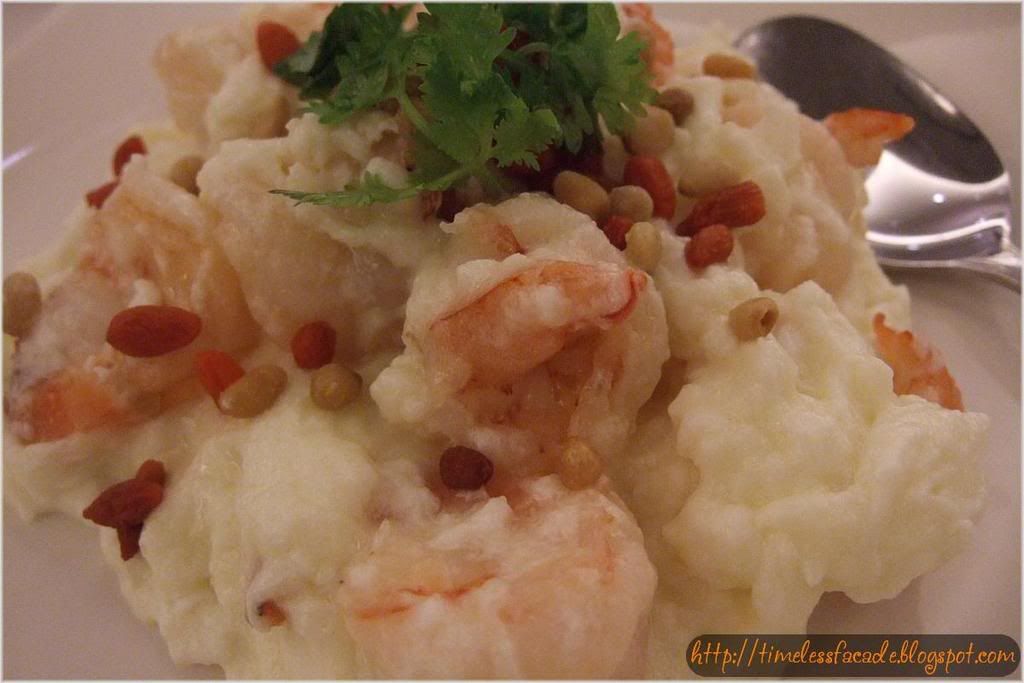 Sauteed Fresh Prawn with Egg White & Pine Nuts
I really am a sucker for dishes with lots of egg white, which explains this dish. I personally found it not too bad, with the texture being a little sticky and dense probably due to the addition of milk or the prolonged beating of the egg white. It actually reminded me of MacDonald's scrambled eggs, but easier on the milky taste. The pines were a nice addition with their slightly nutty taste, but the wolfberries seemed rather redundant. Now we certainly can't forget the prawns, which were crunchy and larger than normal. By and large a fairly nice dish, but a little on the salty side.


Braised Beancurd with Enoki Mushrooms & Preserved Vegetables
Sigh. Just another normal beancurd dish. Bland with an equally bland gravy. This pretty much sums it up. The Enoki Mushrooms did add a nice crunch to the dish though.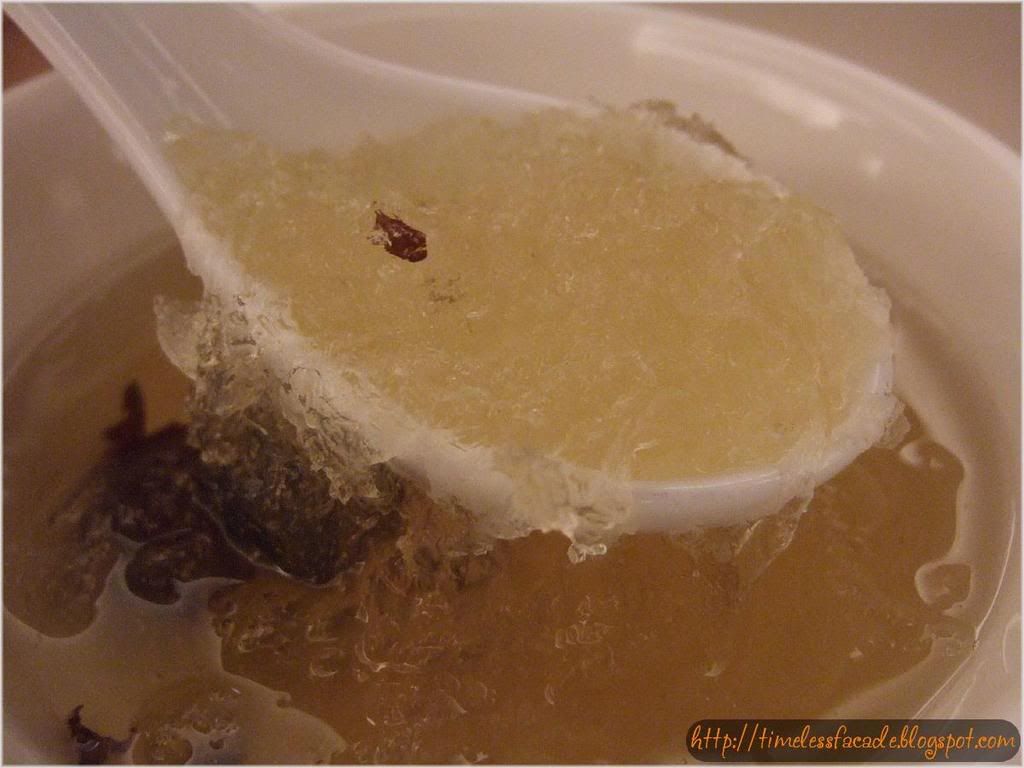 Double Boiled Bird's Nest with Rock Sugar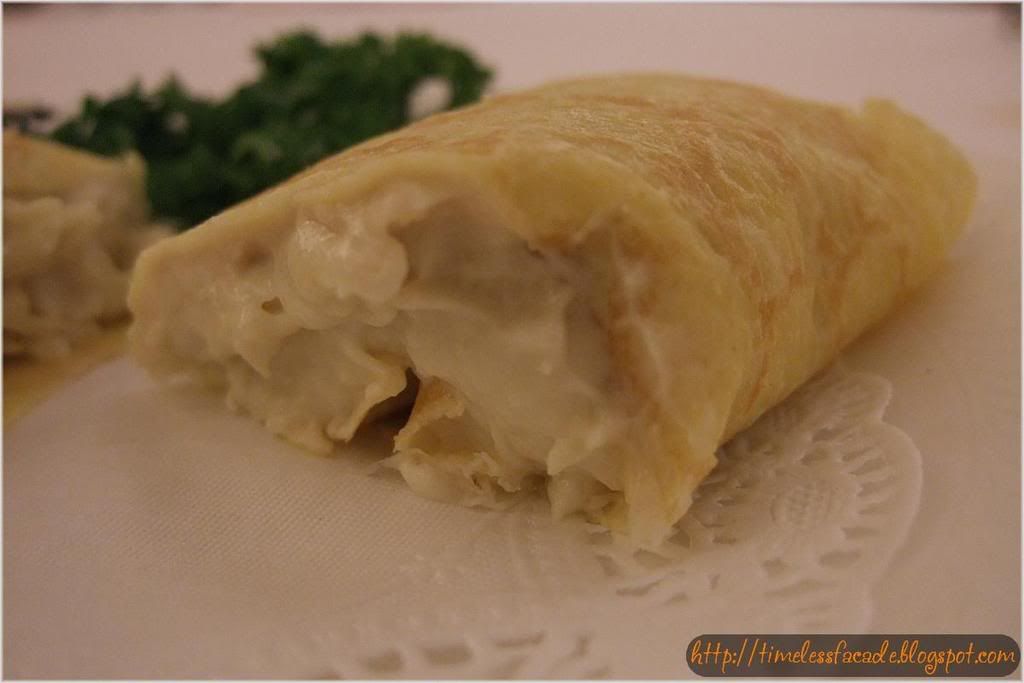 Chilled Durian Pancake
Desserts. You either love them or loathe them. They have this effect of expanding your already exploding waistlines and yet you can't seem to resist their seduction. Alright I'm exaggerating, but I love my desserts. Our dessert for the night was a bowl of bird's nest soup and a slice of
Durian Pancake
. The
Double Boiled Bird's Nest with Rock Sugar
was pleasant, but the bird's nest wasn't exactly of top quality. Then again, I can't expect much for the price. One gripe though. I could see bits of feather still embedded in the strands of bird nest, which meant that the staff didn't put in the extra effort to remove them before boiling - something which I would expect from a top grade restaurant, but probably not Pearl River. The
Durian Pancake's
skin was a little too dry and thick, but the Durian filling was thick and flavourful, signs of a good Durian. And its rather small for $2.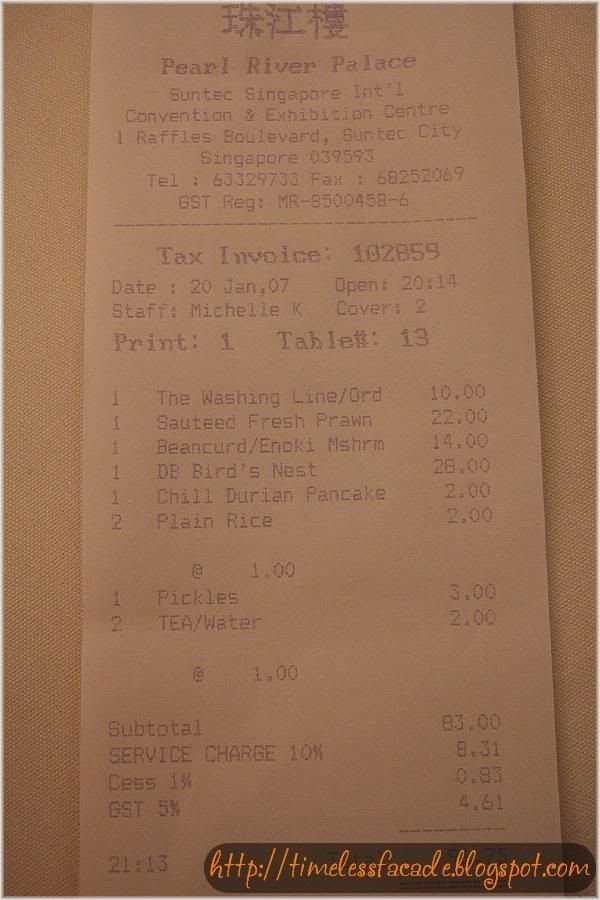 The bill
I certainly wasn't expecting to spend close to a hundred bucks($96.75/-) for this dinner, but I guess its all my fault. Me and my bird's nest, which added about $30 to the bill. Having said that, prices at Pearl River are on the higher end of the reasonable spectrum, but food quality is slightly above average. The service is above average, but could do better with increased attentiveness. Another point to note, they charge $1/head for ice water or tea, so go for the tea.
Final Verdict:
Ambience:7/10
Service:7/10
Food:6.5/10
Value for money:6.5/10
Overall:6.75/10
Address: Suntec City, 1 Raffles Boulevard
Contact: 63329733