I was so impressed with my
previous visit
to Summer Pavilion that I made plans to return. This time round, it was with my gf and a few members of her family in tow. Now that makes two visits in the same number of days. Since I've already touched on the interior and other stuff
before
, I shall go straight to the food. We ordered a set menu for 6 pax ($128+++) and a dessert.


Braised Shark's Fin Soup with Crab Meat and Fish Maw
This dish was disappointing. The serving of shark's fin was meagre and the slightly starchy soup was dominated mainly by the fish maw and crab meat. Taste wise was still not too bad, but totally off tangent from the one I had the night before. Then again, you can't really expect much from a comparatively cheap set menu can you?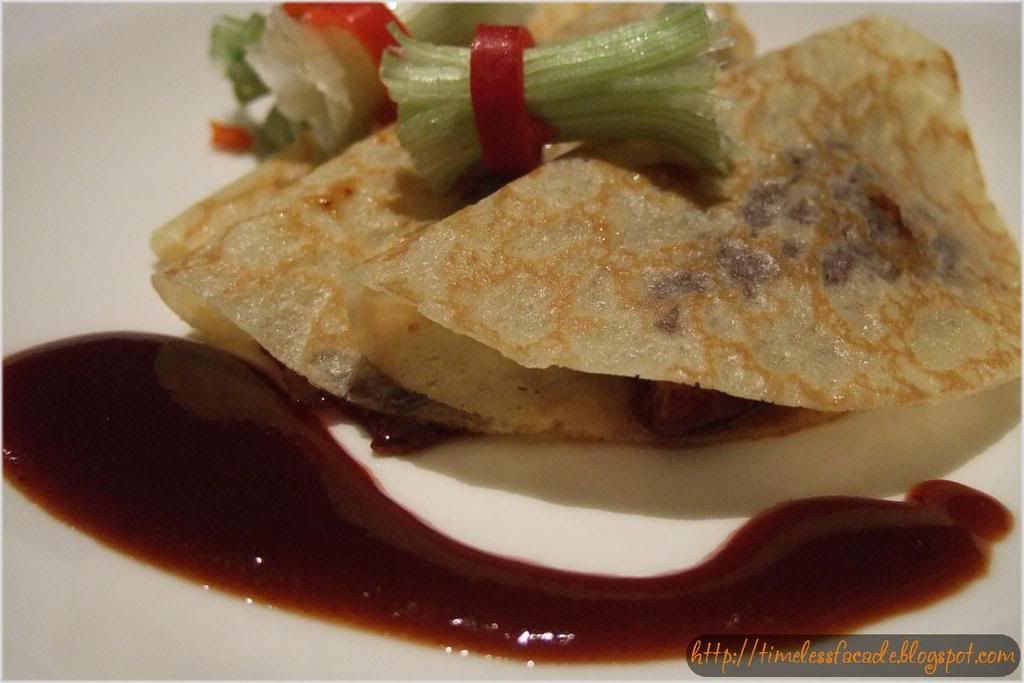 Barbecued Peking Duck
We had expected one whole
Peking Duck
for 6 pax. Instead, we got half a duck and it wasn't even big to begin with. 2 slices of skin wrapped in a crepe was what each of us got. Its not hard to imagine how small the duck is isn't it? Kudos to the duck skin though, which was quite well done. Crispy and not too fatty skin enveloped in a soft and warm egg crepe with a drizzle of the mildy sweet sauce hits all the right notes. However, having said that, I still prefer the one at
Min Jiang @ One North
, which is in a league of its own.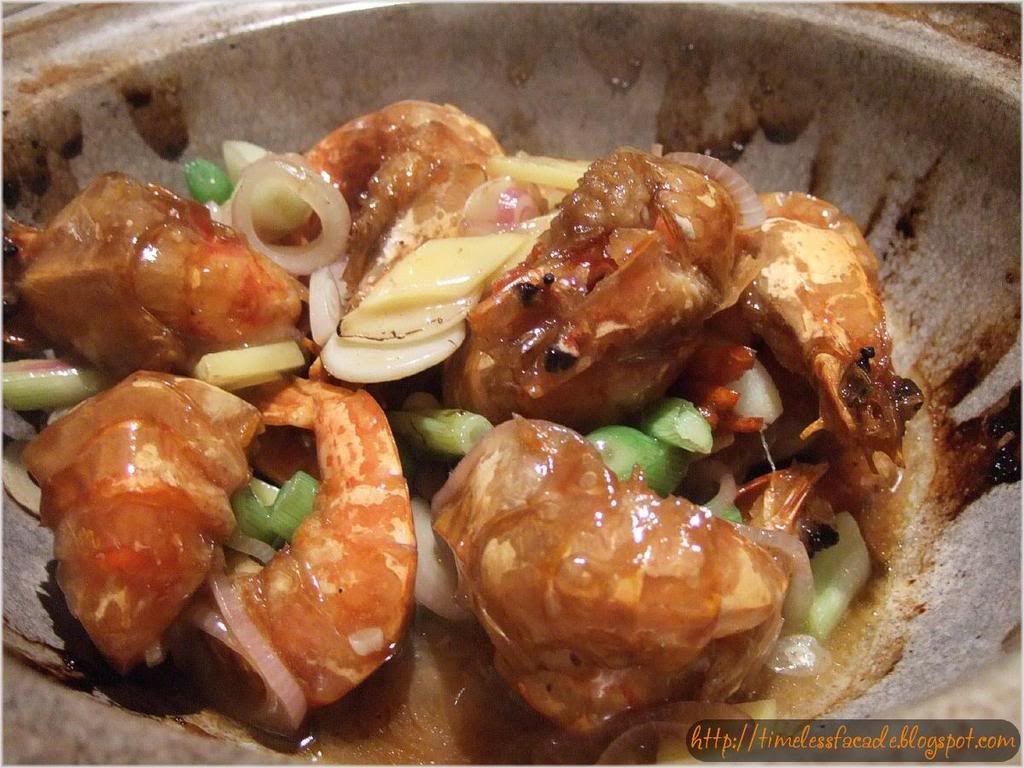 Baked Fresh Prawns with Chinese Wine in Claypot
The prawns were undisputedly very fresh and crunchy with a slight tinge of Chinese wine aftertaste. However, they were of average size and didn't offer much bite. Portions are also rather pathetic as each of us only managed to get 3 pieces.


Steam Chicken and Mushroom
The chicken was very tender and juicy with the slighty starchy and salty gravy adding a very smooth texture to the overall dish. The mushrooms tasted normal though. A nice dish, but nothing to crow about.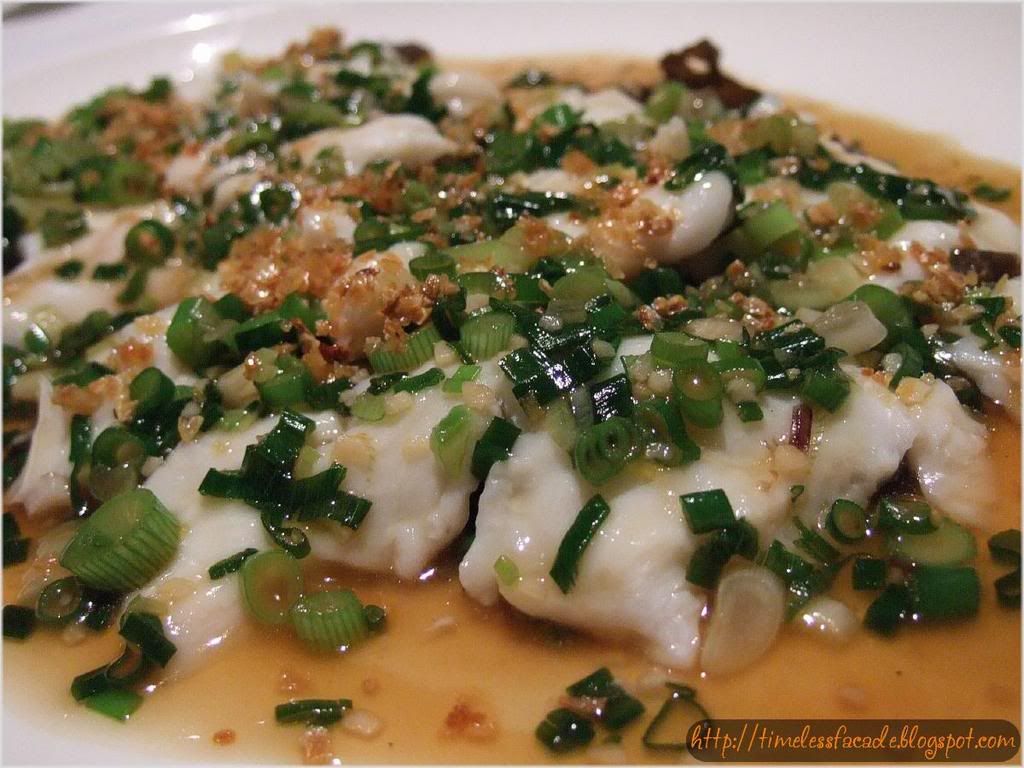 Steamed Sliced Garoupa with Dry Water Lily and Black Fungus
Fresh fish. Its what this dish is all about. The crunchy flesh, together with the water lily and black fungus, provided lots of bite. A pity I couldn't really taste the sweetness of the flesh though, because of the heavy masking from the garnishes. A could have been great dish but let down by poor execution.


Fried Special Fish Noodles with Shredded Duck Meat and Bean Sprouts
As mentioned in my
earlier entry
, the fish noodles are a reason to come to Summer Pavilion and this one is no exception. Though fried, the noodles retain their springy texture and offers a lot of bite. The duck was well done as well, with the meat being chewy yet not too heavy on the fowl taste. The gravy was forgettable though.


Two servings of Red Bean Paste Pancake
This came as an additional order as the set menu didn't include any dessert. For a review on it, read up my previous entry
here
. Do try it!


The bill
An unfilling dinner for 5 pax set me back by almost $200, which is comparatively cheaper than other restaurants of similar standing. Though the quality of food is above average, portions are small and I shudder to think what might have been the scenario if 6 of us had ordered the same set menu instead. Service is still excellent and I'll definitely be back again. Ala carte of course.
Final Verdict:
Ambience:8/10
Service:8.5/10
Food:7/10 (A little lacklustre as compared to the ala carte items)
Value for money:6.5/10 (Applicable only for set menu)
Overall:7.5/10
Address: Ritz Carlton Hotel, 7 Raffles Avenue
Contact: 64345286