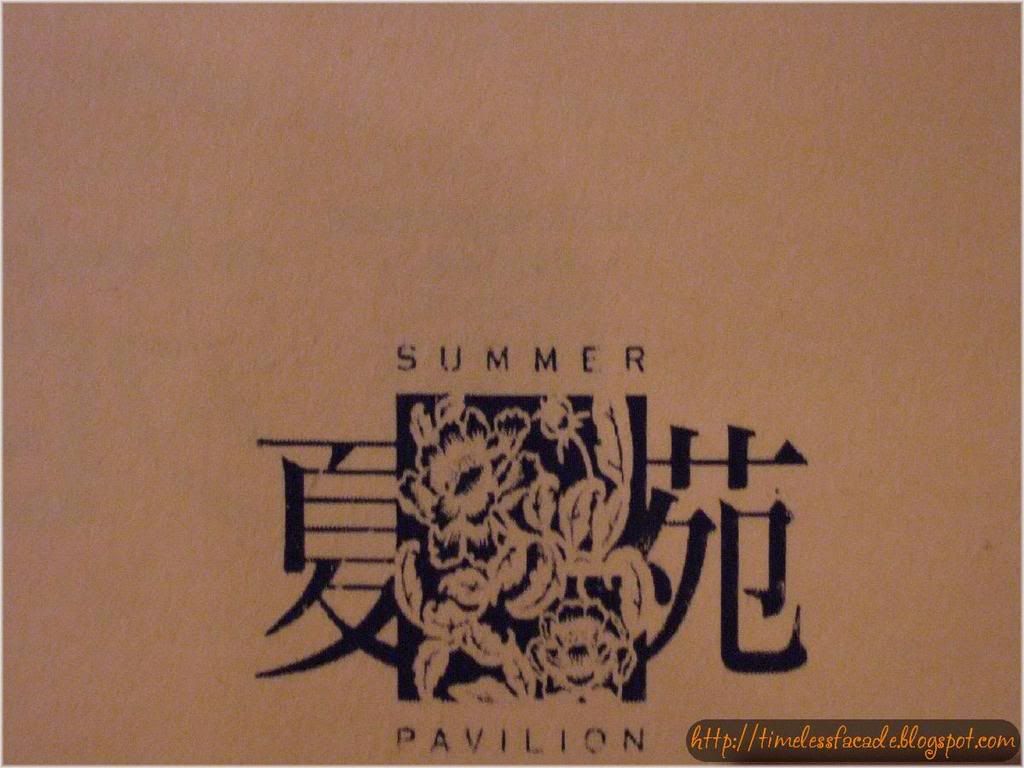 Summer Pavilion, or Xia Yuan in Chinese, is the flagship Cantonese restaurant of Ritz Carlton Hotel in the Marina Bay area. Unfortunately, it is a restaurant that is hardly synonymous with good Cantonese food as it is relatively unknown. My gf and I decided to take our chances and have dinner there (It was actually between Summer Pavilion and Snappers).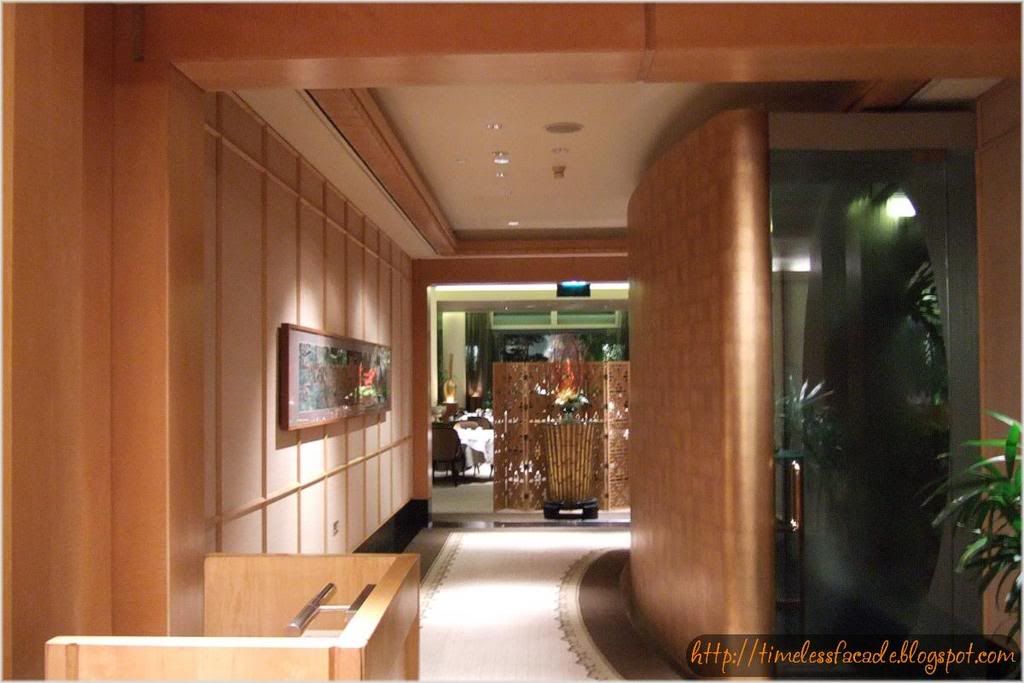 Pathway leading into the restaurant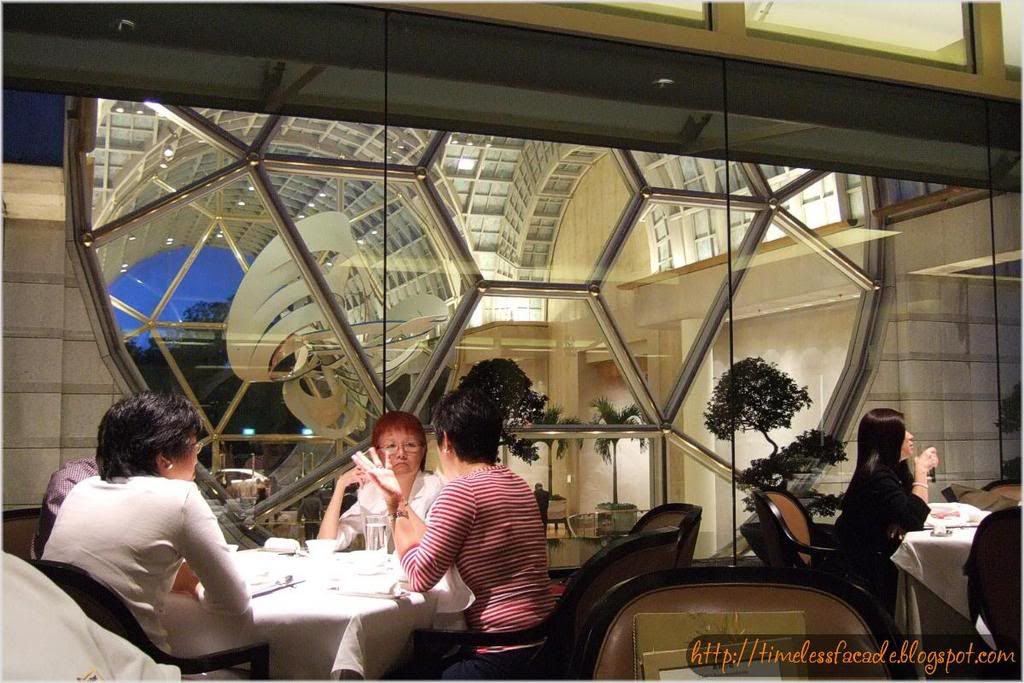 Interior Part I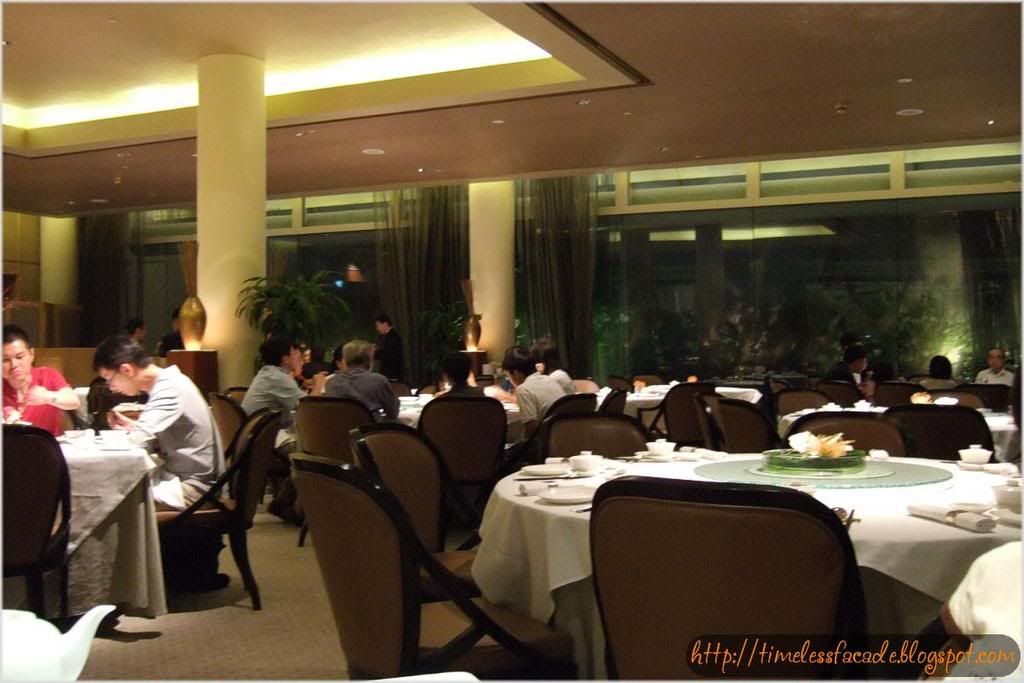 Interior Part II




Menu
As you stroll through Ritz Carlton's grand lobby, hotel staff greet you affably and even offer to show you to the door of the restaurant. Once inside, a moderate sized room with floor to ceiling windows greet you, with a view of a typical ancient Chinese garden complete with walls and bamboo shoots on one side and the magnificent lobby entrance on the other. And let me assure you that it is nothing short of breathtaking, especially when you get a table thats flanked by both the lobby and the garden. Well we were lucky enough to get such a table.


Appetiser of Deep Fried Yam Slices
The only other place that I had this delectable appetiser was
Li Bai
. Crisp yet fragrant, a great way to start off any meal.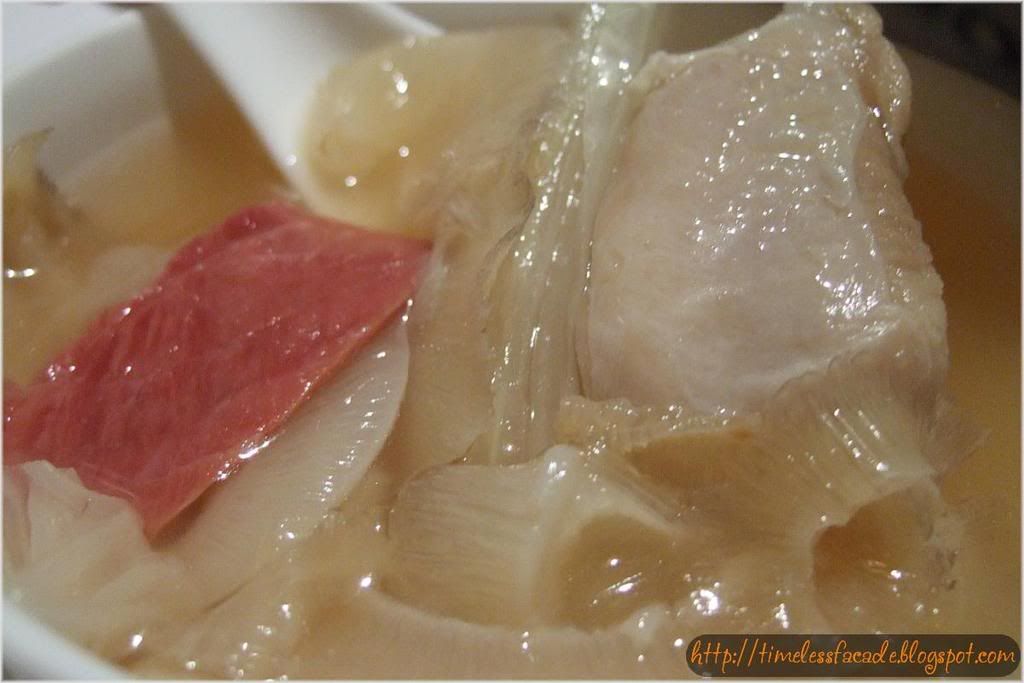 Double Boiled Shark's Fin Soup with Chicken, Ham and Chinese Cabbage
Now when I ordered this soup, I was expecting it to be full of anything but Shark's Fin for its price ($16). Boy, was I wrong. It had enough Shark's Fin in it to put other restaurants $30 rendition to shame. And mind you, the fins were of very decent quality. The soup was light, not too starchy and flavourful due to the addition of chicken, ham and Chinese cabbage which also gave it that extra chew. But I did find the ham a little weird tasting though.


Double Boiled Shark's Cartilage Soup with Fish Maw
Shark cartilage soup is supposed to be good for the bones and old people like me need quite a bit of it. The soup looked and tasted milky with a slightly salty aftertaste. But somehow I found it a wee bit too heavy on the taste. Certainly not the best shark's cartilage soup I've ever tried, but certainly a very commendable offering.


Wok-Fried stuffed King Prawn in Japanese Style
This came as the surprise of the night. When it was first served, both my gf and I thought that it was fish, but upon closer inspection, it was actually a gigantic prawn covered in thick gravy. For us to erroneously believe that it was a slice of fish, you can imagine how huge it was (its called king prawn for a reason). The prawn was covered in a garlic infused gravy and tasted very fresh and crunchy, with the garlicky taste complementing the natural sweetness of the prawn very well.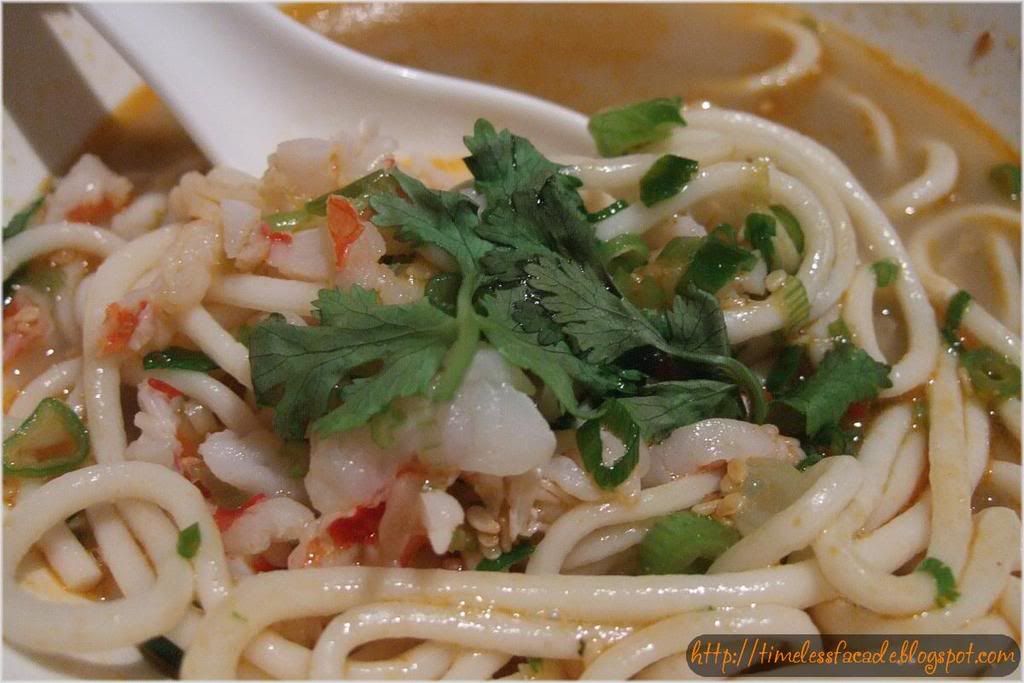 Poached Fish Noodle Soup with Lobster
For those who have never tried fish noodles, Summer Pavilion gives you a reason to try. The fish noodles have a very springy and chewy texture, allowing for more sensation as you chomp through it. The soup tastes suspiciously like that of prawn noodles, albeit a much lighter and soothing version, with little chunks of lobster meat swimming around in it. Best of all, it doesn't cost you an arm or a leg for a bowl ($8).


Steamed Zucchini Flower stuffed with Prawn, Chicken and Mushroom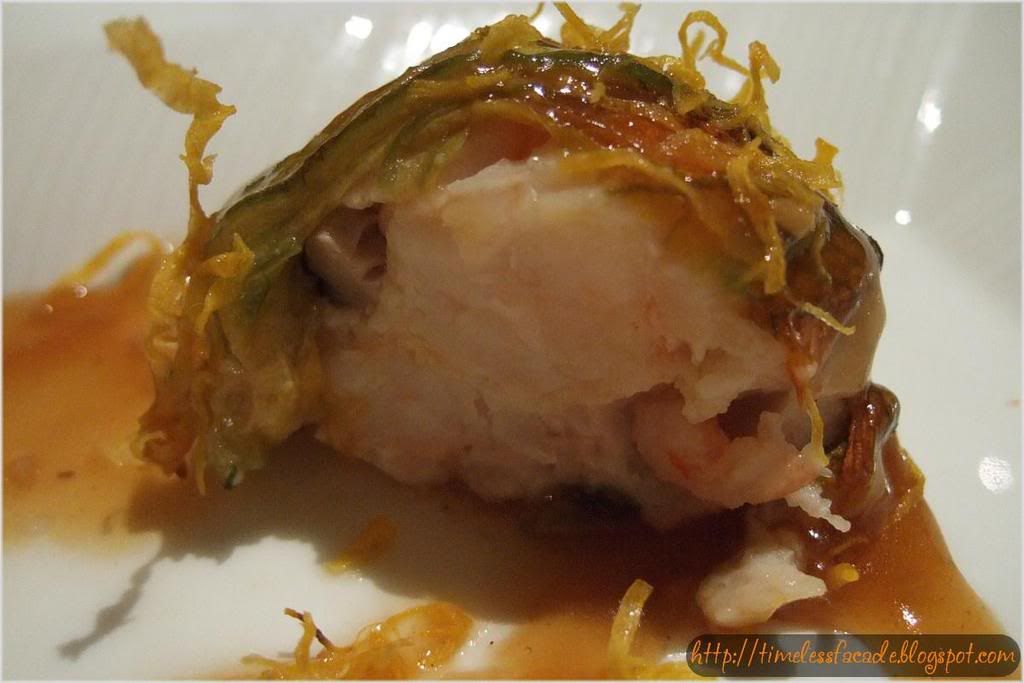 The stuffing
You might be wondering, whats zucchini doing in a Chinese restaurant? Well, as the name suggests, its a whole zucchini flower stuffed with prawn, chicken and mushroom and then steamed. The result? A nice crunchy stem and a rather delightful paste of prawn, chicken and mushroom with a slight zucchini taste. Interesting dish to say the least and I fancy it quite a bit. Pity about the single flower serving though.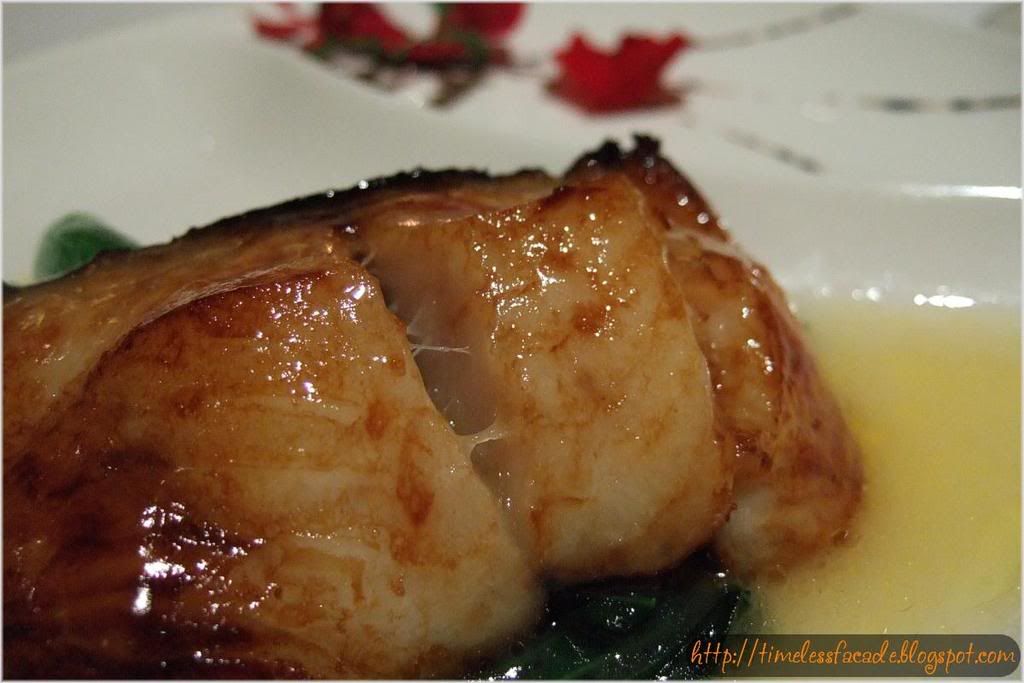 Baked Marinated Silver Cod Fish with Champagne Sauce
This dish was excellently executed. The cod fish was very fresh, soft and tender, with the Champagne sauce being a little strong and sweet. Certainly not strong enough to knock your socks off, but strong enough for you to appreciate its presence. Savour the richness of the champagne and the delicate flesh of the fish with every mouthful. Certainly a dish to tantalise your tastebuds.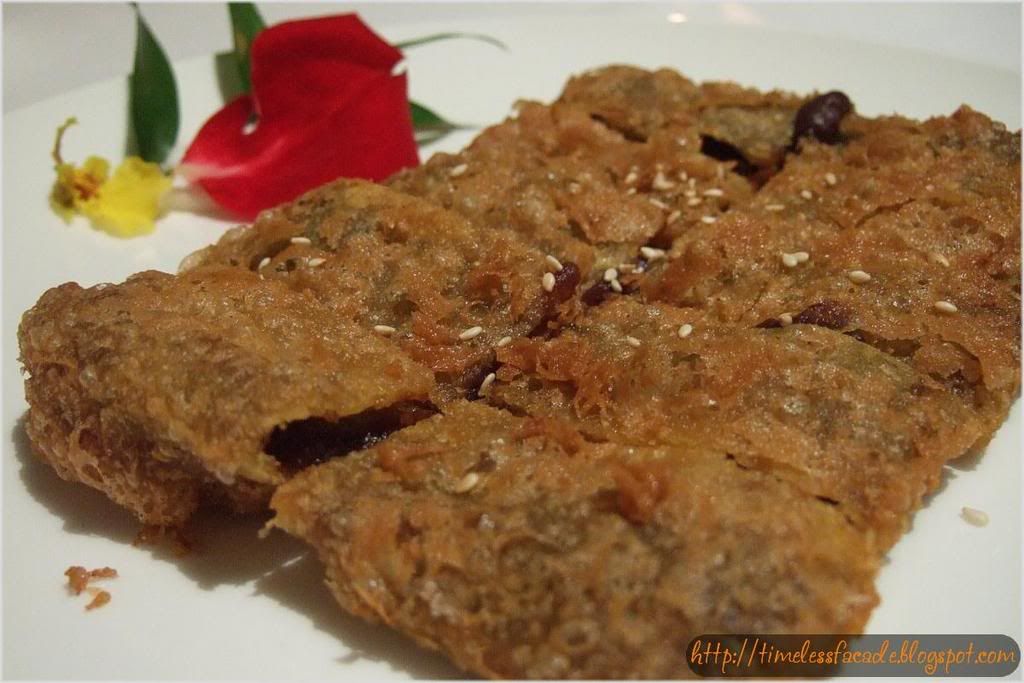 Red Bean Paste Pancake
This dish came slightly different from the usual ones that I've tried. The crust wasn't flaky and looked like it had been deep fried instead of pan fried. The difference is obvious from the first bite. The deep fried crust is very thin and crispy and certainly ups the enjoyment factor (for me at least). The red bean paste isn't too sweet, but other than that, comes across as normal. I personally find this one of the best, if not the best
Red Bean Paste Pancake
that I've ever tried. If you are a fan of this dish, be sure not to miss it.


The bill
Dinner for 2 pax came up to $134.05, inclusive of Long Jing Tea for 2 pax @$5+++ each. However, do not be mislead by the price. For the quality of food, it is merely pushing the limits of reasonable. Add in a terrific ambience and excellent service and you have a sure winner.
ps: Its funny that they don't have a proper signboard, so I had to resort to taking their logo off the menu.
Final Verdict:
Ambience:8/10
Service:8.5/10
Food:8/10
Value for money:7/10
Overall:7.875/10
Address: Ritz Carlton Hotel, 7 Raffles Avenue
Contact: 64345286