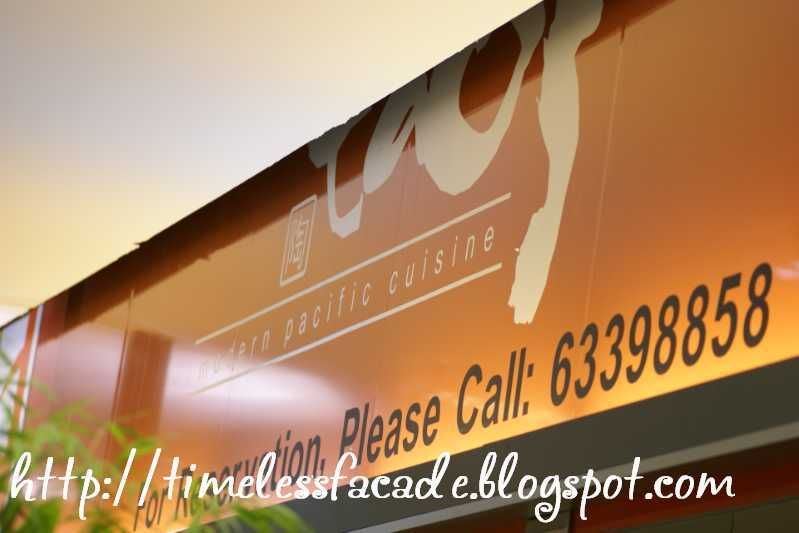 Its been a while since I last stepped into Tao's, with my
last visit
being about one and a half years ago. Since I was in the vicinity, I couldn't resist dropping by to renew my acquaintance with this small humble eatery.
Interior & Menu
Occupying a space big enough for about 50 pax at the basement of Paradiz Centre, Tao's retains its clean lines and bright lighting to give the wholesome family dining feel. Tao's dining concept is rather different as the menu is fixed and you get to choose a dish for each course. There are 7 courses in total for dinner (I believe its 6 for lunch) but choices are rather limited.


Mushroom & Cheese Gratin and Toasted Bread
I personally like the gratin quite a bit, tasty yet not nausea inducing. It did come across as a little more watery this time round but portion size seemed to have grown slightly. When eaten with the lightly toasted bread, the combination really got me craving for more.


Curry Yogurt Prawn Salad & Farm Boy Splendor

The prawn salad was a joke really. 3 thin slivers of prawns covering asparagus, cherry tomatoes and golden mushrooms. I could have easily stuffed all 3 into my mouth at one go. It didn't help that the accompanying curry sauce was rather strong and sweet.

Having ordered the farm boy splendor on previous occasions, it certainly didn't impress me very much, coming across as very average. On a positive note, the pieces of chicken in it were sizable and the vegetables were relatively fresh.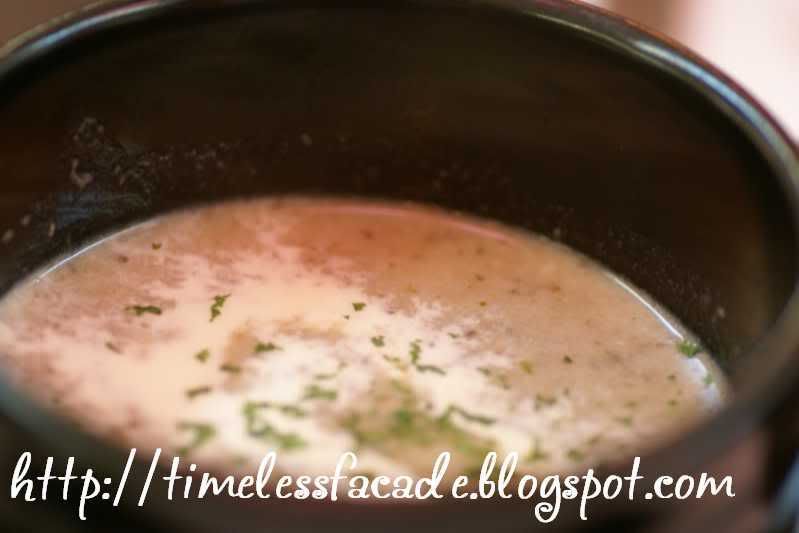 Cream of Mushroom Soup
A most decent rendition of the humble cream of mushroom, with bits of mushroom in it and obviously not tasting like a straight out of the can variation. It would have been better if it was slightly more coagulated (less watery) though.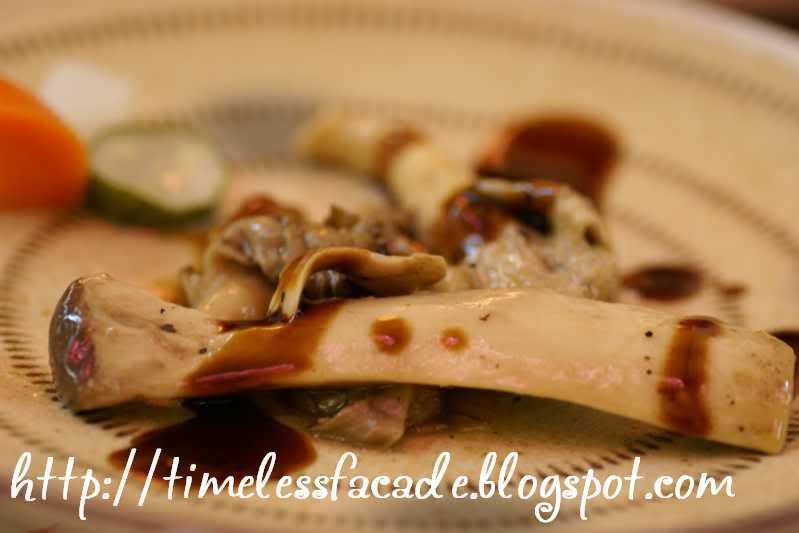 Wild Mushrooms
This has to be the only time that I found the wild mushrooms more enjoyable because they didn't taste too wild for me nor were there the irritating little hard bits present, unlike previous occasions. Not that I really fancy it that much still.


Slow Cooked Pork Back Ribs & Tao's Oven Roasted Steak

The pork ribs is Tao's signature dish which has apparently won an award in some competition. The meat was fall of the bone tender but did come across as a tad too sweet, which made me rather sick after a while.
The steak came almost well done although I had asked for medium rare. The presence of excessive tenderizer was also evident as the meat did seem a little too tender by normal standards. Probably the only positive thing about this dish was the gravy, which was a little peppery and relatively tasty.
Creme Brulee & Home Made Chocolate Mousse
Good Creme Brulees are made from real vanilla beans, not vanilla extract. Tao's rendition was made from the latter. Not that it tasted bad though, just that the layer of sugar atop was too thin and not even hard. Talk about poor execution.

Homemade stuff usually entail a certain standard, but the chocolate mousse was just plain weird by any standards. It tasted like a 2 layer cake with the mousse on top and kueh at the bottom. Definitely not for me.

Ice Grass Jelly Mint Tea
An excellent way to end off dinner, with a choice of teas. I personally like the grass jelly mint tea because its sweet and cool with a dash of freshness from the mint.


Bill
Prices at Tao's have not gone up since more than a year back, which is really commendable given the rising costs. $61 for 2 set dinners is rather reasonable for the quality and quantity of food if you ask me. Service is excellent and friendly as well. I can't find a reason not to return.



Likes: Excellent service, get to eat a variety of food
Dislikes: Limited choices

Final Verdict:
Ambience:6.5/10
Service:8/10
Food:6.5/10
Value for money:7/10

Overall:7/10

Address: B1-19 Paradiz centre

Contact: 63398858

Opening Hours: 11.30am - 10pm daily