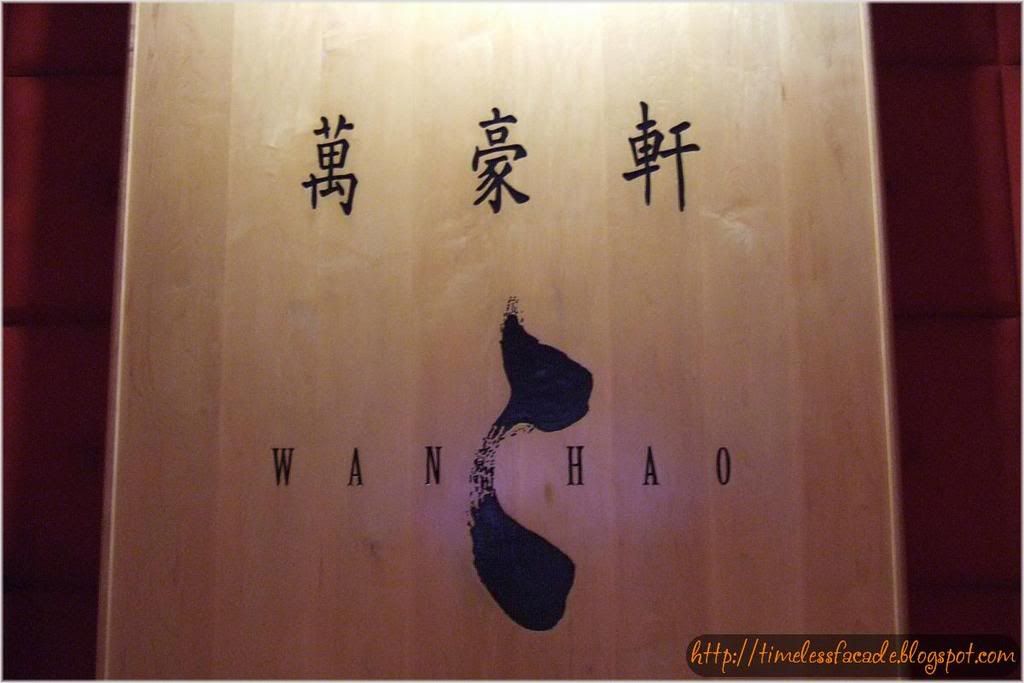 There was a last minute change of plans, so the evening saw my gf and I dining at my favourite Chinese restaurant - Wan Hao at Marriott Hotel. I've eaten at this esteemed restaurant about 3 times in the last 6 months and to borrow MacDonald's cheesy tag line, "I'm still loving it!".


Exterior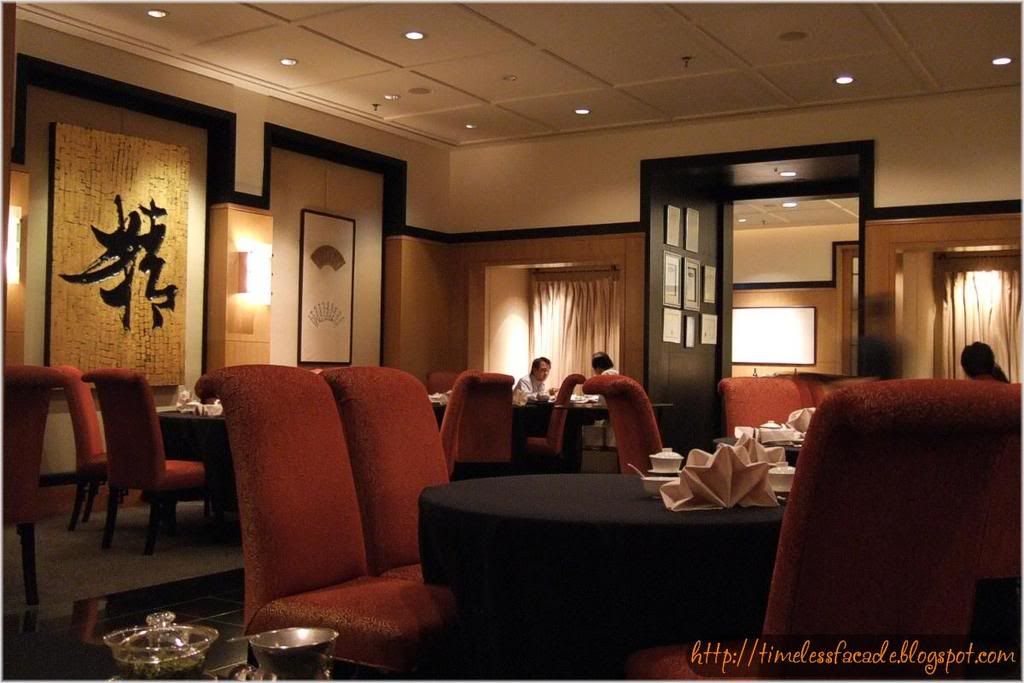 Interior
Hidden in an obscure corner on the third floor of the hotel, it doesn't look like much from the outside. However, step in and be wowed by the luxurious and solemn interior which exudes pure unadulterated sophistication and charm. If dining in a party of 4 or less, do try for one of the 4 cosy corner tables that come complete with curtains.


Menu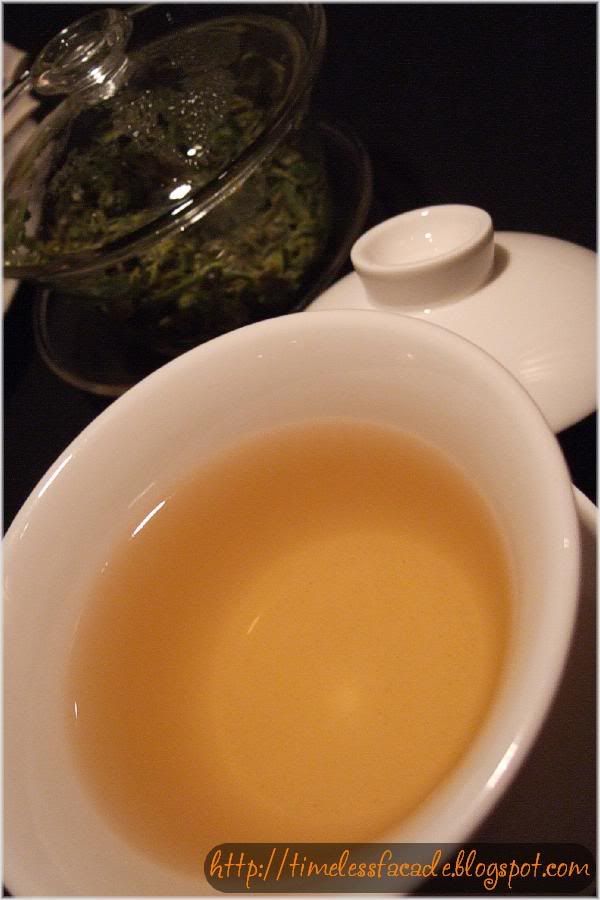 Long Jing Tea
I shall just take a moment to mention one of my much fancied teas - Long Jing. It is extremely fragrant with a slight chestnut whiff to it. Taste wise, it is delicately sweet yet bitter and goes down well with your food.


Wok Fried Fresh Scallop Cubes with Tropical Mango in Fresh Milk and Egg Topped with Crab Roe served on a bed of Vermicelli
This dish tasted uncannily like the excellent
Shredded Scallop with Fish & Egg White
from
Prima Tower Revolving Restaurant
, except that it was smoother and richer in taste due to the fresh milk. However, the scallop cubes were rather bland and didn't add any life to the dish. Not that this dish wasn't good though. In fact I like it enough to want to order it again when I return.


Poached Live Prawns
This dish came deshelled, with the exception of the head. The prawns were bigger than your usual ones and were extremely fresh, crunchy and juicy. Add that to the fact that they were perfectly cooked and drenched in a garlic concoction which served to complement the natural sweetness of the prawns. Definitely a winner! But at $90/kg, you might want to think long and hard before placing your order.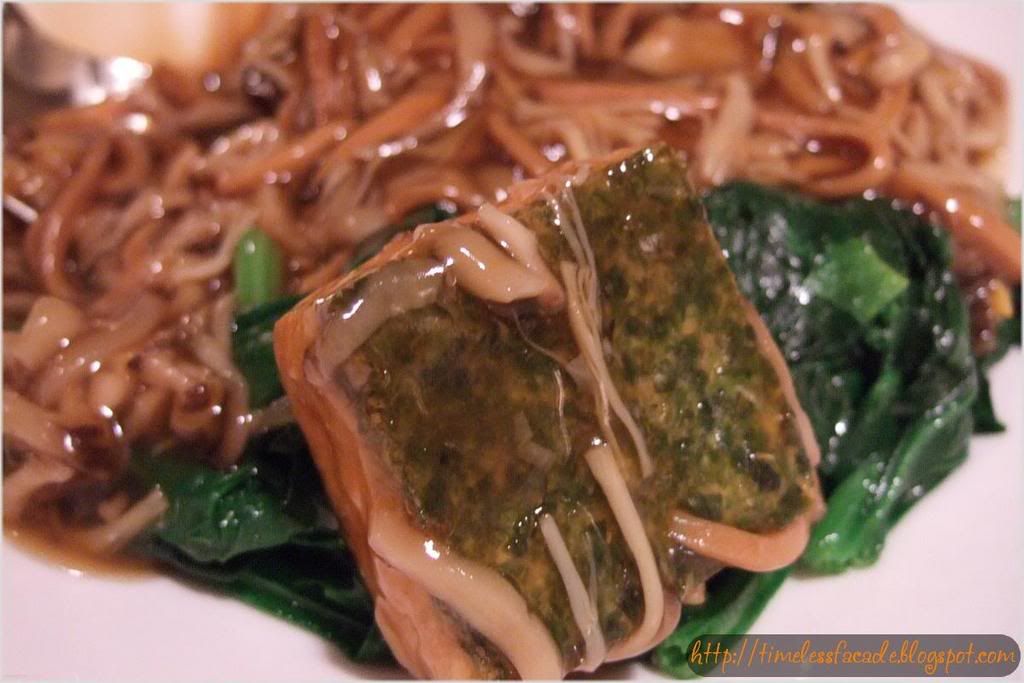 Homemade Seaweed Beancurd Topped with Shredded Abalone, Dried Seafood and Vegetables
As mentioned in my numerous entries, I love
tofu
, even more so those that are hand made. However, Wan Hao's offering didn't quite meet expectations. The
tofu
, though soft, was flat in taste and lacked the natural wholesome goodness of the one I had at
Li Bai
. The vegetables were cooked in a way that I personally dislike - soft with thick gravy.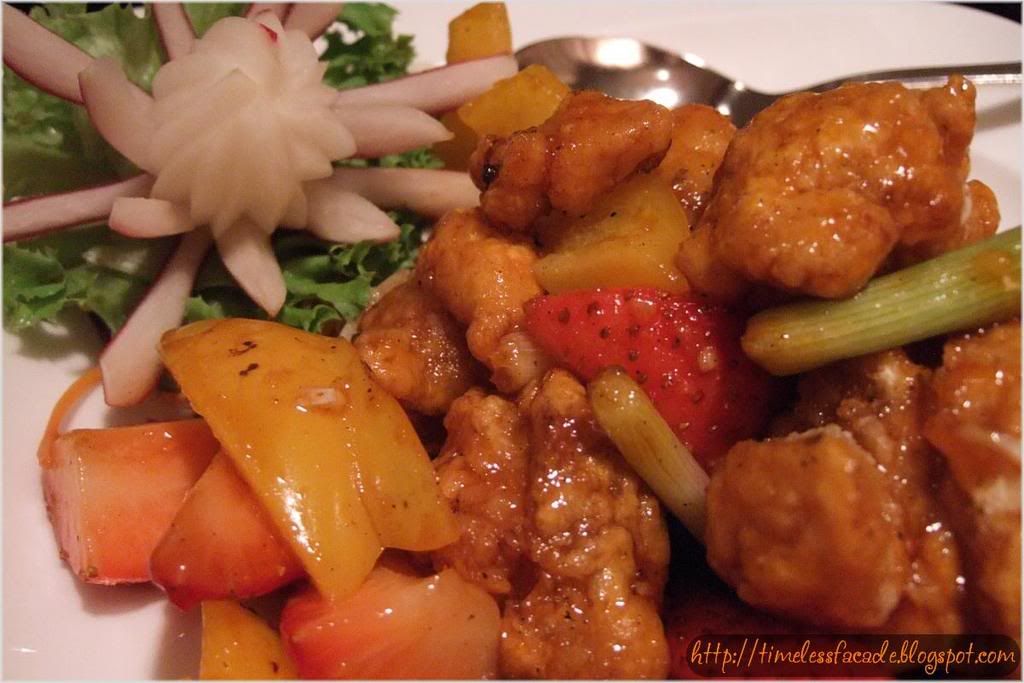 Crispy Boneless Chicken Stir Fried with Fresh Strawberry in Honey and Lemon Sauce
Now this was a bummer. I thought this dish would be interesting with the use of fruits to enhance the taste of the chicken, but oh boy, was I wrong. The chicken tasted exactly like
Sweet and Sour Pork
, albeit of a softer texture. The sweetness from the honey didn't exactly go well with the chicken. It tasted a little too strong and the strawberries didn't really make much of an impact on the dish. But having said that, its still an above average dish.


Almond Beancurd with Mango and Pomelo
Here's the first of the desserts. I had this and found it rather normal. Sure, the almond taste wasn't very strong, but that's just about it. Nothing special or fascinating. I did like the slightly sourish yet sweet and bitter taste from the strands of pomelos though. They added a little spice into the dish.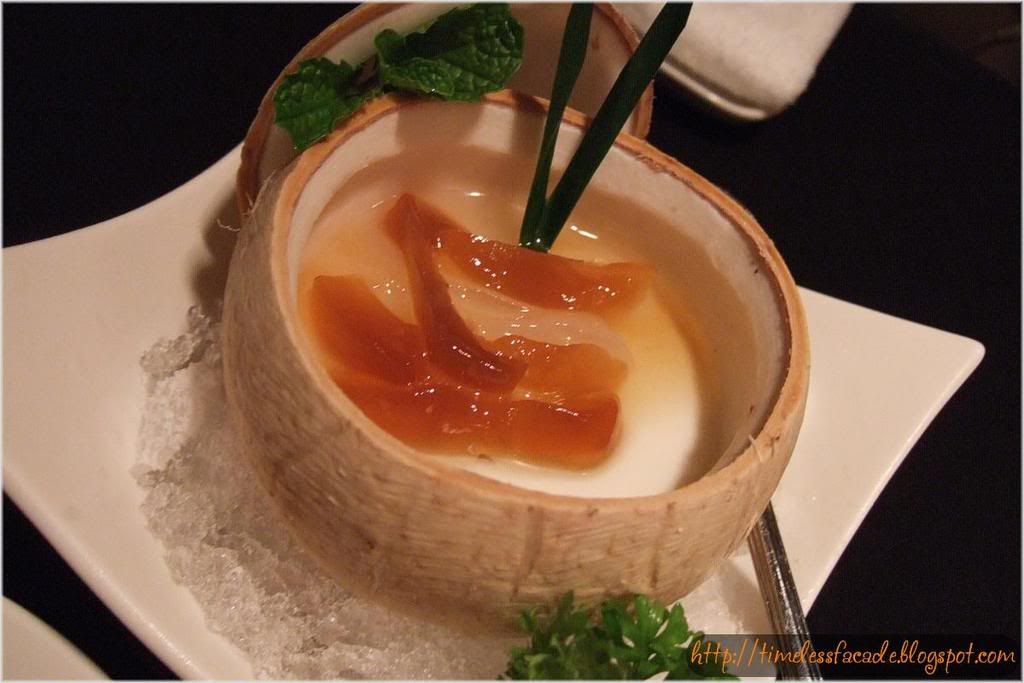 Chilled Coconut with Sea Coconut
With a name like
Chilled Coconut with Sea Coconut
, I had expected fresh chilled Coconut meat served with Sea Coconut, but that was not to be. It is actually a layer of Coconut jelly and a few slices of Sea Coconut served in a small Coconut husk on a bed of ice. This is one dish that would score high marks for presentation. I guess you can tell why just from looking at the picture. And it was rather pleasing to boot. The coconut jelly had a strong coconut taste and coupled with the thick and sweet syrup, it was a pleasure to consume. The Sea Coconut tasted rather normal though.


Golden Ball with Durian




Durian filling
Another Durian dessert. They just seem to be springing up everywhere. This one was not too bad, with the exterior being extremely crispy, but with a oil residue taste. The Durian filling was very rich and smooth, but I could detect milk in it, which didn't blend well with the Durian and gave it a weird aftertaste.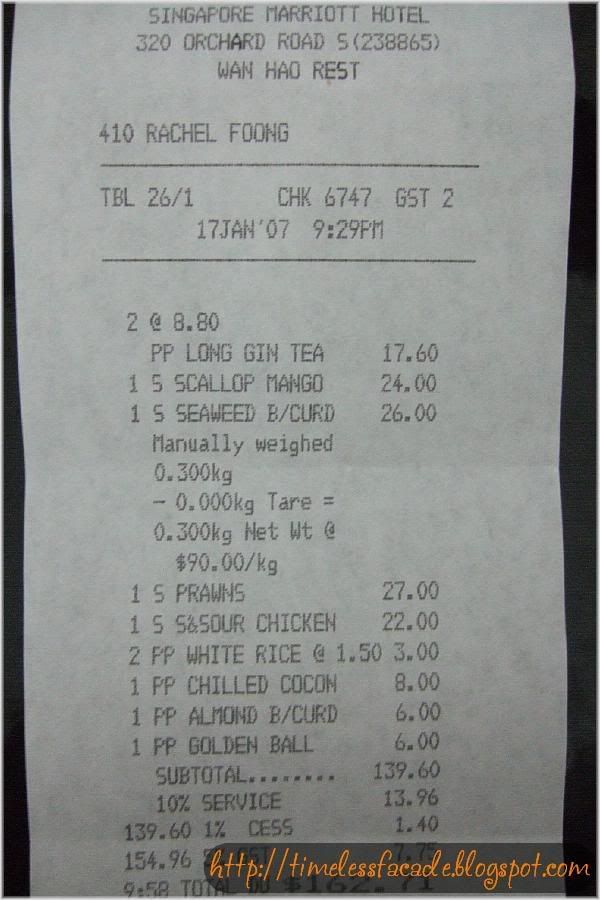 The bill
At about $162/- for 2 pax, Wan Hao is extremely pricey, no doubt about it. It certainly isn't in the running for the value for money award either. But what it does offer is quality food with excellent service. Staff are attentive and friendly yet non intrusive. If you ever visit, just go for the mains and skip dessert. Unless you are willing to pay top dollar for their premium bird's nest, then that's a different matter altogether.
Final Verdict:
Ambience:8/10
Service:8.5/10
Food:8/10
Value for money:6.5/10
Overall:7.75/10
Address: Singapore Marriott Hotel Level 3, 320 Orchard Road
Contact: 68314615