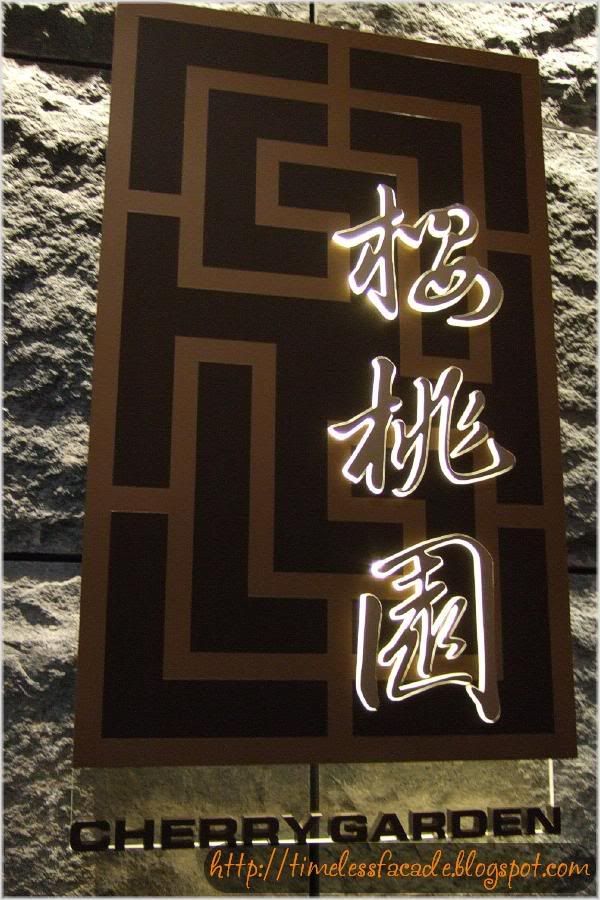 Cherry Garden at The Oriental Singapore, voted one of the best restaurants in 2006 & 2007 by Singapore Tatler and one of Singapore's top restaurant in 2006 by Wine and Dine magazine, played host to my gf and I as we popped by for lunch before embarking on our new year shopping spree.


Entrance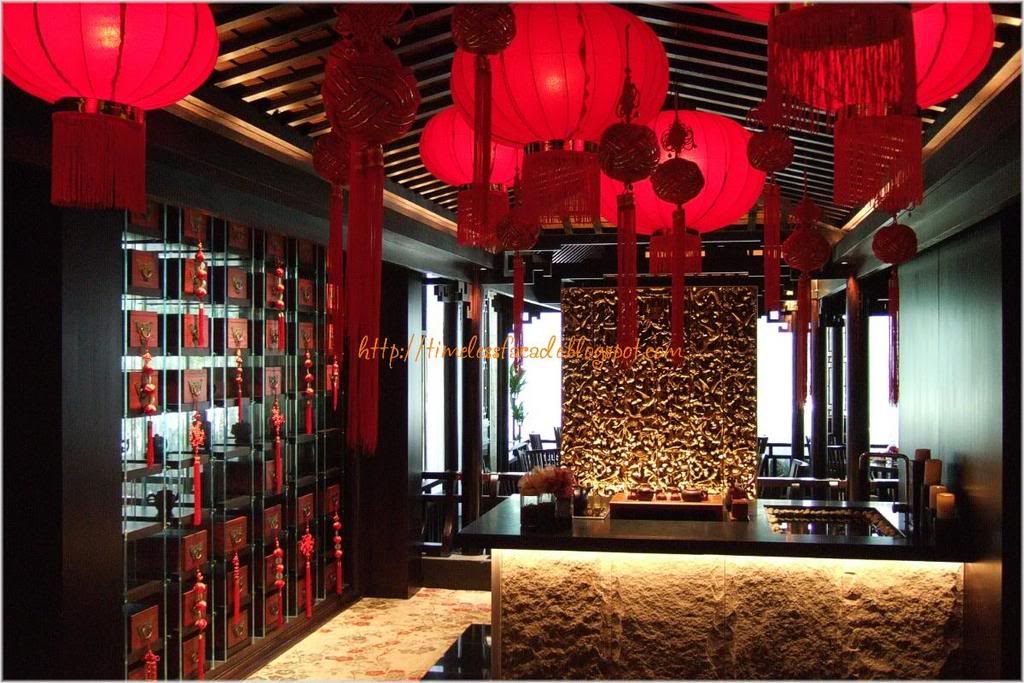 The very pretty interior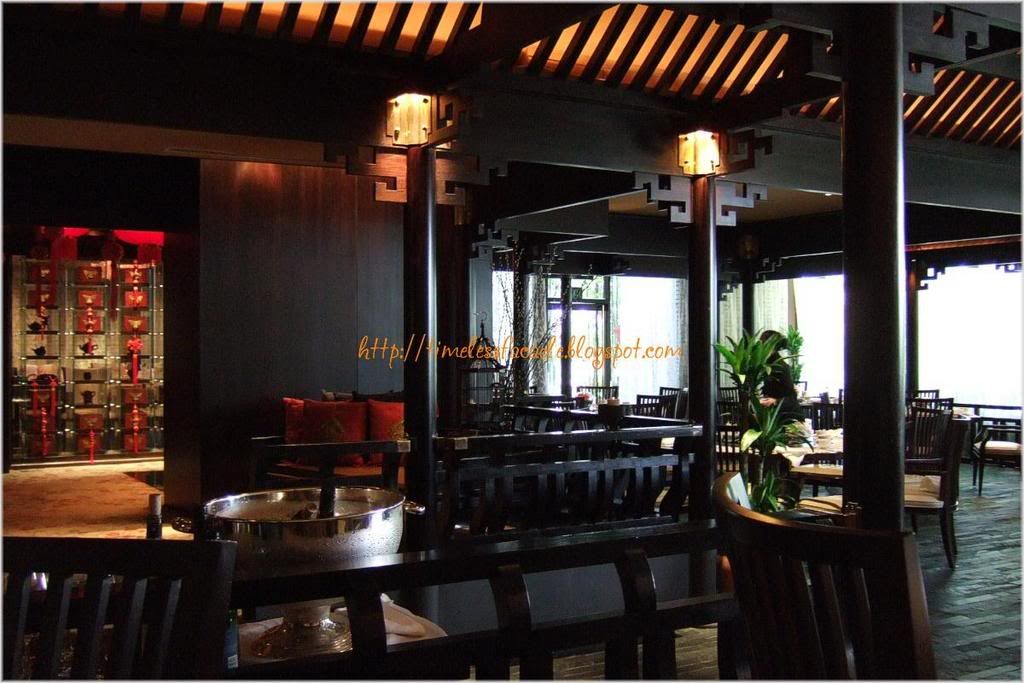 Interior Part II




Menu




Sauces
Stepping into the restaurant takes you into a different world - a world where our ancestors lounged and dined in courtyards found only in TV programs and complete with a replica of an age old bird cage. I guess WOW would be most apt in describing my first reaction to the almost picturesque scene which unfolded before me. Even my gf, who's not one to be impressed easily, was taken aback by the charcoaled teak panels, slate floors and ambient lighting. Without a doubt, this is one of the, if not THE best decor I've seen in a Chinese restaurant in Singapore. Don't believe me? Look at the pictures. ;)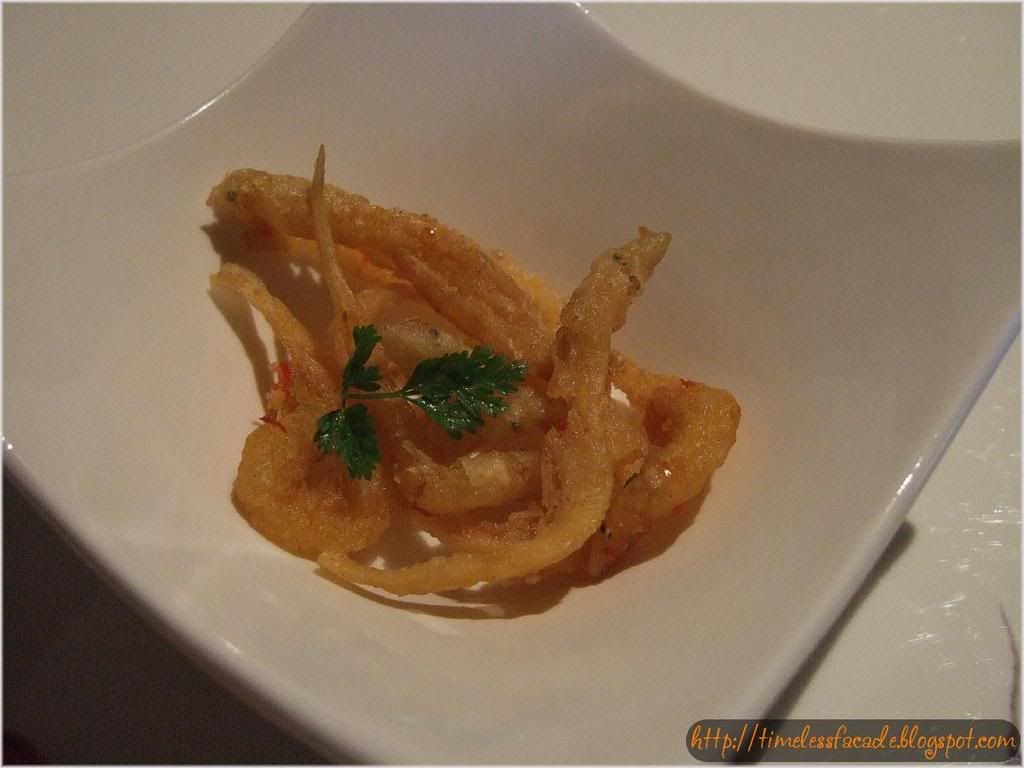 Appetiser of Deep Fried Silver Fish
This didn't appear anywhere in our set lunch menu, so it must be complimentary. Nicely deep fried with the coating of flour crispy and not too oily. But could have been better if a little more salt and pepper were added, without which, it would be rather tasteless.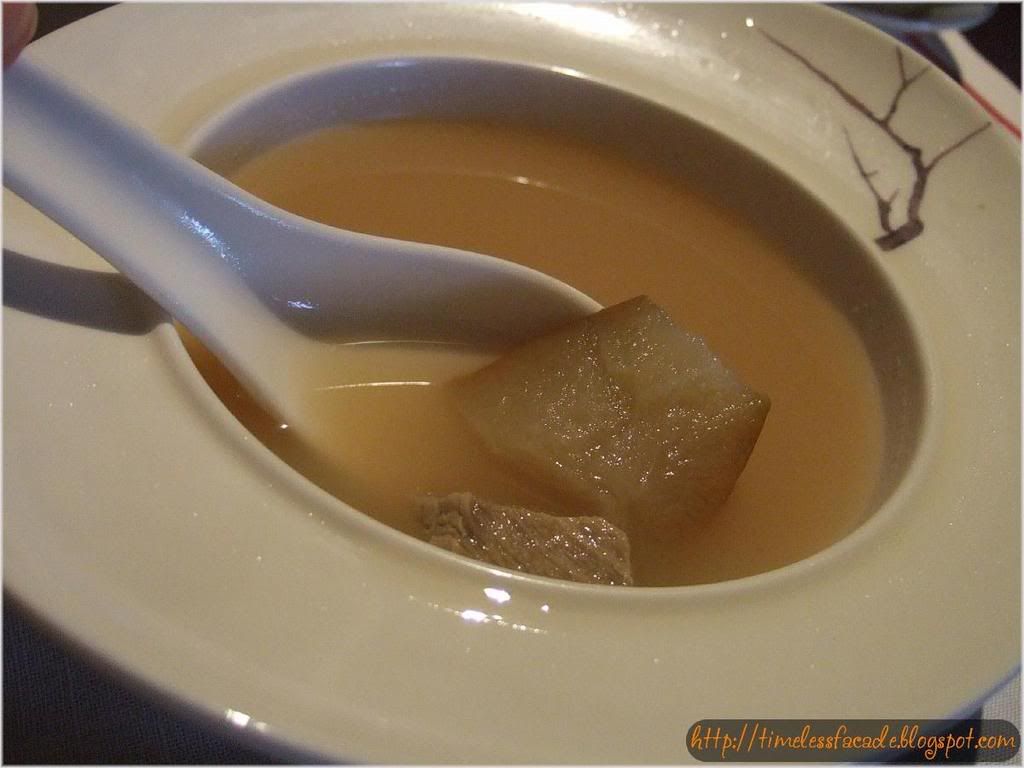 Double Boiled Soup of the Day - Lao Huang Gua Tang translated into Old Yellow Melon Soup
I found this soup quite refreshing as it was light on the palate yet appetising enough to kick start our lunch. However, it was a tad too sweet for me.


Three Varieties of Dim Sum
A very nicely presented dish with 3 types of non conventional
Dim Sum
. The first was vegetables wrapped in a crystal dumpling skin ala
Har Gao
style which I didn't find the least bit impressive. Average at best as the dumpling skin wasn't elastic enough. The second was a
Shui Jiao
with chicken meat and vegetables, which was slightly better than the first one because the chicken provided some fibre to chew on. The third was the best with fresh and crunchy prawns enveloped within a crispy deep fried exterior. Without this, I would have dismissed this dish entirely.


Combination of Fresh Scallops in Three Flavours
When a dish comes branded as a Chef's recommendation in a fine dining restaurant, it is usually good. However, the
Combination of Fresh Scallops in Three Flavours
was a case of hits and misses. The
Pan Fried Scallop with Salt and Pepper
tasted nothing out of the ordinary and nothing that I couldn't get elsewhere. The
Deep Fried Scallop Roll with Phyllo Dough
was a tad better, with the Phyllo Dough (whatever that is) brittle and crunchy. But it pretty much masked the slightly raw taste of the scallop. I personally found the
Chilled Water Melon with Scallop in Garlic - Chilli Citrus Jus
the most delectable. Though simply done, the sweetness from the chilled water melon blended well with the slightly salty and raw taste of the scallop and the garlic - chilli citrus jus added a tinge of spice and zest. Each individual flavour was so distinct yet melded together perfectly.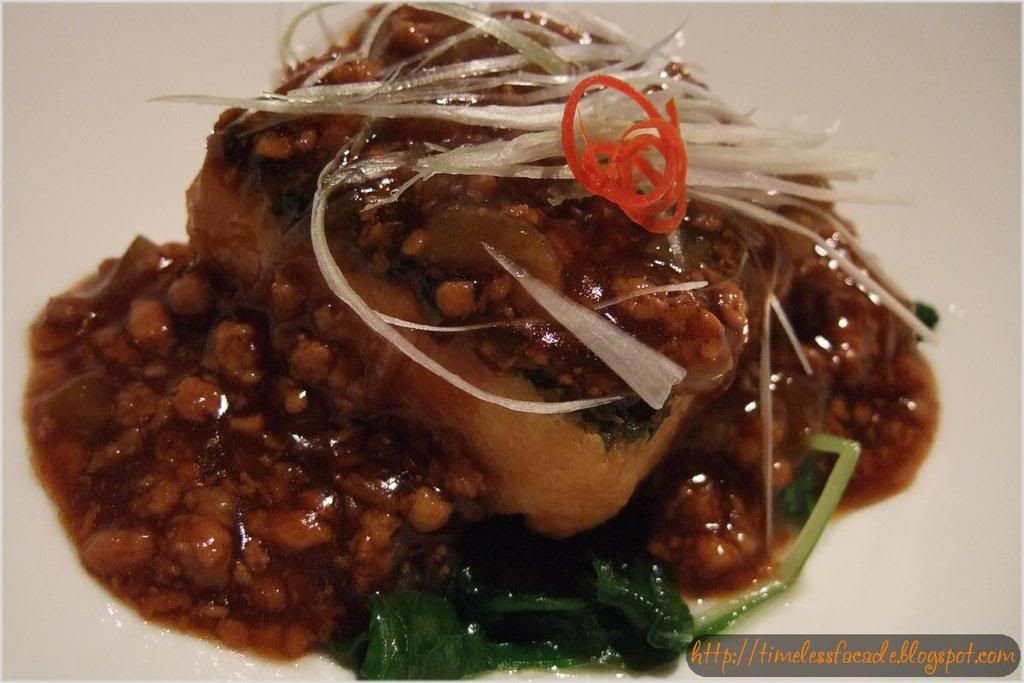 Braised Homemade Tofu topped with Minced Pork and Preserved Vegetables
Perhaps salty best describes this dish, probably due to the preserved vegetables in the gravy. The tofu was soft and silky and very much to my liking while the meat was finely minced but didn't taste out of the ordinary.


Wok Fried Beef Tenderloin with Trio Pepper in Chef's Concoction & Fragrant Fried Rice with Crabmeat, Asparagus and Fish Roe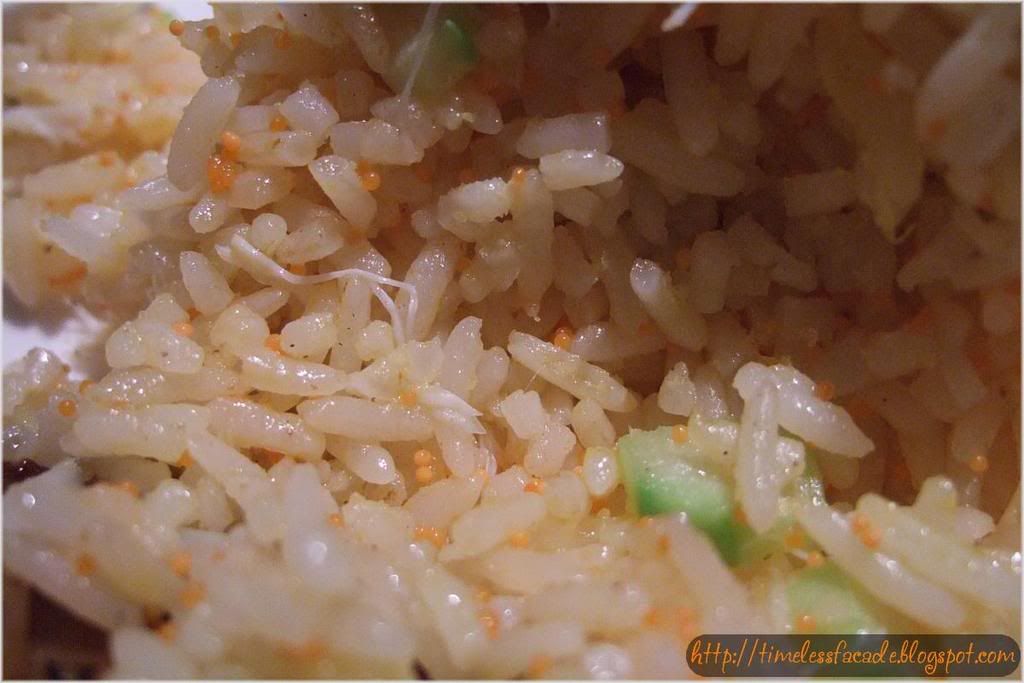 Notice how evenly spread out the fish roe are?
In case you are wondering, these are 2 seperate dishes altogether but served together on the same plate at the same time in view of the customers hectic lunch schedule. Lets start off with the rice, which had fish roe evenly distributed within. Says alot about the effort put it. Unfortunately, apart from giving the rice a tinge of hardness and adding colour, the fish roe did nothing much. The shreds of crabmeat were almost non existent and the cubes of asparagus didn't taste like much. On the other hand, the
Wok Fried Beef Tenderloin with Trio Pepper in Chef's Concoction
was quite a star with the beef cubes cooked to perfection. Juicy and tender although it was well done. I didn't think too much about the sauce though. It tasted pretty much like normal pepper sauce to me, albeit a little stronger and thicker.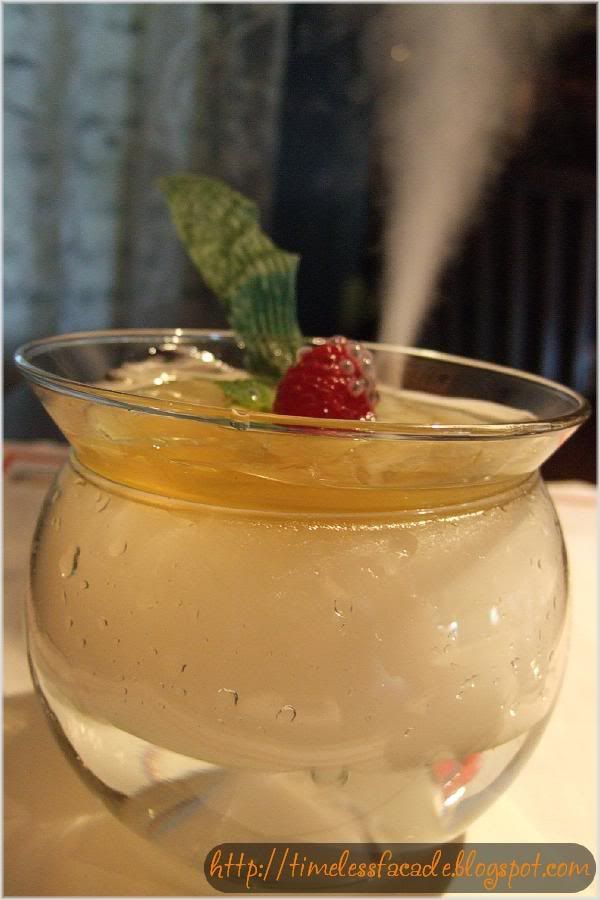 Chilled Lemongrass Jelly with Aloe Vera Flavoured in Lime Citrus Jus
Now this was the epic finale to the very eye pleasing lunch. Streams of carbon dioxide were shooting through a gap in the cylindrical honey pot look alike serving glass - a result of putting dry ice in water at the bottom of the glass. Visuals aside, I didn't enjoy this dish one bit. The jelly was way too sour and made me cringe everytime I took a bite. Just for the record, I drank 5 cups of tea just for this dish alone to wash down the taste. But if you like sour stuff, then maybe it might taste good to you.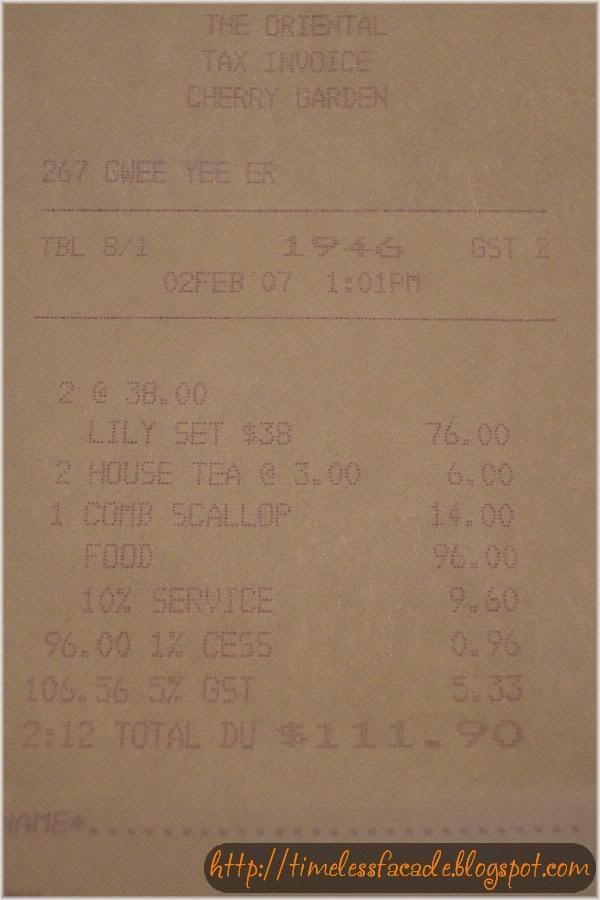 The bill
The bill for lunch came up to $111.90 for 2 pax. Certainly on the high side, especially considering that its lunch. Food is slightly above average but not outstanding, with the focus more on aesthetics rather than taste. Each dish is visually appealing and much attention is paid to the tiniest details. It could work on the quality of food though. Service is prompt and unhurried, which is excellent for a leisurely lunch. My conclusion? Go back only if ambience means a lot and quality of food takes a back seat. Oh and of course, if you are feeling rich (dinner is priced per pax by the way).
Final Verdict:
Ambience:9/10
Service:7.5/10
Food:7/10
Value for money:6/10
Overall:7.375/10
Address: The Oriental Singapore, 5 Raffles Avenue
Contact: 68853538