Caught up with some good friends over dinner at the newly opened Global Kitchen at Pan Pacific Hotel. Located on the third floor, it boasts global cuisine to go along with its stellar decor.


Entrance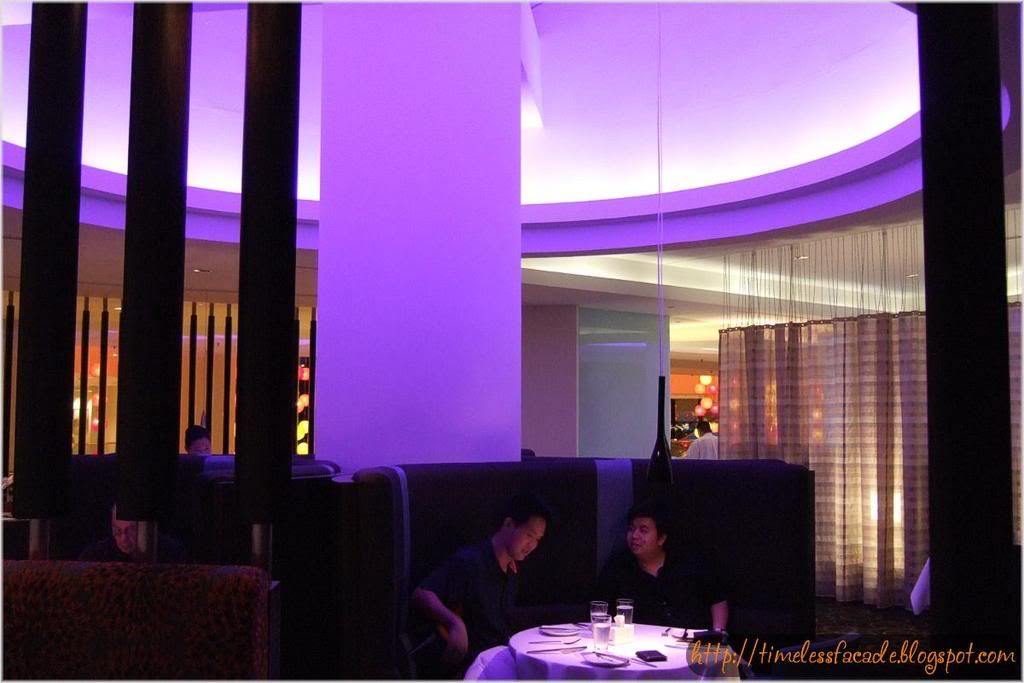 Interior




Menu
Global Kitchen's decor is spartan yet exudes futuristic undertones. Lighting with a hue of blue is predominant and adheres to the overall theme. If you are lucky, you might just get a semi private booth like seat which seats 2 pax for a romantic dinner.


Complimentary Bread
It is my belief that all self respecting fine dining restaurants will offer complimentary bread and Global Kitchen is no exception. However, the bread falls flat in both taste and smell. Sure, there were pockets of cheese in it, but when spread over with the smooth butter, it was hardly evident. So much for the free bread.


Duo of Duck - Foie Gras Creme Brulee with Sauteed Vanilla and Kumquat Duck Foie Gras
I'm not a particular fan of
Foie Gras
, unless you are talking about the one which I had at
IL-Lido
, so this appetiser didn't really appeal to me. I just thought it would be nice to try it out after it garnered rave reviews in the Straits Times a few weeks back. On hindsight, I should have known better. The
Foie Gras Creme Brulee with Sauteed Vanilla
was too overpowering, rendering me almost unconscious from the overwhelming liver taste. It was a nice concept though, with the top layer sweet and burnt like your conventional Creme Brulee. The
Kumquat Duck Foie Gras
sounded interesting, but tasted like normal soft and quivery
Foie Gras
, with no Kumquat taste whatsoever. Having said that, its one of the better
Foie Gras
that I have eaten, not that I've eaten alot though.


Confit of Ocean Trout with Spicy Eggplant Compote and Calamansi Lime and Butter Sauce
Nicely done with raw Ocean Trout which was very fresh and smooth. I didn't get to try the eggplants, but I understand that they were quite good. Do look out for the tiny portions though.


River Prawns and Coconut Cappuccino with Prawns, Pineapple and Mango Salad
This was a rather interesting soup which tasted very strongly of prawn (no coffee taste) and had a layer of foam atop which tasted of coconut. In all honesty, with the foam out of the way, the remaining soup tasted almost like prawn noodle soup, with the colour of cappuccino though. Only one prawn was given, contrary to the name of the dish, which mentioned prawn
s
.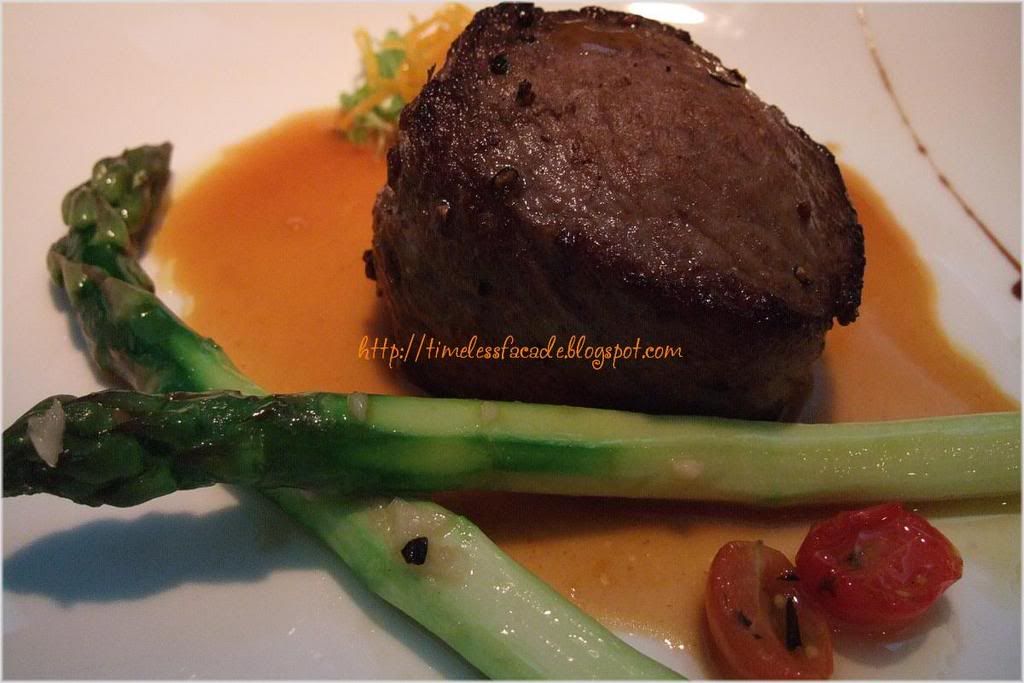 Ginger and Sake Roasted Tenderloin of Beef on a bed of Wok Seared Baby Greens
As exciting as the name sounds, this was probably the biggest flop of the day. The tenderloin was undercooked for my request of medium rare. The meat was extremely chewy and rubbery(signs of undercooking) and the only sauce I could make out was a strong pepper sauce. Now where's by ginger and sake? On the whole, the taste was still not too bad, but something needs to be done about the doneness.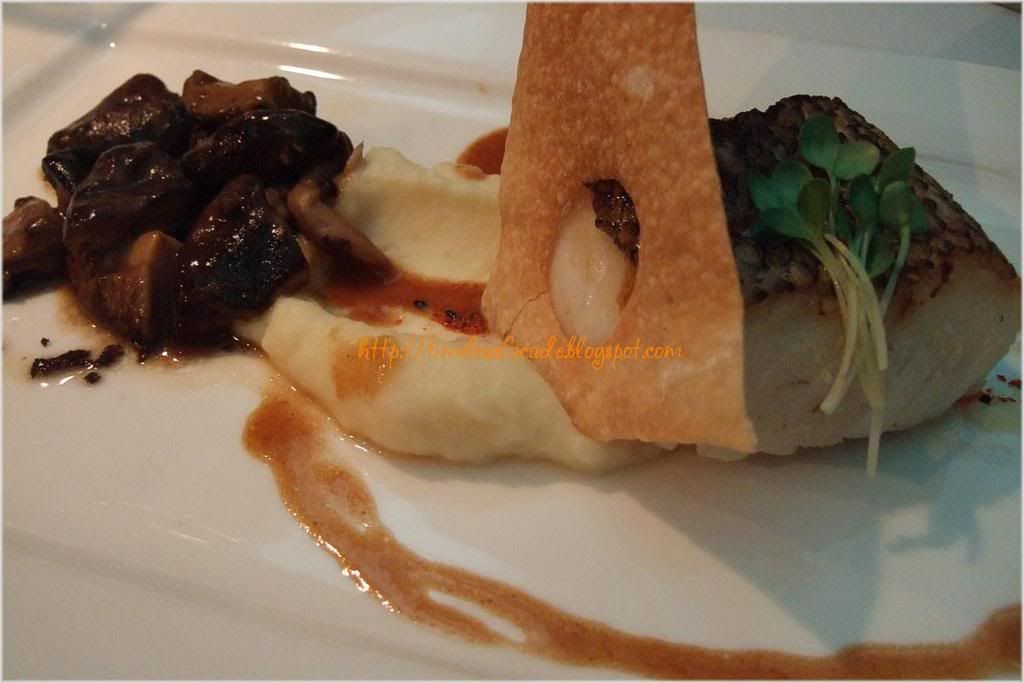 Grilled Fillet of Cod with Shiitake Mushrooms in Miso and White Bean and Coriander Mash
I only had a bite of the cod and found it delectable, with the flesh soft and slightly buttery, complementing the crispy skin. The Shiitake mushrooms were also quite commendable, soft and a little chewy. But I did find the miso taste a little too strong for my liking.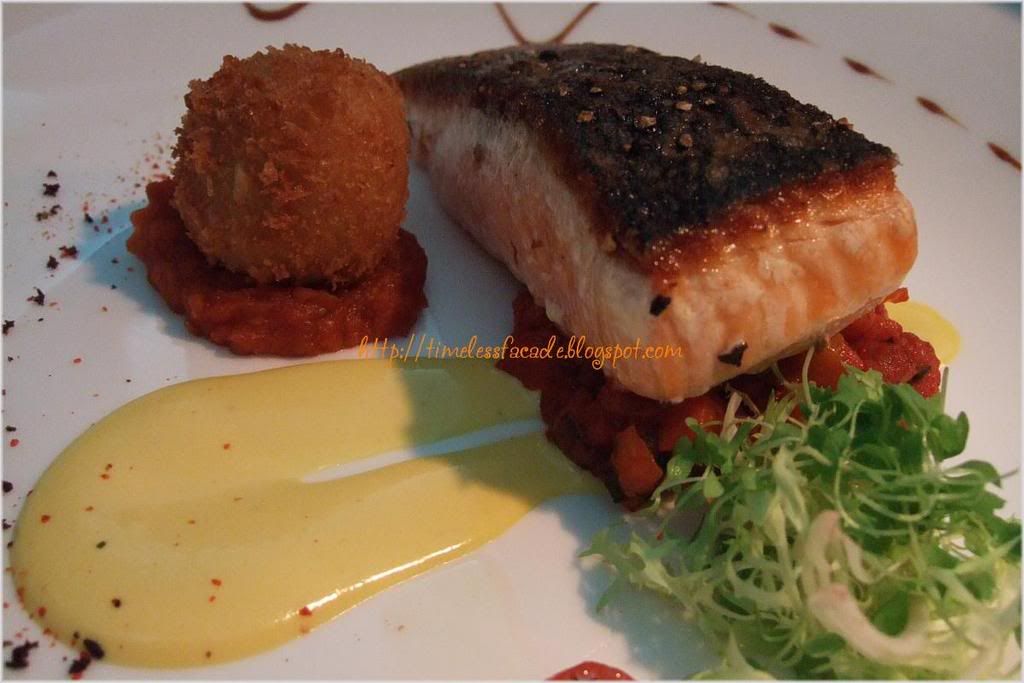 Oven Roasted Atlantic Salmon on Lemon Sourdough, Vegetable and Caper Salsa with Saffron Jus
Another dish which I only had a bite or two. I found it comparatively inferior to the grilled cod, but thats just my personal opinion. Overall it was still quite nicely done with the meat slightly crispy on the outside and firm on the inside. Without question, the fish was very fresh as well.


Strawberry Sunburst Aniseed Panna Cotta
The first of our desserts. You can't really go wrong with Panna Cotta as most people like sweet endings. The Panna Cotta came with sweet strawberries and a piece of sugar coated Danish cookie which added sweet on sweet. Texture wise, it was smooth and soft, as what I would have expected from a good Panna Cotta.


Bittersweet Chocolate Flourless Cake with Fig and Earl Gray Compote
I only had a go at the chocolate cake and didn't try the other stuff. Try as I might, but I couldn't locate the Earl Gray Compote. The chocolate cake was to have been a nice change from the usual flour ones but I honestly couldn't quite taste the difference except that it didn't have a spongy layer and overall it felt more like eating smooth layers of chocolate rather than cake. Nice, but not something I'll eat often cause it gets really sick after a while.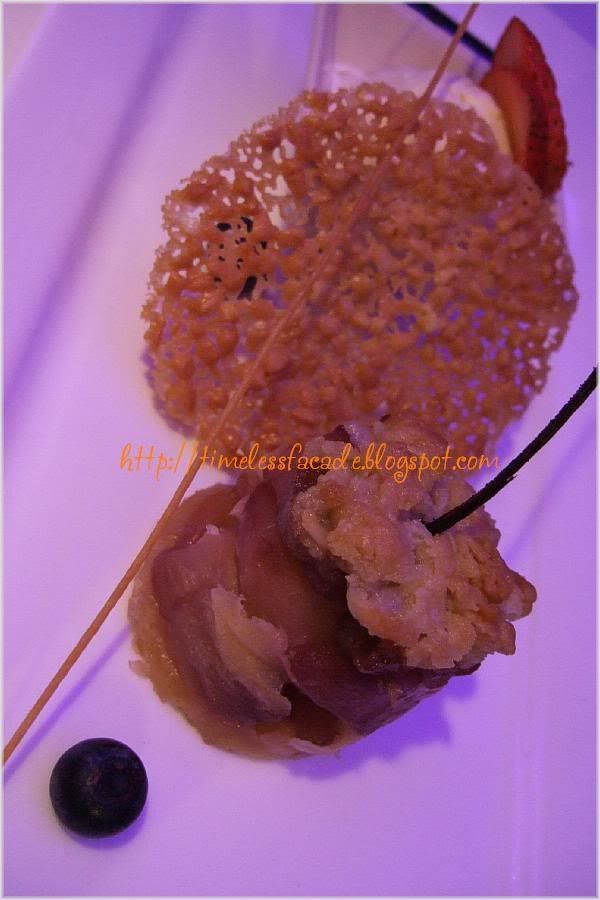 Red Wine Poached Pear with Rhubarb Crumble and Vanilla Ice Cream
Very nicely done with the taste of red wine entrenched in the pear. The red wine didn't come across as too strong and went well with the vanilla ice cream. Interesting dish and probably one of the better dishes that night. However, as with ALL the other dishes, portions are 2 sizes smaller than normal - very small.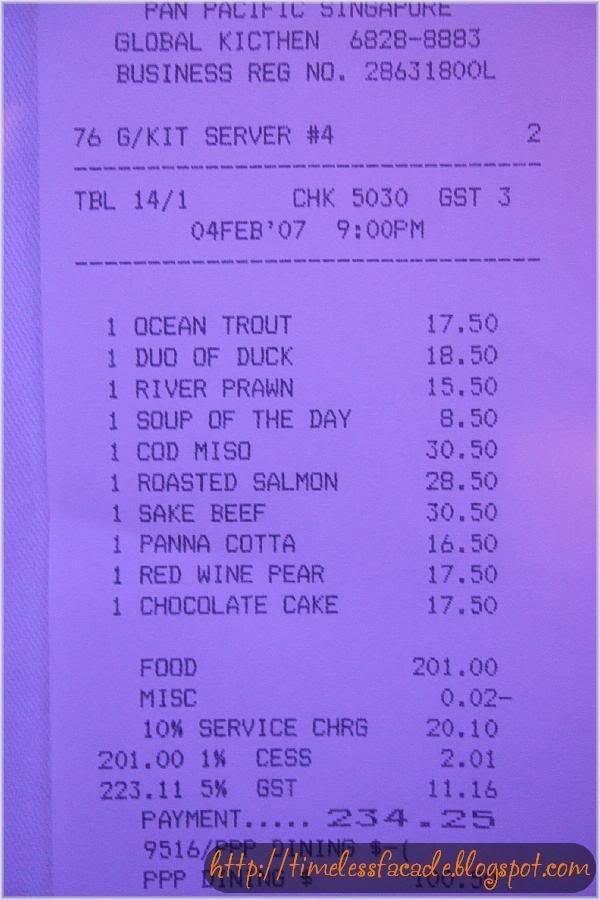 The bill
A had to eat MacDonalds after that dinner set us back by about $234. Thats pretty expensive stuff if you ask me. Sad to say, Global Kitchen emphasies more on form rather than factor, which in this case, is the quality of food. The ambience is there, service is there, but the only thing lacking is the finesse of the food. Will I return? With that kind of prices and portion size, you've got to be kidding.
Final Verdict:
Ambience:8/10
Service:7.5/10
Food:7/10
Value for money:6/10
Overall:7.125/10
Address: Level 3, Pan Pacific Singapore
Contact: 68268333
Operating Hours: 6:00am to 10:30 pm (Daily) except till 2:30 pm (Saturdays)