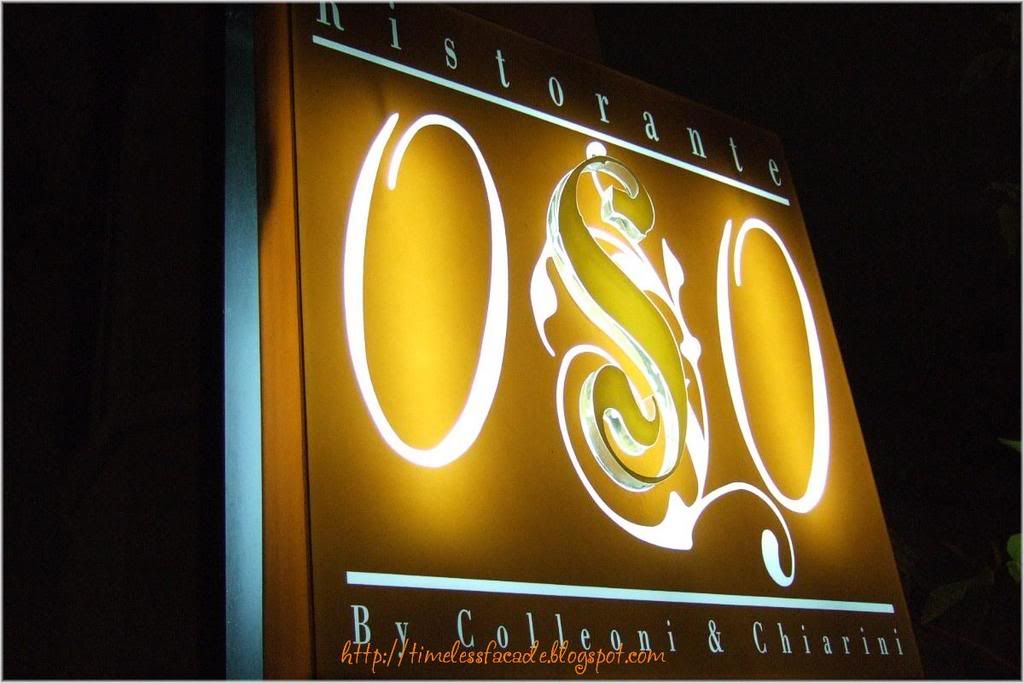 Italian food was on the cards on Saturday night as my gf had a craving for pasta. Settling for OSO Ristorante along Tanjong Pagar Road, we were dismayed to discover that it was full when I called in to make reservations. Nevertheless, some kind soul gave up his/her seat and we managed to squeeze our reservation through. Just a little insight into OSO. They fall under the same umbrella as
PaPi
, but prices are higher and food is decidedly finer.


Interior




Menu
From the moment you step in, the staff at OSO treat you with due respect. The interior is kept simple and modern, but rather haphazard if you ask me, owing to the dabs of Chinese New Year decorations around. But all in all a rather nice and comfortable place except for the fact that the tables are way to close to each other. It's still alright if there's no one seating beside you, but unfortunately for us, there were these 2 guys who were literally too close for comfort. Anyways, on to the food.


Complimentary Bread
I found the assortment of bread similar to that of
Senso's
. However, OSO's bread in general tasted better, with the exception of the wheat bread which didn't quite make the cut.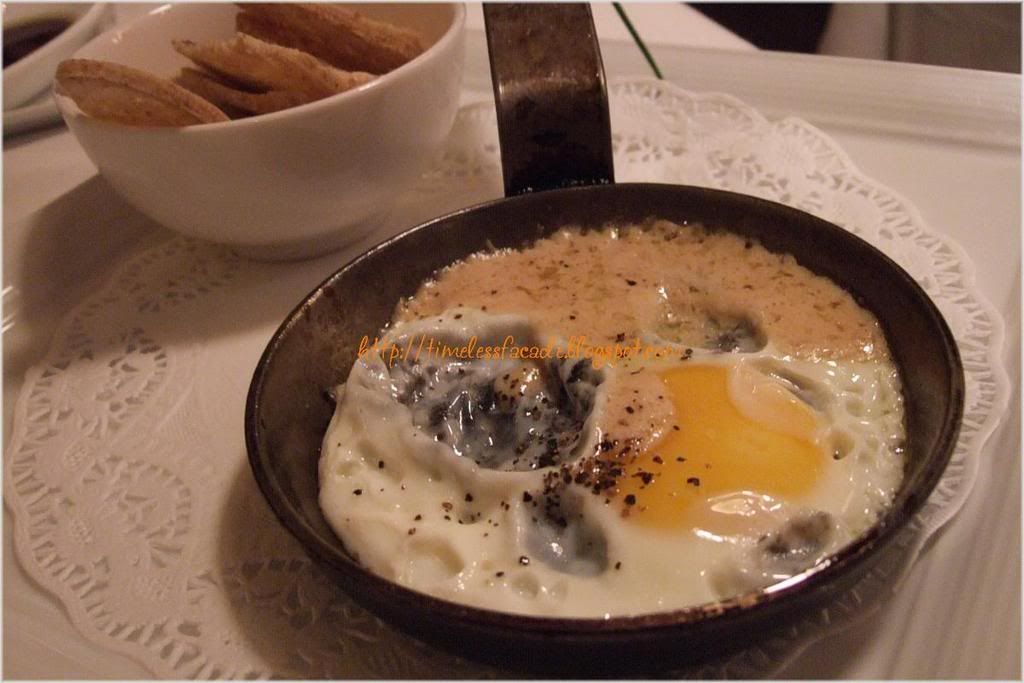 Pan Fried Eggs "Tegamino" with Black Truffle Puree and Mixed Cheese Fondue
This was a rather interesting dish and came served up in a hot pan. It certainly didn't look the least bit appetising due to the huge portholes on the surface of the egg. Taste wise, I found it pretty unusual due to the mixture of the cheese, egg and black truffle. It tasted eggy and cheesy with a slightly salty and bitter presence due to the black truffle, which was not too bad actually. My gf found it gross though, so the verdict's still out.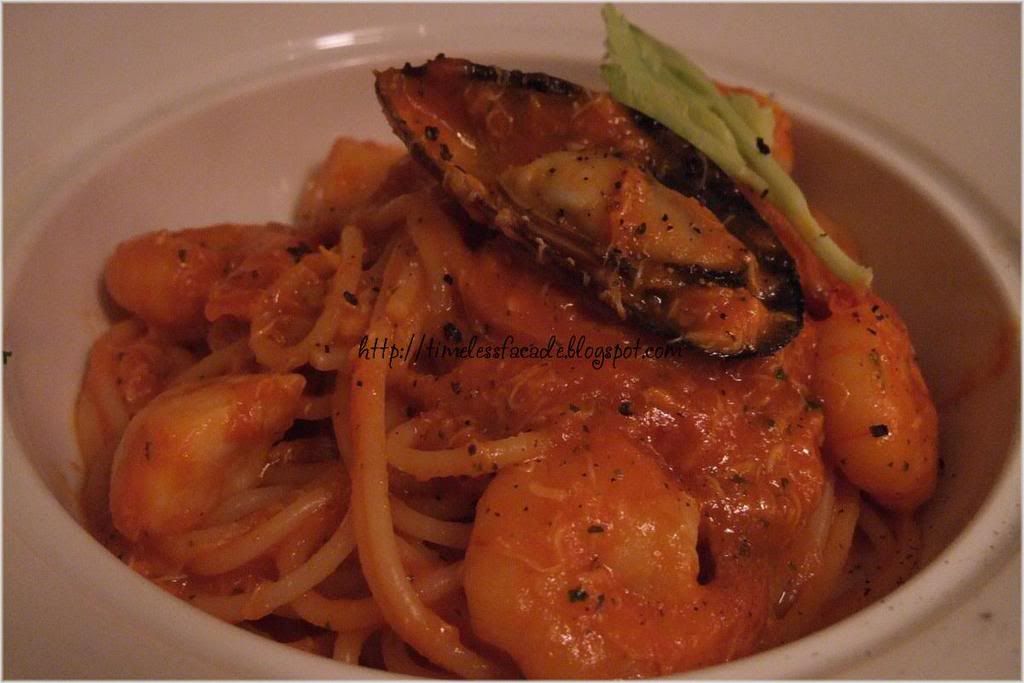 "Spaghetti" with Mixed Seafood, Garlic, Peperoncino and Tomato Sauce
My gf was all applause for this dish and I tend to veer in that direction too. The spaghetti was cooked to perfection - chewy and firm with a wonderful tomato sauce which didn't come across as too overwhelming. Pepperoncino adds that tinge of spiciness and garlic brings out the aroma. Add in fresh seafood and viola, you have a dish which speaks true to your tastebuds. Honestly, this is probably one of the few tomato based pastas that I have eaten and not feel overwhelmed by the tomato taste.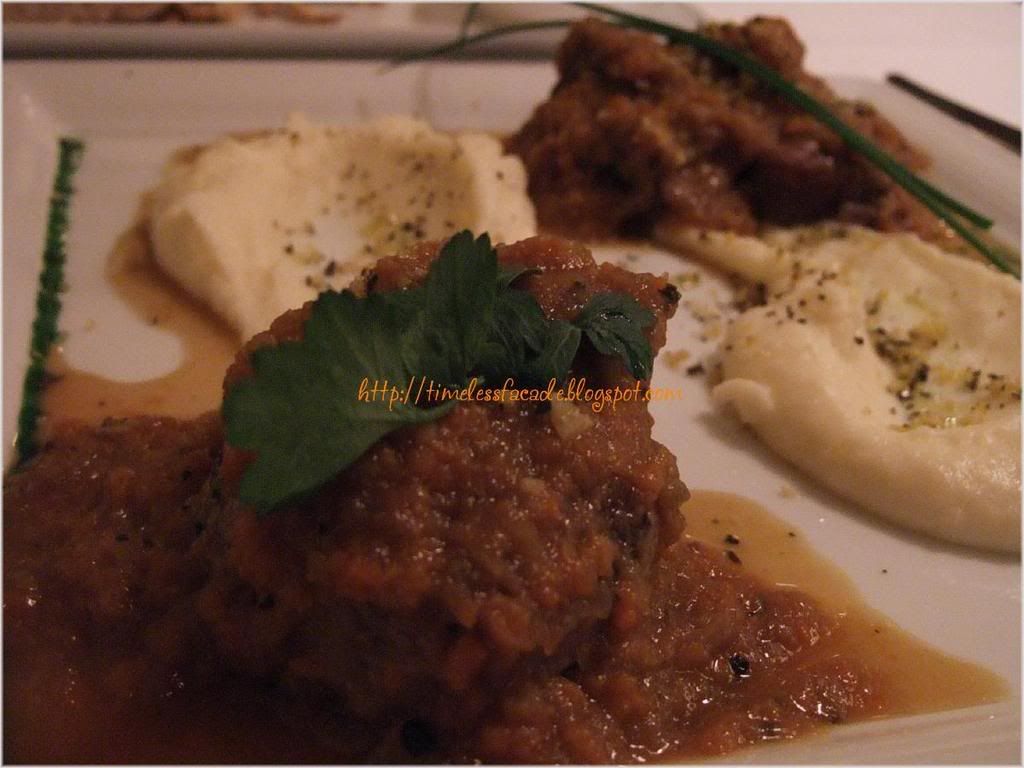 Slowly Braised Milk Fed Veal Shank "Ossobuco" with Gremolata and Potato Puree
With the rather impressive quality of food so far, I had high hopes for the Ossobuco, having had the chance to experience a wonderful rendition at
Senso
some months back. My expectations were probably over the roof and OSO's Ossobuco didn't quite match up. Sure the meat was soft and fall off the bone tender, but it lacked that firm texture. Ironically, the star of this dish was not the veal, but the potato puree. The puree tasted so smooth that at a certain point, I was wondering if it was butter or puree.


Oven Baked "Banana" Cake and Cardamom Caramel
My gf goes bananas over banana cakes and I still can't fathom why. The banana cake was a decent effort, but I found it a little under baked as the cake was still a little too moist and sticky. Real bananas were used in the making, not essence, which was definitely a plus. However, I wonder about the type of bananas used as the taste was a little flat. Using
Ang Ba Jio
would probably have been better.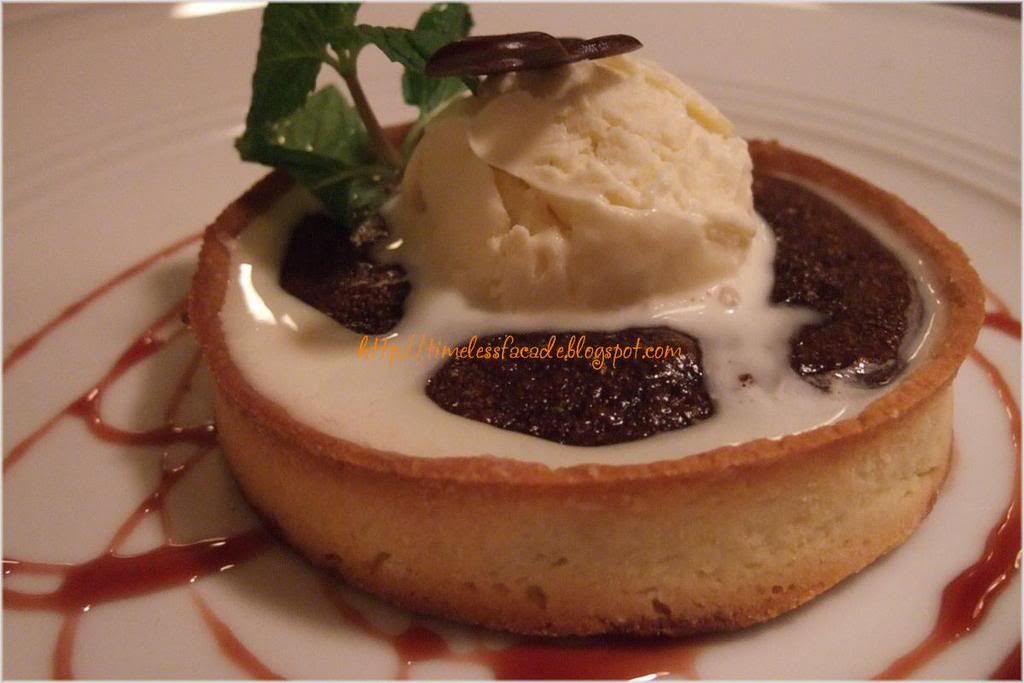 Hot Dark Chocolate Tart "Crostata" with Milk Ice Cream
I like this. Period. The semi molten dark chocolate is enclosed by a ring of fresh oven baked tart which is gloriously baked till golden brown and crumbly with a strong oven baked taste. Once the enclosure is compromised, the dark chocolate wobbles out and is best eaten together with the sweet milk ice cream and tart. The amalgamation is one step short of stupendous (alright I might be biased because I like chocolate and I like tarts).


The bill
A very filling dinner for 2 pax cost $99.05 (after 15% discount), which is rather reasonable for Italian restaurants of this calibre. Service is good, but can be less uptight at times, which would make for a relaxing dining experience. But then again, they are probably trying to portray an image that is in line with OSO's semi fine dining concept. I'll probably revisit if and only if they do something about the lack of personal space. My gf and I certainly do not appreciate being gawked at when we are eating or trying to have a conversation nor are we interested in hearing other people's conversations. Oh and yes, if you do want to visit during the weekends, please please please make reservations.
Final Verdict:
Ambience:7/10
Service:7.5/10
Food:7.5/10
Value for money:6.5/10
Overall:7.125/10
Address: 27 Tanjong Pagar Road
Contact: 63278498
Website: www.oso.sg