Arnold's Chicken? What's that? Thoughts of yet another generic deep fried chicken stall flashed across my mind when my friend brought it up. When informed that it was a rather famous outlet selling chicken that rivaled Popeye's and beat KFC's hands down, I embarked on a trip with my gf that very same day to verify the claims.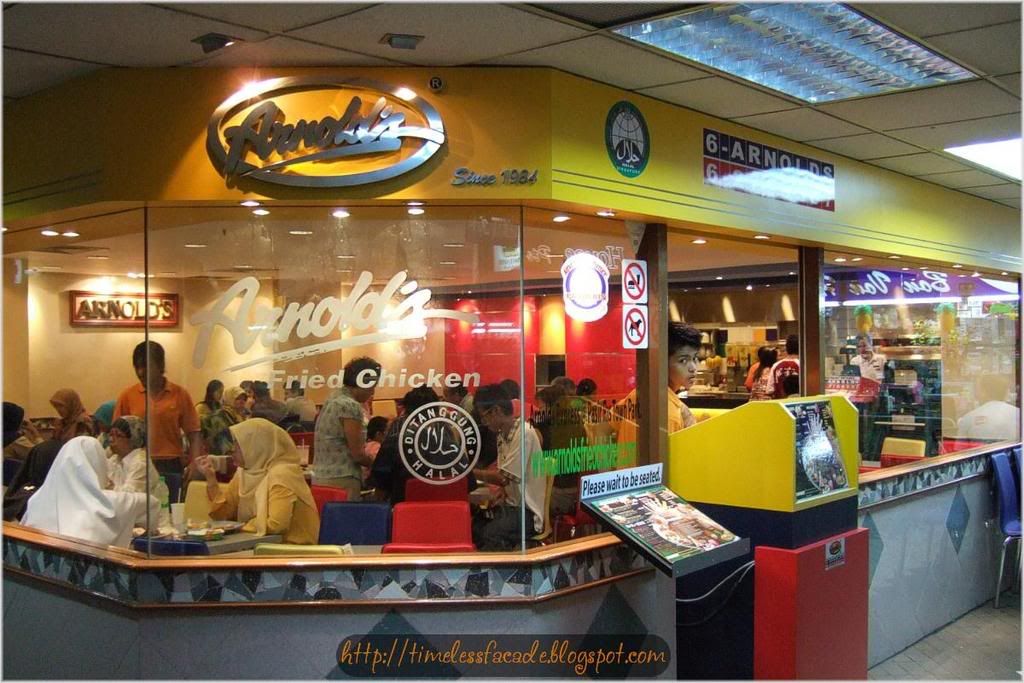 Exterior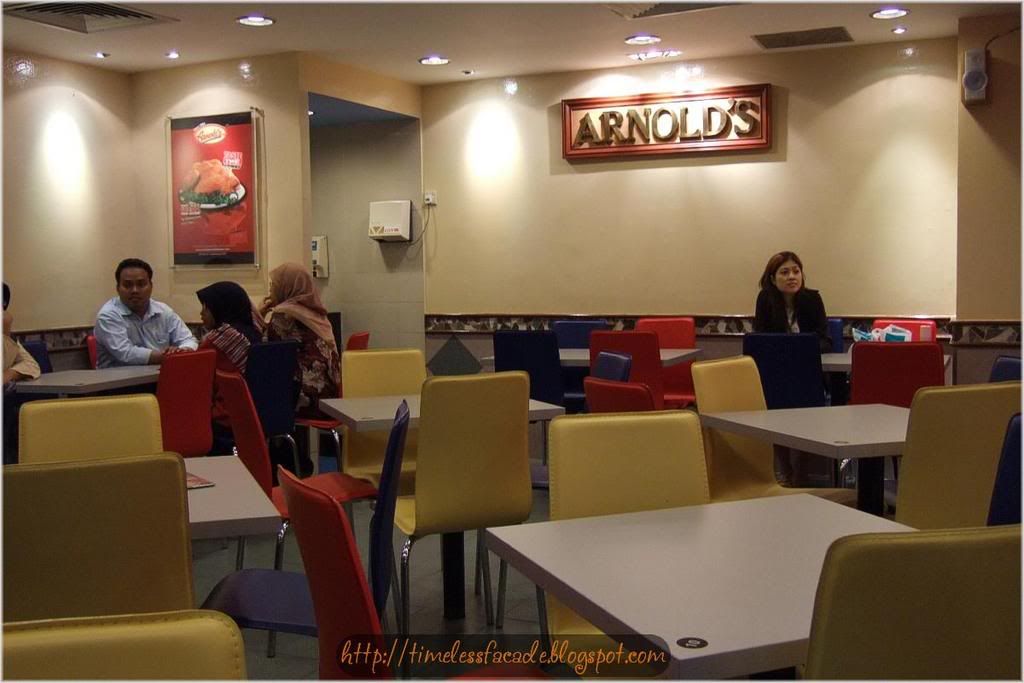 Interior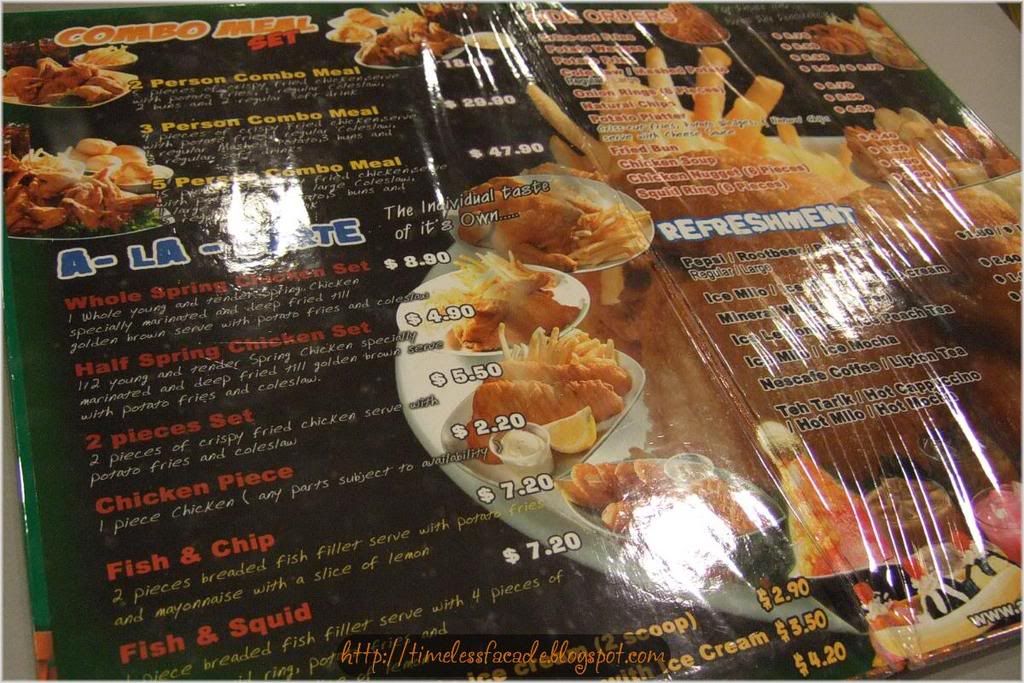 Menu
Located on the 2nd floor of City Plaza, the main outlet of Arnold's is tucked away in a rather obscure corner and very much resembles a fast food joint except that they do take and serve orders at your table. Please note that you still pay at the counter though.


2 Person Combo Meal
We had the 2 person combo meal, which consisted of 5 pieces of chicken, potato fries, 1 regular coleslaw, 2 buns and 2 soft drinks. The highlight was of course the chicken, which was very crispy on the outside with a tinge of herbs yet tender and moist on the inside. And the best part was, it didn't have the used oil aftertaste that usually came along with KFC chickens. The coleslaw was also quite a refreshing change from the funny tasting and smelling ones that KFC serves. Even my gf who dislikes coleslaw commented so. The buns were way too oily though, being deep fried in oil and the fries really tasted like frozen fries that had been deep fried.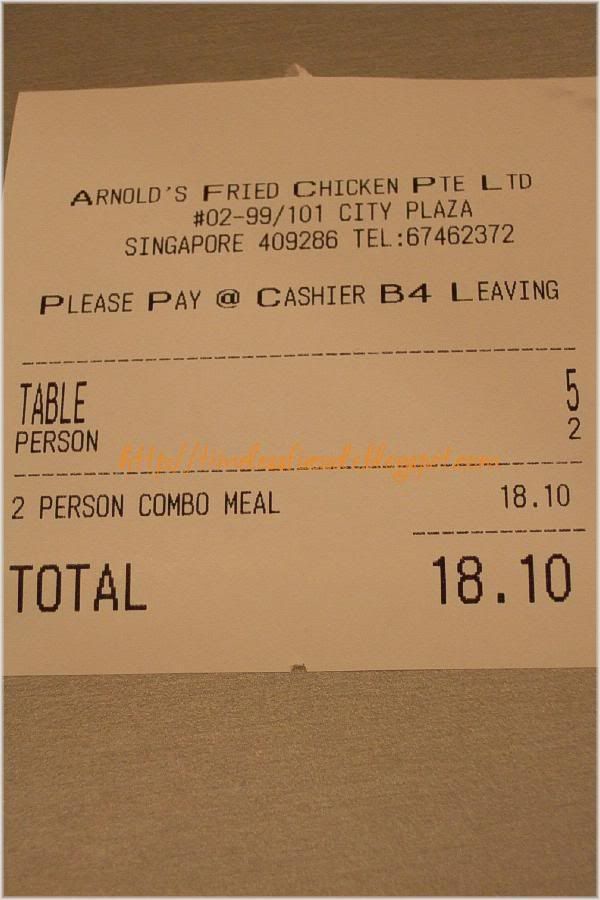 The cost
$18.10 for the above is rather pricey actually, especially when you can get the exact same stuff at KFC for about $5 less. Quality wise, no thoughts of comparison between Arnold's and KFC should even cross your mind because there is simply no competition. Unfortunately, location wise, KFC is a clear winner.
Rating
: 7.5/10
Address: #02-99/101 City Plaza, 810 Geylang Road (Main) & 94 Pasir Ris Central (Express Kiosk)
Contact: 67462372 (Main), 65850584 (Express)
Opening Hours: 11.30am - 10pm daily. Last order at 9.45pm.
Comments: Delivery limited to the East areas only. Visit their website at http://www.arnoldsfriedchicken.com