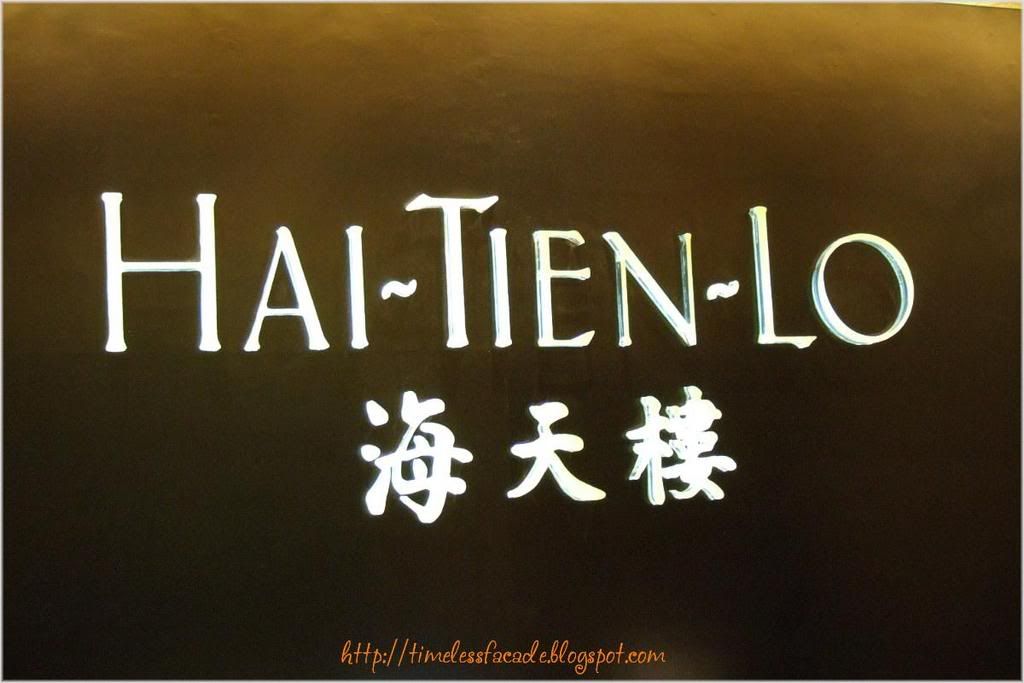 My second writeup on Hai Tien Lo. This time with better pictures of course. (For an idea how bad the previous trip's photos turned out, read my first entry
here
.) Was at Hai Tien Lo with a few of my friends to celebrate my recent "promotion" in the job market.


Interior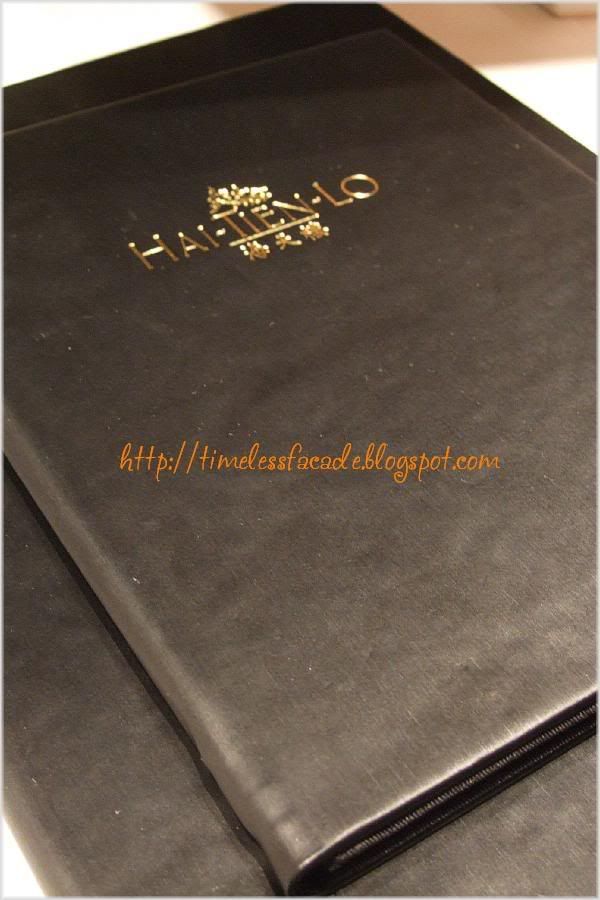 Menu
I guess no introduction is needed about Hai Tien Lo, especially with the writeup in my
first entry
, so I'll just leave it at that.


Hai Tien Lo Trio of Treasures (Pan - fried Scallop with minced Ginger, Sliced skin of Beijing Duck, Deep - fried Prawn with Japanese Sesame Sauce
A chef's recommendation, this dish didn't particularly impress me with the exception of the fried prawn with Japanese Sesame sauce. The prawn (note: singular) was huge, fresh, succulent and interestingly, I couldn't make out the taste of the sesame sauce. Instead, the prawn was covered in a sweet curry like gravy which proved to be a nice complement to the prawn. The sliced Beijing duck skin was nice and crisp, but of meagre proportions, hardly enough for a giant like me. The scallop with minced ginger reeked too strongly of ginger which turned me off totally.


Classic Peking Duck




Simply delectable!
A timeless favourite, the Peking duck was a hit with everyone. The skin was crisp with little to no fats beneath and rolled up in white egg less crepes, which don't make you feel nauseous from eating too much of it, unlike the yellow egg ones that are the norm nowadays. This is probably one of the best Peking duck that I've ever tried and ranks up there with
Min Jiang @ One North's
mouthwatering rendition. The duck meat was nicely carved up and served with no condiments whatsoever, allowing us the wonderful and unadulterated taste of the Peking duck in its tender and juicy glory.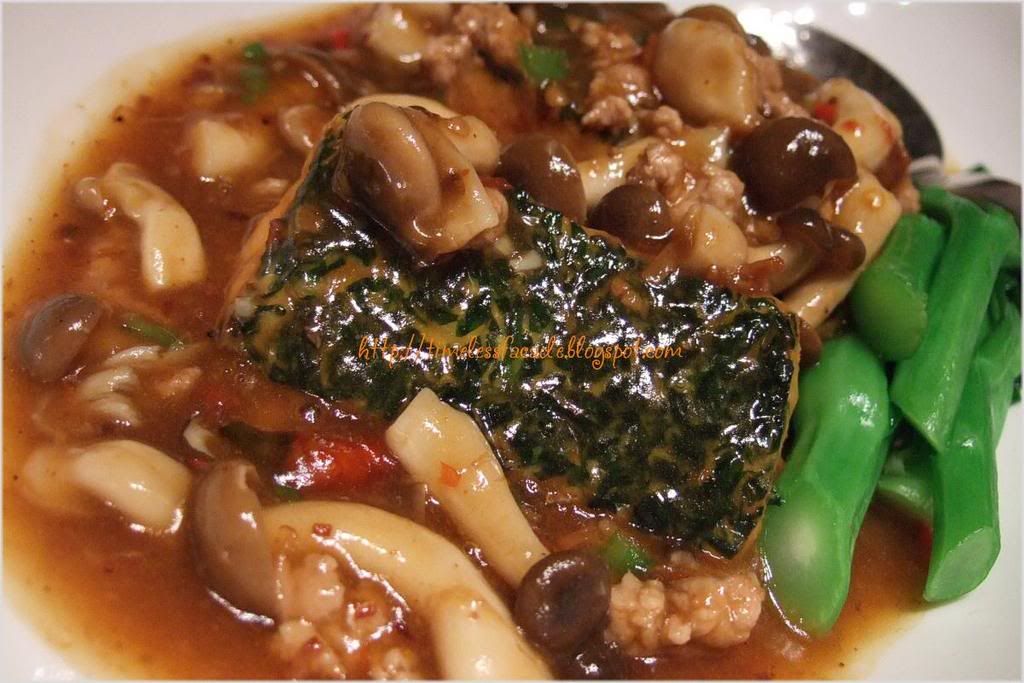 Braised homemade Spinach Beancurd with minced Pork and Pine Mushroom sauce
This dish was also a hit with everyone. The tofu was soft and silky with a tinge of spinach aftertaste. Add in a slight spice and pine mushrooms and you get a dish that sweeps you off your feet. Well almost.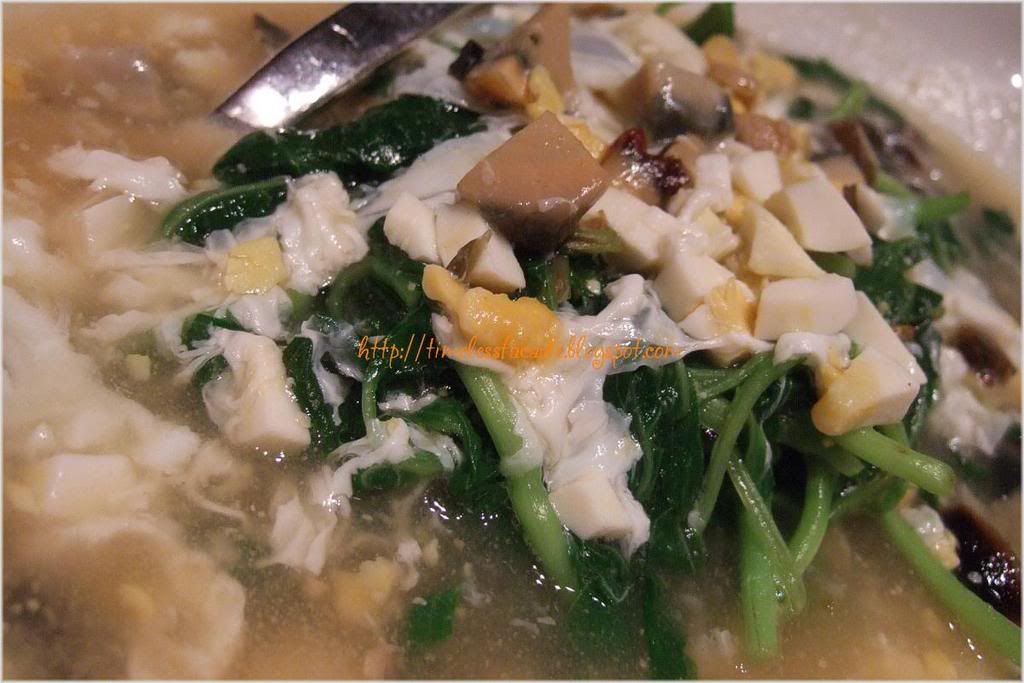 Spinach with 3 types of Egg
An interesting dish which I first came across at
Szechuan Court
. Hai Tien Lo's rendition paled in comparison though. The vegetables were a tad too soggy and the eggs tasted really out of sorts.


Fragrant Coconut Seafood fried Rice
Fancy
Nasi Lemak
in a high class setting? The coconut seafood fried rice fits the bill! However the coconut taste wasn't as pronounced and the rice far less oily and much fluffier. Well executed but didn't exactly wow us.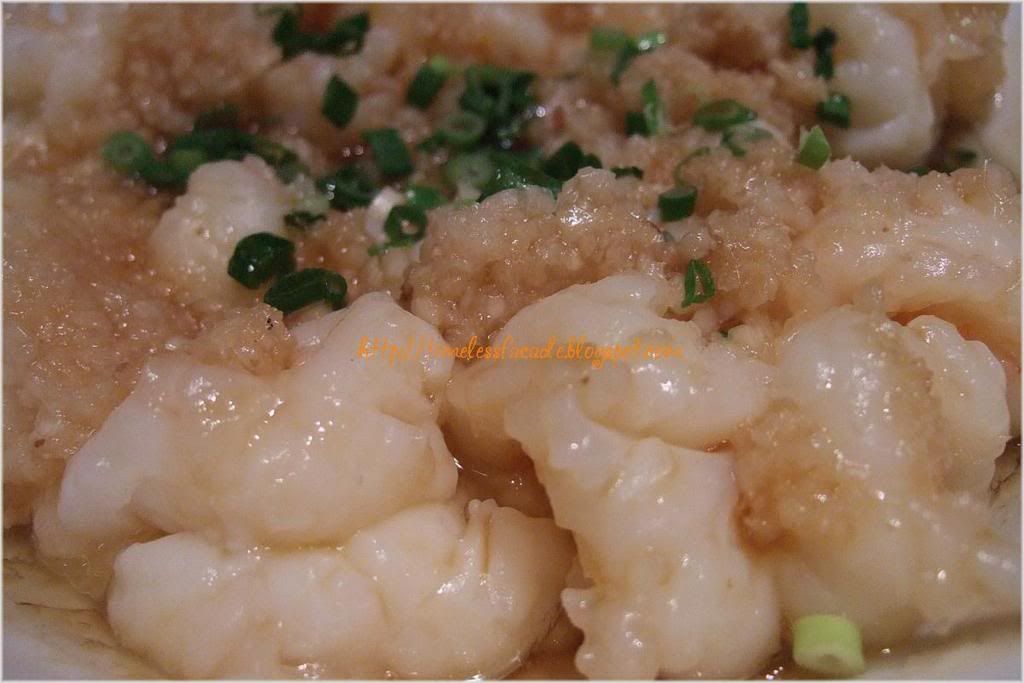 Steamed Prawns with mashed Garlic in a bamboo basket
The freshness of the prawns sealed the fate for this dish. It was out of the ocean fresh and juicy with every bite. However, I did find the garlic taste a little too overwhelming. Sure its nice during the initial bite, but as you chew on and eat more, the garlic taste starts getting to you. A little reduction in the garlic would be much appreciated.


Tang Yuan with crushed peanuts
My dessert for the evening and a non spectacular one at that. Just your run off the mill
Tang Yuan
dabbed in crushed peanuts. Not exactly my idea of a sweet ending though.


The bill
We chalked up about $313 for an excellent and heart warming dinner. Service was still good, but seemed to have dropped a notch since my last visit (maybe it was because I was in shorts and slippers?). The food was good, view was great and with excellent company to boot, what more can I ask for?
Final Verdict:
Ambience:8.5/10
Service:7.5/10
Food:8/10
Value for money:7/10 (Without discount)
Overall:7.75/10
Comments: Please refer to my
first entry
for the address and contact details.