I have always wanted an excuse to visit Grand Shanghai, after numerous recommendations by my parents, who obviously have taken a liking to this flagship Chinese restaurant of Grand Copthorne Hotel. Well, the opportunity presented itself in the form of a one for one set dinner offer from UOB and I was more than glad to accomodate. Known for its unique
Ye Shanghai
decor, the restaurant is always packed during weekends for functions or dinner, which explains the difficulty I had in trying to secure a table for my gf and myself.


Exterior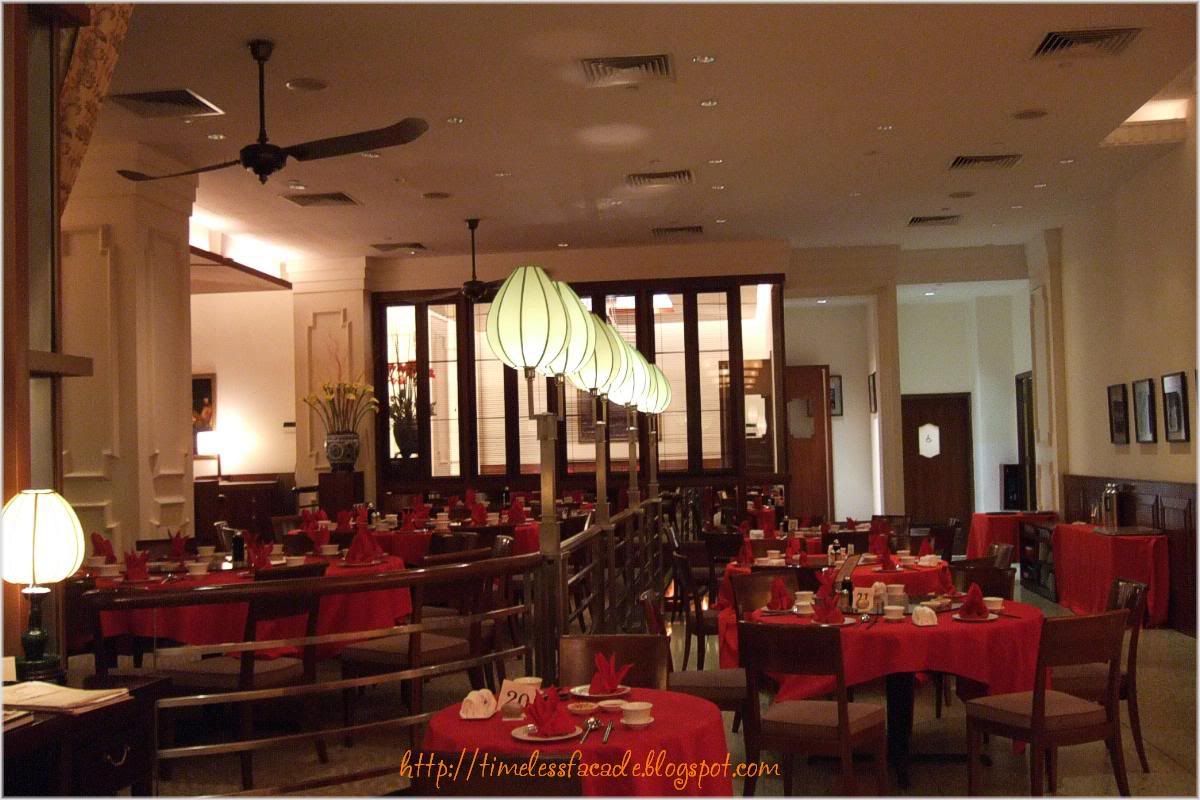 Interior




Another shot of the interior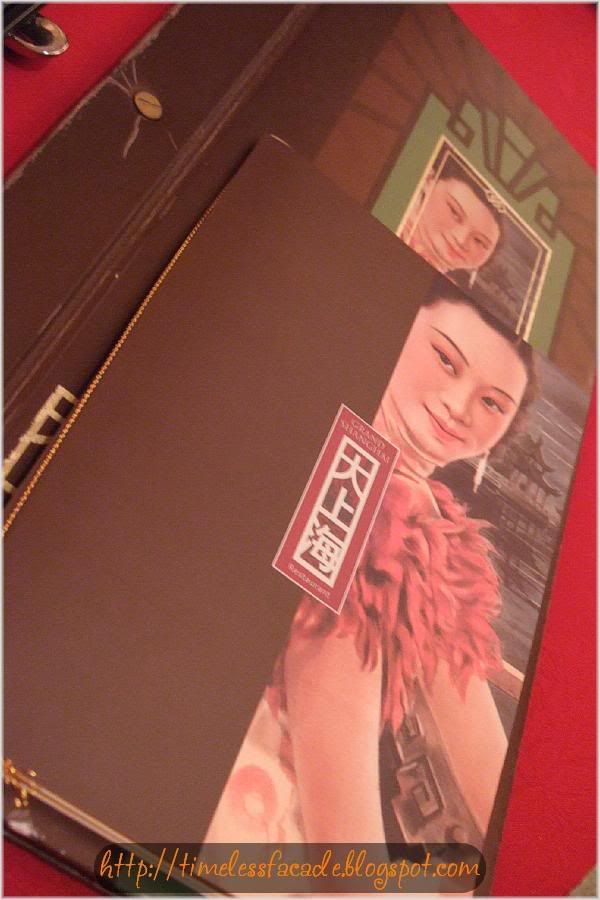 Menu
Just in case you get lost trying to locate Grand Shanghai, it doesn't lie within the hotel itself but in the adjacent building(they share the same underground carpark though). Its exterior doesn't garner much attention but step in and be transported back in time to the 1930 - 1960s where nightclubs were a rage. Everything from the tables, lamp shades, dark wood flooring and two blade fans down to the toilets, were reminiscent of a typical nightclub. Pretty much like those you see on TV when
Shanghai Triad
was aired. Completing the picture was a beguiling songstress belting out a repertoire of popular tunes from that era.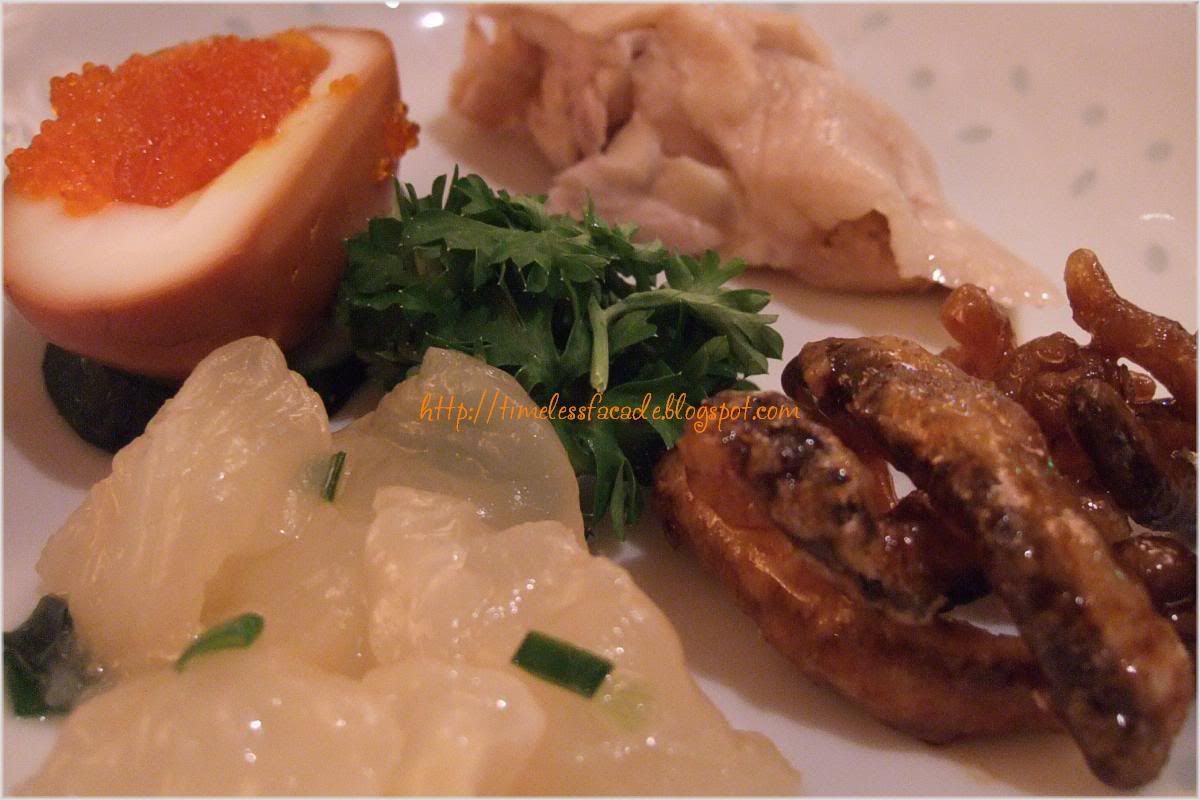 Cold Dish Combination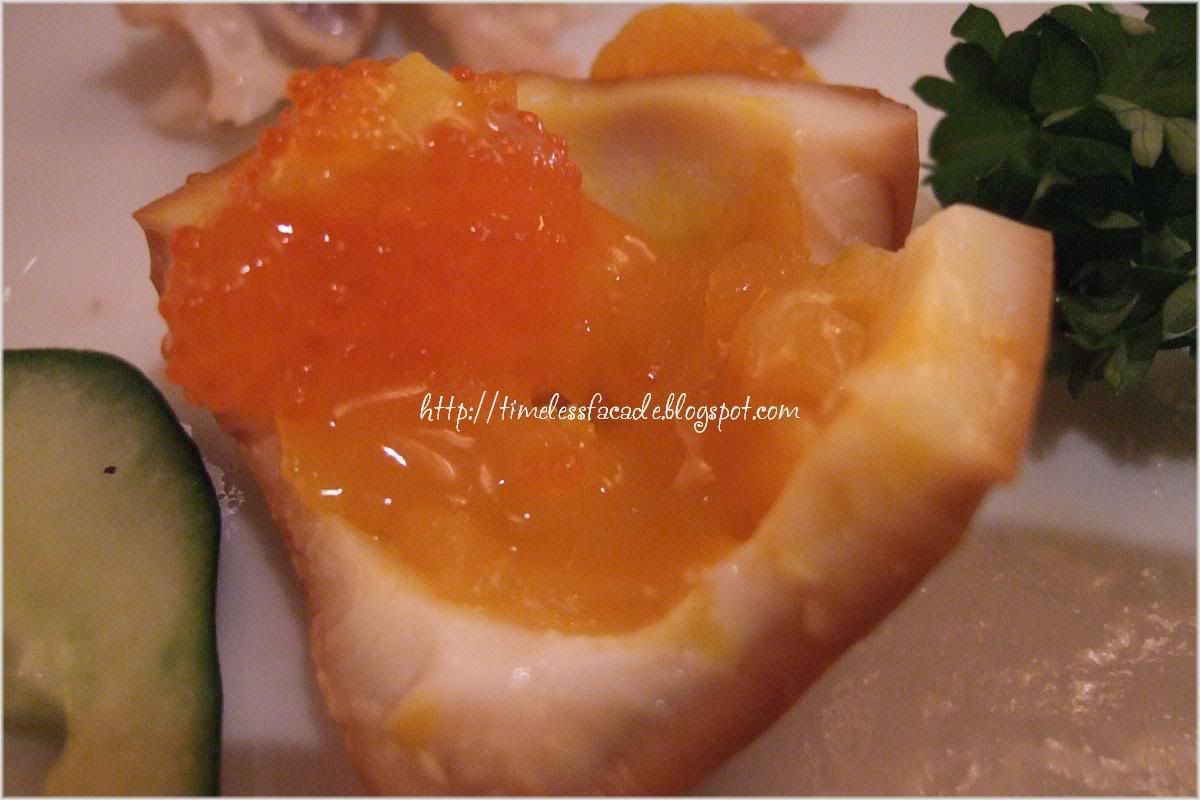 Check out the egg yolk
A cold dish always gets the appetite going. Consisting of a slice of chicken, half an egg with roe, deep fried eel and strands of jellyfish, it was just short of terrible in the presentation department. There was no proper placement of the food and no colours to bring out the dish. No garnishes, nothing. That aside, the chicken was cold and rather normal, but nothing to shout about. The deep fried eel was crispy and sweet, which was a rather good way to start things off. A pity about the minimal portions though. The jellyfish was springy and tasted strangely like eating a softer version of beef tripe. Not that its bad, but its just slightly different. Last but not least, the egg. I had problems with this one although I'm a big fan of eggs. It looked every bit a hard boiled egg, just that the egg white was softer and more jelly like. The egg yolk, on the other hand, was a gooey semi solid mass which reeked strongly of raw egg. Top it up with loads of fish roe and you get something that's unbelievably raw and has the occasional pops (I just love biting into the fish roe). I believe (I'm just speculating, don't quote me) that the egg was boiled at a temperature of about 60-70 degrees Celsius for a moderate period of time to achieve such a texture.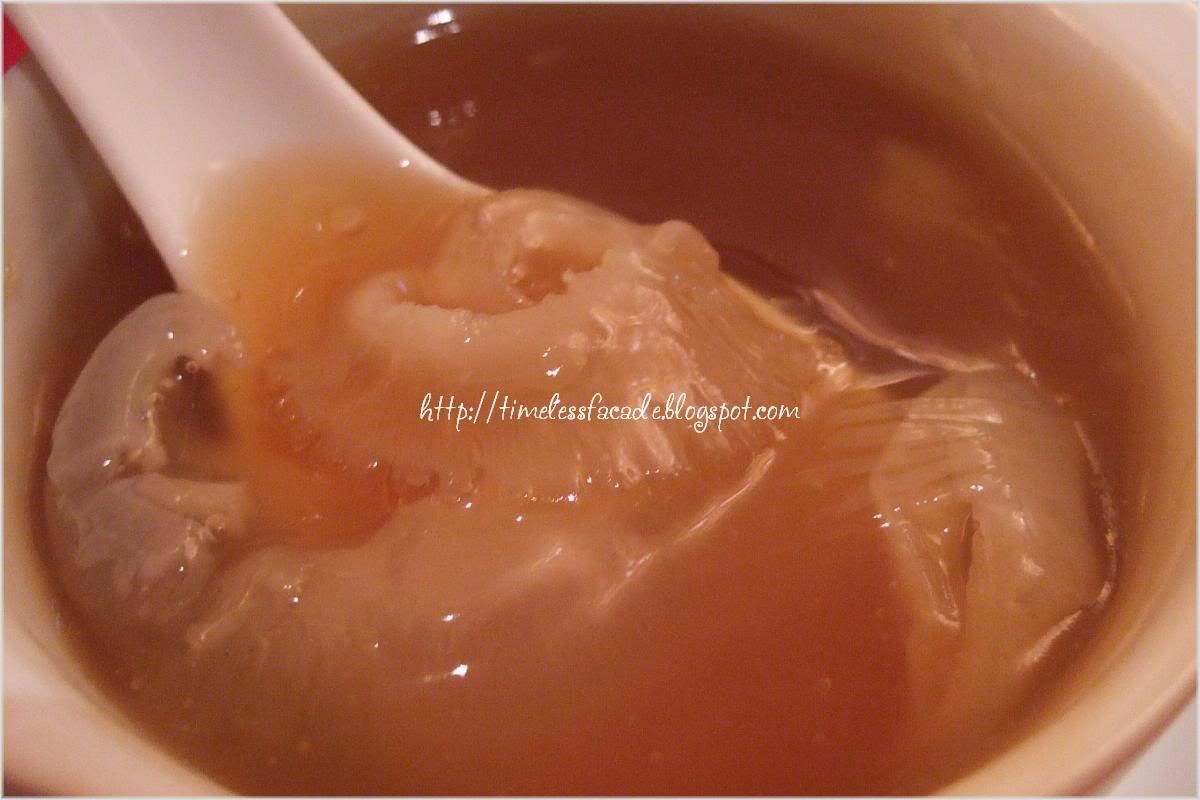 Braised Superior Shark's Fin in Brown Sauce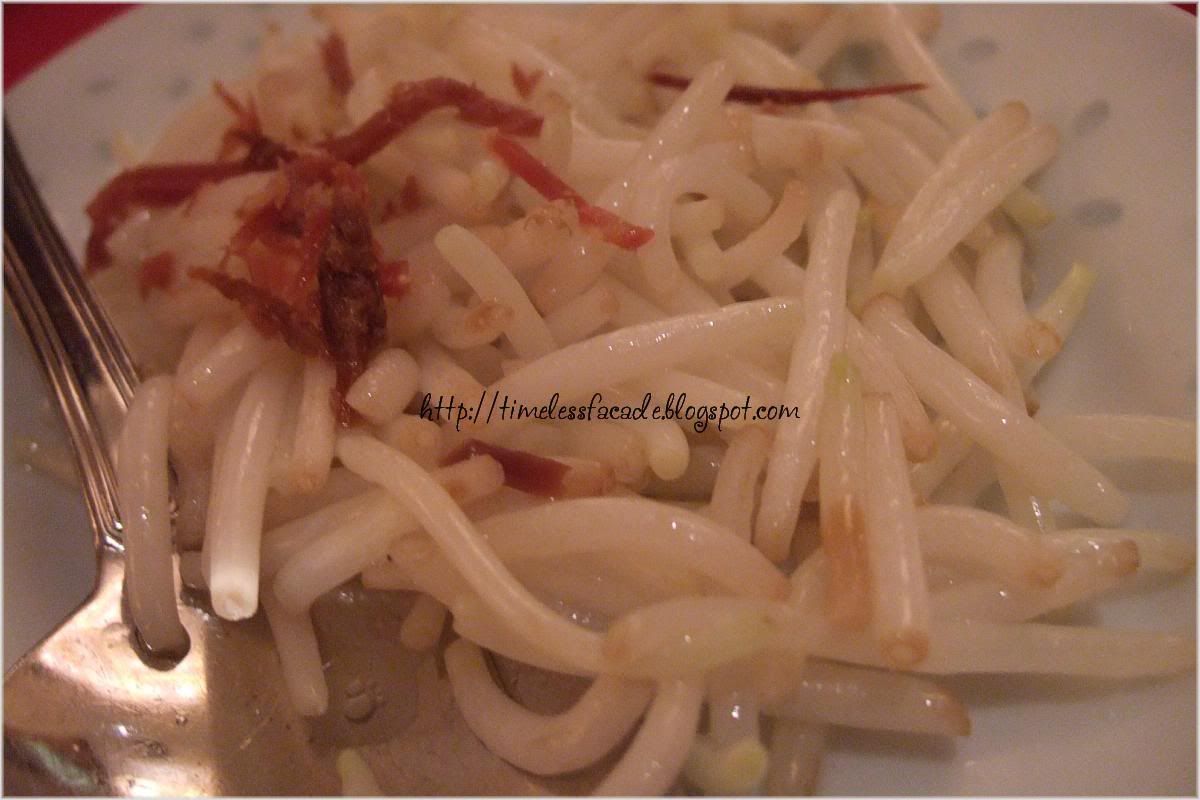 A nice plate of beansprouts to go along
The heavyweight dish of the set menu. This dish alone costs $45 in the ala carte menu! I'm not sure if there's any difference though because I haven't tried ordering it ala carte yet. But it was good. The fins were of moderately good quality and were rather plentiful. The brown sauce was light on the palate and not too starchy. The accompanying plate of beansprouts (with fried Yunnan ham I believe) tasted best when eaten with the soup and not alone.


Braised Spare Ribs "Wuxi" style




Look how easily the meat came off
A rather humble dish, but it's beauty lies in it's simplicity. A single rib served with a stalk of vegetable and a bread stick
man tou
. The meat came cleanly off the bone without much resistance and was tender. The gravy played a key role in this dish without it coming across as too strong but instead played on its subtlety, allowing the meat to slowly soak up the essence and diffuse through with every bite.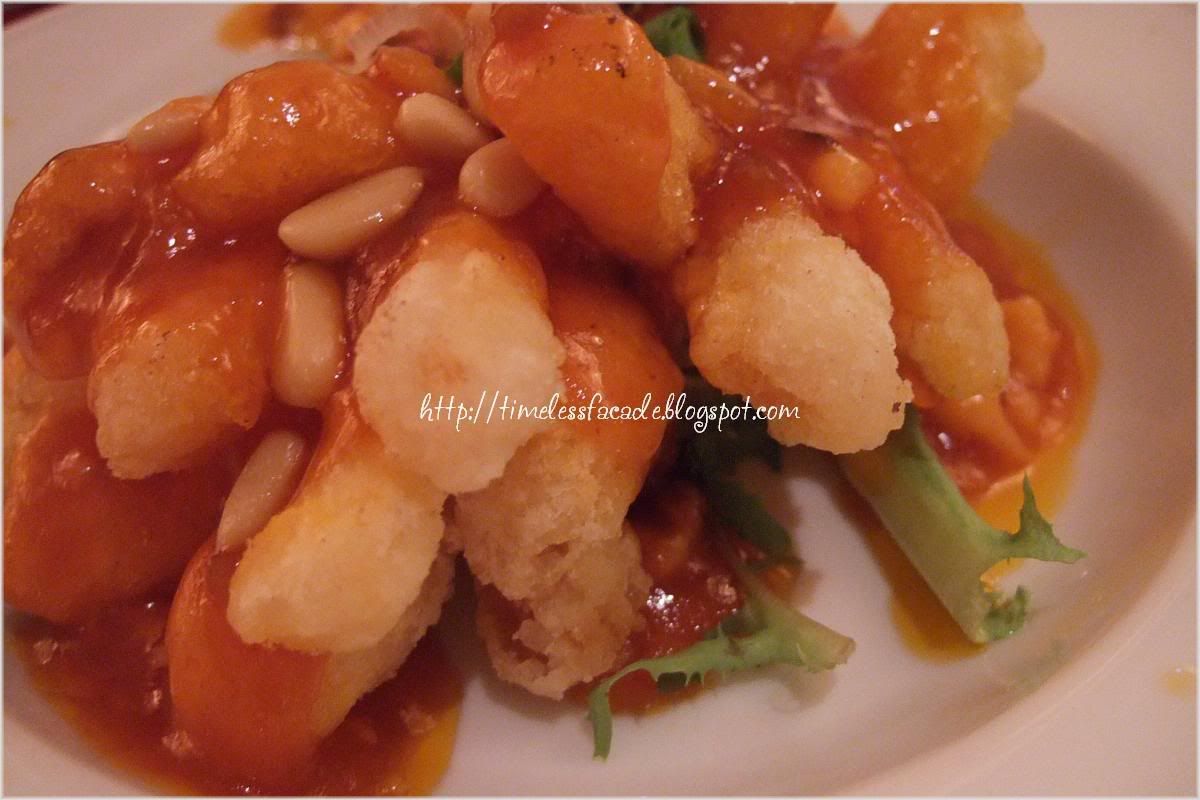 Deep Fried Cod Fish with Sweet & Sour Sauce and Pinenut
I didn't find this dish too fantastic. Sure the batter was nicely done and tasty, but it masked the sweetness of the cod fish, which was really a pity. It would have probably tasted the same if other types of fish were used.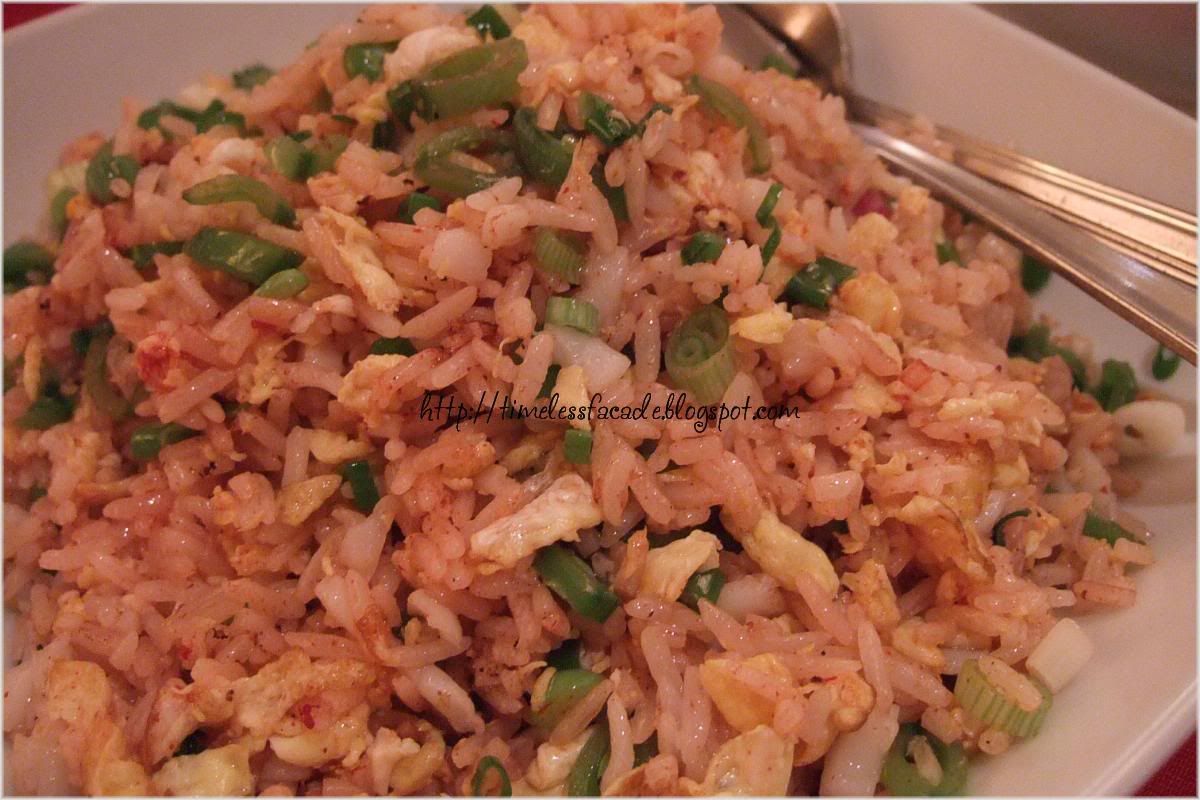 Shanghai Fried Rice
This wasn't from the set menu. We ordered in it in the event that we weren't full from all the dishes in the set. I didn't find it spectacular at all, even though it was one of the recommended dishes. The rice tasted strongly of pepper and nothing else. The ingredients didn't provide any visual appeal nor did they add any taste into this dish. So basically its bland plus bland, which still gives you bland, save for the strong dosage of pepper.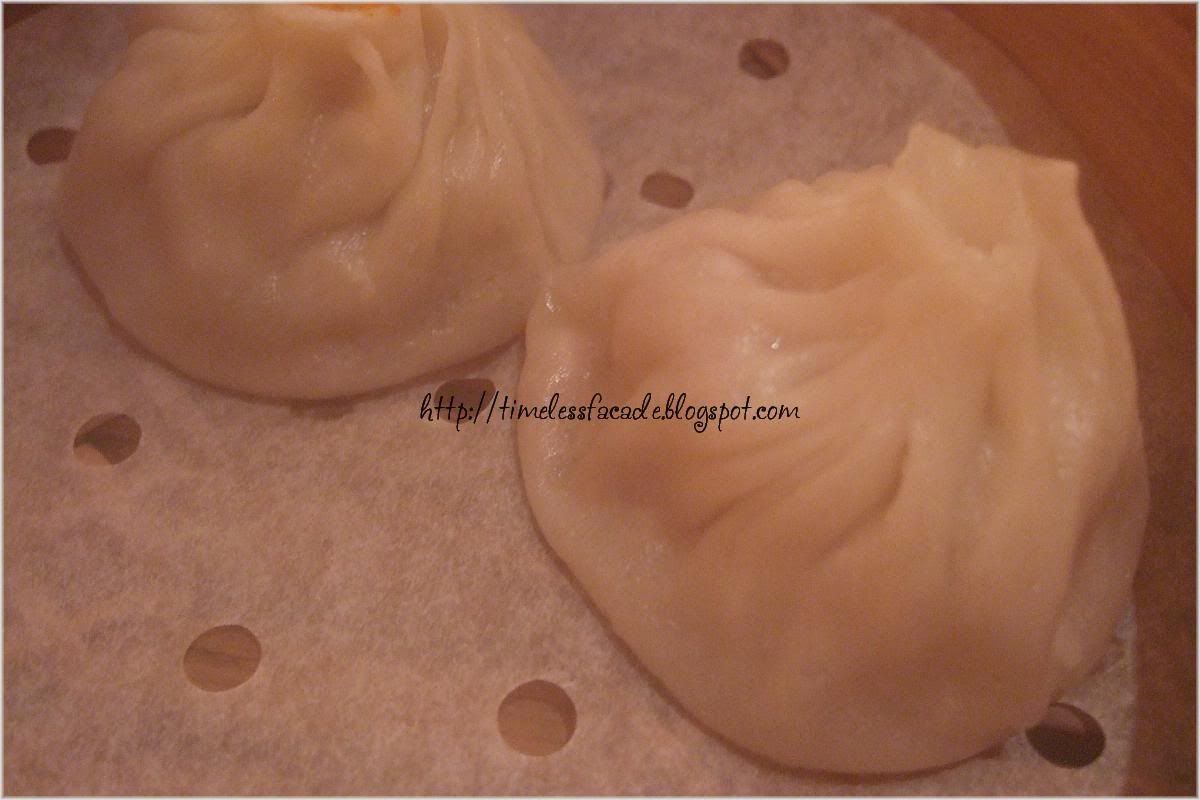 Shanghai Pork & Crabmeat Dumplings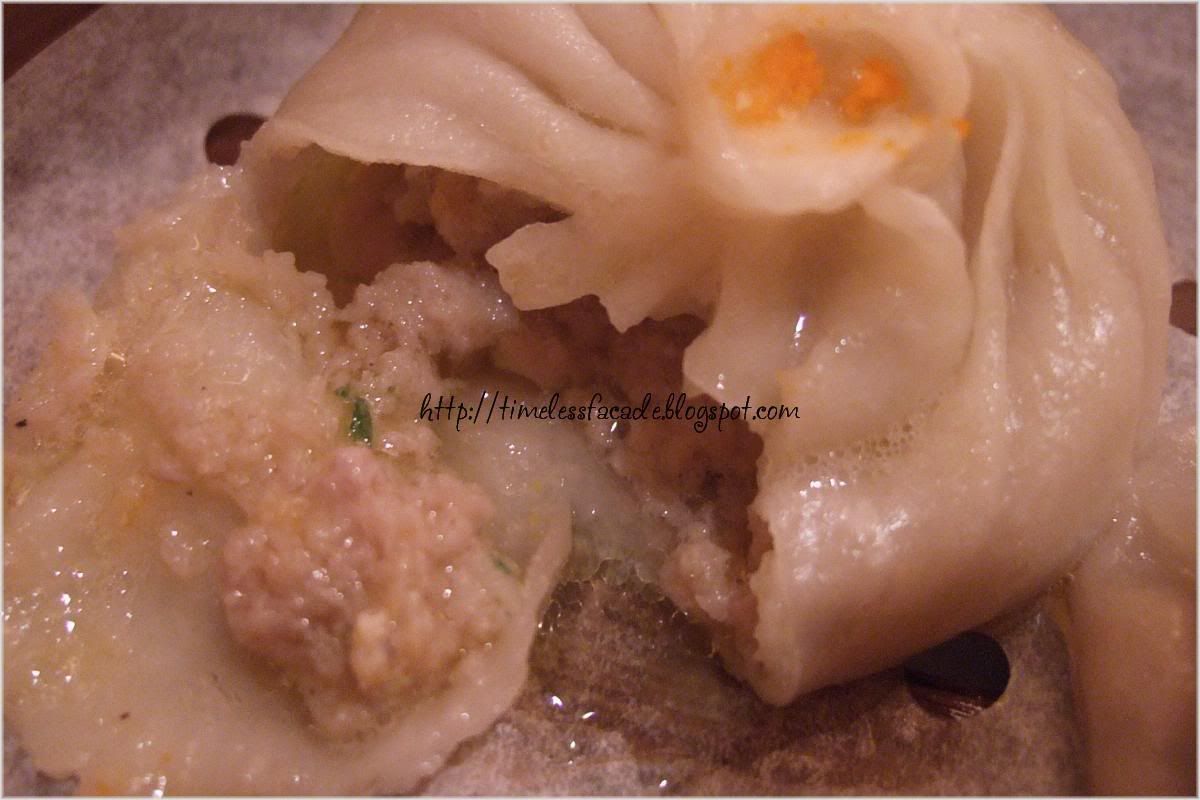 Another look
The Shanghai Pork & Crabmeat Dumplings aka
Xiao Long Bao
got me really excited as I had heard much about them. My expectations proved to be this dish's undoing as I didn't find it good, much less fantastic. For one, the skin was a little too thick and it just didn't have that explode in your mouth kind of feeling. Decent, but I've had better.


Mango Sago
A pretty much standard dessert everywhere you go. This one was a little different in that they added milk into it, making it a little more coagulated and sweet. A small but nice twist to the this very common dish and a great way to end dinner on a high note.


The bill
My gf and I chalked up a bill of $106, which is really quite a bargain considering the quantity (we couldn't finish the food. Blame the fried rice!) and quality of food (The food isn't exactly very refined like
Hai Tien Lo
,
Summer Pavilion
,
Wan Hao
or
Min Jiang @ One North
, but it's delicate enough). The place itself is a very refreshing change from the usual Chinese restaurants and comes with live entertainment. Not exactly the place where young people might want to go, but definitely great if you want to bring your parents/grand parents for a walk down memory lane. Service is quite good and please remember to always make reservations in advance or be prepared to wait/turned away.
Final Verdict:
Ambience:8/10
Service:8/10
Food:7.5/10
Value for money:7/10
Overall:7.625/10
Address: Level 1 King's Centre, 390 Havelock Road
Contact: 68366866
Comments: Closed on Mondays
Website: www.grandshanghai.com