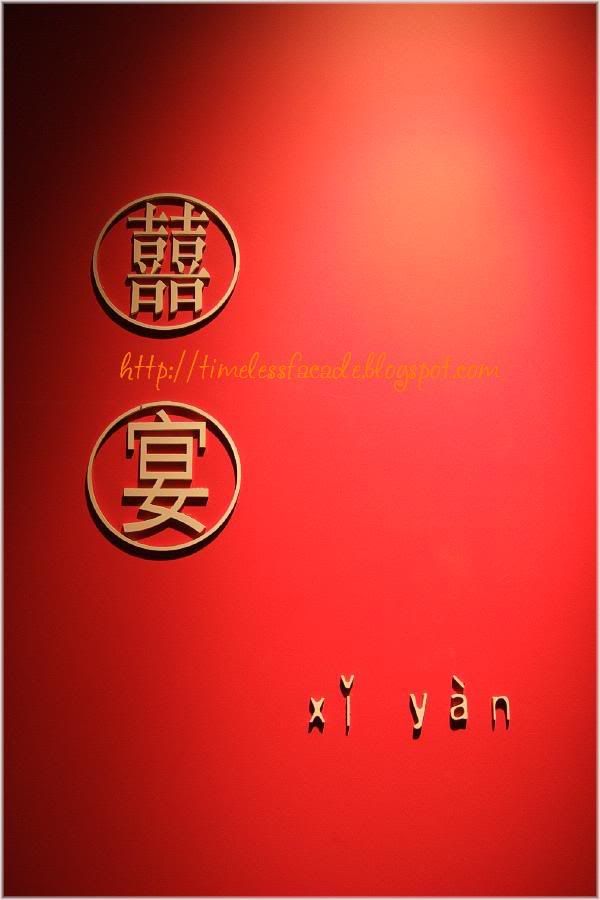 Xi Yan first opened in Singapore in 2005, bringing along a whole new concept of dining to Singapore with the introduction of private dining whereby tables are extremely limited (think 3-5 tables), reservations are definitely necessary and the chef decides what you eat for that day. It does sound draconian, but the upside is that the menu changes daily, save for a few specialties and dining is exclusive!


Exterior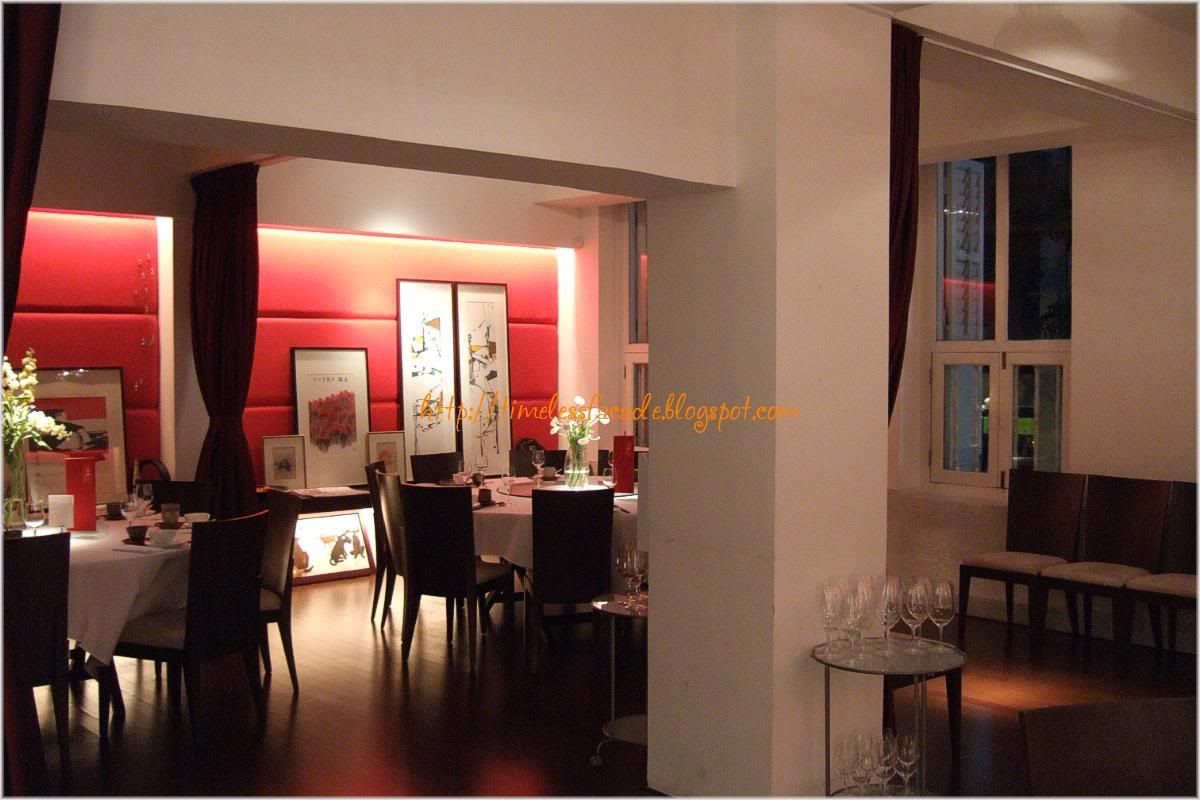 Interior



Menu of the day
Nestled amongst the old shop houses along Craig Road, Xi Yan, as mentioned earlier, is by reservations only and you need a minimum of 6 pax to dine there (exceptions can be made if you do not meet the required number of people, but you need to order the pricier menu. Rule of thumb is - You need to spend about $500-$600/table). The entrance to Xi Yan is discreet, without even a hint of its presence (That explains the difficulty we had in trying to locate it). Here's a clue though. It shares the premises with Sui Japanese Restaurant.
The interior is cosy and modernly furnished with hues of red and brown. Abstract paintings don the sides and ambient lighting is practised. Simplicity at its finesse .


Greenhouse Tomatoes in Sesame Sauce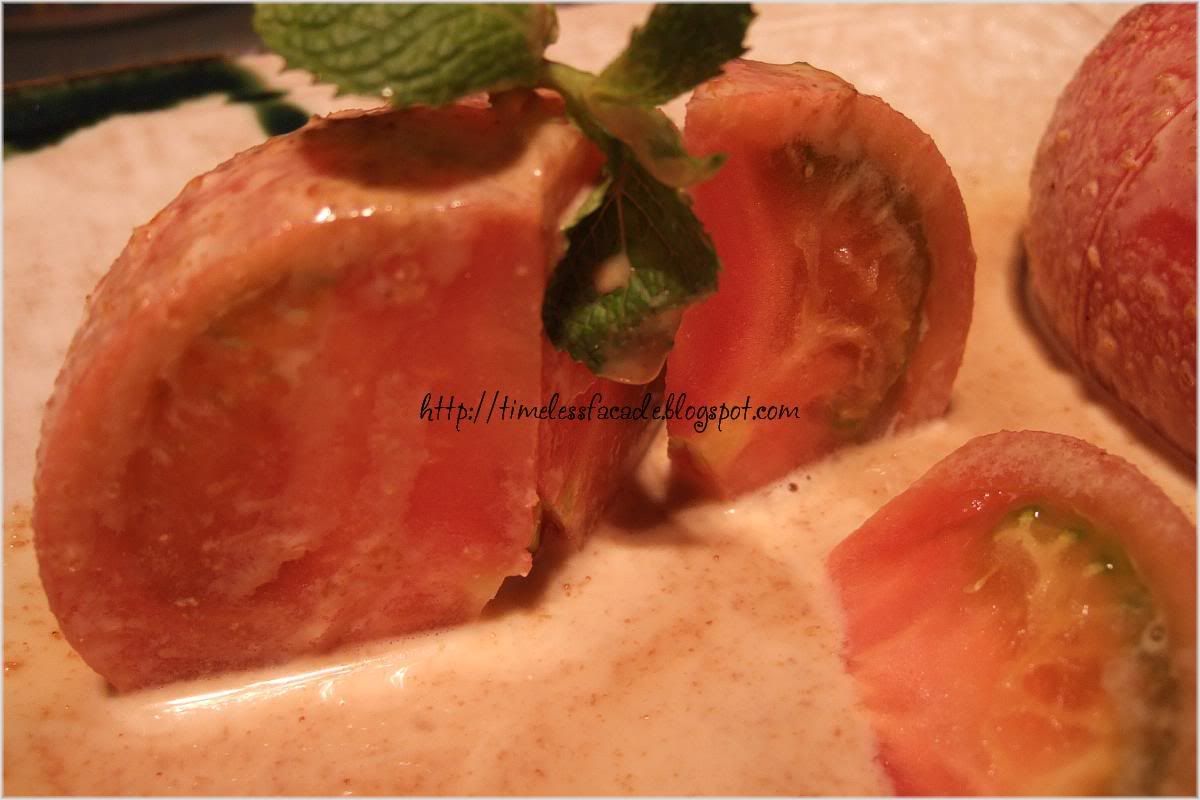 Cross sectional view
As the name suggests, the tomatoes are grown in a greenhouse aka organic tomatoes and are much bigger than your average tomato. Not to mention that they cost ridiculously more as well. According to the waiter, these organic tomatoes are juicier and taste better. I am inclined to agree. The tomatoes were juicy and full of bite. With the wasabi infused sesame sauce, the tomato was refreshing and truly an appetizer.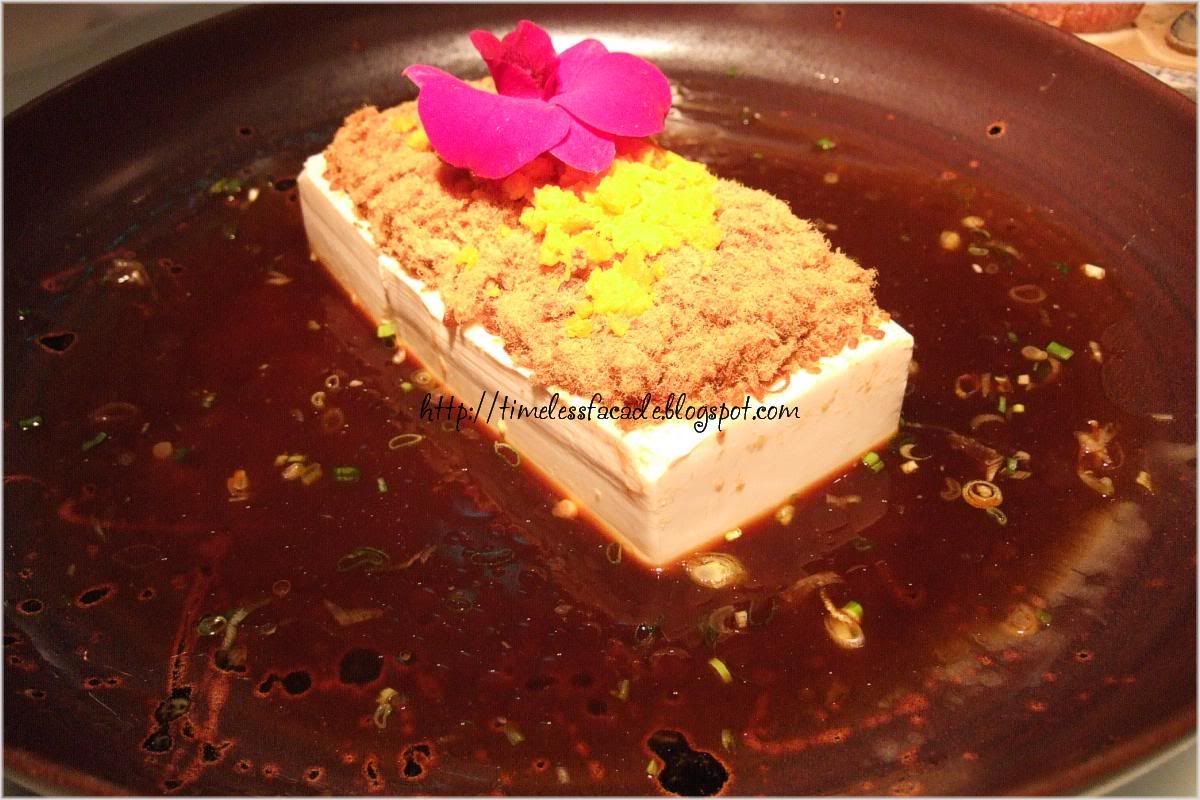 Cold Tofu Pork Floss



Another shot!
Interesting dish with the tofu topped with pork floss, salted egg yolk, dried shrimps and deep fried shallot.A nice combination with the saltiness of the dried shrimp complementing the sweetness of the pork floss with the shallot to give it fragrance. However, the tofu which was supposedly imported from Japan, lacked the silky smoothness which good tofu should have.


Shrimp and Crab Paste on Baguette Toast



A close up view
A fanciful presentation and preparation method, but tasted nothing out of this world. It is Hong Kong's version of our
Heh Bi Hiam
. I did find it weird eating bread during a Chinese dinner, but maybe thats just me.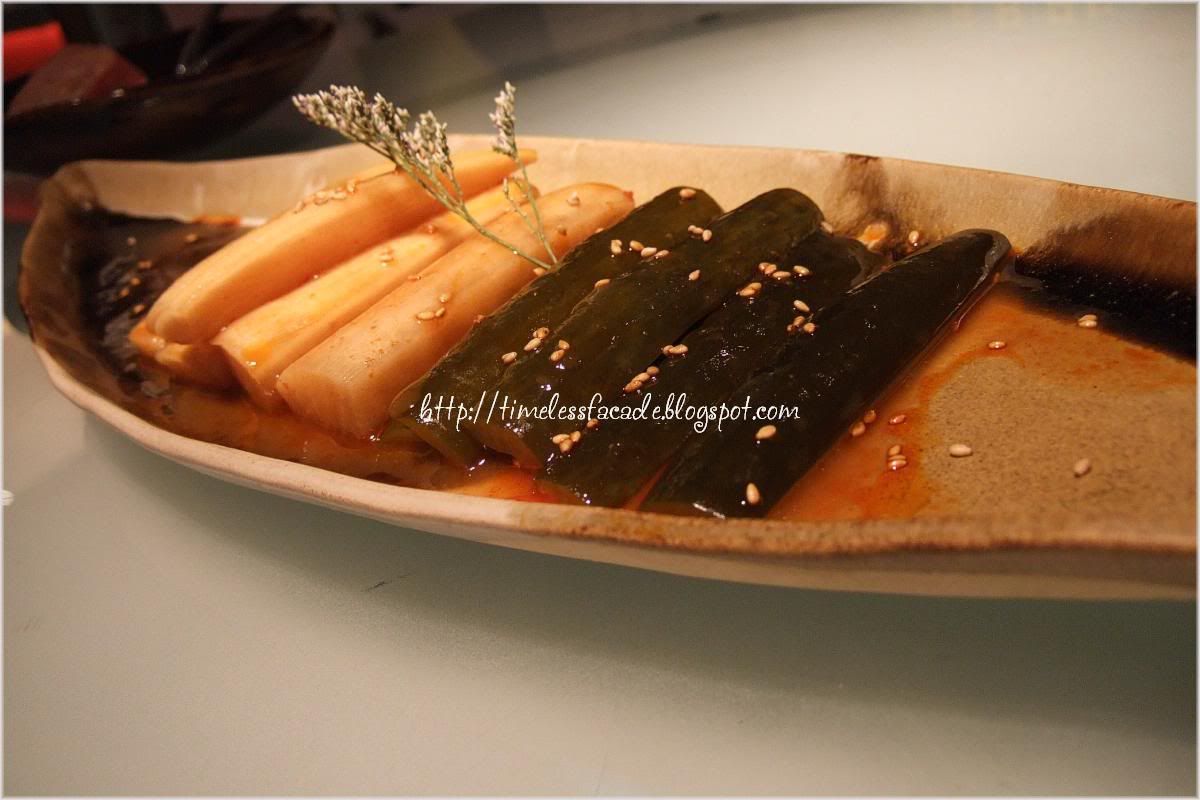 Sichuan Pickles in Spicy Sauce
This dish came with pickles (or jerkins if thats what you know them by) and radish soaked in a spicy concoction of Sichuan peppercorn and a wee bit of sugar. I took a bite of the radish and sweared off it as it was way too sour for my liking. If you like sour and spicy stuff, then this might suit your tastebuds.


Deep Fried Prawns with Salted Egg Yolk
A few grievances about this dish. First of all, the prawns were only averaged sized. For the price we were paying, I had expected huge prawns. Second, the prawns weren't cleaned properly. The innards(or shit if you prefer) could still be seen. The good thing was, the salted egg yolk coating on the prawn shells tasted better with every mouth. It did come across as a little too mild at first though, but the more you suck at the shell, the better the taste.


Stewed Beef Shin with Tangerine Peel
The beef shin was quite good, soft and tender from simmering in the pot for 2 hrs. I could detect a tinge of sweetness as well, probably from the tangerine peel. However, the raw beef taste can be quite overwhelming at times and thats coming from someone who likes steak medium rare.


Sichuan Salivating Chicken



The chicken after mixing
Please do not be mislead by the odd sounding name of this dish. The chicken does not salivate. The sauce is supposed to be so good that it makes the consumer salivate. Quite an audacious claim I must say. Ingredients in this dish are quite interesting actually, with chicken slices, yam noodles, roasted peanuts, chilli, coriander and century egg. I personally found everything normal except for the yam noodles which were surprisingly chewy and full of bite. I've never tried anything like it. Just for the record, this dish did make me salivate, but not from the goodness of the sauce, but from the chilli in it. An underhand method? You decide.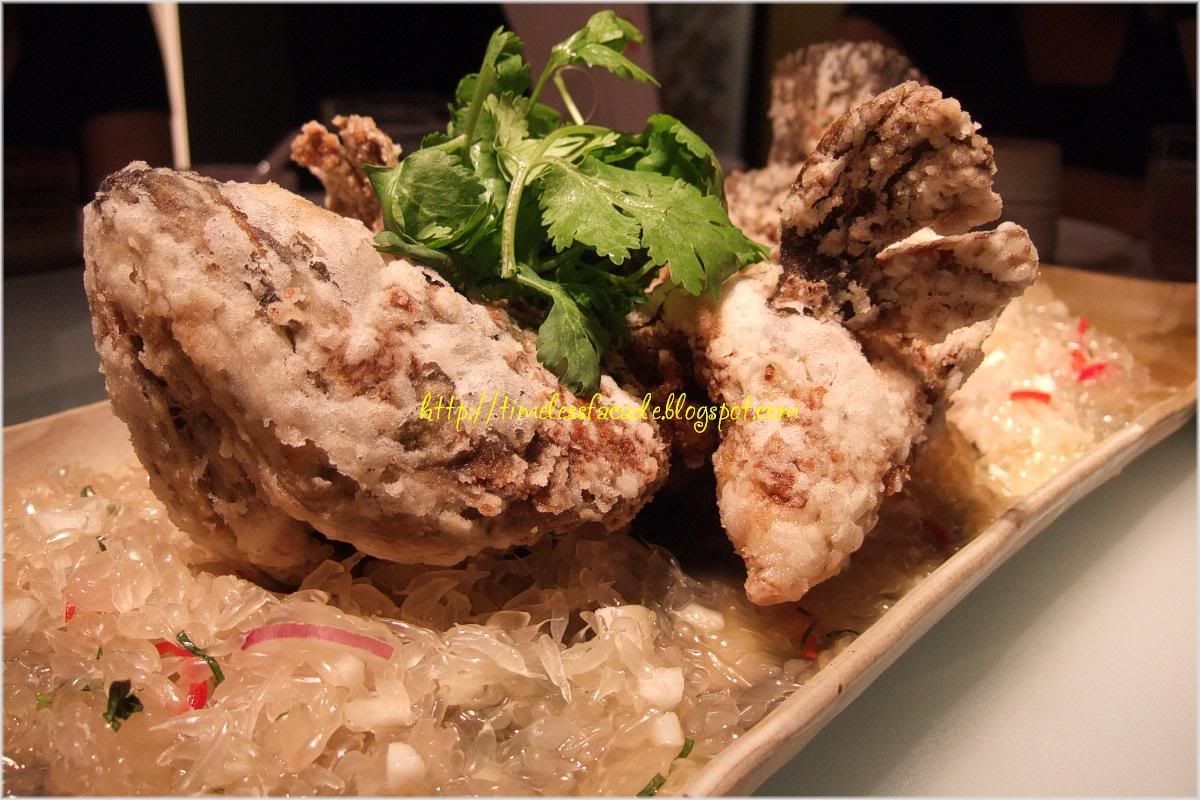 Fried Lemongrass Shrimp Paste Grouper
According to our waiter, many other restaurants would actually steam a good fish in order to exhibit its freshness. But not Xi Yan. What they have done is to deep fry the fish first till its 70% cooked and then coat it with the lemongrass shrimp paste and then deep fry again. The result? A crispy exterior with a soft and moist interior. I laud the skill in the preparation of this dish, but denigrate the quality of the fish. The flesh came across as rather bland, not sweet as I would have expected it to be.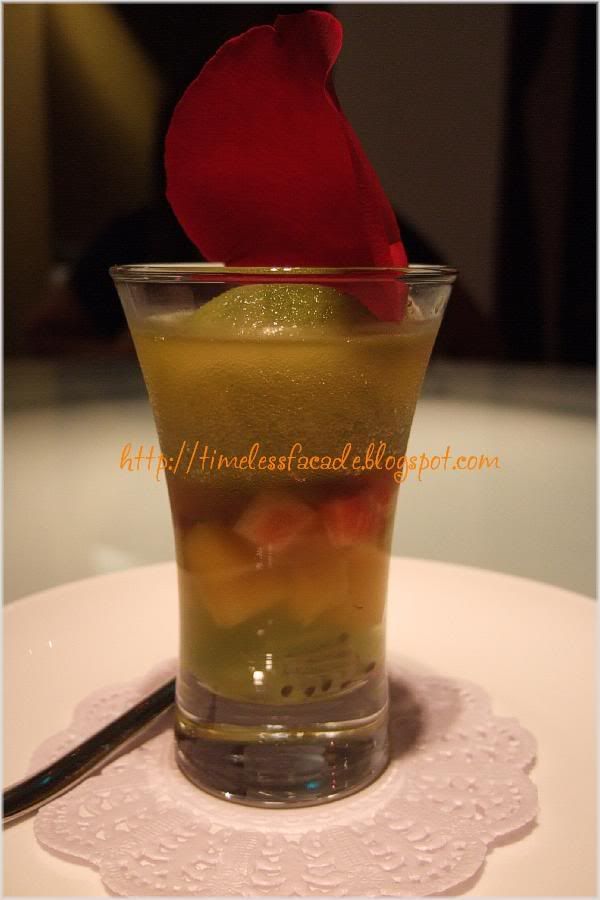 Basil Sorbet Intermezzo
A nice refreshing interlude to keep us going. It wasn't too sour like most sorbets, but lightly sweet with small bits of cut fruits in it. Pretty good.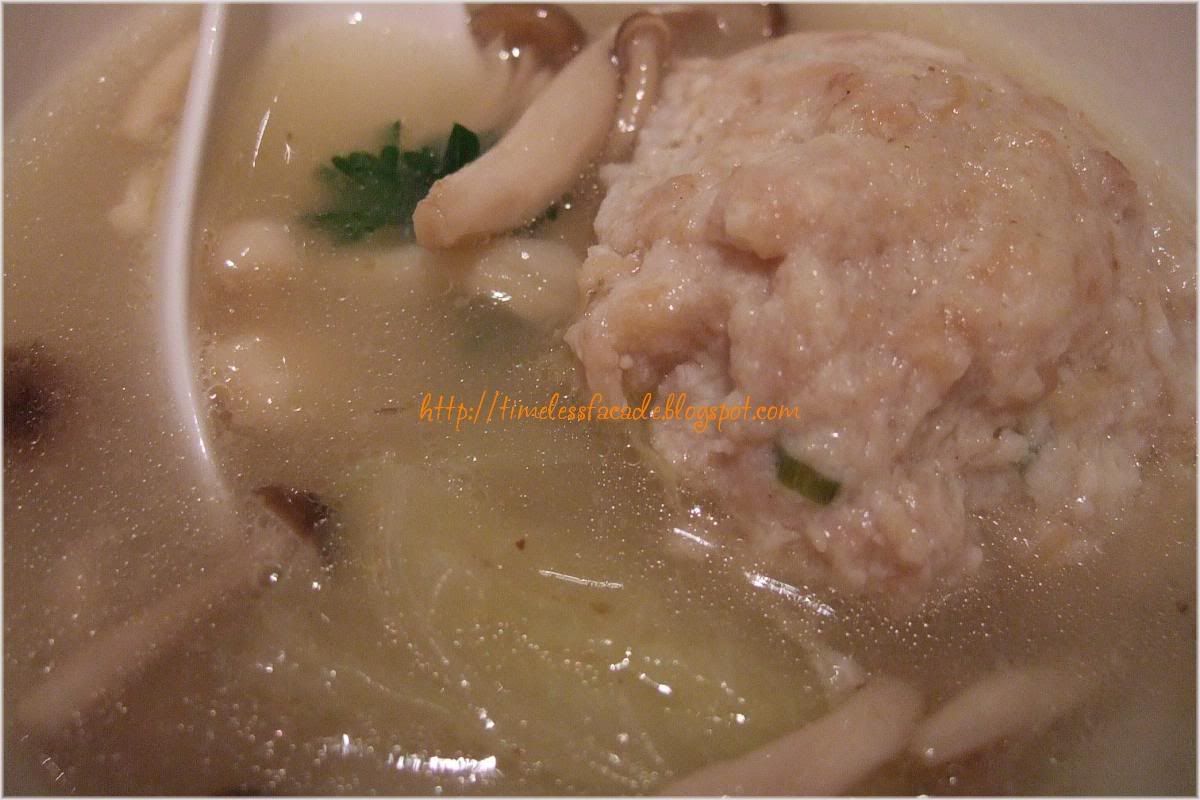 Furong Chicken Soup
This soup was supposedly boiled for 4 hrs before serving. Though relatively long, it still doesn't qualify as double boiled soup and it certainly can't match the other superior soups that I've tried. But still very decent without a doubt.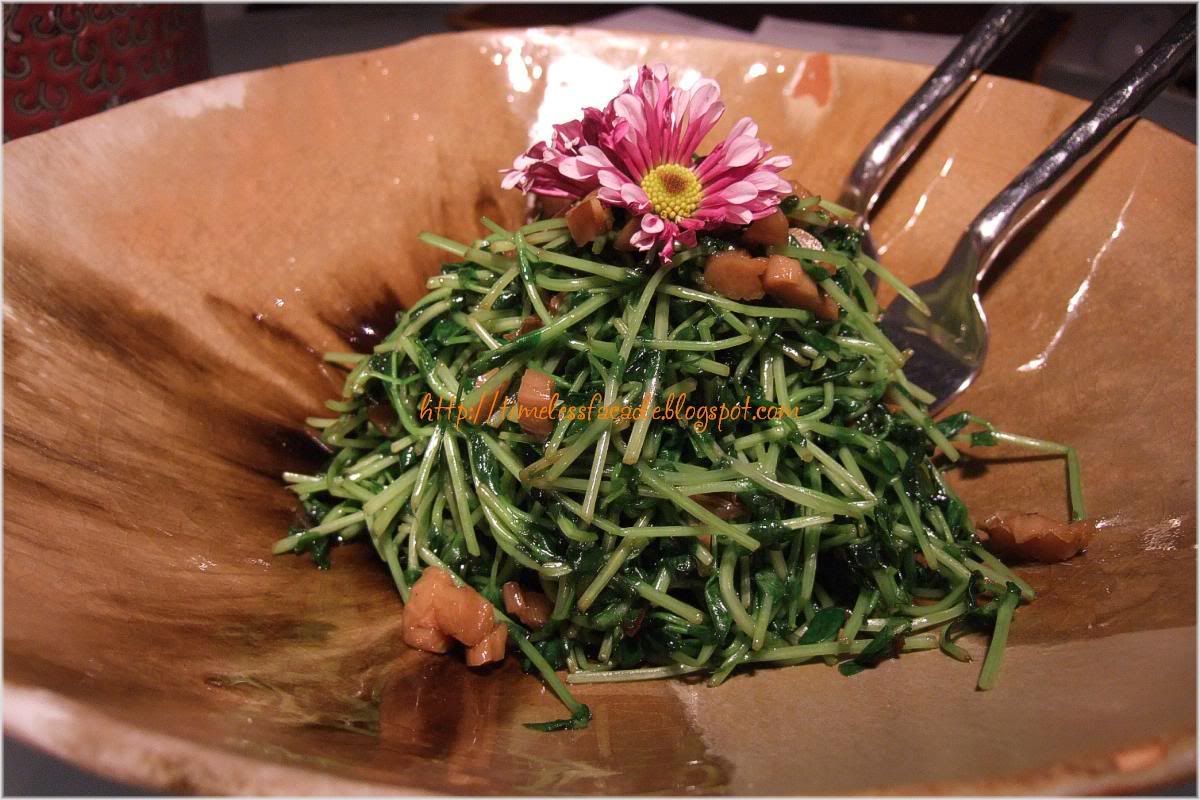 Young and Old Happy News
Interesting name, uninteresting dish. The young referred to the
Dou Miao
while the old referred to the preserved vegetables. Lightly fried and beautifully presented, but nothing outstanding.


Tofu Ice Cream on Pandan Glutinous Rice
This was probably the best dish of the day. The ice cream was quite well done but in no way reminded me of tofu. The base of pandan glutinous rice was not too sticky and just right on the texture, tasting pleasantly of pandan. Does this remind you of the Thai style mango atop glutinous rice?


The bill
The 6 of us chalked up a hefty bill of $630, which we felt was grossly expensive given the quality of food and ingredients used. Sure its an exclusive novelty, but novelties can only last so long. Service was excellent though and the cooking process of every dish was explained to us by our waiter in great detail. However, that alone is not enough to entice us to return. Not unless the price drops to about $50-$60 per pax down from the $88++.
On a side note, a big thank you to all who turned up today and put your wallets on the line for the experience. See you all next month at Pine Court! Cheers.
Final Verdict:
Ambience:8.5/10
Service:8.5/10
Food:7/10
Value for money:5.5/10
Overall:7.375/10
Address: 38A Craig Road
Contact: 62203546
Website: www.xiyan.com.sg