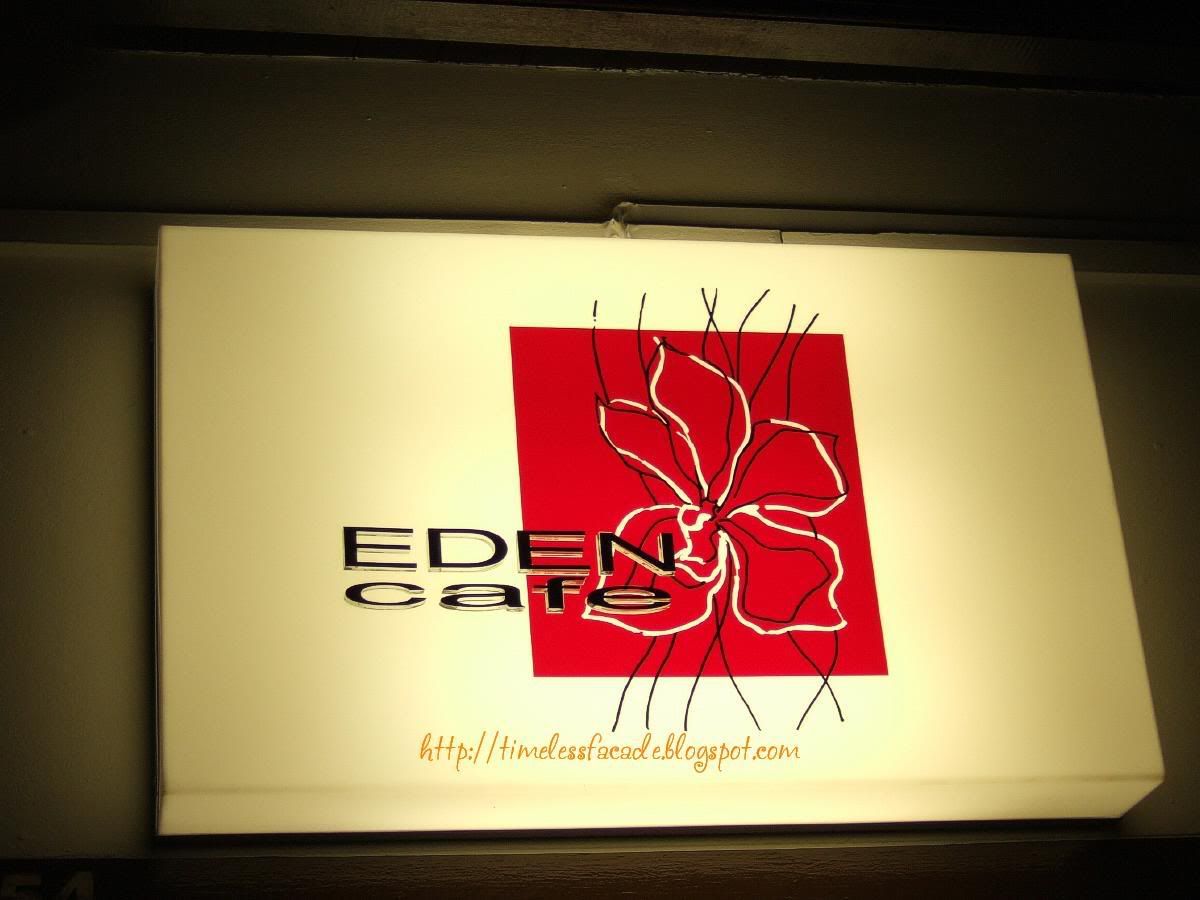 Cosmopolitan club street has a new entrant - Eden Cafe, which opened its doors to a soft launch only last Wednesday. New as the cafe may be, the man at the helm, Clement Ronald, is certainly no stranger to the culinary scene, having appeared in many television and magazines write ups in the past year due to his unique blend of cooking which involves plants, dubbed "floral cooking". He used to preside over the kitchen at Helios Cafe at Marina Square, but unfortunately that space is available only for private functions now.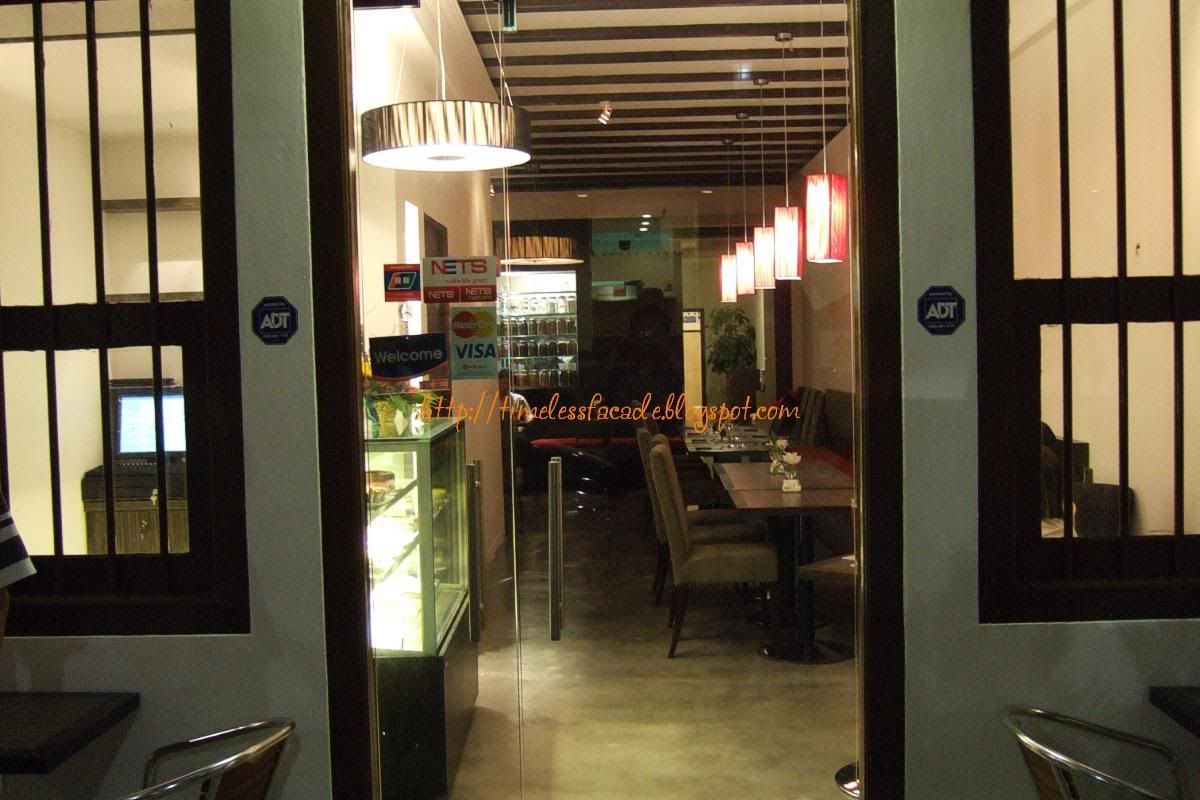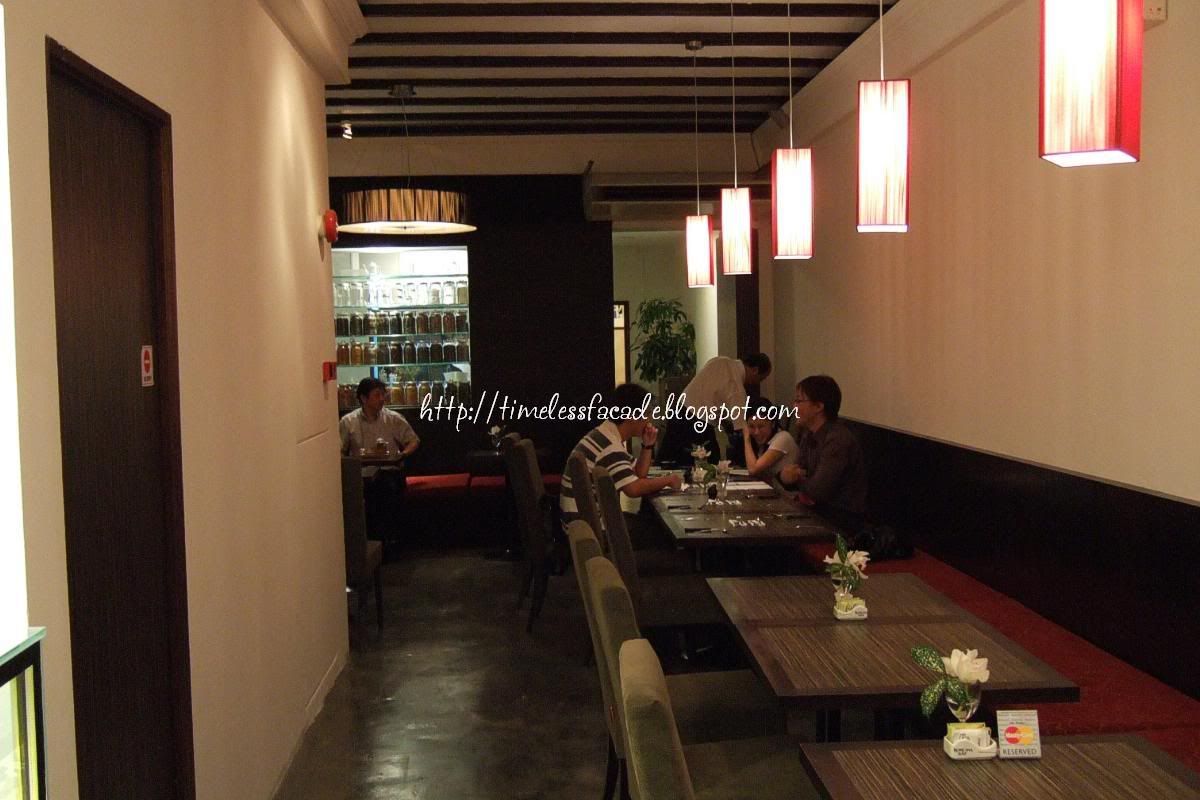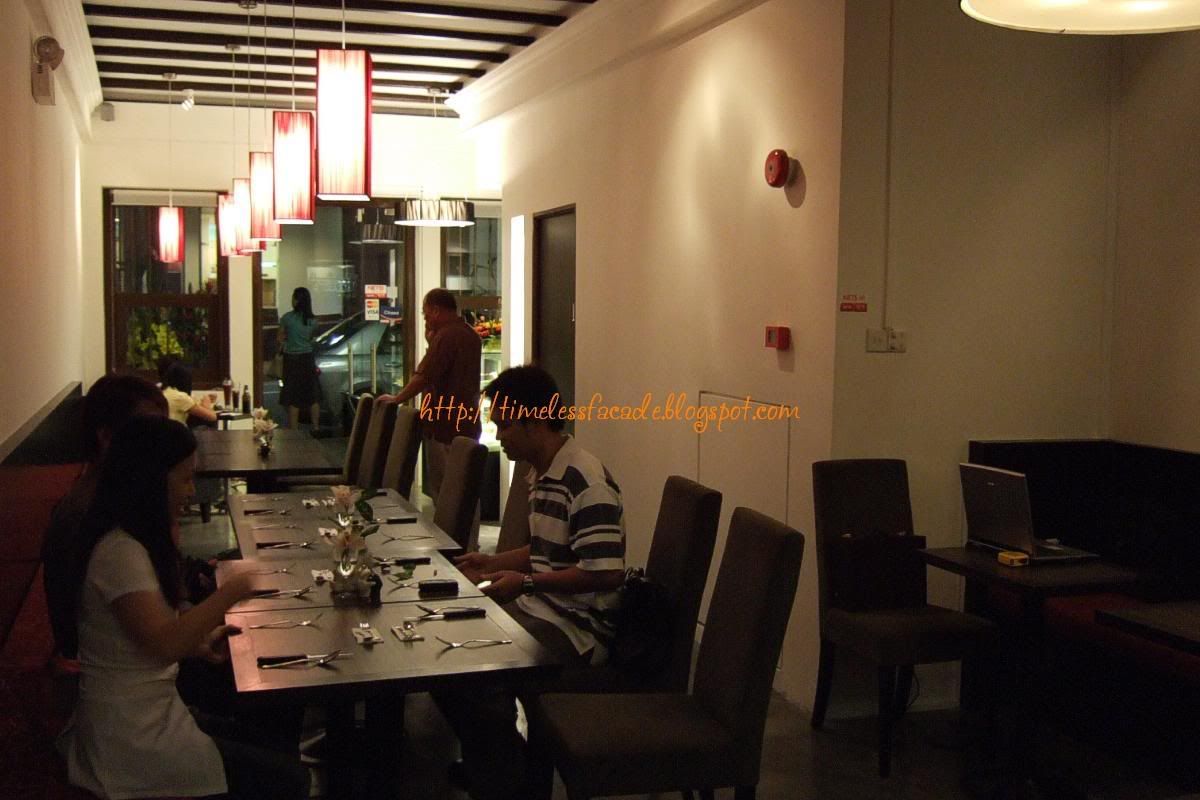 Occupying a small unit just opposite liberty insurance, Eden Cafe threatens to be overshadowed by its more illustrious neighbours like Senso, Indochine, Spizza, Jerry's, just to name a few. The interior is tiny (I'm guessing about 20pax) and simplistic, opting for a more laid back setting with soft music in the background.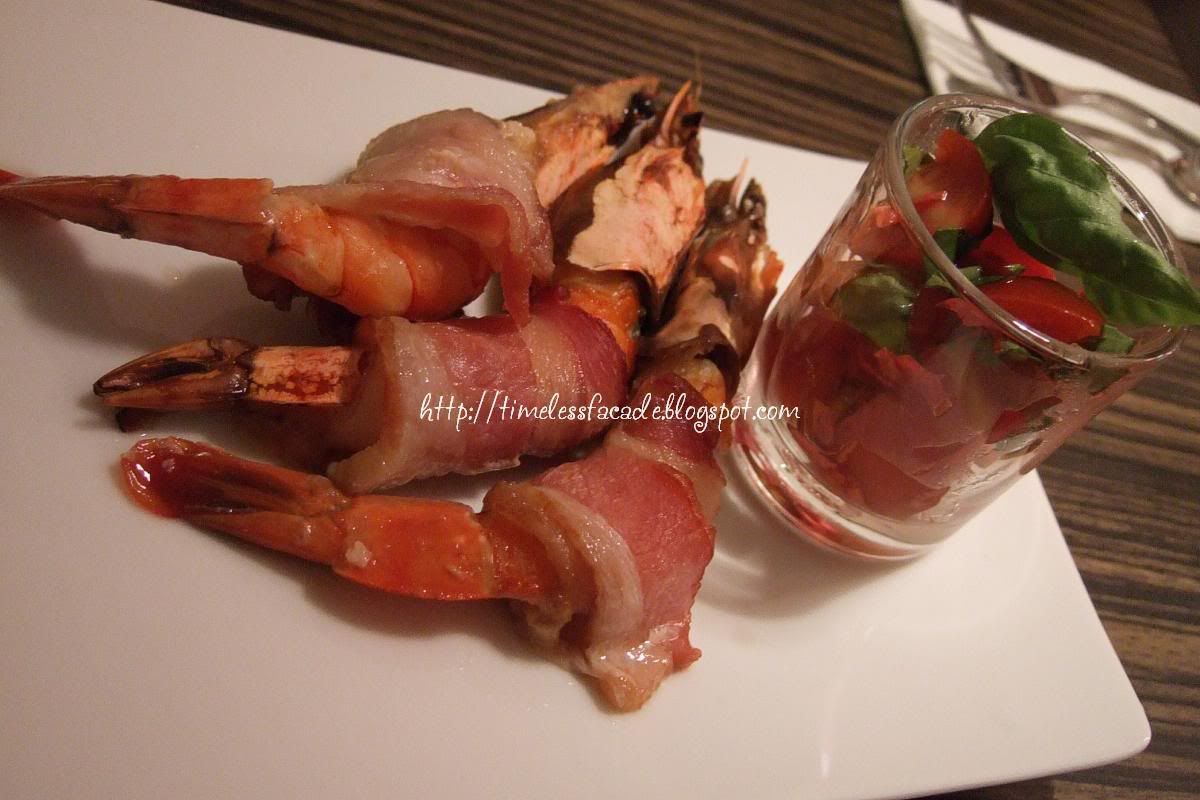 Jumbo prawns wrapped in Bacon
Prawns wrapped in bacons are always nice. Ideally the saltiness from the not too fatty bacon should complement the raw sweetness of the prawns. However it didn't happen in this case. The prawns were smaller than I had expected and the bacon wasn't grilled throughly enough, resulting in a softer than I would have liked texture. But overall still a rather decent dish, especially with the freshness of the tomato salsa salad by the side.

Saffron Cream Sauce Salmon
I don't usually like salmon because they have this raw fishy taste which I detest. Not this one however. The salmon's meat was firm minus the fishy overtones and together with the buttery and flavourful home concocted gravy, made for a light yet pleasing dish. However I could detect some inconsistencies in the dish, with some parts of the salmon being a lot saltier than others. The whole portabello mushroom that came with it was good for lapping up the tasty gravy, just that it was a little too soft for my liking.

Red Wine Beef
I would have liked this dish quite a bit if it wasn't that raw. The meat slab was thick which probably explains the rawness in some areas. The red wine sauce had a nice sweet red wine taste (naturally!) without being too overpowering. There was garlic in it, but I couldn't quite make it out. The mashed potatos were great with the sauce by the way.

We had one other main, the Rosemary Chicken, which I unfortunately do not have a shot of because I stupidly deleted it by accident and data recovery doesn't seem to work. Well I have asked around and hopefully someone has it so that I can post it up if they are willing to send it to me. That aside, as the name suggests, the chicken was cooked with rosemary and lavender, which gave it a rather fruity/leafy slant. The chicken was rather tender and moist but certain parts could get quite strong on the rosemary taste, especially the outer layer, which I personally couldn't quite take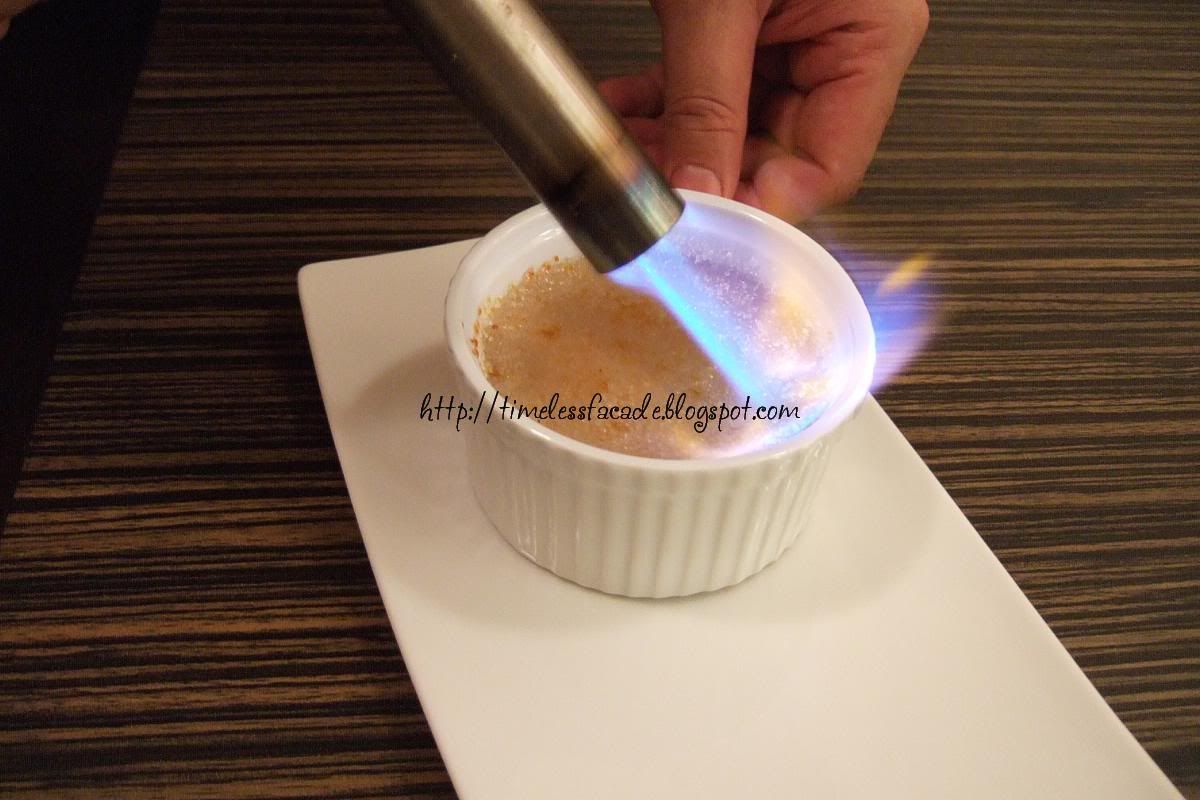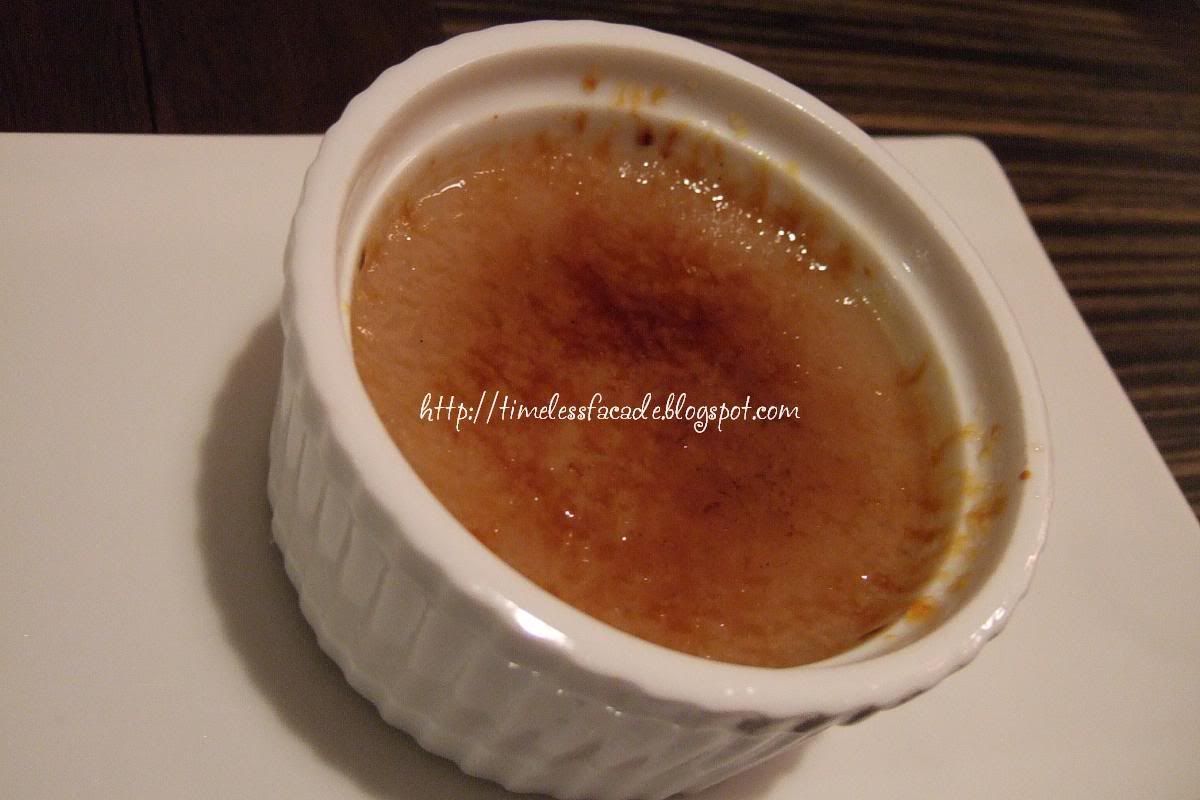 Crème Brûlée
According to Clement, the Crème Brûlées are made from real vanilla beans, not vanilla essence or extract like most other places. The little black dots within are proof of that. Clement personally handled the melting of the sugar atop and I must complement his technique as the layer of sugar was thin and evenly coagulated. The pudding was soft and wobbly and didn't come across as too sweet. Definitely one of the better Crème Brûlées that I've tasted.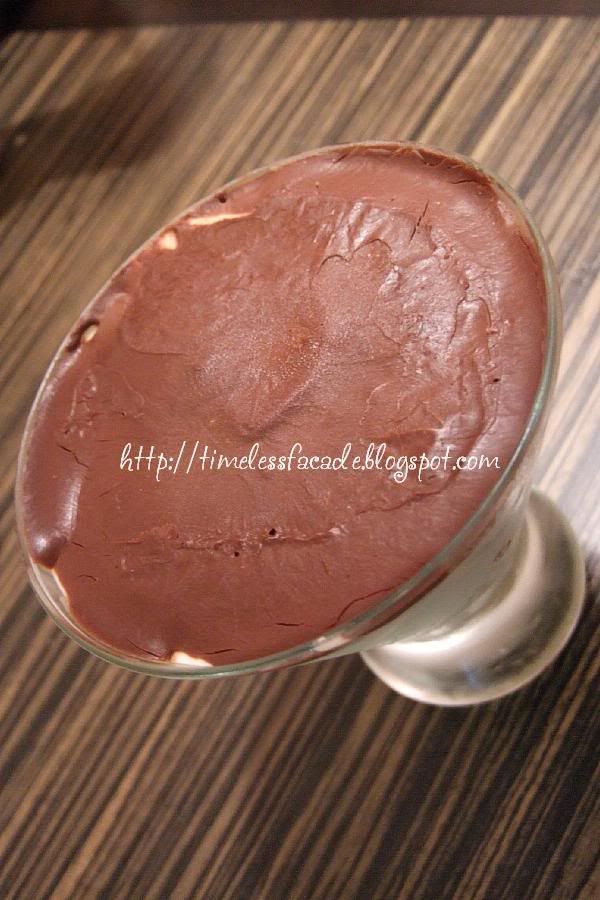 Brandy Chocolate
Now this is one sinful dessert with rich and unadulterated chocolate. Nothing fancy, just pure milk chocolate with brandy. However I couldn't quite make out the brandy which was a bummer really. Definitely not for the health conscious!

Tiramisu
The Tiramisu was covered by a layer of rich chocolate, very different from others I've eaten. But that doesn't not necessarily mean that its better. I could barely taste the cake in it and overall it was very dense with quite a strong rum taste in certain areas. My guess is that the mixing wasn't done thoroughly enough.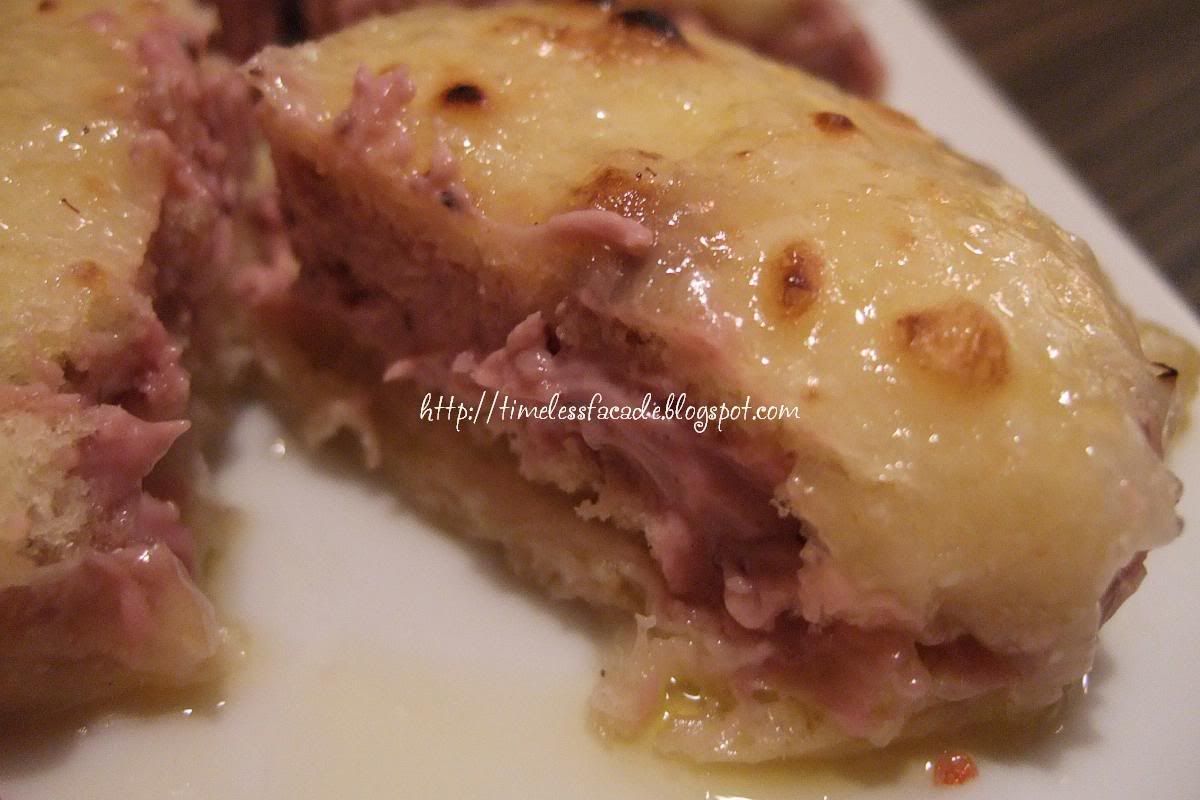 Undoubtedly the star of the desserts (at least for me), the Hibiscus Cheese Phyllo (or filo if you so wish) came looking very much like an egg omelette. The filling looked like yam ice cream instead of cheese, which was really quite interesting. Texture and taste wise, it reminded me of a partially melted cheese flavoured ice cream with a slight fruity connotation. A delectable dish but one not one I would recommend to consume too much of as the cheese taste can be a little overwhelming after a while.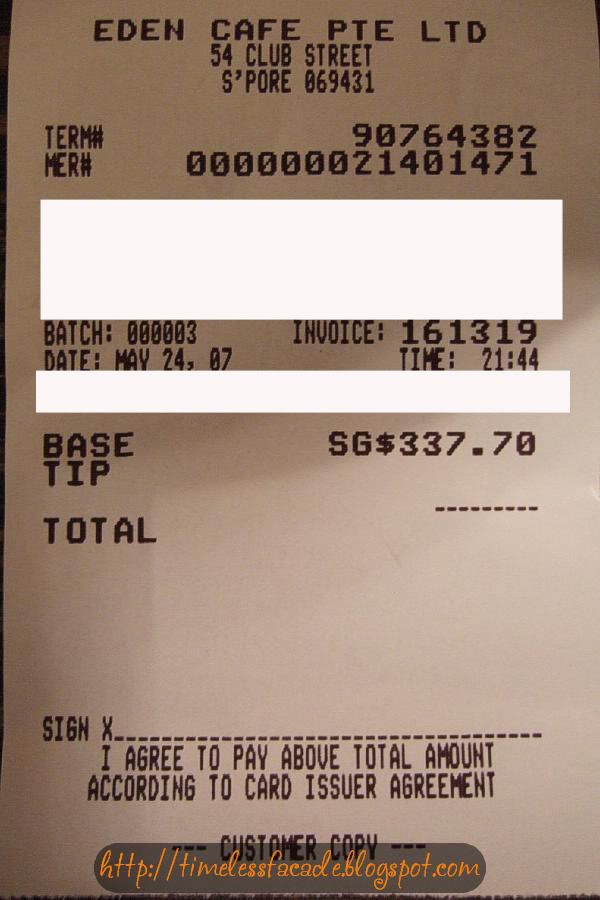 Total bill for 8 pax with drinks cost about $337, which is definitely not expensive given the quality and amount of food. Dinner is unhurried and pleasant with great service from Clement himself as well as the other wait staff. There is this little herb garden in which Clement grows his own flora for use in his dishes. Do ask to see it if you happen to dine at Eden's. How about an encore folks? Seedless grape chicken? ;)
Final Verdict:
Ambience:7.5/10
Service:8.5/10
Food:7/10
Value for money:7/10

Overall:7.5/10

Address: 54 Club Street
Contact: 65361181
Website: www.edencafe.com.sg
Comments: Please remember to call to prebook your meals at least 2 days in advance. For the menu, please call to check.