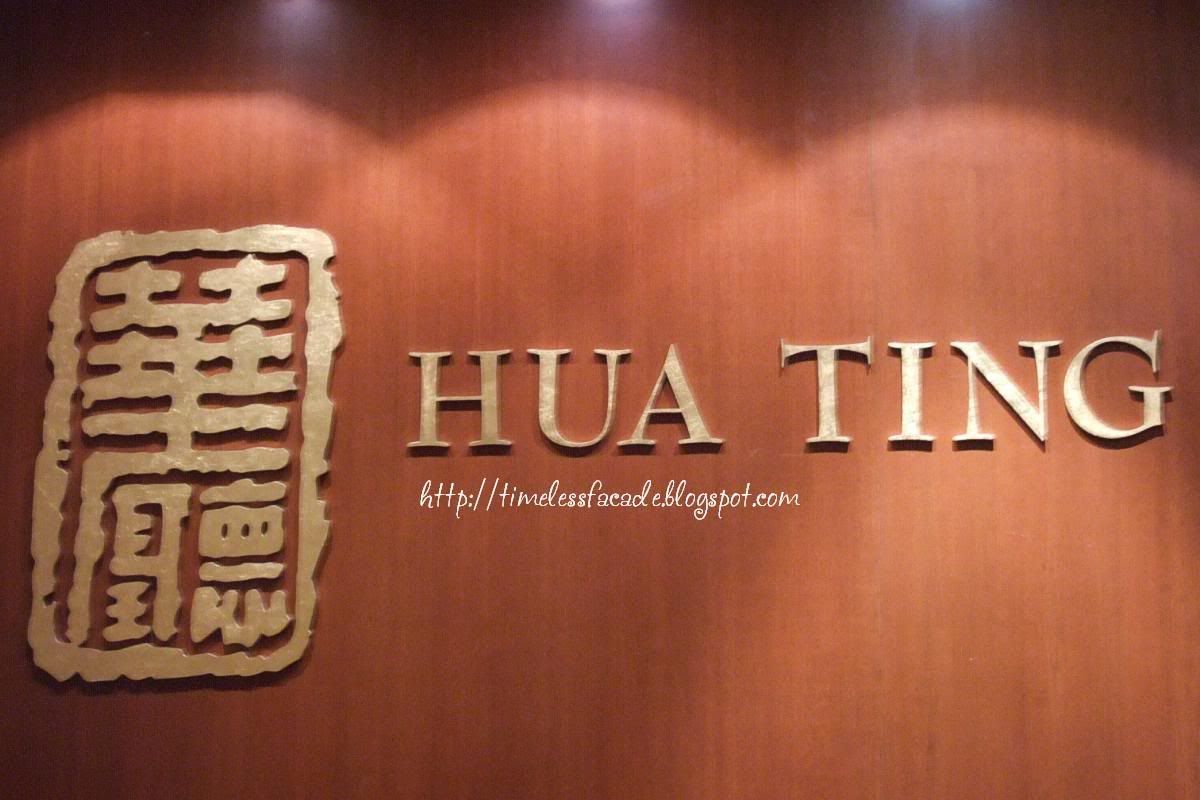 Had our monthly dinner at Hua Ting. LSD couldn't make it last minute due to work commitments so there was only 5 of us, which was excellent company nevertheless. Helmed by Master Chef Chan Kwok, Hua Ting is reputed to dish out exquisite and fine Cantonese cuisine and its numerous accolades and awards bear a testament to that.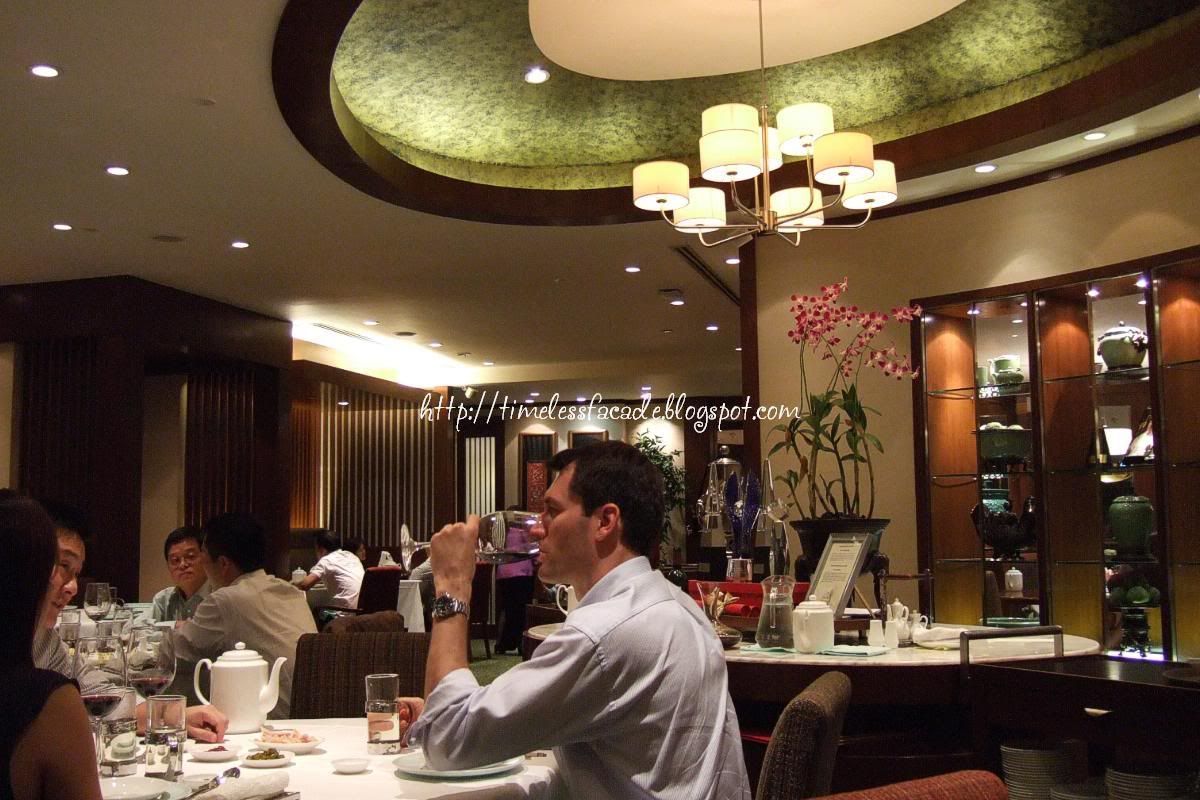 Interior & Exterior
Situated on the second floor of Orchard Hotel and overlooking Orchard Road, Hua Ting boasts floor to ceiling windows which offer a view of the hustle and bustle along one of Singapore's premiere shopping belt. Opulently decked out in finished wood and Chinese antiques, it oozes charm and serenity, making it the perfect place to sit back, relax and enjoy the food.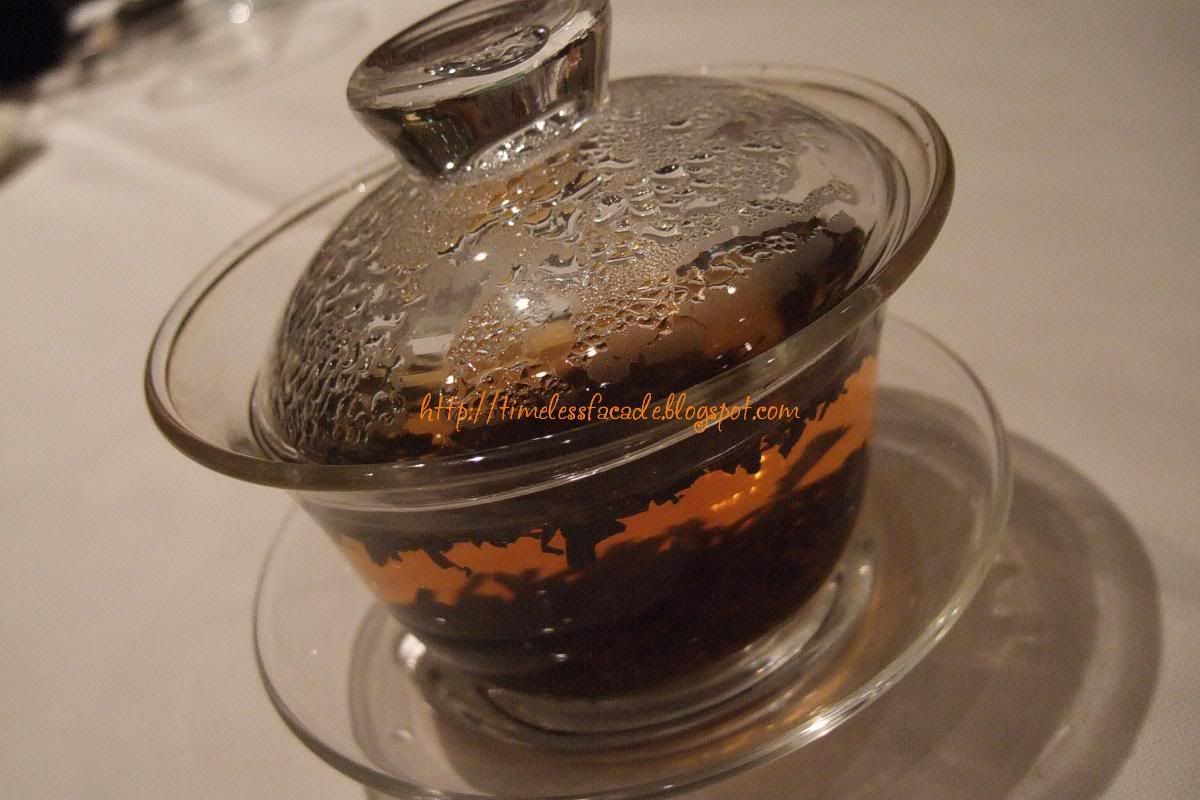 Lichee Black Tea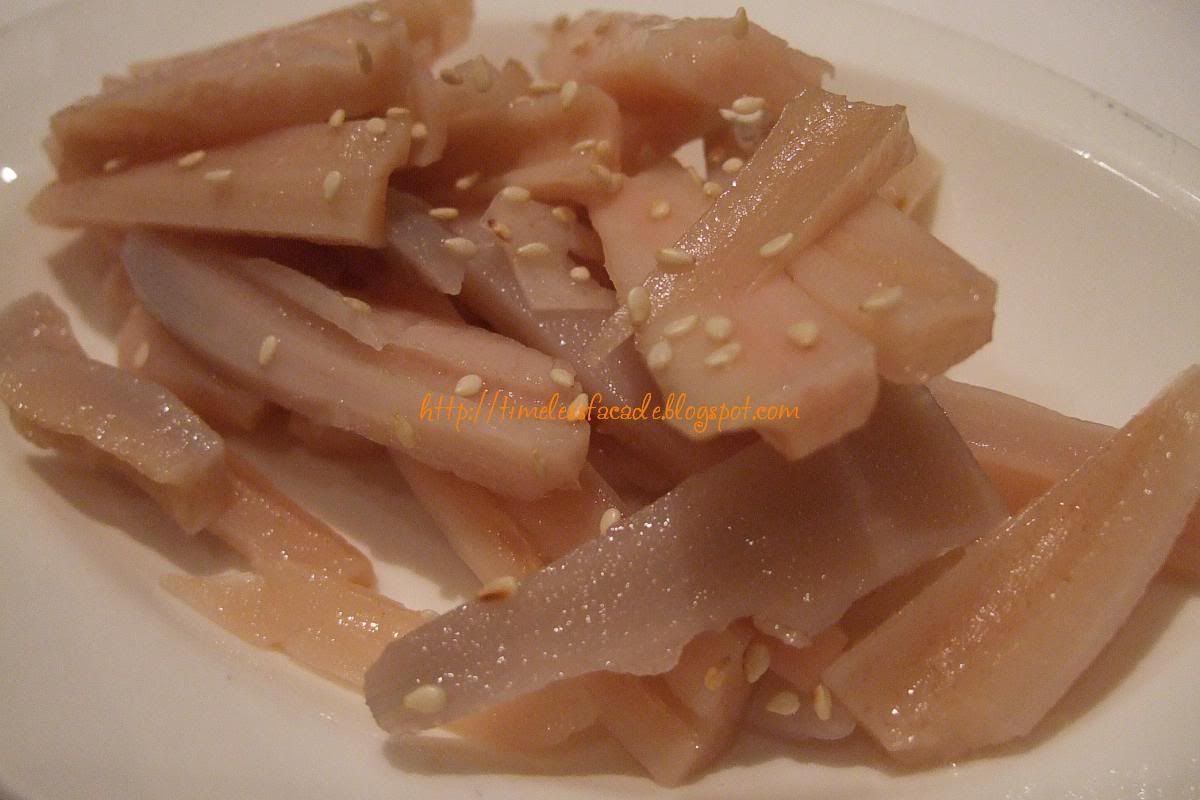 Appetiser of Lotus Root
I had a go at the Lichee Tea, which was something new to me. It smelt like rose tea and tasted rather bland actually. Not the strong full bodied tea that I like. Also, as there was no filter in the teacup, I had a hard time trying to take a sip of my tea without getting some tea leaves thrown in as well. The lotus root appetiser was quite good, crunchy and a little sourish/salty. The others didn't quite take to it though.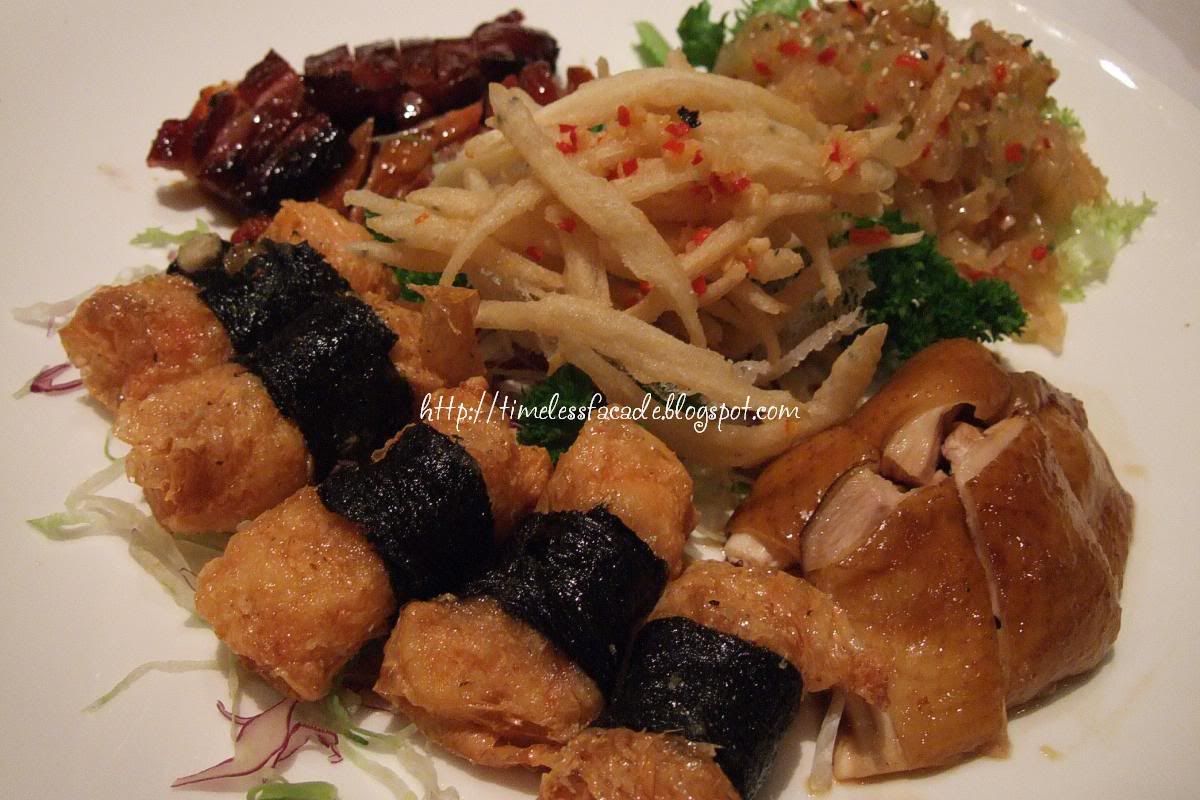 Hua Ting Deluxe Platter
The serving you see in the picture is for 5 pax, not one, in case you are wondering. The prawn wrapped in beancurd skin was quite nicely done, with the skin being crisp and the prawns fresh. However, it was a little too salty. The soy chicken was decent, tender with a slight hint of sesame. The fried eel ( I think its eel. Either that or its silverfish) was crispy and went pretty well with the chopped garlic and chilli. The char siew was decent as well, but not outstanding. Last but not least, the jellyfish tended quite a bit to the soft side, not exactly crunchy or chewy. Quite a bummer really.

Crispy Roasted Duck
It is said that no trip to Hua Ting is complete without ordering their renowned roast duck. I am inclined to agree. The duck didn't look like much when it arrived. In fact, I personally felt that it looked rather limp and unappetising. Oh boy, was that about to change. Chewing on a piece of the duck livened my tastebuds, especially after the rather uninspiring deluxe platter. The skin was crispy and the gravy a tad sweet. The meat soaked up quite a bit of the gravy but still came across as a wee bit too dry. Probably a little too overcooked. The duck did seem a little too fatty under the skin as well. Nevertheless, still good enough for me to recommend it.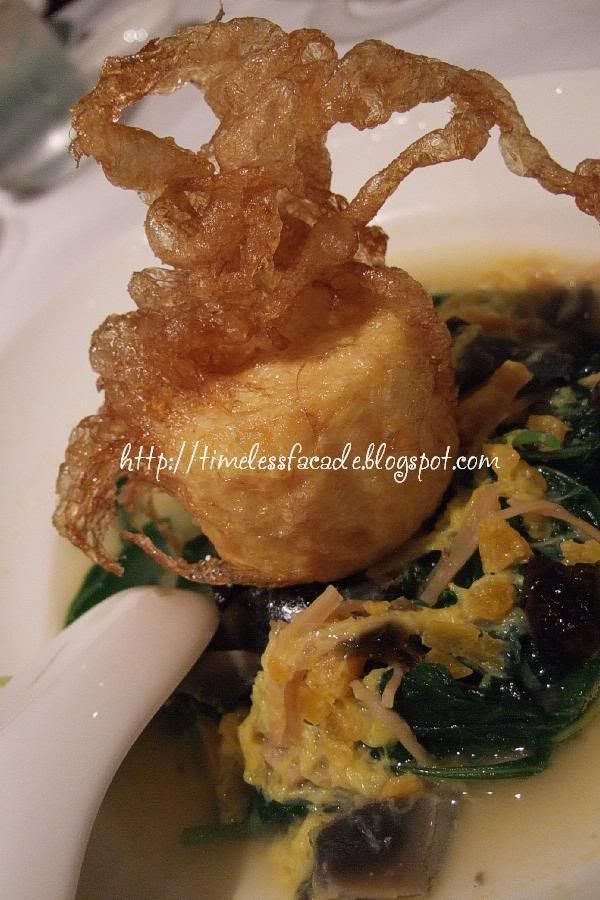 Crispy Homemade Beancurd with Seasonal Greens Topped with Assorted Eggs
Aesthetics wise, no questions about it, this dish is a clear winner. But taste wise, its probably scraping the bottom of the barrel. Okay I exaggerate. Its not half as bad. The twirly thing you see is actually made from egg and to be honest, its tasteless. The chef, for whatever reason, decided on using egg tofu and overall speaking, it was plain average. It kinda reminded me of the $1 tube of egg tofu you buy at the supermarket.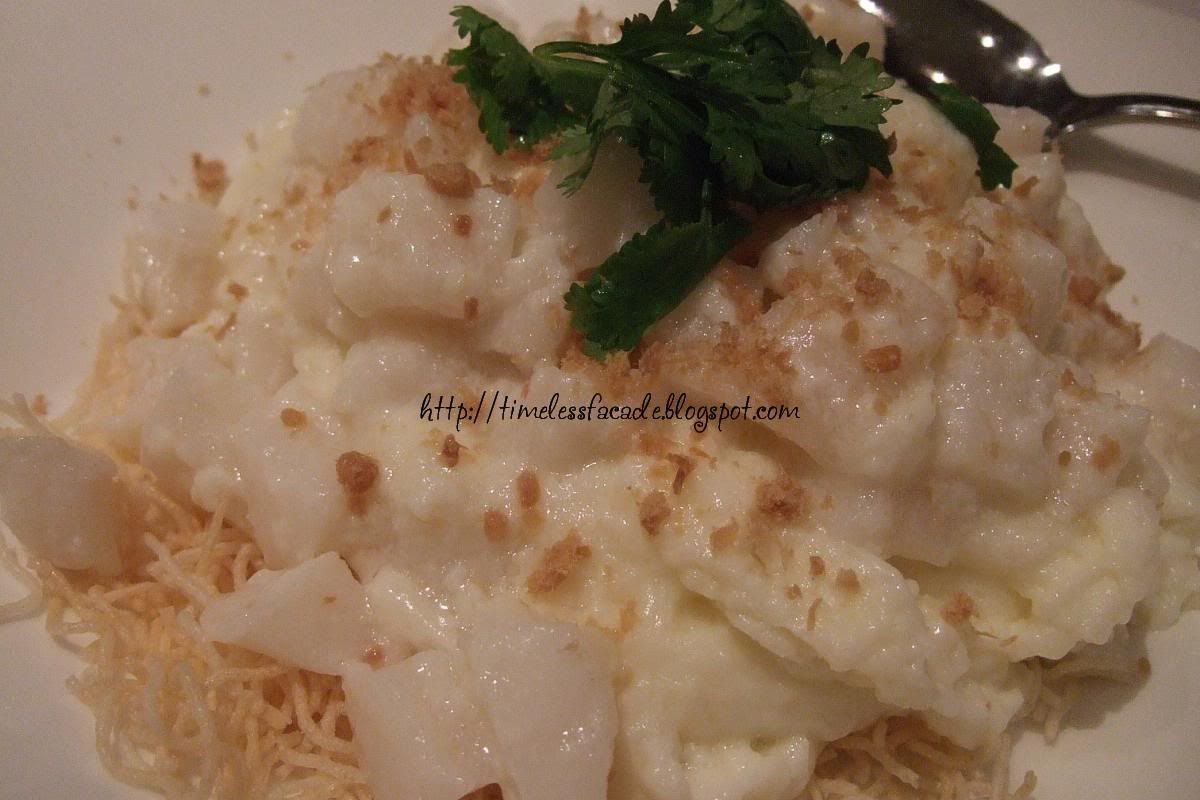 Sautéed Dried Cod Fish with Egg White
This dish was really a disaster in the making. Technically, a combination of cod fish and egg white would be enough to make me drool. Unfortunately, the only thing that I got out of this dish was nausea. The dish was cooked in a creamy sauce which covered the taste of the egg as well as the cod fish. A sheer waste of a good fish if you ask me. The creamy taste (I'm sure they added milk) was so pronounced that all of us felt nauseous after a few mouthfuls. Just for the record, we didn't finish this dish.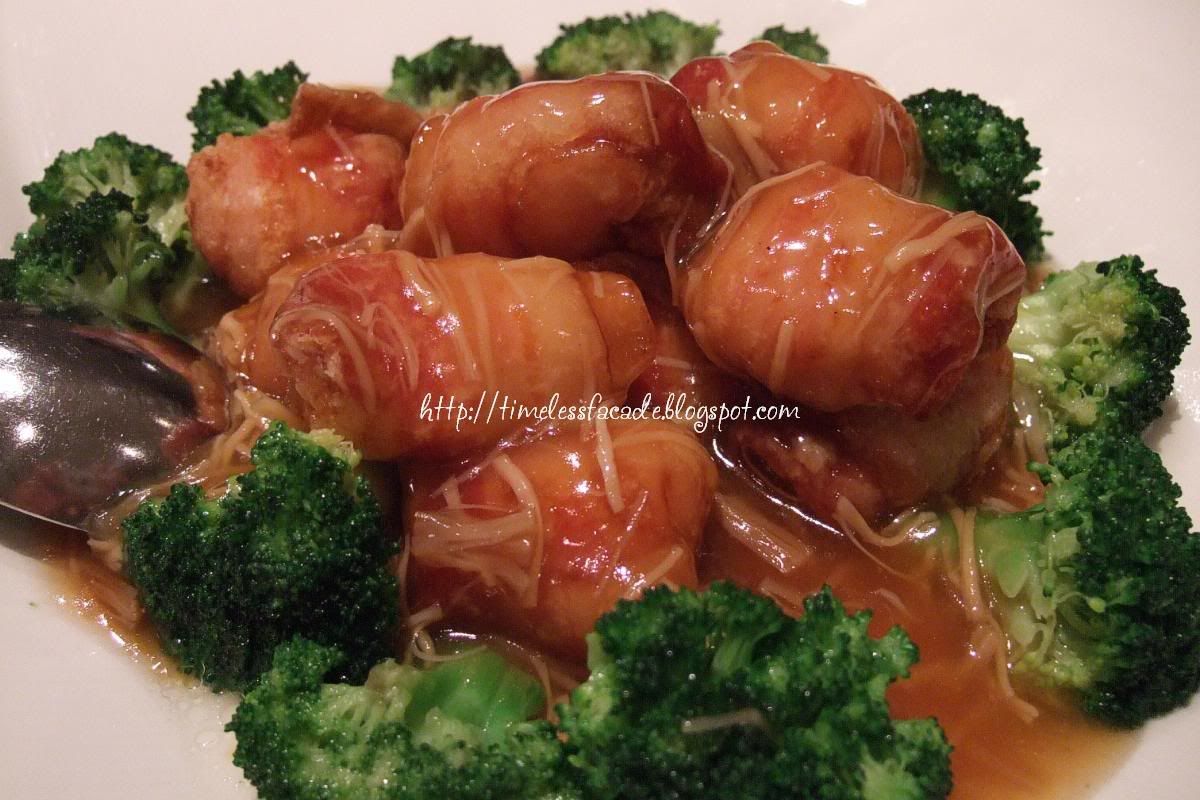 Deep Fried Scallop Bacon Roll topped with Conpoy
Another dish that would have had me drooling if executed well. Unfortunately, it got me cringing instead. It was painfully salty and the bacon was really quite fatty. I couldn't quite taste the scallops as it was overwhelmed by the salt. Ironically, the broccoli was the star of the dish. Moist yet crunchy, we cleared it all but left quite a few of the scallops.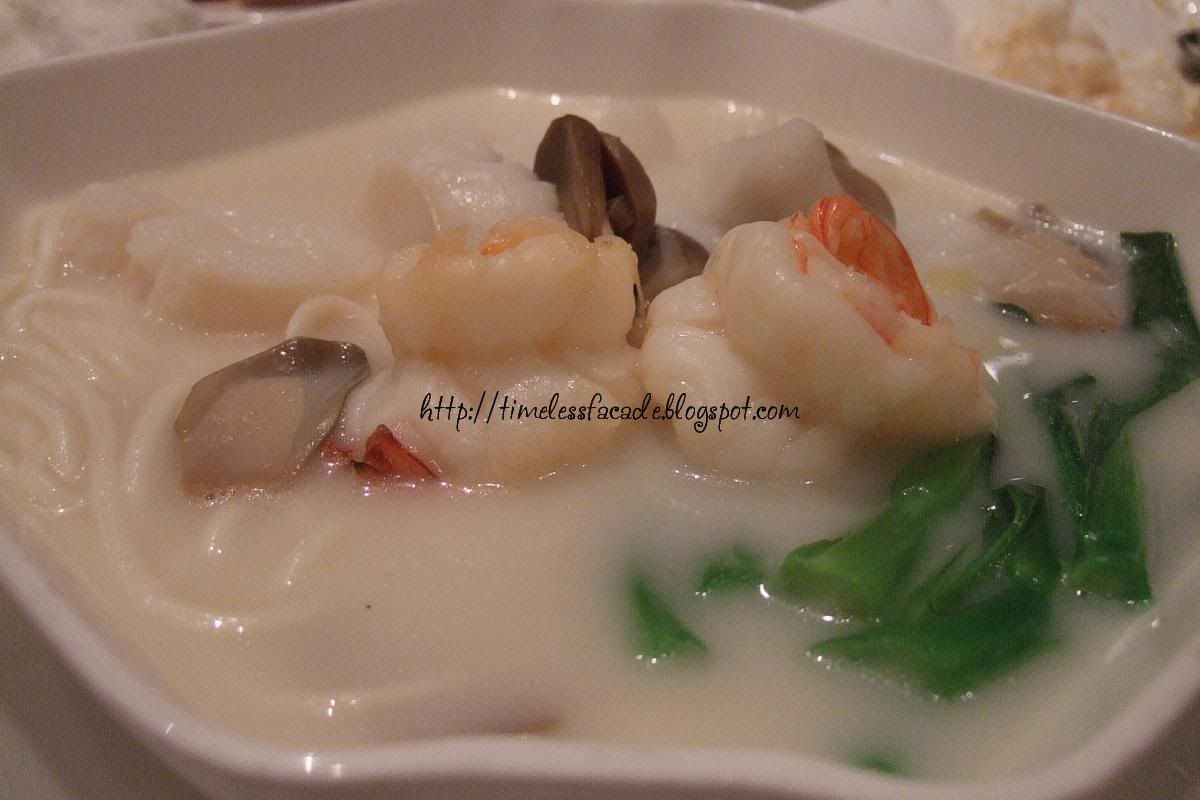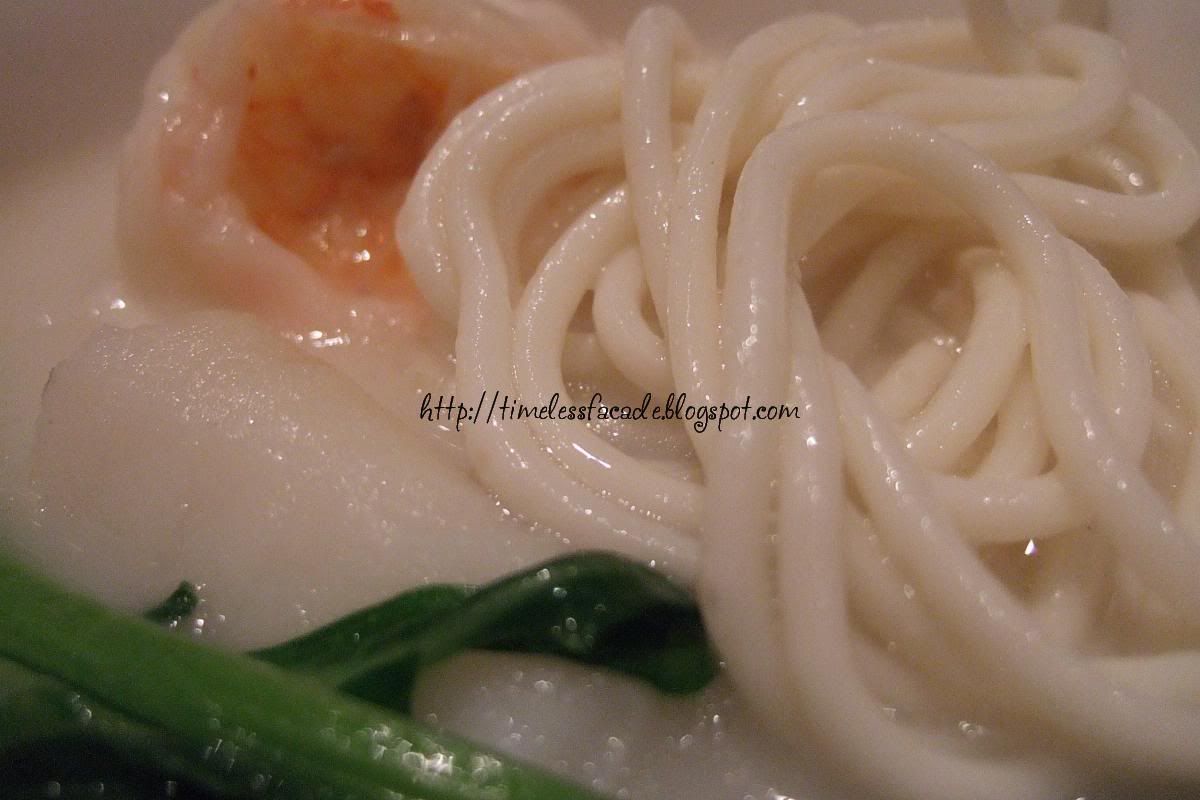 Fish Paste Noodle Soup with Seafood



I am beginning to think that all noodles should be made from fish paste. It offers more bite and has a more wholesome texture than normal egg noodles. The other plus point is that it fills you up real fast. That was the case with our fish paste noodle soup. By the time this dish was served, we were already close to the brim and stuffing ourselves with such filling noodles sure didn't help. In the end, after all our efforts in trying to finish it, we regrettably still had half a bowl left. Did I mention that the prawns were very fresh and huge as well? Not to mention crunchy and tasty.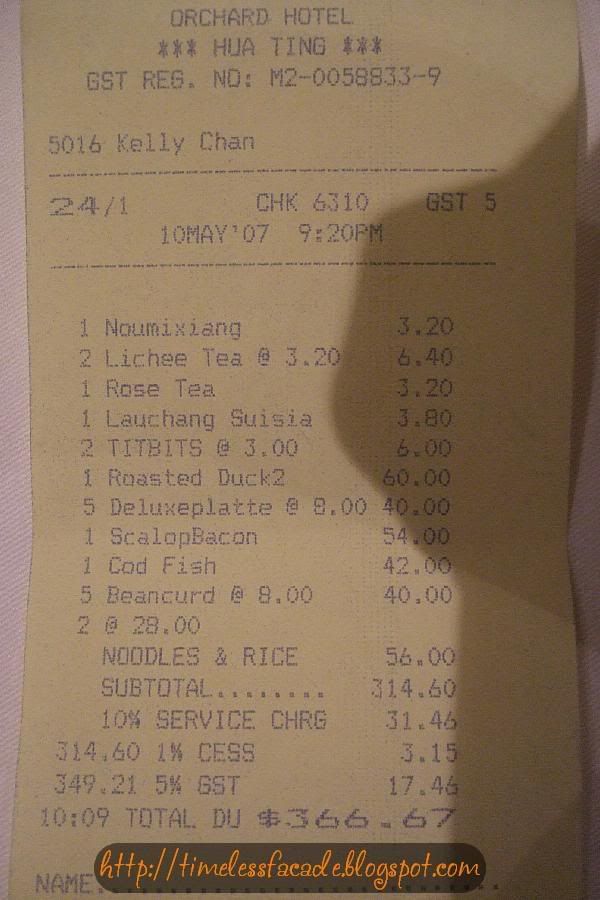 Bill
I cannot fathom that the 5 of us could chalk up a bill of close to $370, but we did. Pure madness is pretty much what I think about it. For that price and quality of food, I'll be hard pressed to find a reason to return.
Final Verdict:
Ambience:7.5/10
Service:7.5/10
Food:6.5/10 (7.5/10 for the duck)
Value for money:6/10
Overall:6.875/10
Address: 2nd Floor Orchard Hotel, 442 Orchard Road
Contact: 67396666 or 67343872
Last but not least, a parting shot to thank my 4 friends who turned up for the dinner. Thanks and see you all at the next dinner!