Tiny Singapore recently saw the opening of Central, a SOHO building sitting atop Clarke Quay MRT station. Boasting a cluster of Japanese dining outlets on the third level, it is probably the only mall in Singapore to house so many Japanese eateries under one roof. Marutama Ramen is one such eatery within the cluster and that was our choice for dinner that evening.

Interior

Menu


Deep Fried Garlic
Marutama's interior is quite small and can be rather uncomfortable at times due to the close proximity of the tables as well as the lack of open spaces. Seating capacity should hover around 30 pax or so and the decor is kept clean and simple. If you so happen to get a table with a window, you are in for a stressful session as the only thing that seperates you from the queuing customers outside is the window. Imagine people peering at you and your food. Not a nice feeling if you ask me.


Aka Ramen - Seven kinds of nuts soup base Ramen with Coriander
This soup base was supposedly of a limited nature aka while stocks last. It was a little spicy and tasted very strongly of coriander. Honestly, I couldn't make out the taste of any of the seven nuts and it was really salty, not to mention "sweet" from all the MSG in it. It was quite bad really. I had to down glass after glass of water just to get rid of the MSG induced thirst. That aside, the noodles were quite springy, but tasted rather flat. From what I understand, the soup base is supposed to be flavourful to make up for the flat ramen, but its really like two extremes coming together but not exactly jelling well.

I had added on a side of Char Siew and it was simply fabulous. The fatty portions of the Char Siew literally melted in my mouth and the meat was tender and flavourful. I've honestly never tasted Char Siew like that. The only bummer was the not too generous servings. Please note that it is not your usual Char Siew that you can buy from the marketplace. In case you are wondering what are those balls in the picture, its some kind of a meat ball with a weird taste to it. Nothing fancy or impressive though.


This soup base came across as slightly heavier and tasted rather common. As with the Aka Ramen base, it was heavy on the MSG and way too salty. The additional side of pork belly was good though. Quiveringly tender, it dissolved ever so readily in my mouth. This is definitely as good as the Char Siew.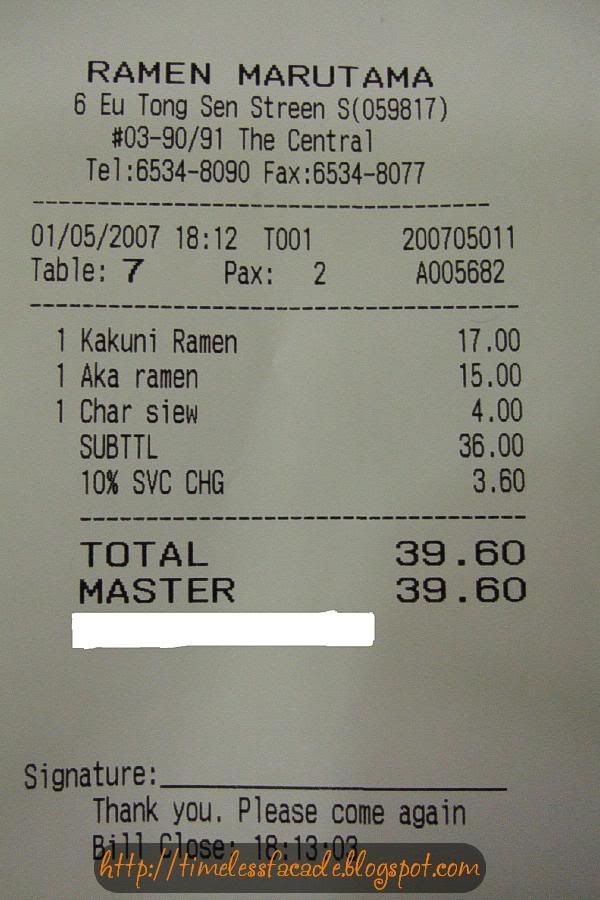 Bill
Considering that it was only 2 bowls of ramen with an additional 2 sides, $40 is heck of a lot to pay. The noodles and soup base were not to our liking, but the
Char Siew
and pork belly could prove to the biggest draw. Having said that, I don't think I'll be back in a hurry, especially with the mad queues.
Final Verdict:
Ambience:6/10
Service:7/10
Food:6.5/10 (8/10 for the
Char Siew
and pork belly)
Value for money:6/10
Overall:6.375/10
Address:
#03-90/91, The Central, 6 Eu Tong Sen Street
Contact: 65348090
Had ice cream nearby after dinner.