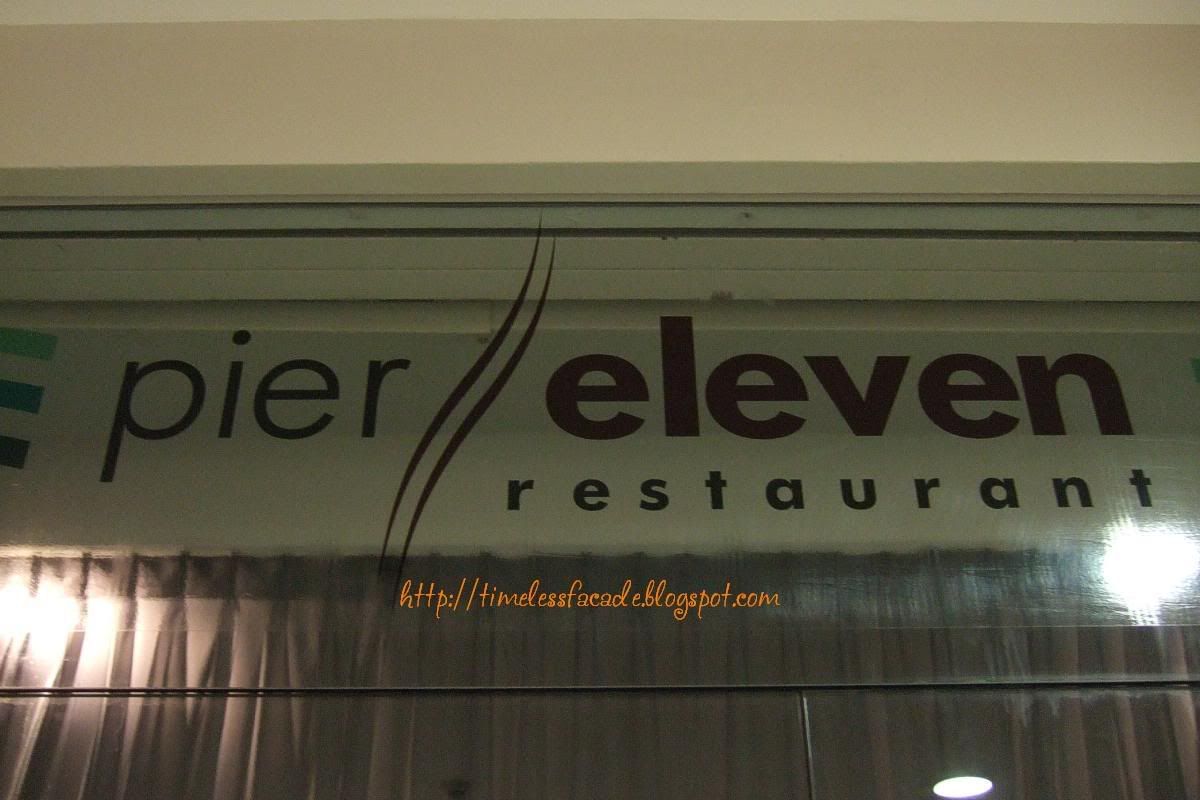 Waterfront dining is the rage nowadays, a concept made popular by Italian restaurant,
Il Lido
. Imagine a breathtaking view of the sea as the sun slowly sets in the horizon. As darkness falls, the stars and the shimmering sea play company. It definitely doesn't get anymore romantic than that. Pier Eleven is one of the latest restaurants to jump on the bandwagon to offer dining by the sea.
Hidden at the tip of Marina South in the Marina South Pier, an area synonymous with cheap steamboat buffets, one would hardly expect to find any form of fine dining.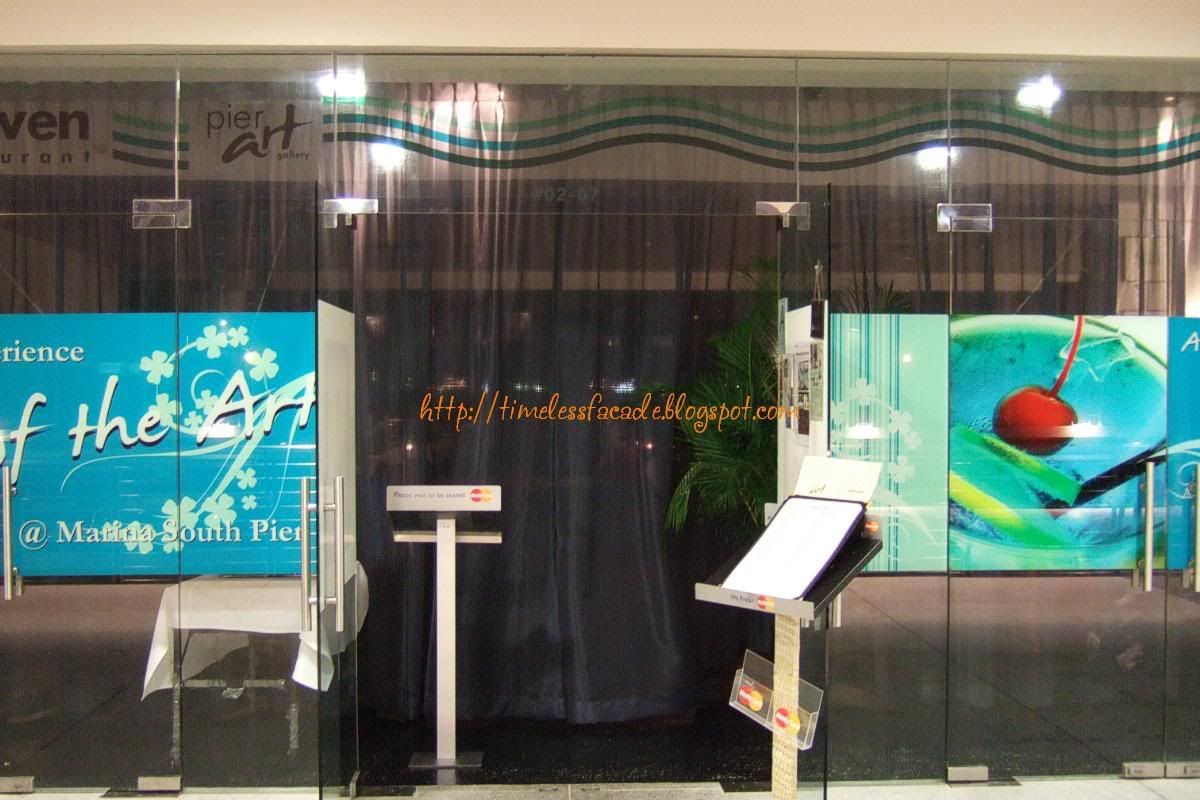 Entrance
The restaurant honestly didn't look like much from the outside. It reminded me of normal cafe with translucent curtains at the front door acting as a veil against prying eyes. But as I stepped in, I was quite amazed by the transformation. The interior, though sparsely furnished, had a brightly lighted corner for art appreciation and funky wavy looking chairs that are not half as uncomfortable as they look. What impressed me most was the dim lighting and cosy corner tables, which my gf and I had the privilege to sit at (of course water side seats would have been better, but they were all taken up. Not to mention it was a little warm that evening, so air conditioning would have been preferred).


Interior
Menu & Ice Lychee Tea

Complimentary bread
Bread, bread and more bread. I didn't quite fancy the complimentary bread as they tasted pretty much like your run off the mill kind. On a positive note, the bread was warm and soft on the inside.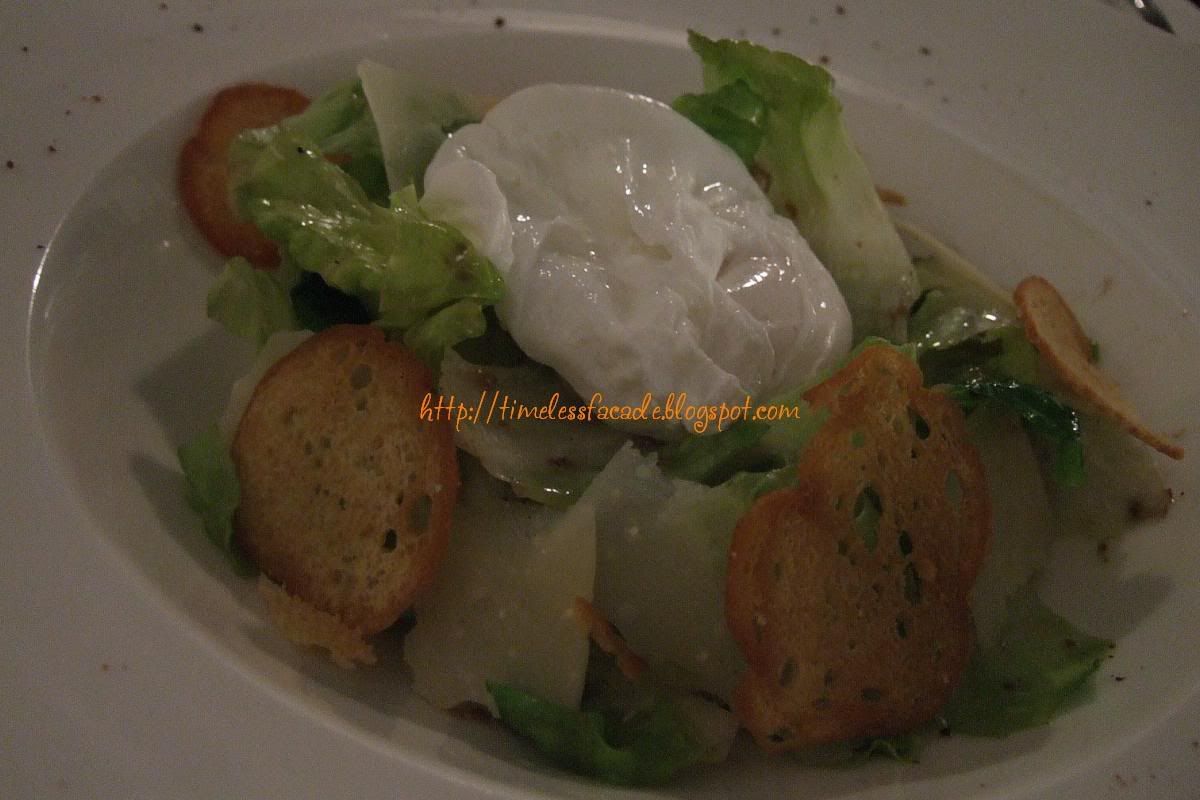 Chef's creation of Caesar Salad with Poached Egg, served warm
Looking like your ordinary Caesar salad with the exception of a poached egg atop, I really didn't expect too much out of it. Surprise surprise, it was actually quite good. The poached egg added a tinge of rawness to the slightly salty salad gravy (I suspect its watered down soya sauce) while the cheese slices gave it a much needed cohesion. Think of it as a catalyst to harmonise the flavours. The vegetables do need a little sprucing up though, appearing tired and a shade dull at times.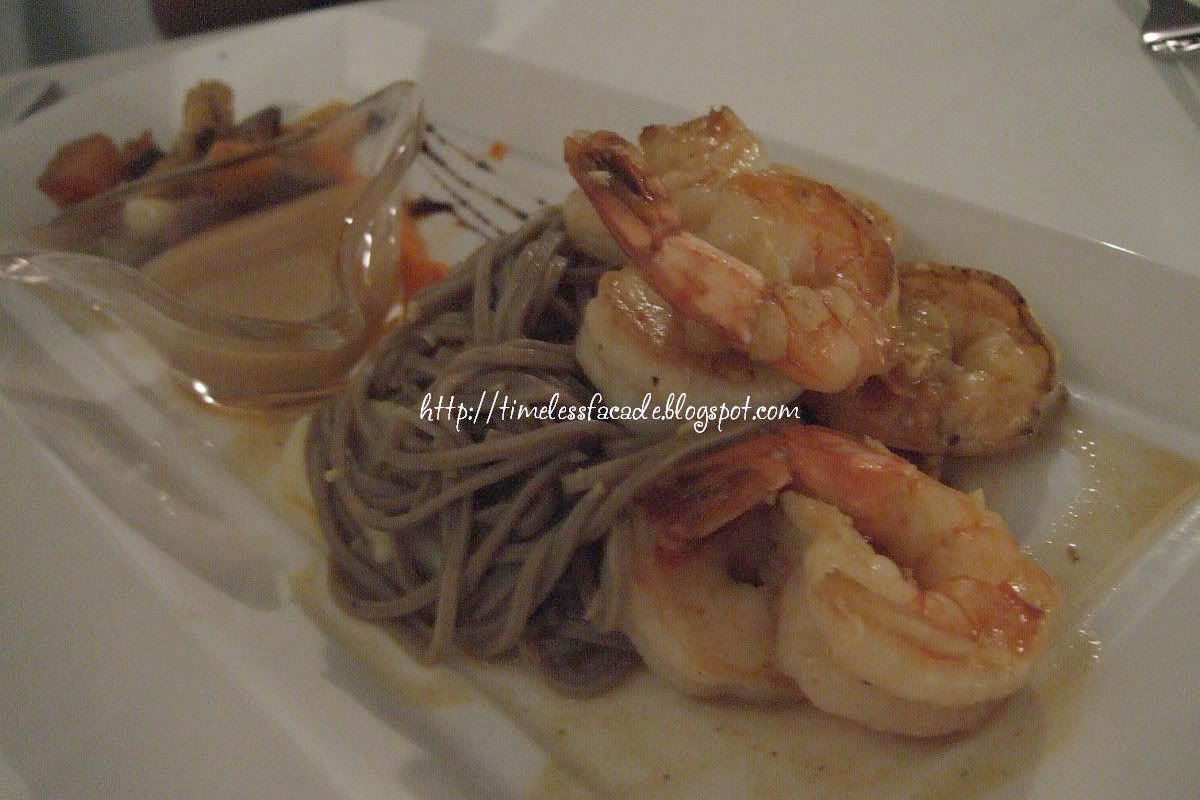 Garlic Prawn Soba
A chef's recommendation, this dish was clearly a winner in the making (for me at least). The larger than normal prawns were crunchy and carried a slightly grilled taste. Simply delicious. It helped that the chef was generous with the prawns. I didn't manage to try out the soba noodle as it was gone before I could try it. The dipping sauce tasted to me like a watered down version of Miso soup and it didn't quite make a difference. A stronger rendition might have done wonders.
Fillet Mignon with Portabello Mushroom & Shallot Red Wine Sauce
I am impressed with the steak. I guess that just about tells you how good it was. It certainly wasn't as good as Morton's, but definitely better than the one I had at Jaan and mind you, Jaan's rendition was really quite good (Okay there is really no basis for comparison as Jaan's is of a different cut. However, culinary skill wise, I'm more inclined towards Pier Eleven's). The meat was succulent and a little charred on the surface to give it that slightly burnt taste. Done just right. the meat thoroughly soaked in the shallot red wine sauce and exuded a certain sweetness without the noticeable taste of red wine. Not that I'm complaining though. The mushrooms were well, normal, as were the mashed potatos, which were grounded to a pulp.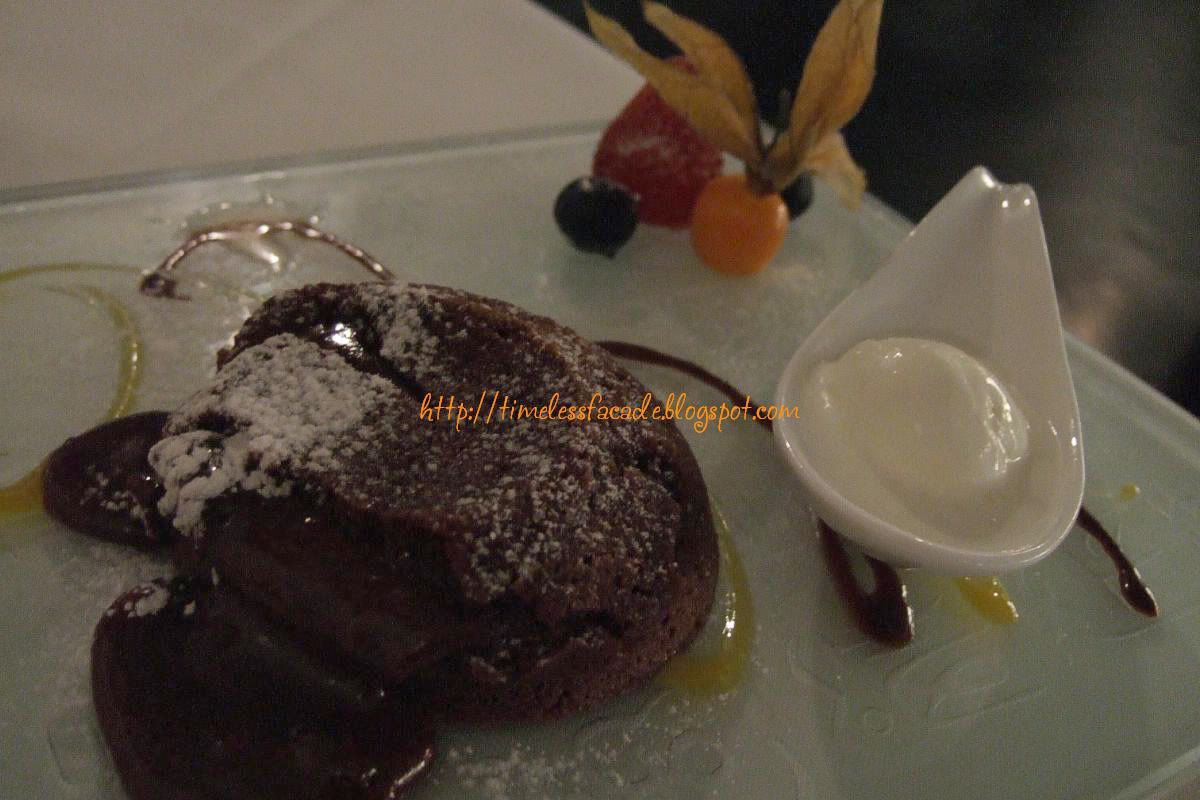 Baked Chocolate with Vanilla Gelati
Served on a pretty looking flat glass dish with inscriptions on it, this dish was an art in itself. Beautifully presented, it really looked too dainty to be eaten. The chocolate cake was moist on the outside and molten on the inside. Oozing thick chocolate broke forth as the outer shell succumbed to the external pressure from our spoon. A worthy rival to Morton's I dare say. The only let down was the ice cream, which was nothing to shout about. One peeve though. How do you eat a cake with molten chocolate in it on a flat plate? I think common sense should prevail over aesthetics.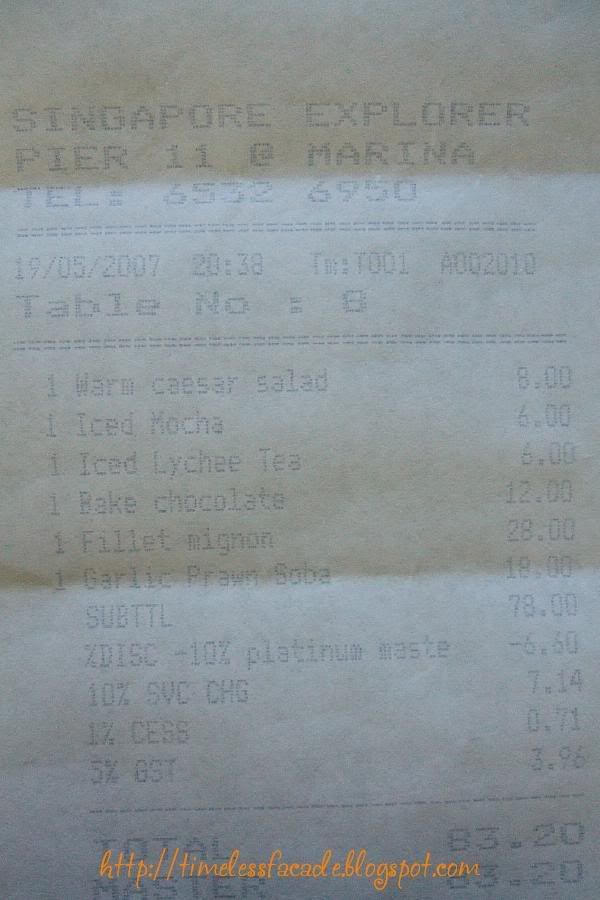 Bill
A lovely meal with friendly and great service to boot cost about $90 (before discount). Worth the money in my humble opinion, especially with the ambience you are getting and the quality of food. Sure portions are a tad small, but can be quite filling, as evident by my bursting waistline at the end of the meal. Do give this place a try, but remember to make reservations if you want to sit outside. As for me, I can see myself as a regular customer in the not too distant future.

Final Verdict:

Ambience:8.5/10
Service:8/10
Food:7.5/10
Value for money:6.5/10

Overall:7.625/10

Address: #02-07 Marina South Pier, 31 Marina Coastal Drive
Contact: 65326950
Operating Hours: 1130am - 10.30pm
Comments: Its best if you drive, as parking is plentiful. If you don't, you can take bus 402 from Marina South MRT

PS: Please pardon my grainy pictures as it was really quite dim where I was sitting. Its the best my lowly camera can manage.