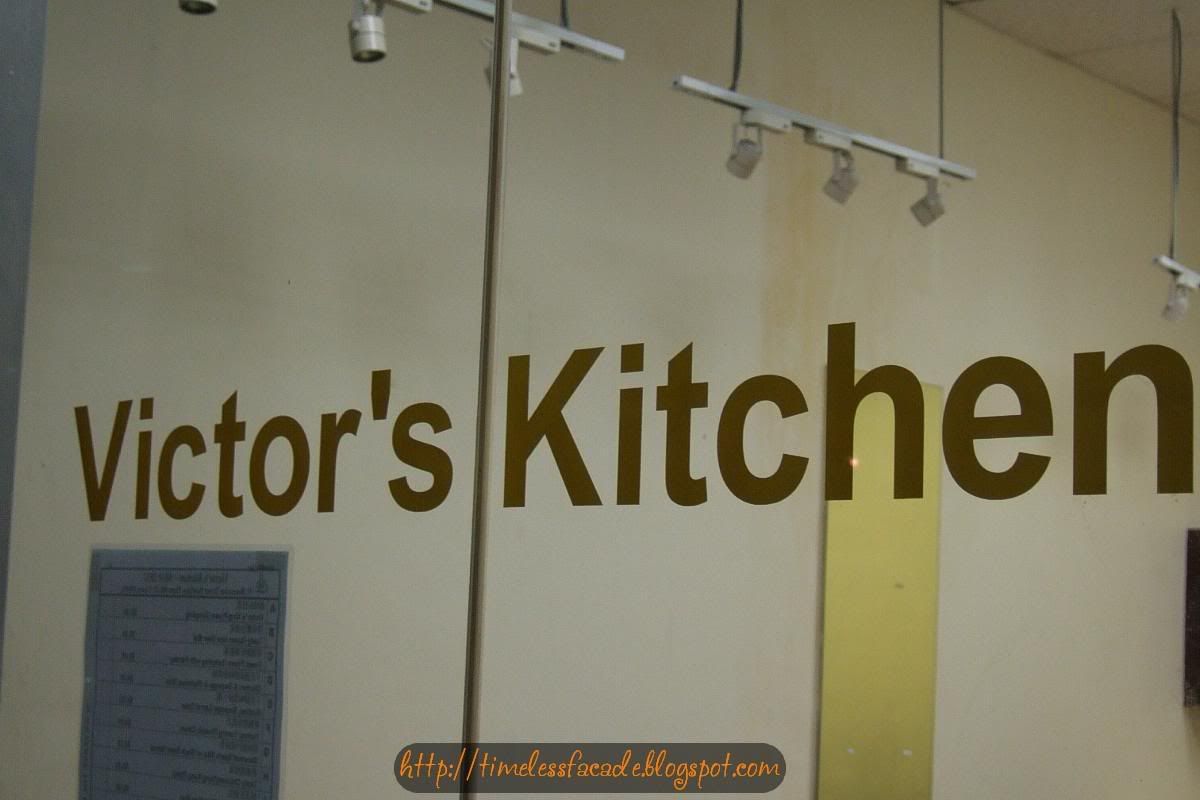 Cheap and relatively good
dim sum
is getting increasingly difficult to find nowadays so after much procrastination, I got my butt moving to do a writeup on Victor's Kitchen, which has probably been blogged about countless times, but nevertheless. My aim was pretty simple - to find out if Victor's really lived up to its name for serving up delectable
dim sum
at affordable prices.


The shop



Caught in the act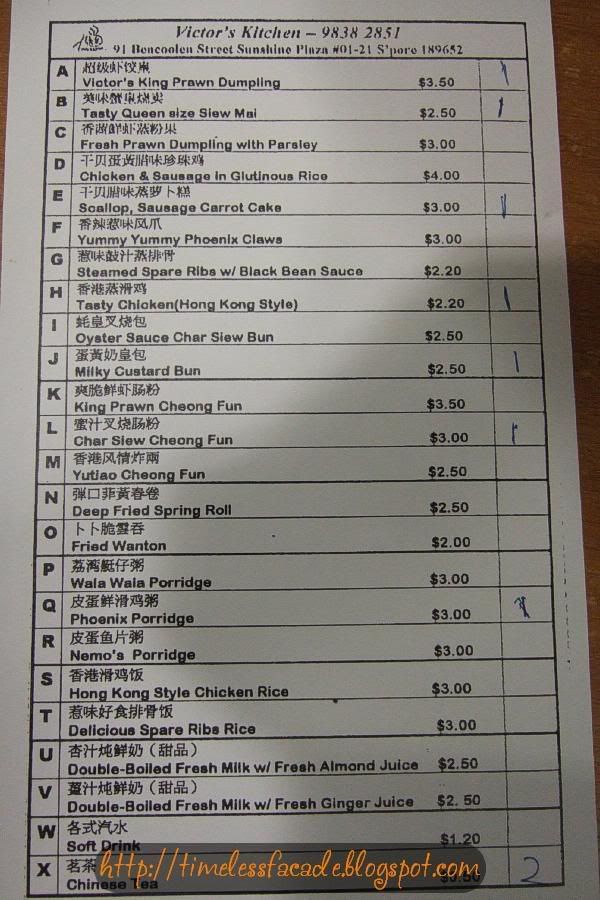 Menu
Well to be honest, I almost missed out on this inconspicuous shop on the ground floor of Sunshine Plaza as it was really tiny and there weren't any huge crowds or long queues to show me the way. In short, it was pretty deserted, save for a few people enjoying their
dim sum
at a couple of tables located just along the corridor (I later found out that Victor's has another shop space for customers to dine at just around the corner). Being a typical Singaporean, my first reaction was that something must be wrong, as good food is usually accompanied by mad queues.


Milky Custard Bun



A peek inside
If you notice, this dish is not very commonplace in
dim sum
Singapore's
dim sum
outlets. As to why, I really have no idea. Victor's custard buns were probably one of the better ones that I've tried so far, with the custard milky, smooth and moist while the bun soft, fluffy and warm. The only thing that's lacking is the richness of the custard, which I did find a little lacking. Maybe I'm just picky.


Tasty Chicken (Hong Kong Style)
I didn't find this dish too fantastic as the taste of the rice wine was overwhelming and personally, I'm not really a fan of chicken cooked this way.


Char Siew Cheong Fun
This was probably one of the weakest links in Victor's offerings. The skin was a little too thick and came across as rather starchy, unlike the silky smooth and translucent thin skins that good
cheong funs
should have. The
char siew
was rather normal as well, which kinda sealed the fate for this dish.


Tasty Queen size Siew Mai
The
siew mai
wasn't really queen size per se. It was just slightly bigger than your average
siew mai
. What I liked about it was that the proportion of fatty meat to lean meat was relatively low, which didn't make me queasy after eating too much. But the skin was a tad too dry though.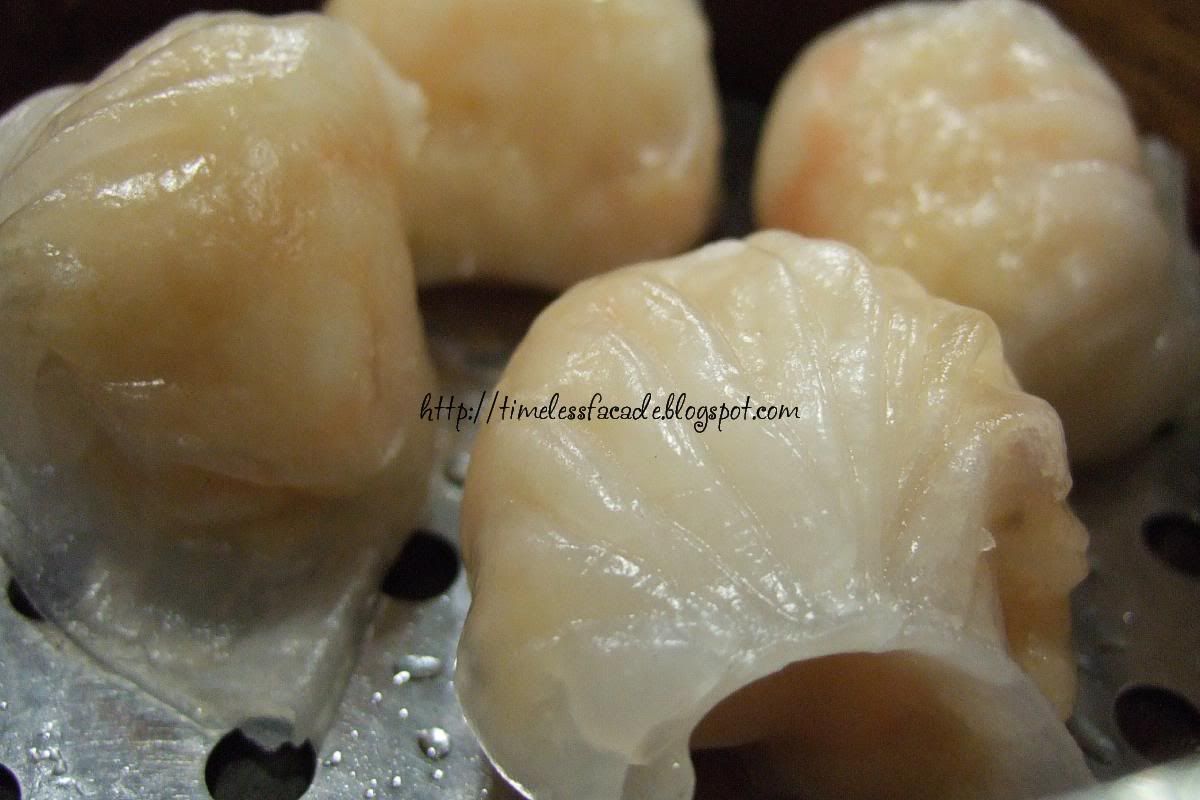 Victor's King Prawn Dumpling
A hot favourite amongst customers, the prawns in the
har gao
were very fresh, albeit not too crunchy. The skin was nicely done, lightly stretchable and not too thick, but please eat it when its still hot.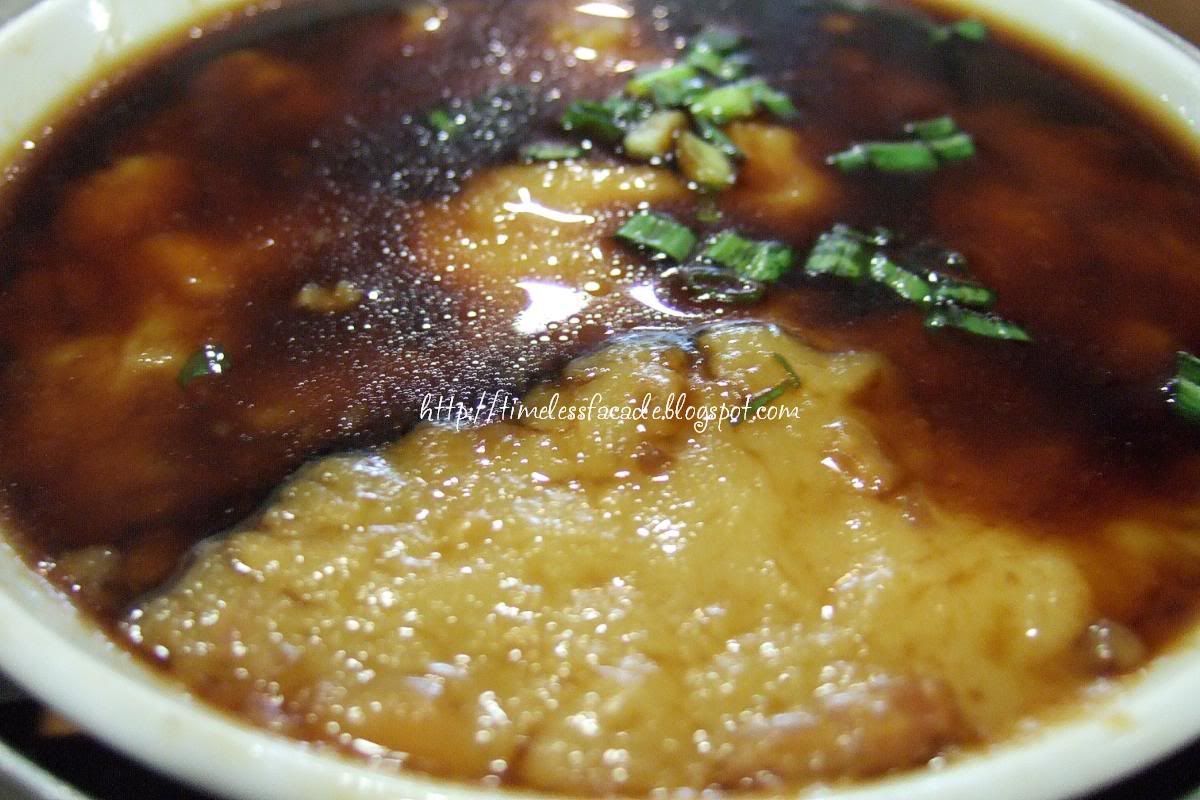 Scallop, Sausage Carrot Cake
Marginally smooth with a fair amount of bite best describes this dish. Sure it isn't exactly near the best that I've eaten, but for the price, no one's complaining. One gripe though, I couldn't taste or make out any traces of scallop or sausage in the carrot cake. Talk about misrepresentation.


Phoenix Porridge
Maybe its a norm to call it something as grand as phoenix porridge in Hong Kong, but in Singapore, we call it
pi dan chow
, or century egg porridge. Victor's rendition wasn't the least bit impressive, being average at best. The porridge tasted like normal slightly runny porridge with small pieces of century egg and prawn balls in it.
A filling
dim sum
brunch for 2 pax cost us about $20, which is cheap for the above average quality
dim sum
that you get. Of course there are better ones out there, but don't forget that they cost a lot more too. Try this place out, but please don't get your expectations too high and you will enjoy it.
Rating
: 7/10
Address: #01-21, Sunshine Plaza, 91 Bencoolen Street
Opening Hours: 10am - 9pm (earlier if everything's sold out)