Finally, a post long overdue. Had dinner at Zambuca the very day my friends and I did lunch at
Iggy's
. Read about my first writeup on Zambuca
here
.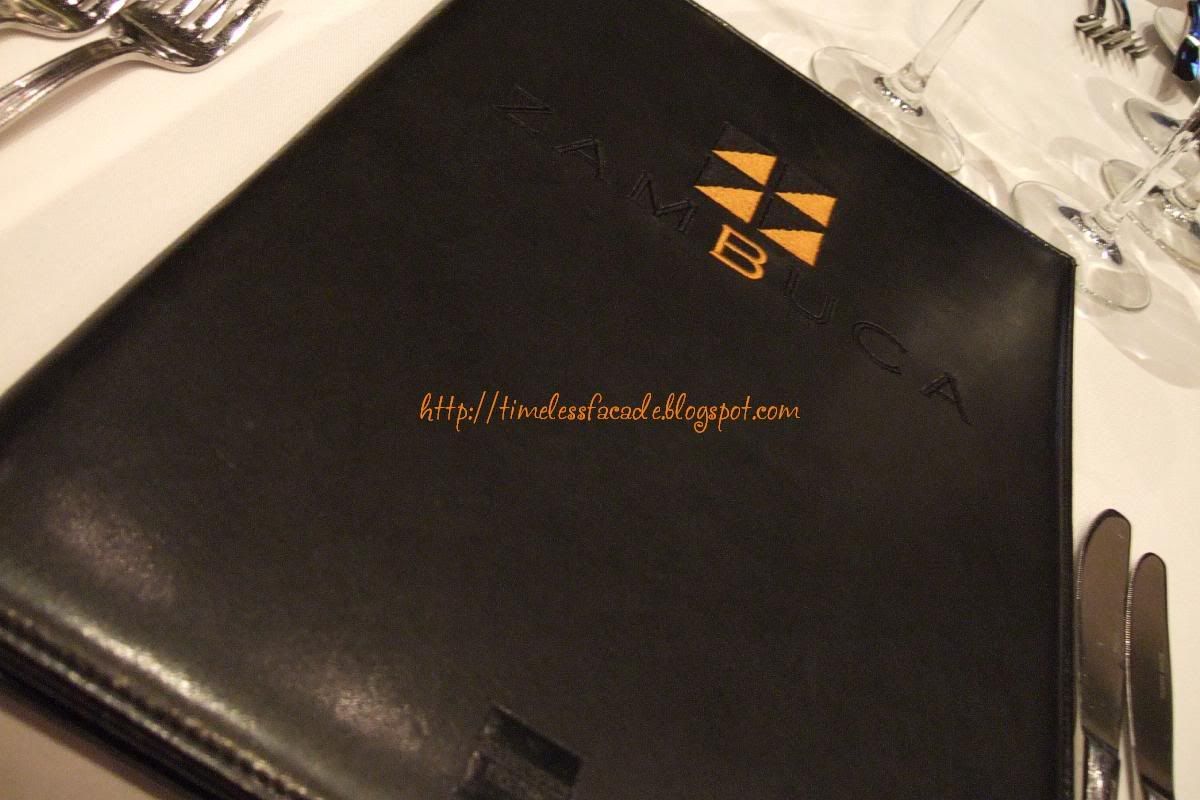 Clockwise from top left: The posh interior, the menu, Bruschetta and the complimentary bread
For starters, the complimentary bread was soft, warm, fragrant and a pleasure to eat with the slick and smooth butter. The bruschetta was lightly toasted on the outside and topped with fresh juicy tomatoes with a dose of olive oil. Light and simple!

Carpaccio di Manza - Beef carpaccio with Parmesan cheese and quail eggs lightly drizzled with extra virgin oil
Honestly, I had expected alot more than what was served. First of all, the beef carpaccio was way too salty. Think eating slices of beef dipped in concentrated salt solution. I understand that the purpose of the salt is to mask the rawness of the beef but the amount of salt present in this dish just blows things out of proportion. The saltiness from the cheese didn't help either.


Terrine of seafood, a symphony of mussels, squid, prawns and scallops drizzled with salsa verde
Please let me reemphasize the fact that I am not a fan of raw seafood or mussels thus I didn't quite take to this dish. One thing's for certain though, everything was very fresh and it was pretty evident with every bite. There was this chilled jelly like thing that came with it which made me squirm with every bite. Not exactly my idea of an ideal starter.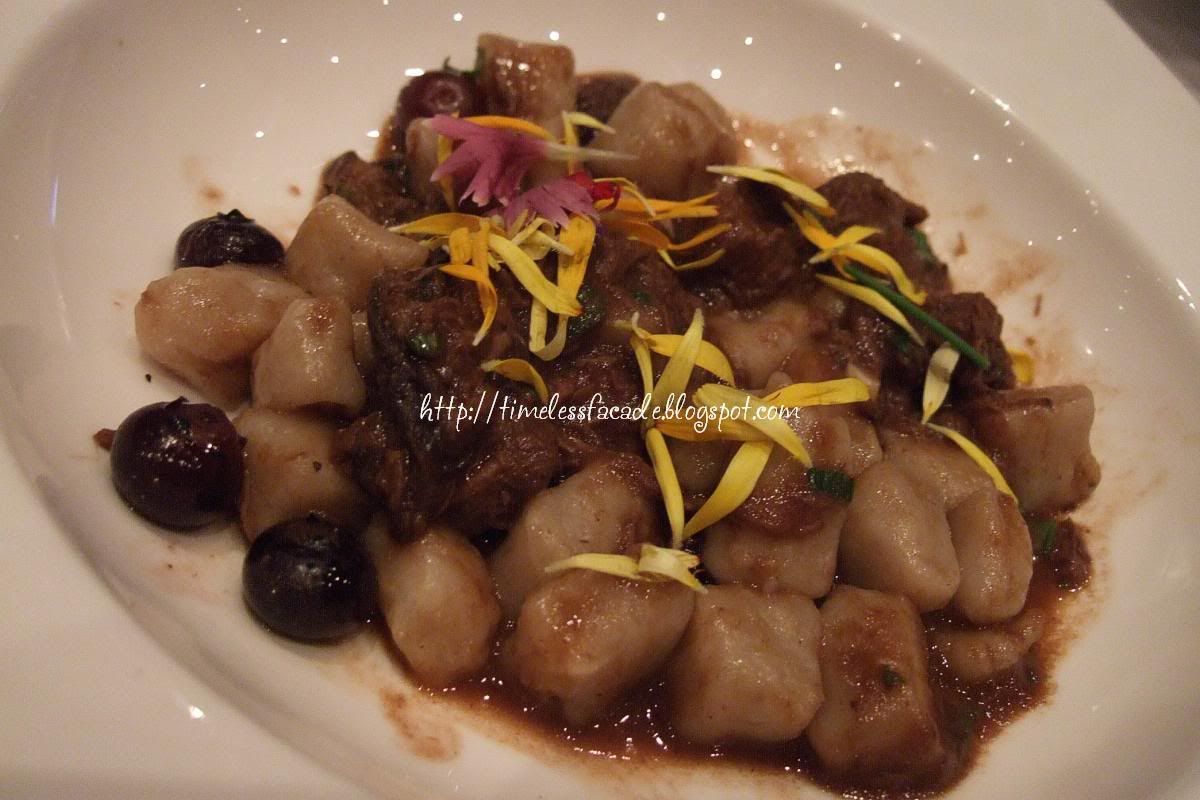 Blueberry gnocchi, served with braised venison in a red wine, bitter chocolate jus
Dull as this dish may look, it straddles between very good and excellent. The blueberry added a nice twist to the otherwise flat tasting gnocchi and the venison was nicely done - fibrous, chewy and tasty. The red wine taste was rather evident and complemented the dish very well. The bitter chocolate jus was less pronounced though. A nice dish I would definitely recommend. Not sure if they have it on the ala carte menu though.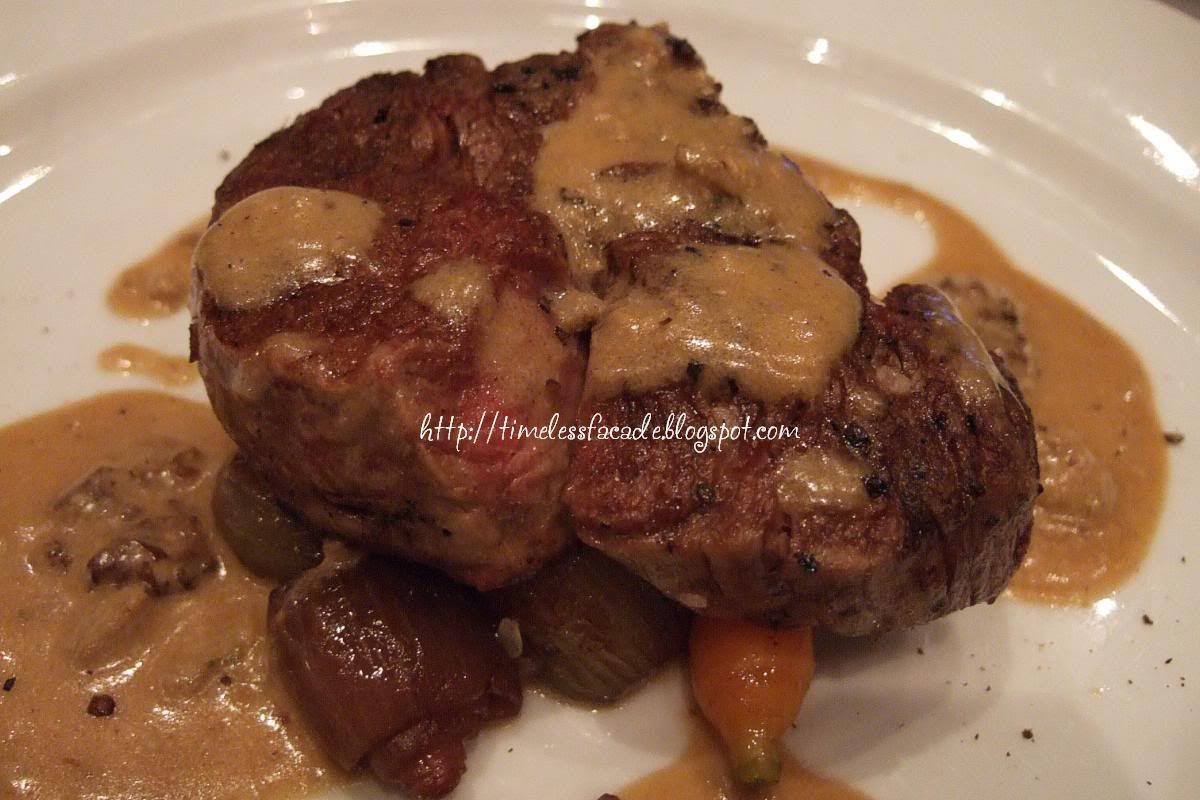 Beef Tenderloin
I swapped the lamb in the set menu for a beef tenderloin and certainly didn't regret doing so. The beef was done just right (medium rare) and the juicy flavours just burst through with every bite. However, it was a little too fatty around the edges, which made it slightly harder to chew. The sauce that's drizzled on the beef is red wine jus I believe, judging from the mild overtones of red wine. Tough fight between this and
Jaan's
rendition.
Warm apple strudel served with a refreshing white chocolate sorbet
The dessert was surprisingly normal. The strudel wasn't as flaky as I would have liked it to be and the apples weren't exactly top grade apples. They tasted a little too soft and sourish for me.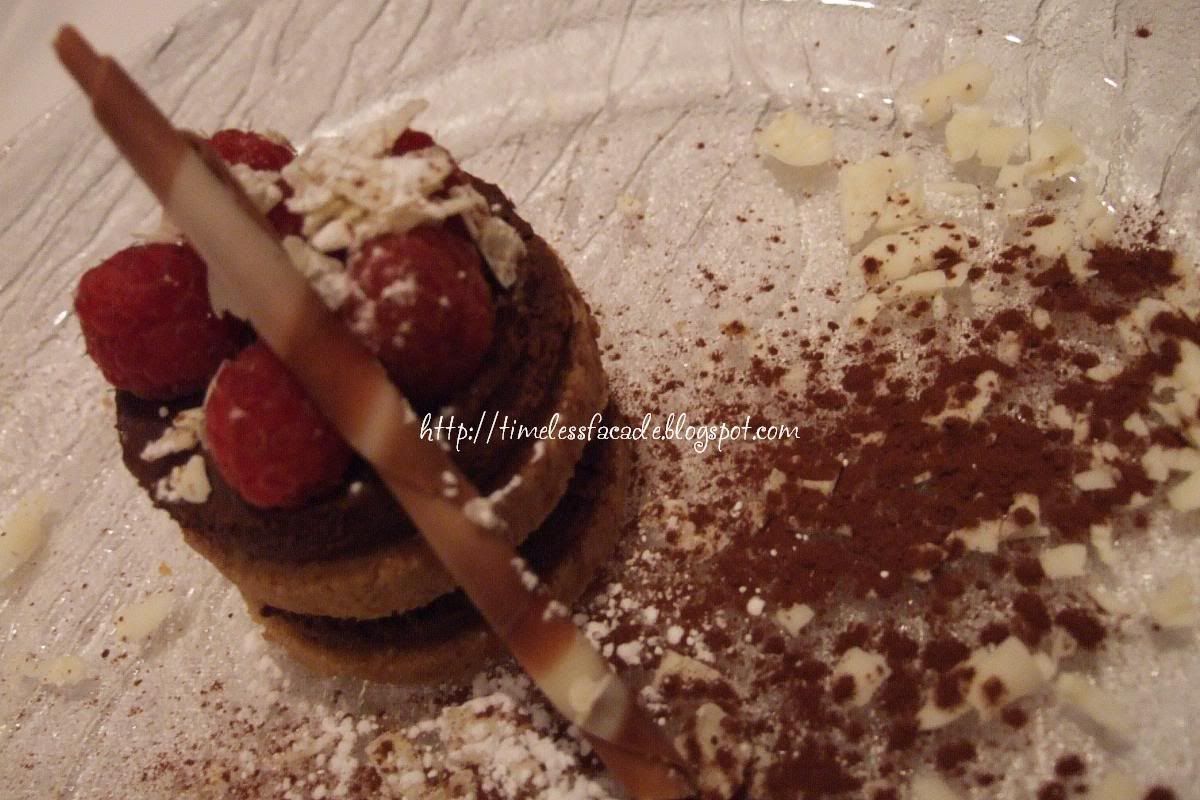 Raspberry Torte
Now this dessert didn't come with the set menu but was taken from the ala carte menu. Presentation wise, a clear winner. Taste wise, decidedly good. Not too sweet with spongy cake layers and white chocolate shavings. Definitely my choice of dessert over the the rather lacklustre apple strudel.


Bill
Overall I wasn't too impressed this time round with the food quality at Zambuca, not when we paid about $360 for 5 pax. And to top it off, we weren't exactly bursting our buttons at the end of it. But having said that, I'll be back again, simply because my positive experiences at Zambuca far outshine the negative ones. After all, which restaurant doesn't have its off days? ;)
Final Verdict:
Ambience:8/10
Service:8/10
Food:7.5/10
Value for money:6.5/10

Overall:7.25/10

Address: Pan Pacific Level 3
Contact: 63378086

Website: www.zambuca.com.sg
Comments: Read my first entry here.