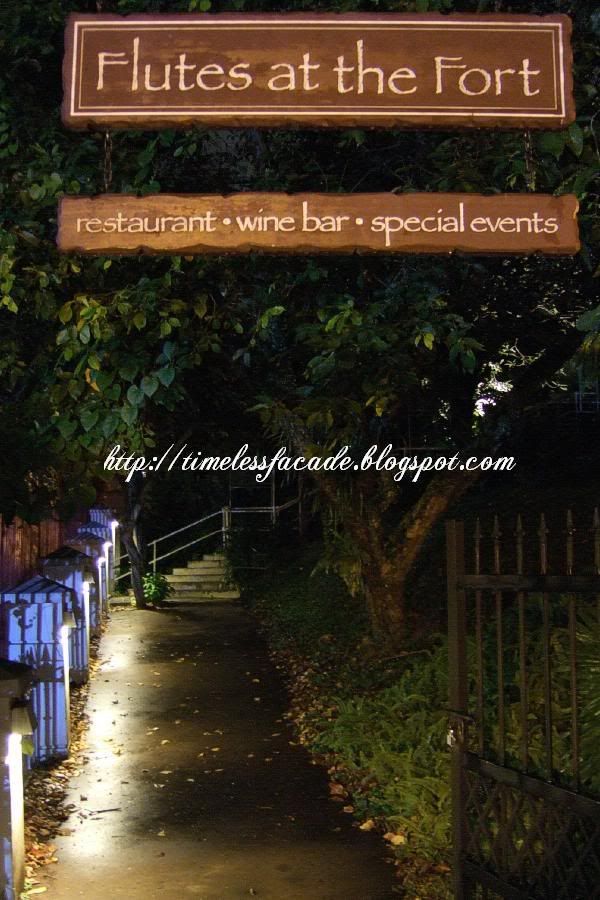 Flutes at the Fort - a modern Australian restaurant housed within an old refurbished colonial bungalow and set against the historical backdrop of Fort Canning Park. Amidst the lush greenery and idyllic setting, one would hardly expect to find anything but birds and trees here, much less a restaurant, a swanky one at that.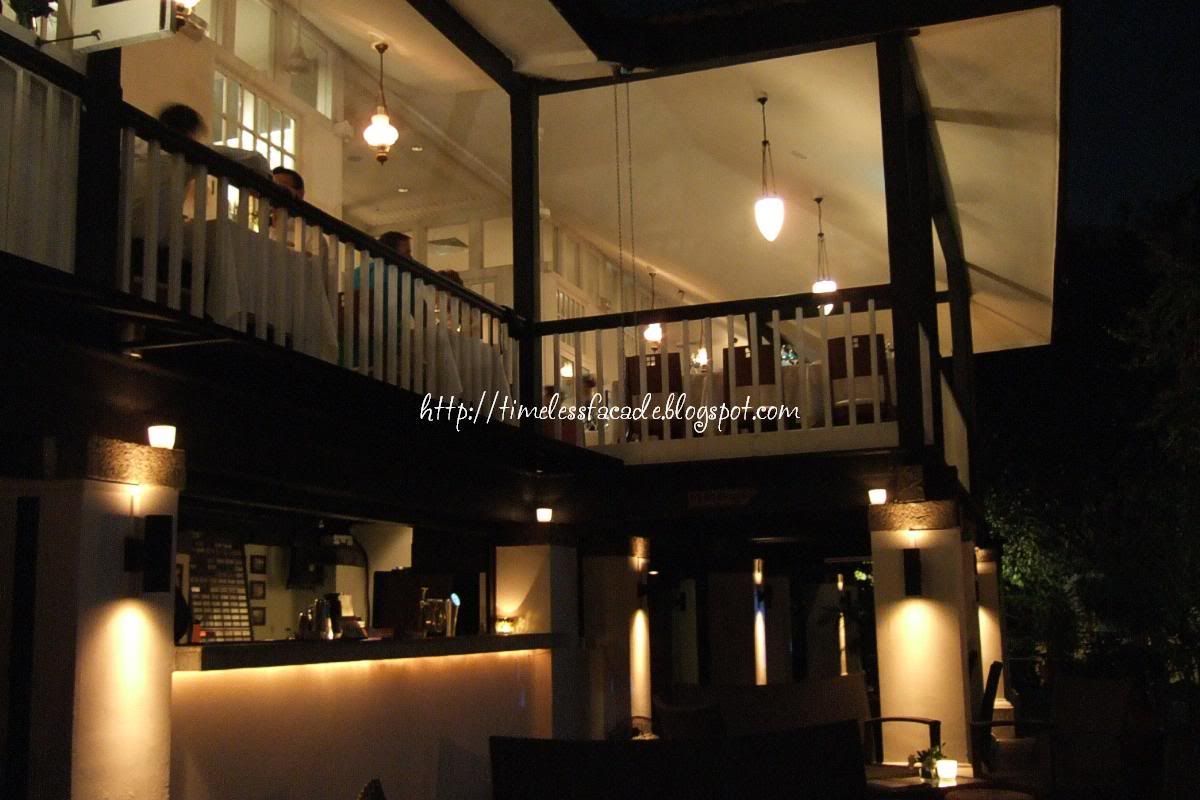 Exterior & Interior
Getting there can be quite a hassle as the route to the restaurant is quite complicated unless you drive and park at the complimentary valet carpark. But even then, you will have to make your way up a flight of stairs just to get there. But its all worth it. The old bungalow is beautifully restored with modern finishes yet retaining its rustic charm. Ambient lighting is practised and the windows overlook Fort Canning's lovely foliage. There is an option of sitting indoors in the cosy air conditioned area or outdoors at the veranda, with the latter being ideal for cool evenings.


Menu & Complimentary bread

The complimentary sourdough bread was quite good - served warm with the crust lightly crackling and the interior soft and fluffy. Definitely a welcome dish to temporarily stem our hunger pangs. Just don't get carried away and stuff yourself with it or else you are not going to be able to enjoy your other food (aka the ones that cost money).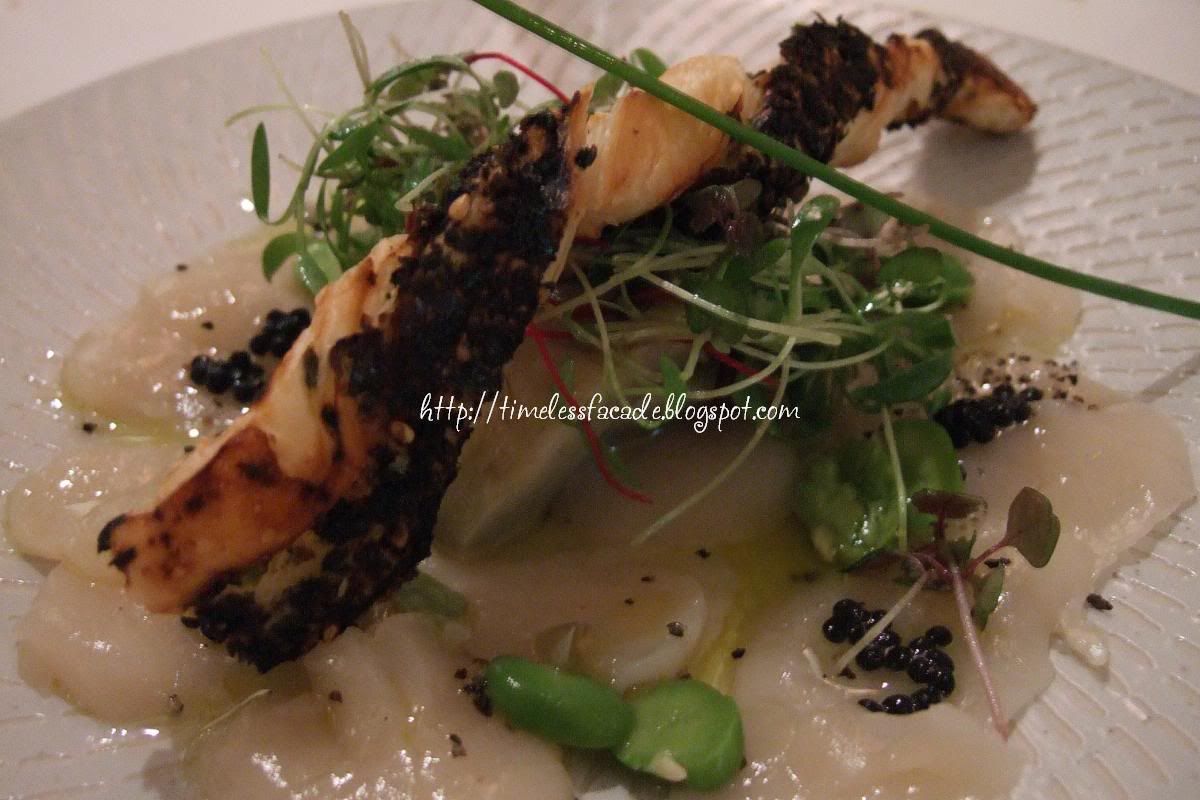 Carpaccio of Hokkaido Scallops
The only thing that I found interesting about this dish was the breadstick which was served alongside. It was extremely brittle and came coated with a layer of seaweed, giving it a nice salty taste. The thinly sliced scallops, which were supposed to be the main draw, were a little too soft and tasteless for me. Not that my other friends disagreed also.

Double Baked Alaskan King Crab Soufflé
"Where's the king crab?" was my initial reaction to this dish. Clearly that was top of my list when I ordered this dish. After a few prods and scoops, the elusive king crab was still nowhere to be found. Not that this dish tasted bad anyway (It was cheesy with a slight hint of crab). In fact, it was so good that I had the urge to order another serving, but at $25 a pop, it was a no brainer really.
Seared Paperbark Scented Petuna Ocean Trout & Roasted Black Cod
The above dishes were what my dining companions had and although I did get a taste of them, I shall reserve my comments. In general everyone was happy with their dishes though.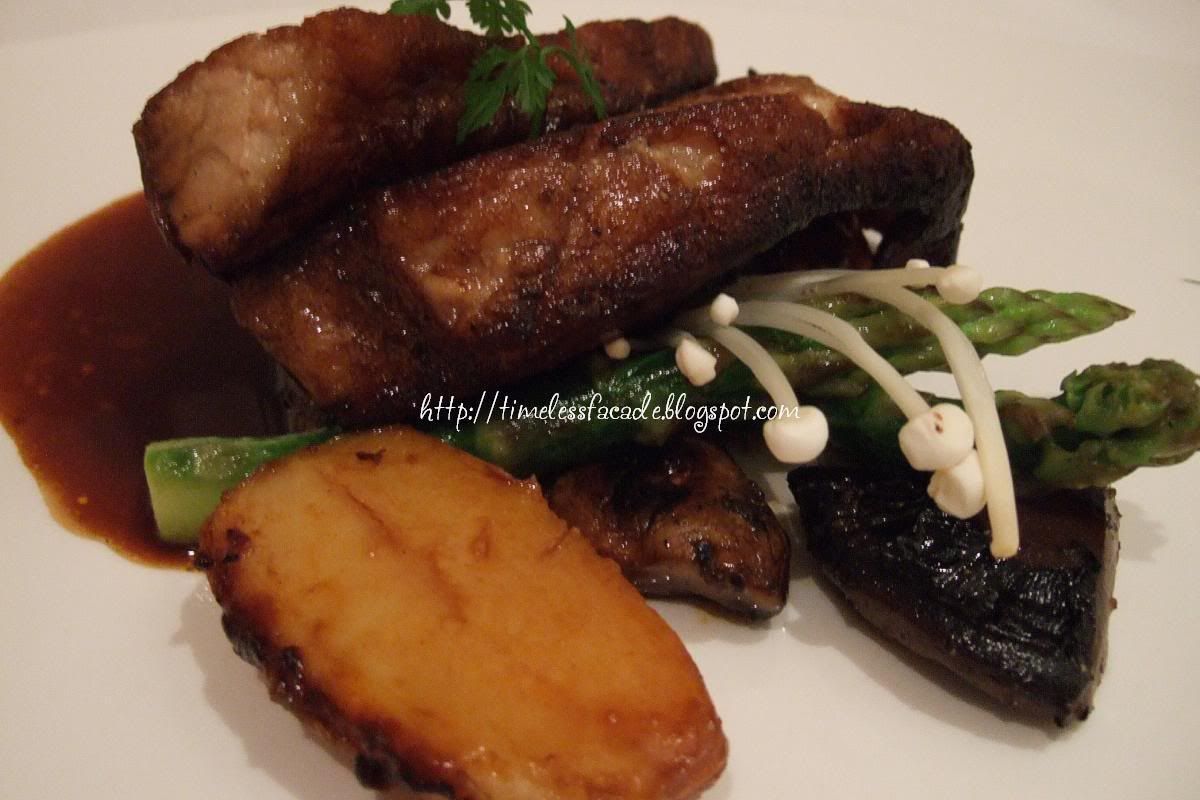 Braised Kurobuta Pork Belly
My main course, the Braised Kurobuta Pork Belly. Just to reiterate that Kurobuta Pork is akin to Kobe beef in the pork hierarchy, therefore making it highly prized and expensive. The Kurobuta pork belly was nothing short of excellent, with the fats literally melt in your mouth tender and the meat fibrous yet retaining a certain firmness. Did I mention anything about the skin being crackling crispy as well? The accompanying Sauteed Portobello mushrooms were juicy and soaked up the wonderful Star Aniseed Jus, making for a wonderful and flavourful side. Please be warned that this dish is definitely not for the health conscious.

Warm Pur-Caraibe Chocolate Fondant & Fresh Peach and Vanilla Creme Brulee
The warm Pur - Caraibe Chocolate Fondant was slightly different from the usual renditions offered by other places. There was no molten chocolate in the centre to ooze out when I broke open the shell. Instead, molten chocolate was generously poured over the entire cake and allowed to cool, resulting in a gleaming black chocolate coated cake. Taste wise, I couldn't have asked for more. The cake was moist and spongy and I could detect teeny weeny pockets of chocolate within the cake that would burst forth as I bit into it.
The Fresh Peach and Vanilla Creme Brulee kinda lowered the standards a little. Granted that the pudding was smooth and not too sweet, but the layer of charred sugar atop was way too thick. Thick enough to get stuck in your teeth and irritate the hell out of you with every bite. The accompanying Chempedak and Mint ice cream was good though, mildly sweet with a tinge of the familiar chempedak flavour. Best of all, the ice cream is placed atop a base of slightly burnt
Gula Melaka
and coconut shavings which only serve to enhance the taste.
Fresh Mango and Strawberry Millefeuille
Probably the most colourful dish of the evening. A pity I didn't get a chance to try it out. Someone please tell me how it turned out.

Bill
Excellent food, excellent ambience, excellent company. I'm a happy man (Not so happy after I got the bill amounting to almost $520 for 7 pax). I personally feel that the price isn't too steep for the quality of food you get here and especially the fantastic ambience. Service is great to boot. On a side note, thanks to all who turned up for the dinner!
Likes: Great food, great ambience
Dislikes: A little pricey, can get a little noisy if there are big groups around
Final Verdict:
Ambience:8/10
Service:8/10
Food:8/10
Value for money:7/10

Overall:7.75/10

Address: 21 Lewin Terrace, Fort Canning Park
Contact: 66338 8770

Website: http://www.flutesatthefort.com.sg