I remember visiting the now defunct Haw Par Villa when I was still a kid in primary school. At that time, Haw Par Villa had opened with much fanfare and I remember paying an exorbitant amount (in the $20+ range I believe) just to gain entry. Those days are long gone and all that is left of the sprawling theme park are the forgotten statues and a recently opened Chinese restaurant called Made In China which is managed by the Singapore Explorer group, the very group that manages
Pier Eleven
. Now who in the right mind would open a restaurant in the middle of a deserted theme park that is not really accessible without a vehicle?
Parking is a breeze because you can literally park anywhere you want along the slope that leads up to the restaurant. It all depends on how much you are willing to walk. As I stepped into the restaurant compound, everything seemed so surreal. The building and its surroundings seemed to have come out straight from some ancient martial arts flick that I used to watch. The interior of the restaurant brought me back to reality though. Sparsely furnished, this is one place that believes in spacing out its tables for the comfort of its guests and I appreciate it.


Menu


Appetiser


Peking Duck
The Peking duck was both good and bad. The skin was crackling crispy and had minimal fats under it. This is probably the crispiest Peking duck skin that I've ever eaten. Such a delightful skin was only let down by the rather lacklustre skin which was thin but tasteless. The meat on the other hand, was a total letdown. A tad dry and not as tender as I had expected. There was also a discernible, albeit faint, fowl taste.

For the price ($25) , the shark's fin and fish maw soup was good. First looks, it actually reminded me of curry because of the yellowish soup base. The soup was rather intense in flavour and came across as thick and starchy while the fins and fish maw were aplenty and pretty decent. According to the waitress, the soup base is boiled for 42 hours using old chicken, old duck (literal translation) and some other stuff that are supposed to be beneficial to the body.

The Fried Golden Butter Prawns came looking rather messy and not the least bit like prawns, more like chunks of fried stuff. The batter was lightly salted and crispy with a lingering buttery aftertaste while the prawns were fresh but none too succulent. I did find this dish a little disappointing because the butter batter came across as bland, unlike the egg yolk variations I've eaten before which were decidedly more savoury. But then again, its quite decent.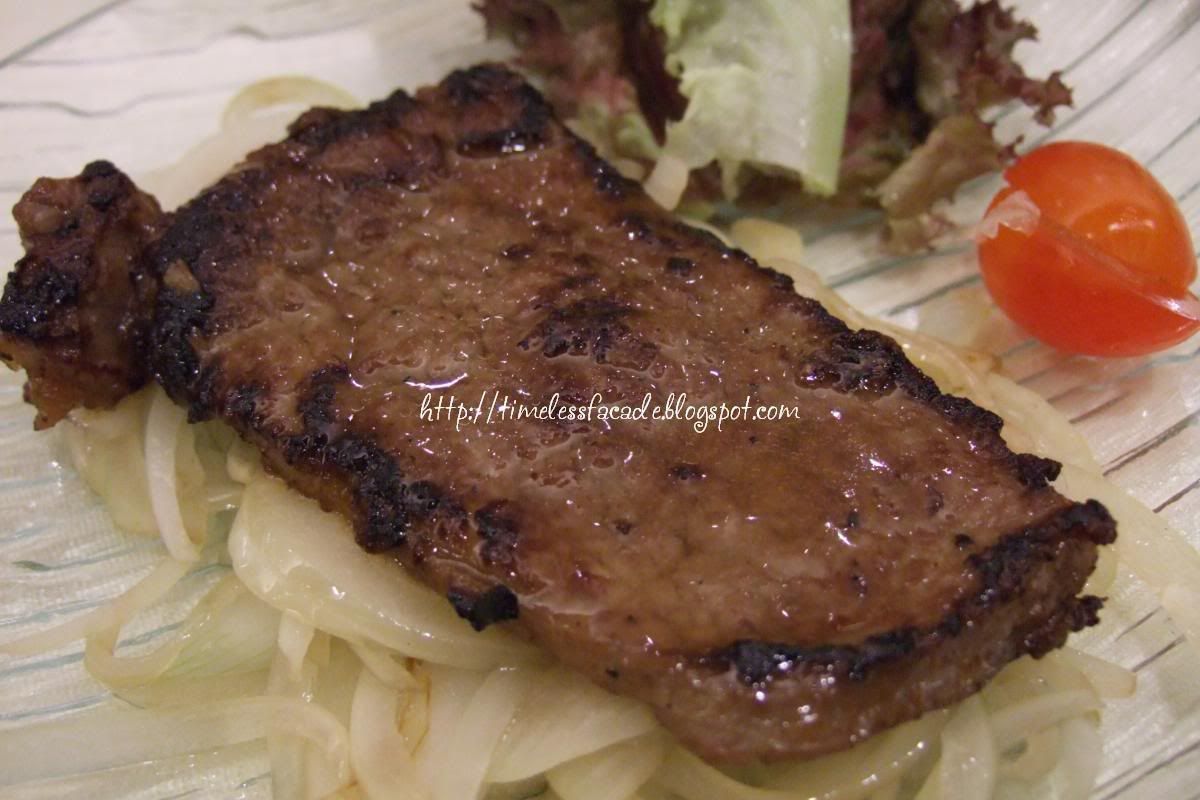 Pan Grilled Miso Marinated Beef Tenderloin
Honestly, I didn't think too much of this dish. It looked like it had been drenched in oil and the black pepper taste was overwhelming, so much so that I couldn't really make out if it was beef or pork. The doneness of the beef didn't help either.

Clockwise from top left : Red Bean Paste Pancake, Yam Paste in Coconut, Black Glutinous Rice with Ice Cream & A close up of the Yam Paste in Coconut
Desserts weren't fantastic but decent nevertheless. The crust of the Red Bean Paste Pancake was a little too thick for my liking and the red bean filling seemed a little runny and low on the sugar content.
The Yam Paste in Coconut fared better. It's actually Orh Nee served in a coconut. The yam was very smooth, not too coagulated and mildy sweet. Only bone I had was that too much coconut milk was added and it didn't gel very well with the yam paste.
The Black Glutinous Rice with Ice Cream derived its sweetness from the scoop of vanilla ice cream in its midst but was average tasting.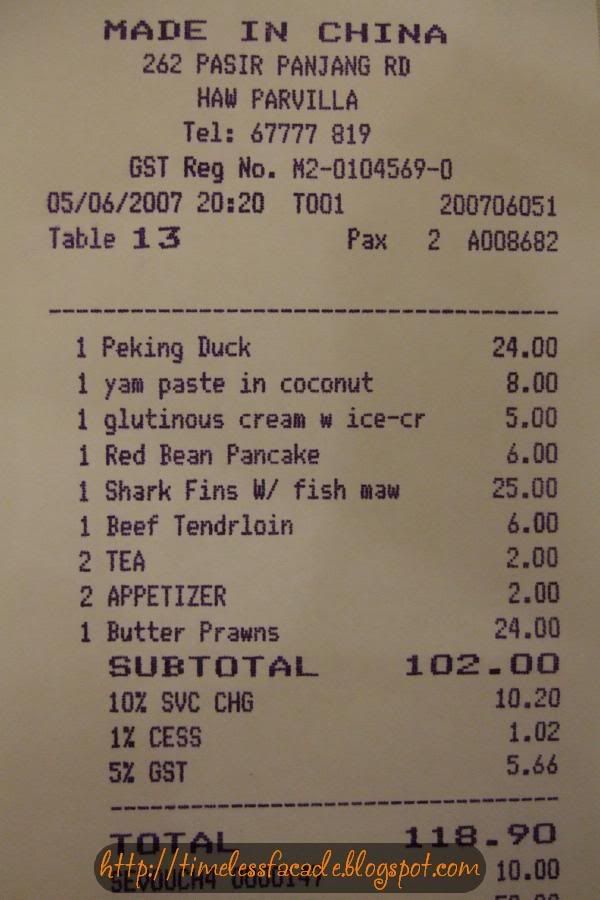 Bill
I'll be lying if I said that I could walk up straight after such a hearty meal because I simply couldn't, try as hard as I might. And it didn't exactly cost me a bomb either. Standing just shy of $120 for 2 pax, it's certainly not cheap but definitely a notch or two down the price scale relative to restaurants that serve up a similar quality of food.



Final Verdict:

Ambience:7.5/10
Service:8/10
Food:7/10
Value for money:7/10

Overall:7.375/10

Address: 262 Pasir Panjang Road (Haw Par Villa)

Contact: 67777819

Website: http://www.huasong.org/