Happened to be at Bugis Junction with my gf and chanced upon this Nanxiang Steamed Bun Restaurant. Actually it was the only restaurant that didn't have a queue at 730pm on a weekday evening. They are supposedly a very well known outfit in Shanghai, so expectations were rather high.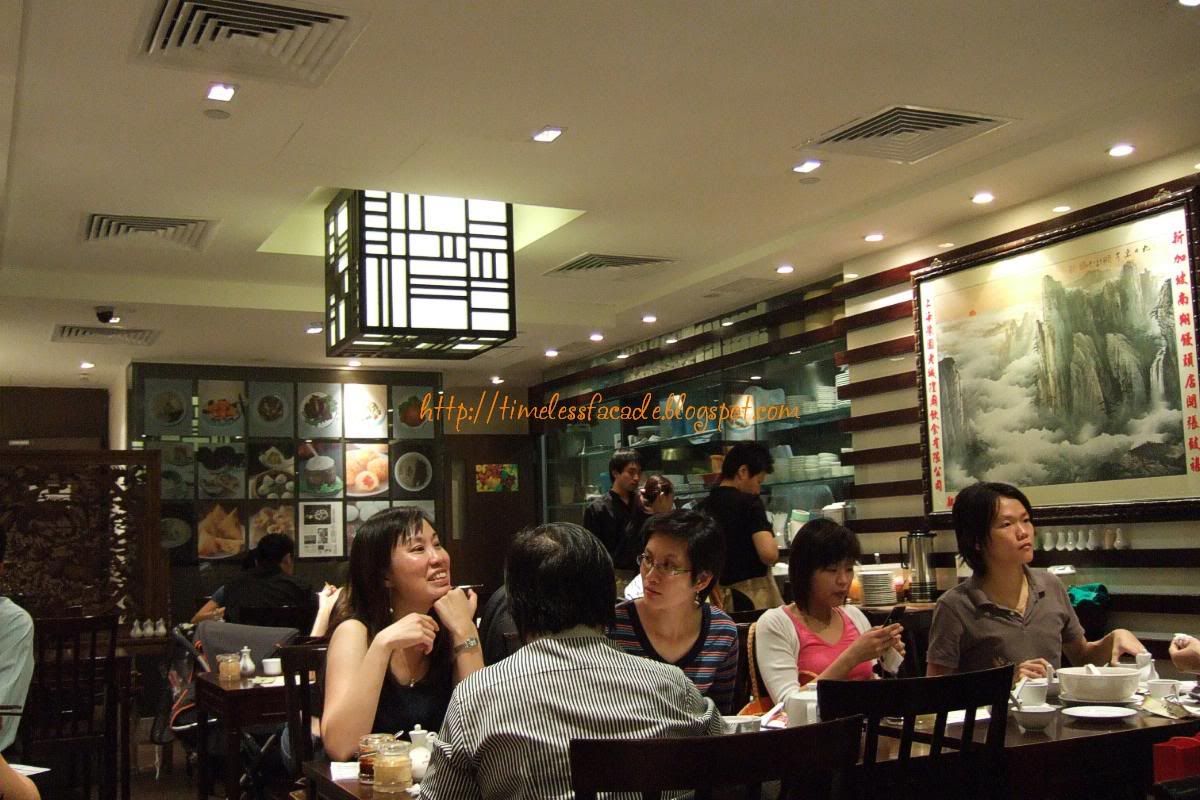 Interior
The interior was rather cramp, evidently with the restaurant trying to squeeze as many tables as possible in the relatively small room, resulting in a less than comfortable boxy looking dining area. I could easily overhear the adjourning table's conversation, not that I wanted to though. I guess that gives you an idea how close the tables were.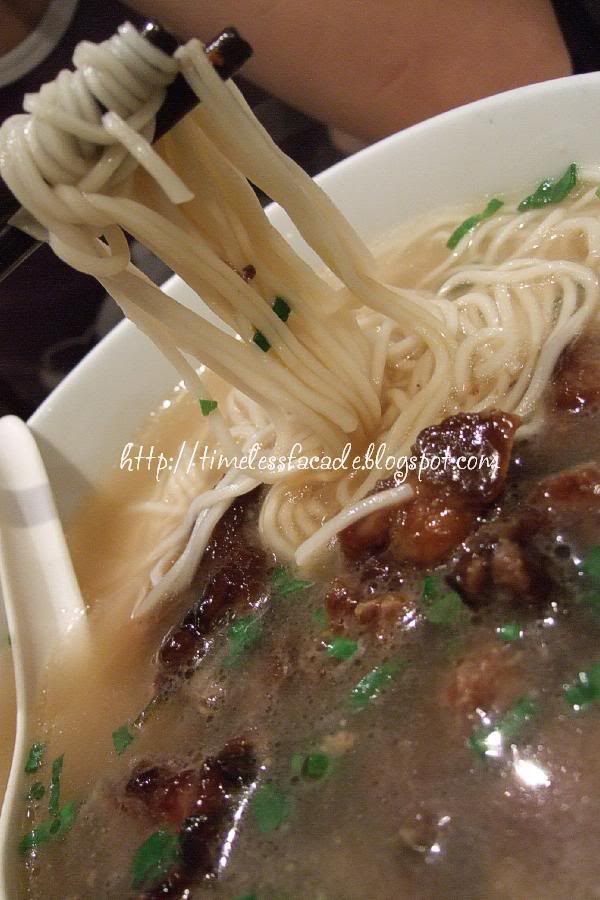 Pork Rib Noodle
Have you ever tried pork rib noodles that were sweet? I for one, have not. Thats why Nanxiang's rendition came as quite a surprise (or was it shock?). The broth was sweet, not the MSG kind of sweet but literally sugar sweet. The pork ribs were sweet as well, which was rather weird, considering that I had expected the entire dish to be salty. The noodles were rather springy though and appeared to be the only thing that was "normal". Sorry but sweet broth and pork ribs just don't cut it for me.


Yang Zhou Fried Rice
For $8.50, I had expected better. The Yang Zhou Fried Rice was a joke and I'm not kidding. Served in a rounded symmetrical form, the rice looked like it had been pre-prepared and scooped from a container using a bowl (I'm just guessing). The de facto Char Siew was replaced by luncheon meat which is a poor substitute in my humble opinion. The rice lacked taste and came across as rather bland. Probably the only thing that I liked about this dish was the homogeneity of colours.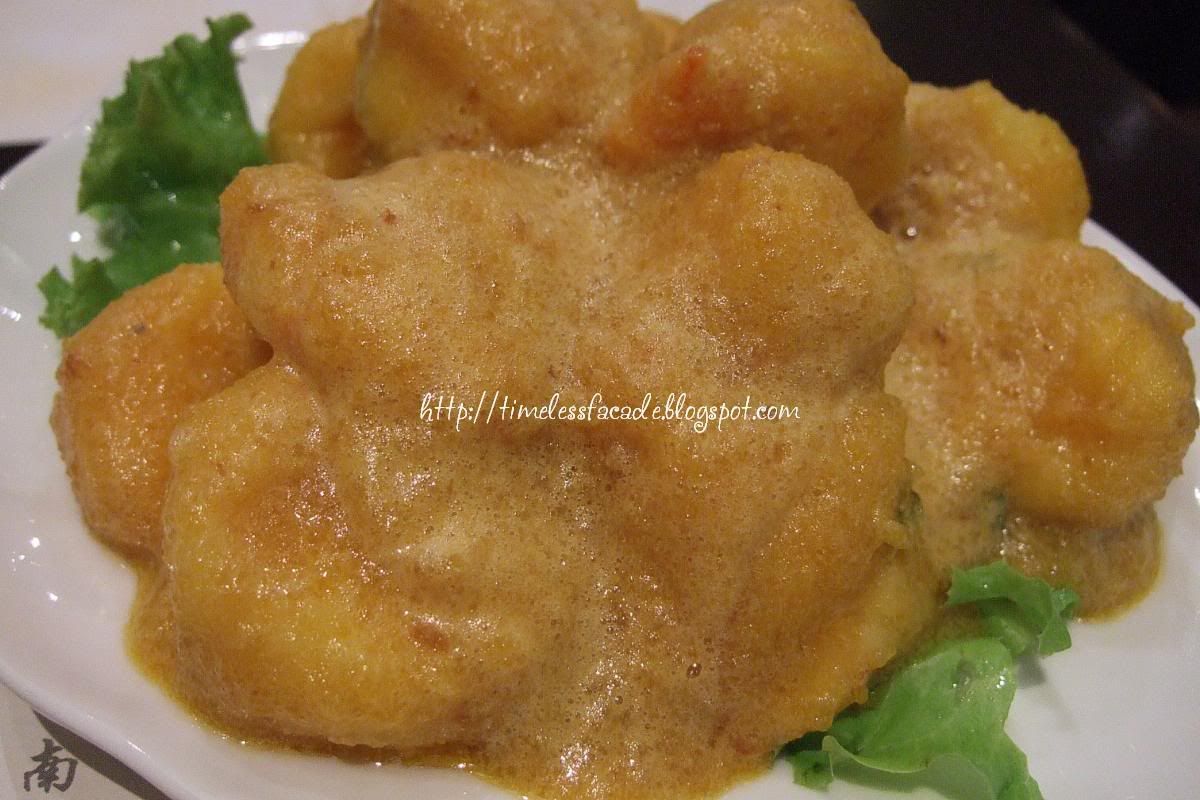 Fried Prawns with Salted Egg
This dish came piping hot, with the gravy still bubbling and frothing. The relatively fresh prawns were of average size and overall tasted decent with the gravy buttery and a little coarse, probably due to the bits of egg yolk. However, this dish is best eaten hot as the gravy tends to harden as it cools and things get really gross from there.


Baked Mini Puff with Pork, Mushroom & Bamboo filling
The baked mini puffs looked like your normal curry puff, but break it open to find pork, mushroom and bamboo. Supposedly of course. Truth is, I only found pathetic bits of mushroom in it with what seemed to be scrap morsels of minced meat. It was like eating the pastry more than anything else. Not that it tasted good by the way.

Steamed Soup Bun with Crab Roe and Pork Filling
Purportedly Nanxiang's signature dish - the Xiao Long Bao (XLB). I honestly wasn't the least bit impressed. The skin was way too thick and I had to literally tear it apart before I could take a snapshot of the filling. And there is something about the QC of their XLB. Some had loads of fluids contained within, some had minimal. Talk about consistency.

Pan Fried Pumpkin Cake
I have never tried Pan Fried Pumpkin Cake before and I don't think I ever want to try it again, at least not at Nanxiang. The cake was soaking in oil but tasted decent though, a little sweet and crispy on the outside.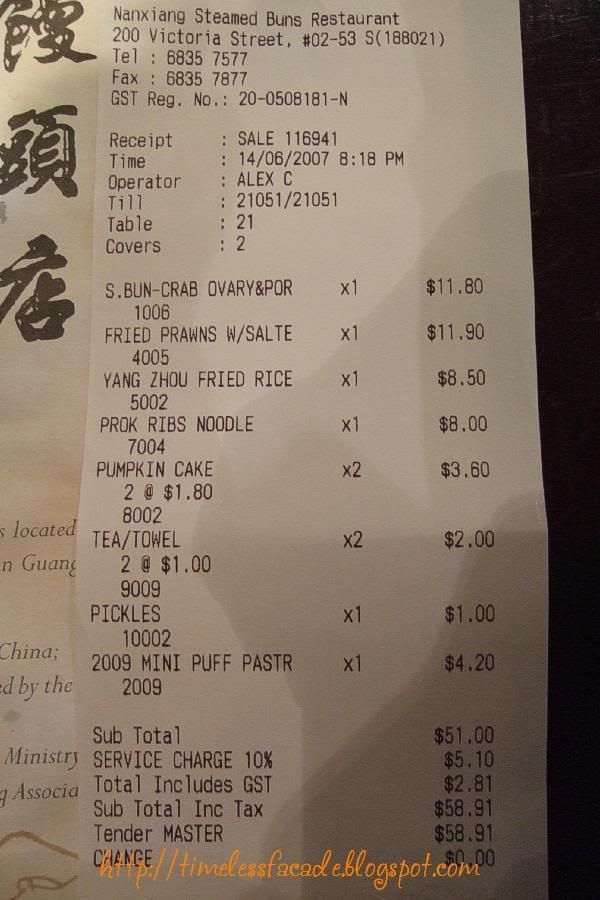 Bill
$59 for such mediocre quality food is plain absurd. The only redeeming factor was the reasonably good service but I don't think thats enough to make me go back.
Likes: Reasonably good service
Dislikes: Mediocre food
Final Verdict:
Ambience:6.5/10
Service:7/10
Food:5.5/10
Value for money:6/10

Overall:6.25/10

Address: #02-53 Bugis Junction
Contact: 6835 7577