Had dinner at the Wheelock outlet of Sun with Moon cafe, a sister establishment of
Sun Japanese Dining
at CHIJMES. From what I know, both establishments have almost the same menu, with the exception of a few more upscale items that only
Sun Japanese Dining
carries.
Interior
The interior is significantly different from other Japanese restaurants that I've dined at, blending in modern architecture with wooden finishes and dim lighting to give that Zen feel. Nice cosy corner tables are seperated by a semi permeable screen which allow for some degree of privacy (Thats if you are lucky enough to get them).

Hitokuchi Pork Katsu - Deep Fried Pork Cube
This dish came on the recommendations list and I was all geared up to eat some kick ass pork. Sadly, it didn't quite meet my expectations. The pork was quite decent, chunky and chewy but the deep fried exterior made for a very nauseating experience after a few mouthfuls. Think a souped up version of Pork Katsu. Nothing fanciful to say the least.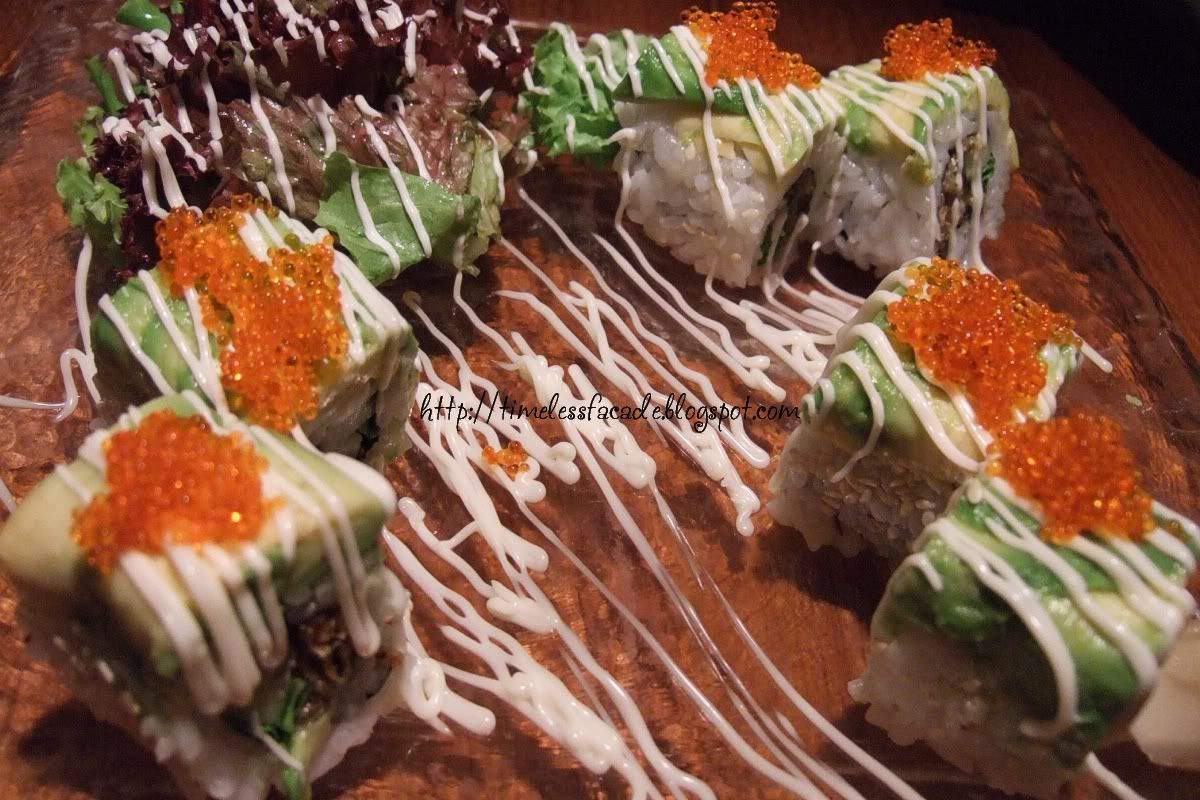 Avocado Soft Shell Roll
As per my writeup on
Sun Japanese Dining
, the Avocado Soft Shell Roll was good. The rice was a tad sticky and the soft shell crab gave it a slight smoky taste. The generous drizzling of mayonnaise did help as well.
Ebi Tempura
Now for the bummer. The Ebi Tempura was merely average at best. For starters, the batter was a little too thick and tasteless and so were the prawns. The dipping sauce was bland as well, making the whole dish one big expensive joke ($22). The only saving grace was that the batter wasn't too heavy on the oil.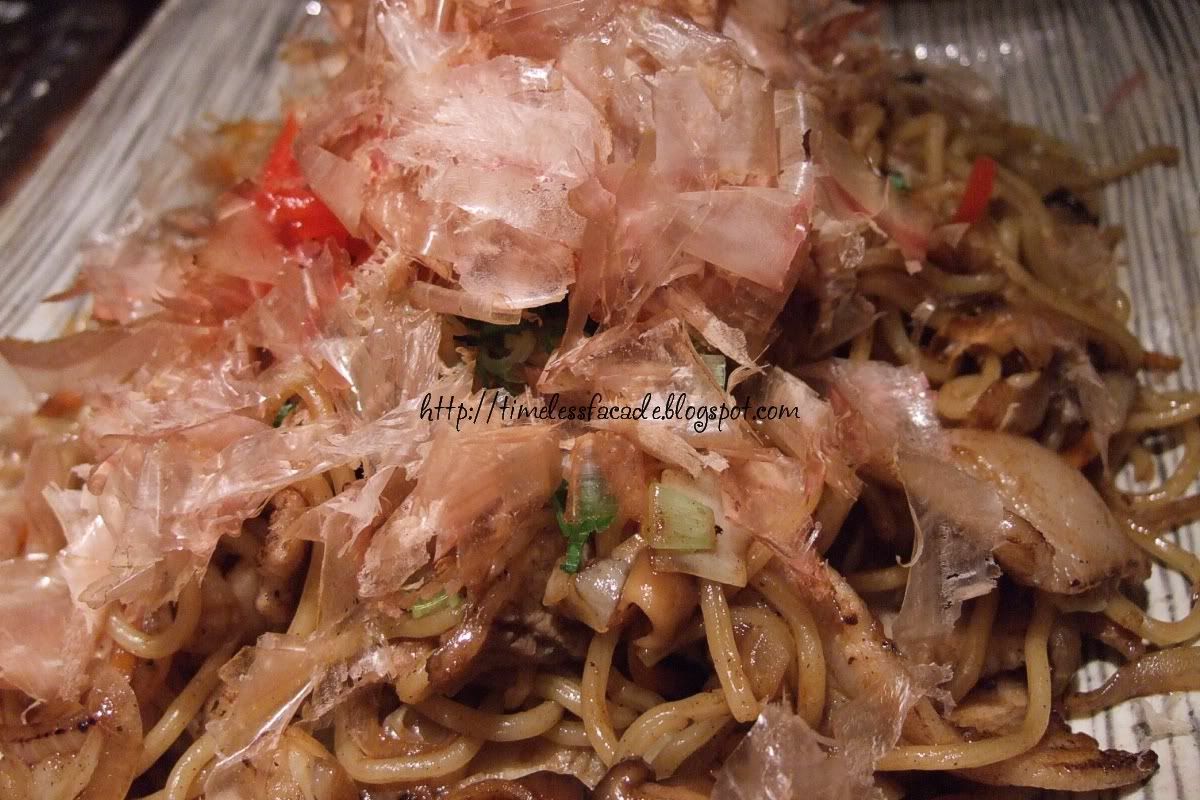 Pork Yakisoba - Stir Fried Noodle with Pork
The noodles had a slight burnt taste which went down quite well with me. The servings of pork slices were generous and so were the cuttlefish(?) shavings. A nice mixture of smokiness and saltiness as a whole. A word of caution against eating too much though.

Tofu Cheese Cake
An intriguing name, a less intriguing taste. No tofu taste whatsoever. Tasted like a lighter (and much smaller) version of the Cheese Cake to me. Decent rendition, coming across as fluffy and light, although a tad too sticky.

Monaka - Japanese Wafer filled with Sweet Potato, Red Bean & Ice cream

I've learnt that appearances can be deceiving. Such was the case with the Monaka. It looked absolutely tantalizing when I first set my eyes on it. Alas, it was anything but. The wafer tasted like it was made from low quality batter while the red bean came across as rather watery. The sweet potato tasted like red bean (how weird) and the ice cream was your run off the mill kind.
Sheer disappointment.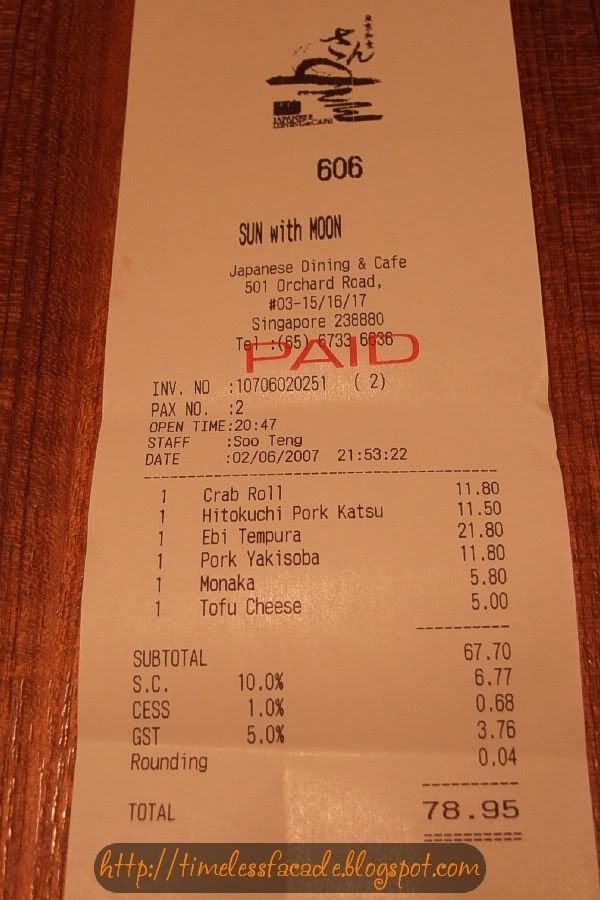 Bill
While I wouldn't say $79 is a lot to pay for Japanese food, its certainly pushing the limits for such an average display of food. I had certainly expected more from this place, given all the good things that I've heard about it. Or maybe its just that I ordered the wrong dishes.
Likes: Nice place to chill, decent Japanese food
Dislikes: A little pricey, some items on the menu are just bad, crowded most of the time
Final Verdict:
Ambience:7/10
Service:7/10
Food:6.5/10
Value for money:6.5/10

Overall:6.75/10

Address: #03-15 Wheelock Place & #01-70 The Central @ Clarke Quay
Contact: 6733 6636(Wheelock), 6534 7784 (Central)
Here's what I had for dinner last Friday. No phototaking of the food was allowed so thought I would just slot whatever I have here.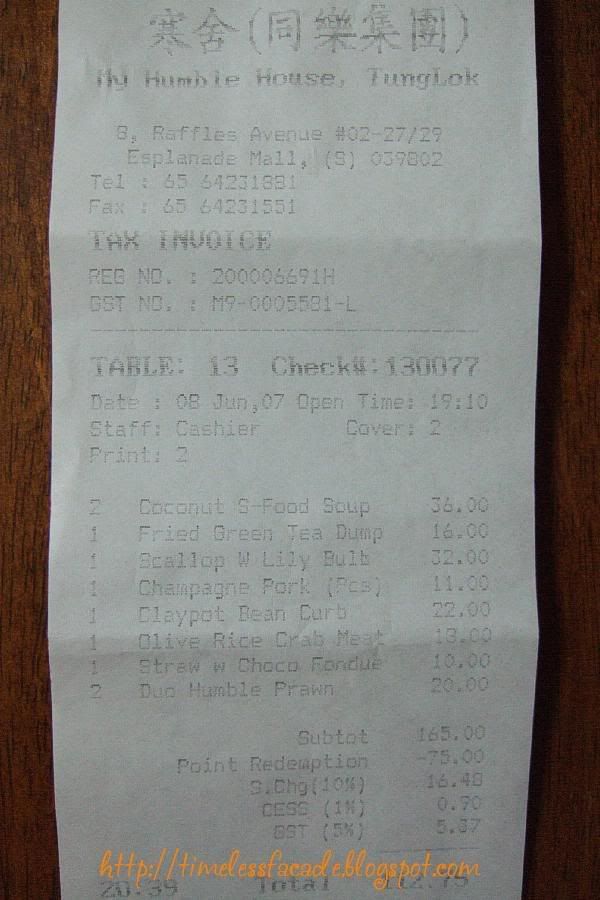 Last but not least, a shot of the delicious Panna Cotta I had whilst attending the Shangri la Dialogue.