Cafe Swiss - a not too recent addition to the Swissotel family and specialising in traditional Swiss and European Cuisine. Honestly, I have but a vague idea of what constitutes Swiss cuisine. My idea of Swiss food goes as far as Cheese Fondue. Its shameful really, considering that I had a Swiss buddy in school while I was pursuing my college education.
Far from the maddening crowd, in a private space with a soaring ceiling on the second level of Raffles City, Cafe Swiss provides the perfect place to have that idyllic dinner as crowds are scarce and the ambience is one of contemporary elegance infused with soothing comfort.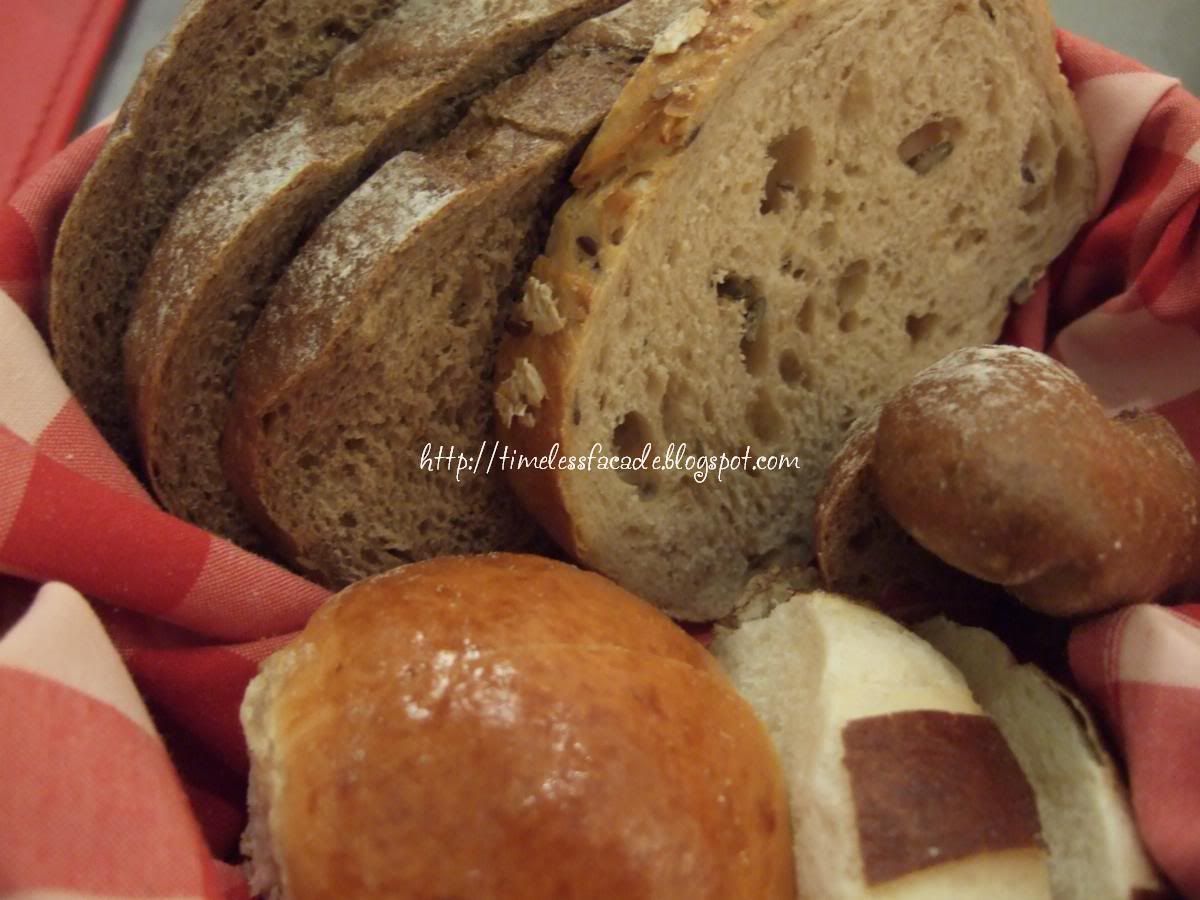 Complimentary Bread
The de facto opening dish - complimentary bread. Although Cafe Swiss serves up various varieties of bread in a neat napkin wrapped basket, none of them impressed me at all. Not to mention they weren't the least bit warm as well. So much for the purposeful napkin.


Veal Emince Zurichoise - Sliced veal and button mushroom on morel cream sauce with roesti potato

Interestingly, I never had veal done this way thus this dish proved to be an eye opener for me. Not that it tasted out of this world though. The veal was done medium well with the button mushrooms wedged between the rolled up veal. All of which was served on a bed of rice (Risotto? Sure tasted like it) with the morel(type of mushroom) cream sauce. Honestly, the veal was a tad too salty for my liking but I do like the texture and the flavour of the veal and this dish as a whole especially with the infusion of the cream sauce. Look out for the small portions though.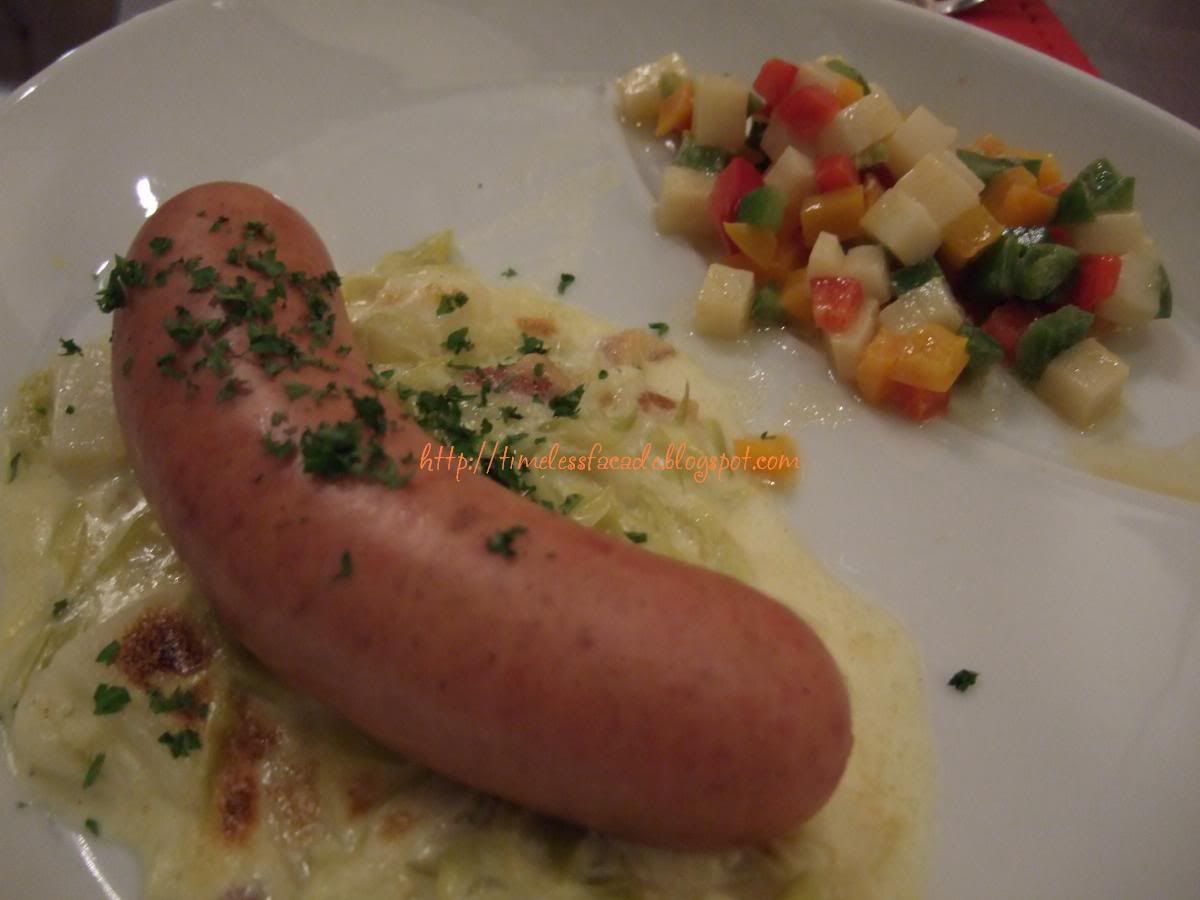 Papet Vaudois - Smoked pork sausage on leek and potato stew
Firstly, the sausage didn't taste smoked to me. Second, it lacked the exploding juices effect when popped into the mouth. However, having said that, it was nice and flavourful but could have been better. A plus point was its huge size.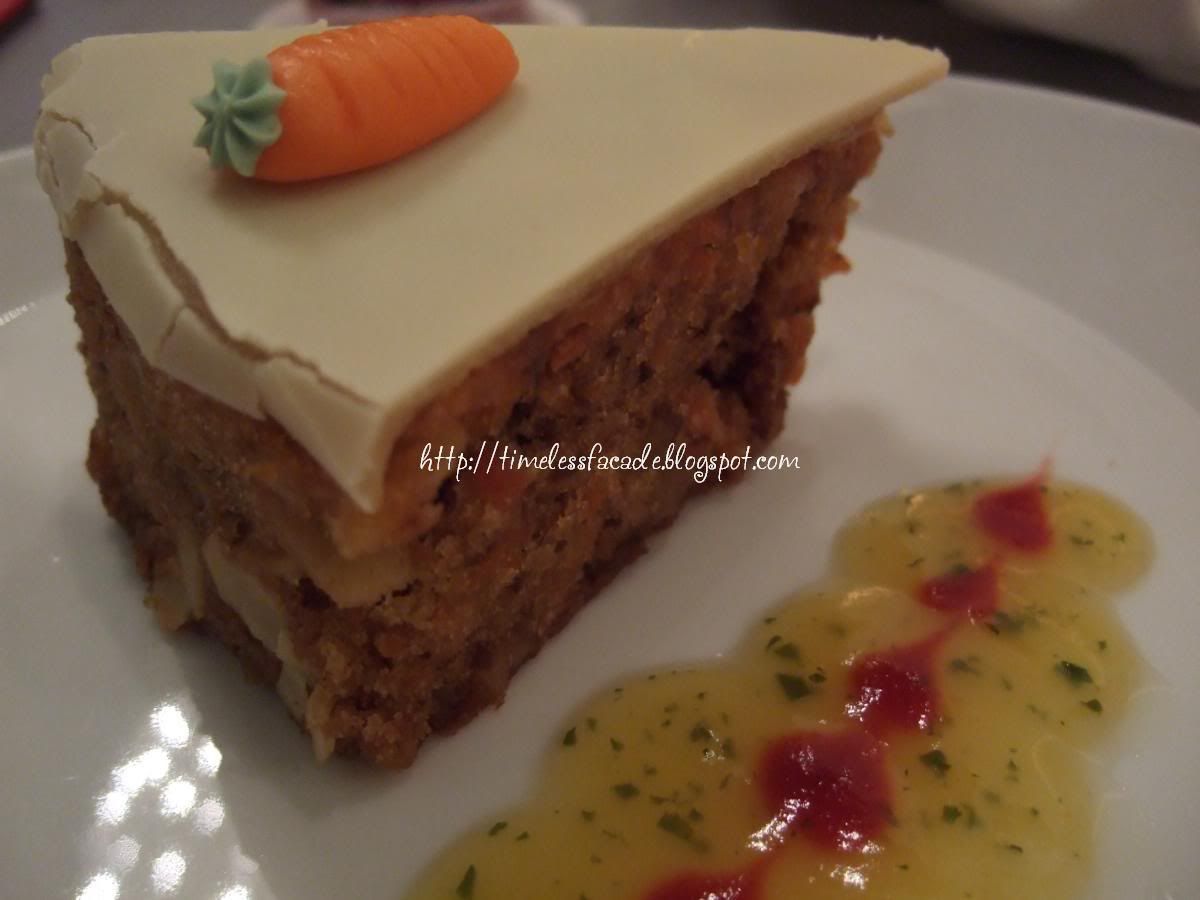 Carrot Cake
Ignorant me has never eaten carrot cake before (Not chye tao kway!) so we got this to try. First looks didn't impress me much as the cake looked unevenly sliced with carrots protruding out from the sides. Taste wise was decent, with the sugar top not too sweet and the cake tasty from the walnuts, almonds and carrots within. However, it was a little too dry, which is a bummer really. And in case you are wondering, the cute little carrot you see on top of the cake can be eaten. But be prepared for a sugar rush.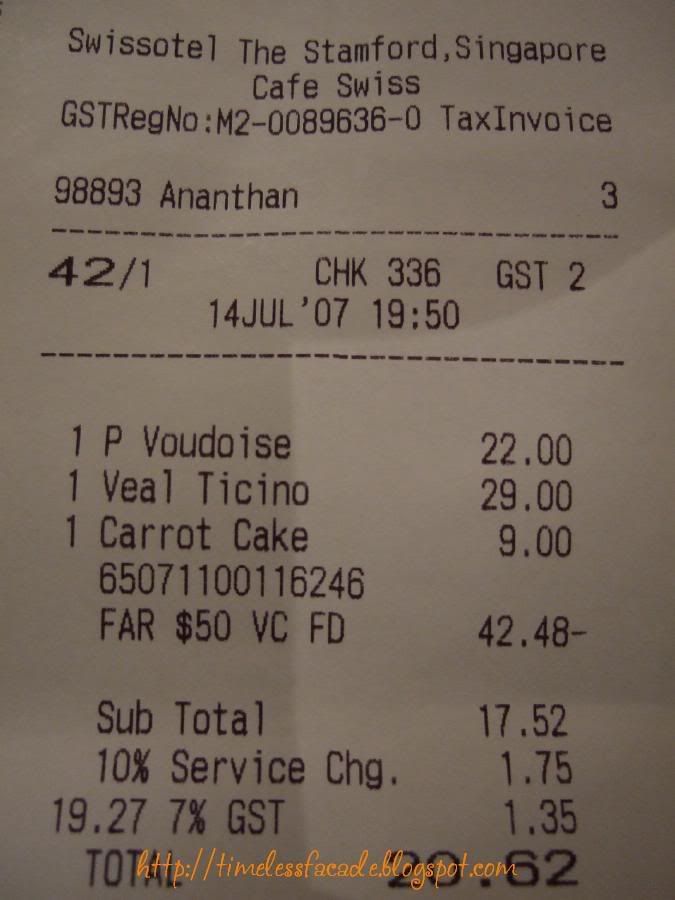 Bill (after $50 discount voucher)


I would like to think that through this meal, I have learnt what Swiss cuisine is all about. Unfortunately I'm none the wiser even after spending about $70 for 2 pax (before discount). Food quality is decent and I will probably be back to try other stuff especially since I renewed my Feed at Raffles card.
Likes: Above average comfort food, Nice place to have dinner
Dislikes: Small portions, a little pricey
Final Verdict:
Ambience:7.5/10
Service:7.5/10
Food:7/10
Value for money:6/10

Overall:7/10

Address: Level 2, Swissôtel The Stamford

Contact: 6431 6156
Opening Hours: 12:00 noon to 10:30 pm daily. Breakfast - 6:00 am to 11:00 am daily
Website: http://singapore-plaza.raffles.com/z882/restaurants_10.html