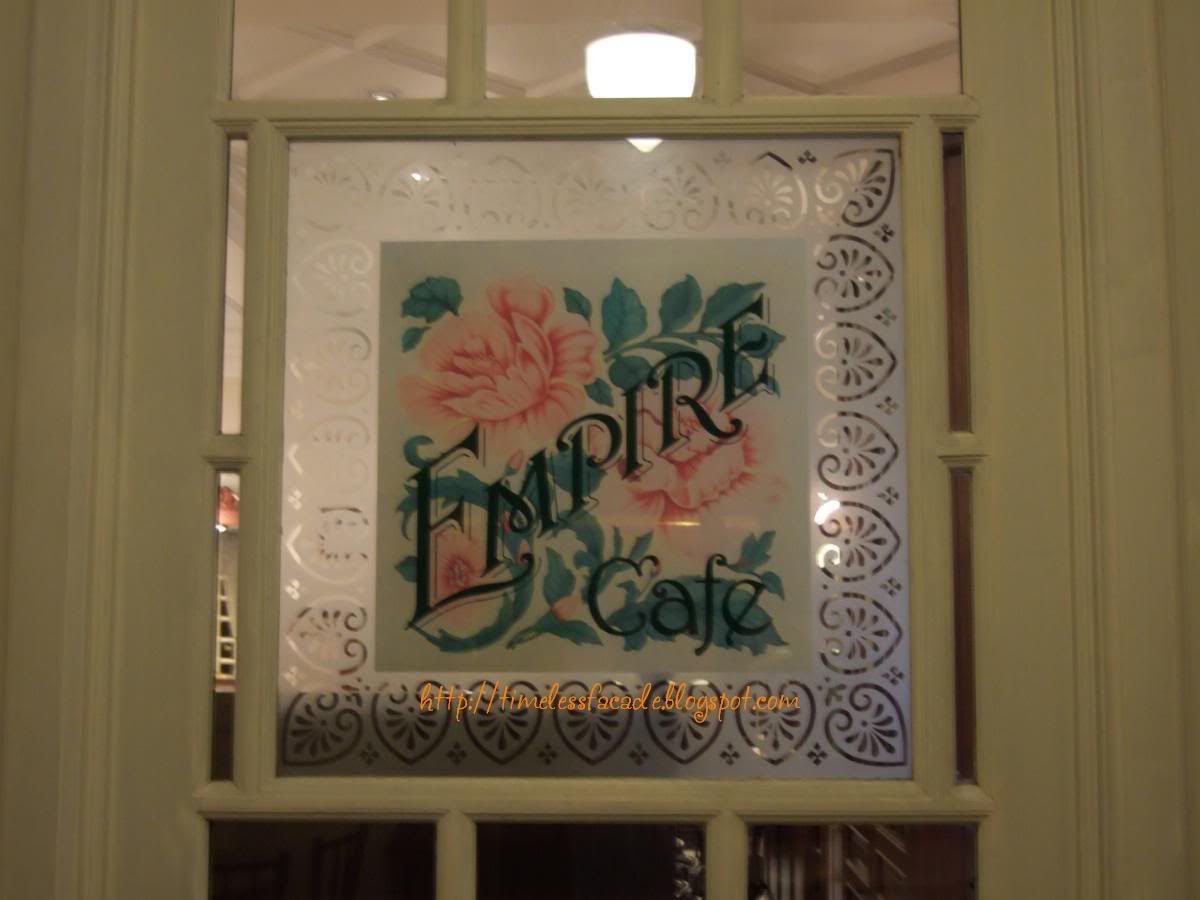 Dropped by Empire Cafe with my gf for dinner since we were in the vicinity, didn't fancy spending much on food and Empire Cafe looked pretty crowd free at that time.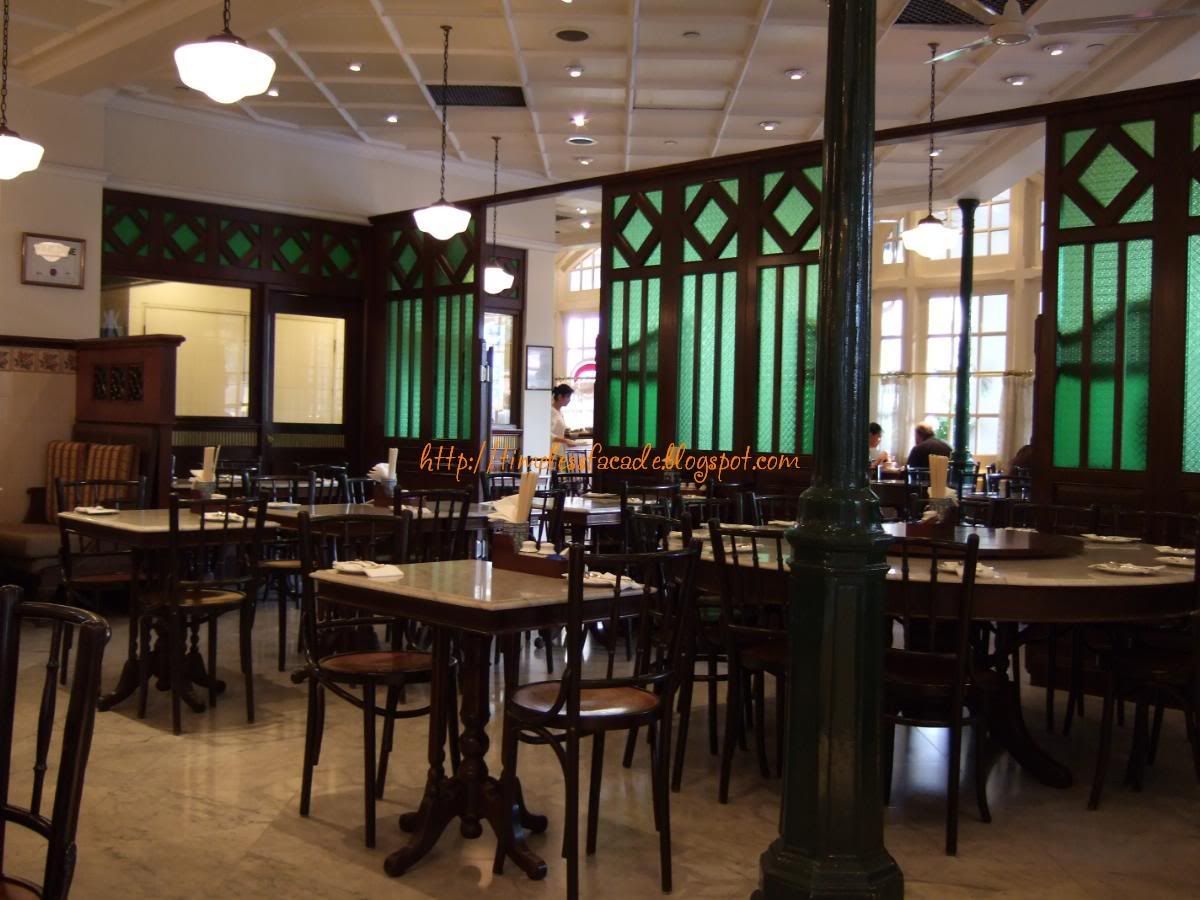 Interior
Sitting right at the corner of Raffles Hotel, Empire Cafe plays home to a nostalgic interior styled to mimic a typical 1920s Singapore coffee house, with air conditioning of course. There's the booth seats, marble floors, granite table tops and wooden chairs, all reminiscent of an era long past and forgotten.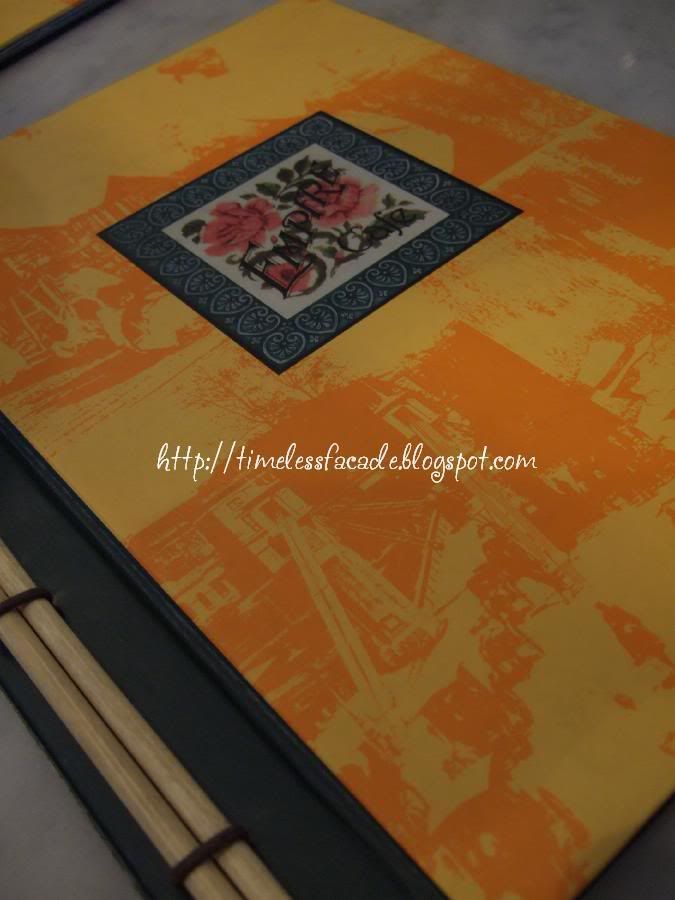 Menu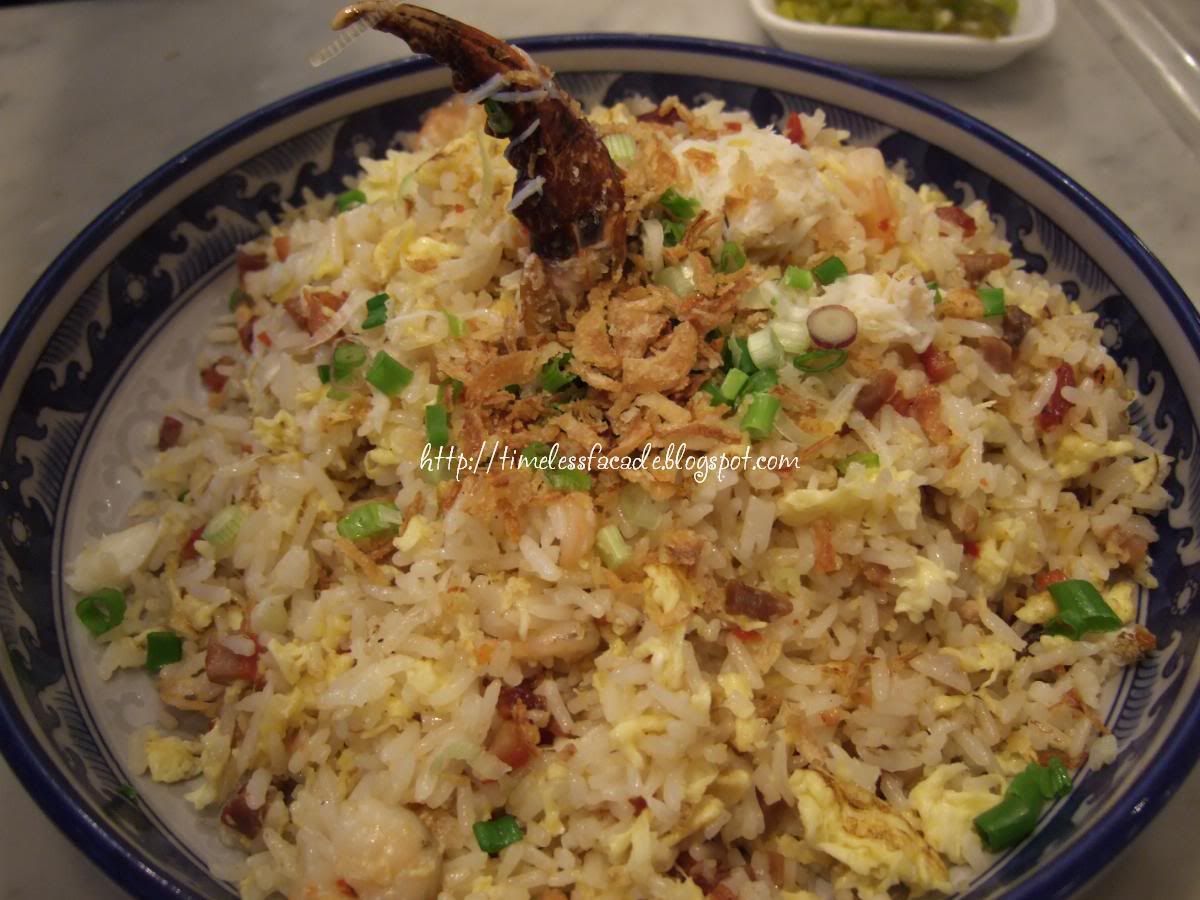 Crab Meat Fried Rice
For $18, the crab meat fried rice was terribly expensive considering its quality and portion size. True, the rice was throughly fried with a noticeable
Wok Hei
taste but it just wasn't tasty enough, coming across as a little on the bland side. The not too generous ingredients didn't help either. Portion size was just a little bigger than your $3/plate fried rice at the coffeeshop. The only consolation was probably the not too sizeable crab claw that came with the rice.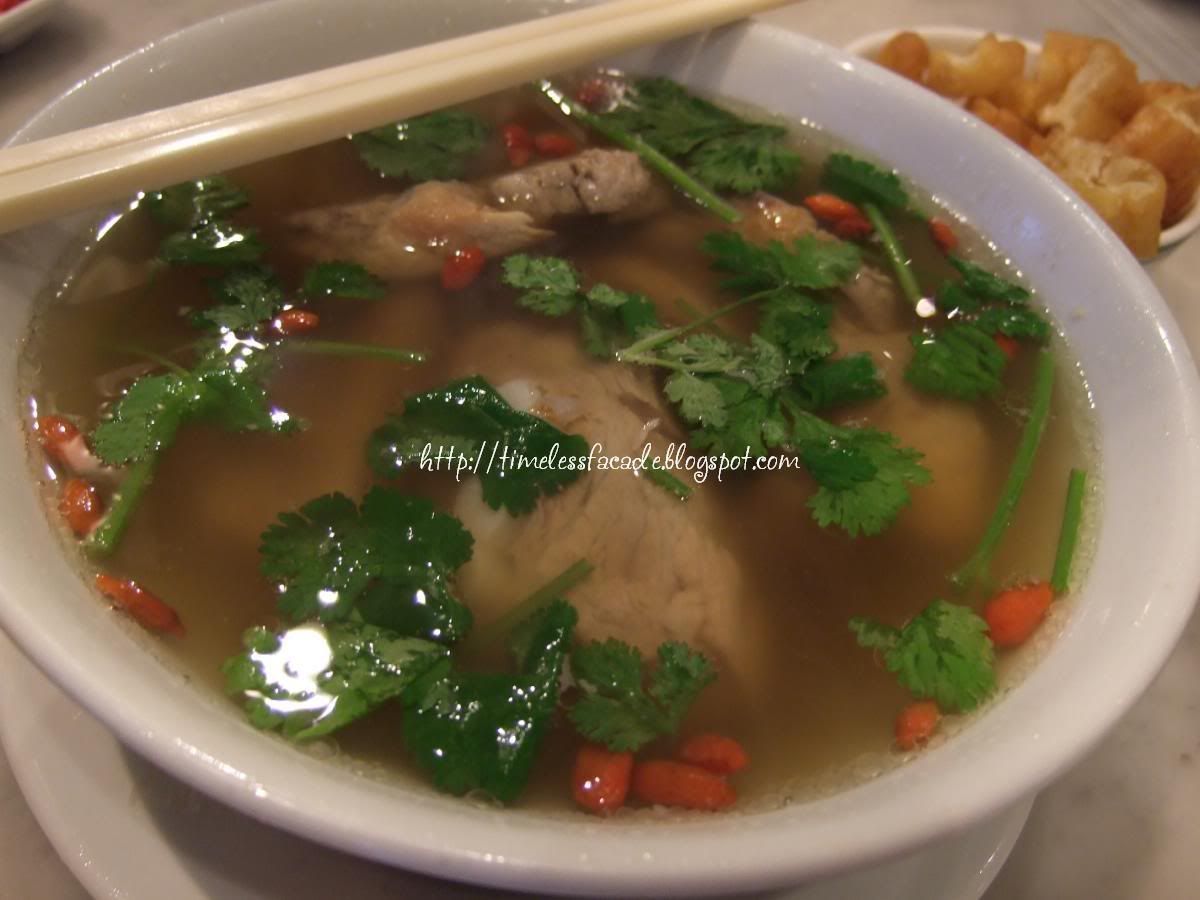 Bak Kut Teh
I really didn't know whether to cry or to laugh when I had a sip of the Bak Kut Teh soup. It was sweet from all the wolfberries that came with the soup. Maybe its just me, but I don't think Bak Kut Teh is supposed to be cooked with wolfberries, is it? At least the ones I've tried so far aren't. Soup aside, the meat was fibrous yet tender and quite a size to boot. All in all, I wouldn't say that this was a bad dish, just that it was different. For me, I didn't like it one bit.


Durian Chendol
What can I say? This dish was as common as it gets. Probably the only up side was the finely shaved ice, which then again can be found in many other places that sell this dish for half to a third of the price.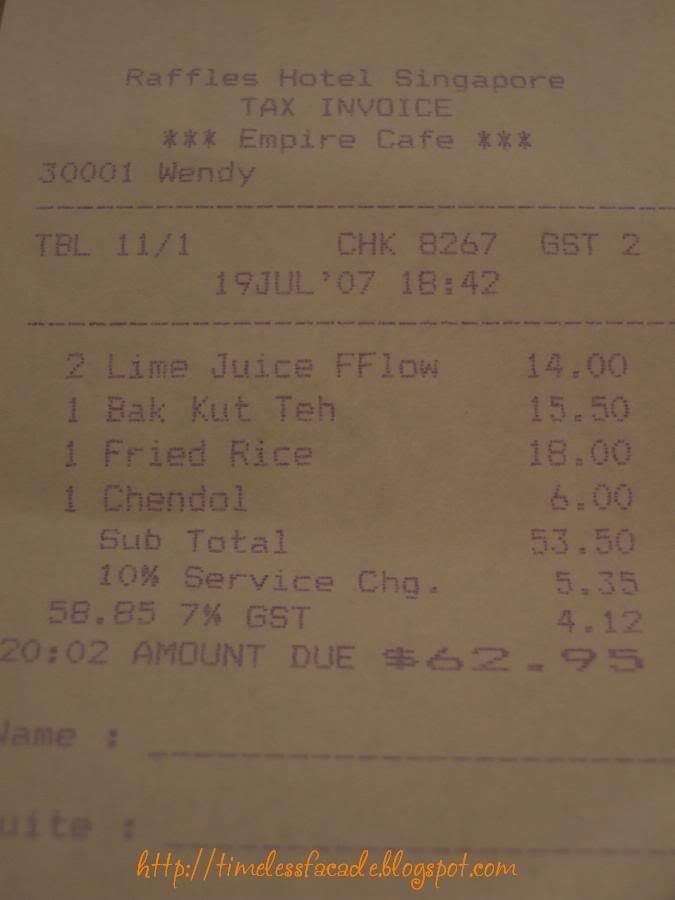 Bill
Can you fathom paying close to $63 for such a meal with 2 glasses of free flow lime juice? I honestly can't and the experience still seems rather surreal as I write this entry. So much for wanting to cut down on our expenditure for the evening. Strangely enough, the restaurant was almost full when we were done - a sign of growing affluence?
Likes: A step back in time decor
Dislikes: Average food, pricey
Final Verdict:
Ambience:7.5/10
Service:7/10
Food:6/10
Value for money:5.5/10

Overall:6.25/10

Address: Raffles Hotel Arcade first floor

Contact: 6412 1101
Opening Hours: 11:00 am to 11:00 pm daily
Website: http://singapore-raffles.raffles.com/z912/restaurant_05.html