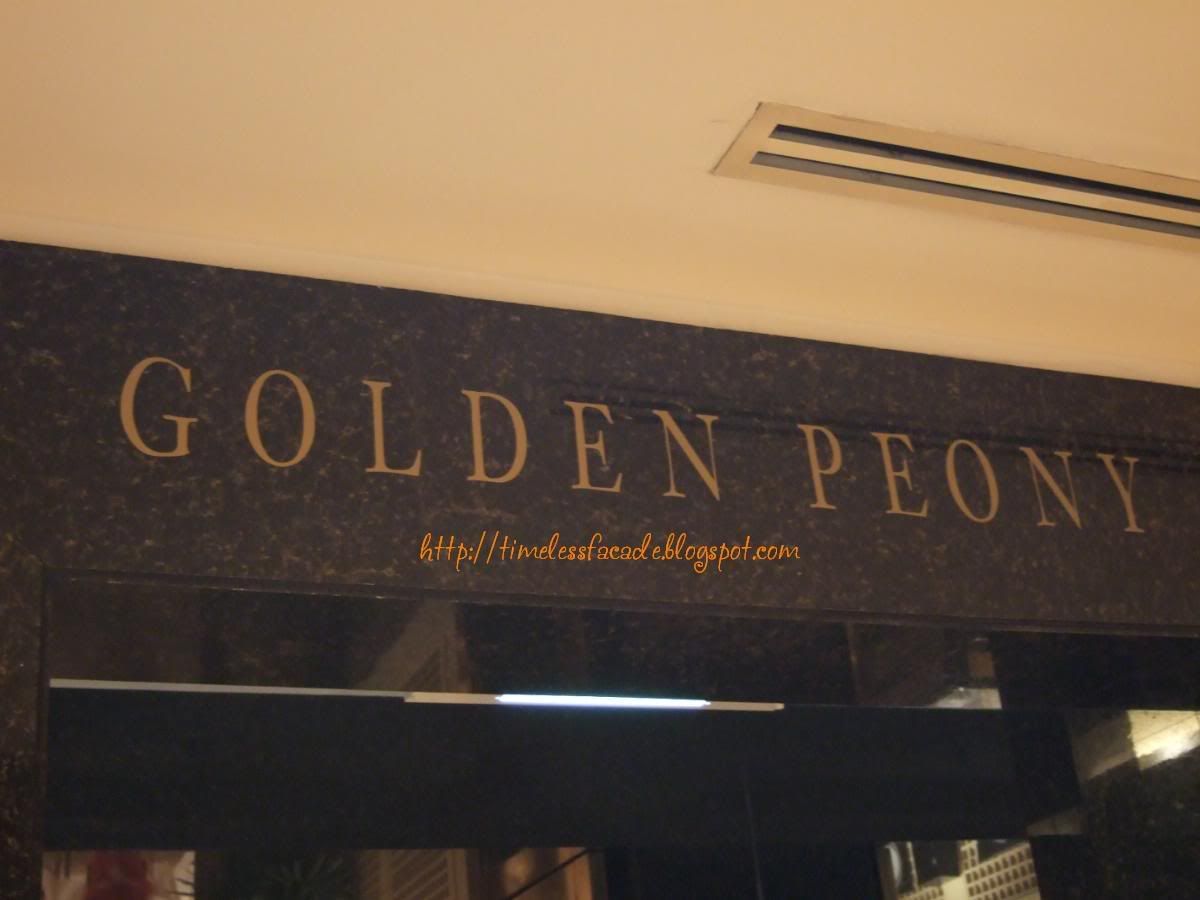 Purportedly one of the top few Chinese restaurants in Singapore that serves Cantonese food, Golden Peony has won numerous accolades and awards over the years for its exquisite food. Weirdly enough, not much has been written or said about it though. To find out if Golden Peony really stood up to its stash of awards, a few of us had dinner there on a late Thursday evening.
Located at Conrad Centennial Hotel just next to Millenia Walk, Golden Peony's interior was reminiscent of Hua Ting's. Everything from the layout to the chairs to the wooden beams were vaguely similar. It's not to say that the interior wasn't nice, just that I wasn't too impressed.
A nice appetiser of cashews nuts coated with sugar started us off. Nothing to special about it though, coming across as something you can buy off the shelves in supermarkets.


Peking Duck
A quintessential dish at every Chinese dinner - the ever versatile Peking Duck, where you wrap the skin up with crepes and have the restaurant cook the meat in anyway you want it. We chose to have it diced up, fried and served with lettuce. The result was a nicely stir fried lump of duck cubes with chestnut to give it that crunchy texture and served up on a lettuce. I did find the meat a little too salty, but the lettuce effectively balanced out the salt level. The only other place where I've had it done this way was at
Min Jiang at One North
, whose rendition was on par with Golden Peony's.
As for the skin, it was crispy and served up with egg crepes, which didn't come across as heavy as I had expected. Light and palatable would be most apt in describing it. Only two gripes though. First, the skin was a tad too oily, as evident by the shimmer on the skin. Second, each of us only got 3 slices of skin. The duck must have been ridiculously small, otherwise can someone tell me what happened to the rest of the skin?!
On a side note, this is the first time I'm seeing a Peking Duck going for a lower price than a Roast Duck. I honestly wonder why.
Tea Marinated Pork Ribs
The general fault with tea marinated or smoked dishes is that more often than not, the taste of tea is lacking. This was the case with the Tea Marinated Pork Ribs. Granted, the ribs were quite a size, tender and savoury from the sweet sauce coated on it, but with no tea taste, it could jolly well pass off as braised pork ribs. Then again, I quite like it, just that the pieces of meat kept getting lodged in between the crevices of my teeth.


Homemade Beancurd with Asparagus & XO sauce
A less than outstanding dish, but decent nevertheless. The beancurd wasn't silky but came across as firm with a pleasant lingering aftertaste. The asparagus was just asparagus, albeit two miserly ones.


Salted Yolk Prawns

This dish seems to be increasingly common in restaurants nowadays. But not many restaurants are able to do it well. Such is the case with Golden Peony. The batter, though light and crispy, was a little too bland for my liking. The prawns were relatively fresh but weren't exactly very sweet. In fact, they had this fresh water taste which turned me off quite a bit.
Lobster Noodles
At $20 a pop, this dish screams plain rip off. For starters, the noodles didn't seem to be of a handmade nature, more of a machine manufactured product actually. They were a little springy, that's about it. The baby lobsters were fresh but weren't exactly meaty and trust me, you get more shell then meat. Not that they tasted very sweet as well.

Tao Huay
Another rip off at $4 for a portion the size of your neighbourhood hawker centre 50 cents Tao Huay. To say the least, the Tao Huay wasn't as smooth as I had expected and the syrup didn't permeate thoroughly, rendering only some parts of the Tao Huay sweet. This definitely pales in comparison to the one I had at
Si Chuan Dou Hua
.
Bill
Sheer disappointment pretty much sums up my thoughts about Golden Peony. I had gone there expecting a fair bit in terms of food quality but left disappointed. Add the fact that the 6 of us chalked up a sizeable bill of almost $473 and you can't help but feel ripped off. Service was generally quite good though. Now heres some food for thought. How did Golden Peony manage to snag so many accolades with its merely above average food?
Likes: Decent ambience, good service
Dislikes: Pricey, food quality is only slightly above average
Final Verdict:
Ambience:7/10
Service:7.5/10
Food:6.5/10
Value for money:6/10

Overall:6.75/10

Address: 3rd Floor Conrad Centennial Singapore

Contact: 64327488