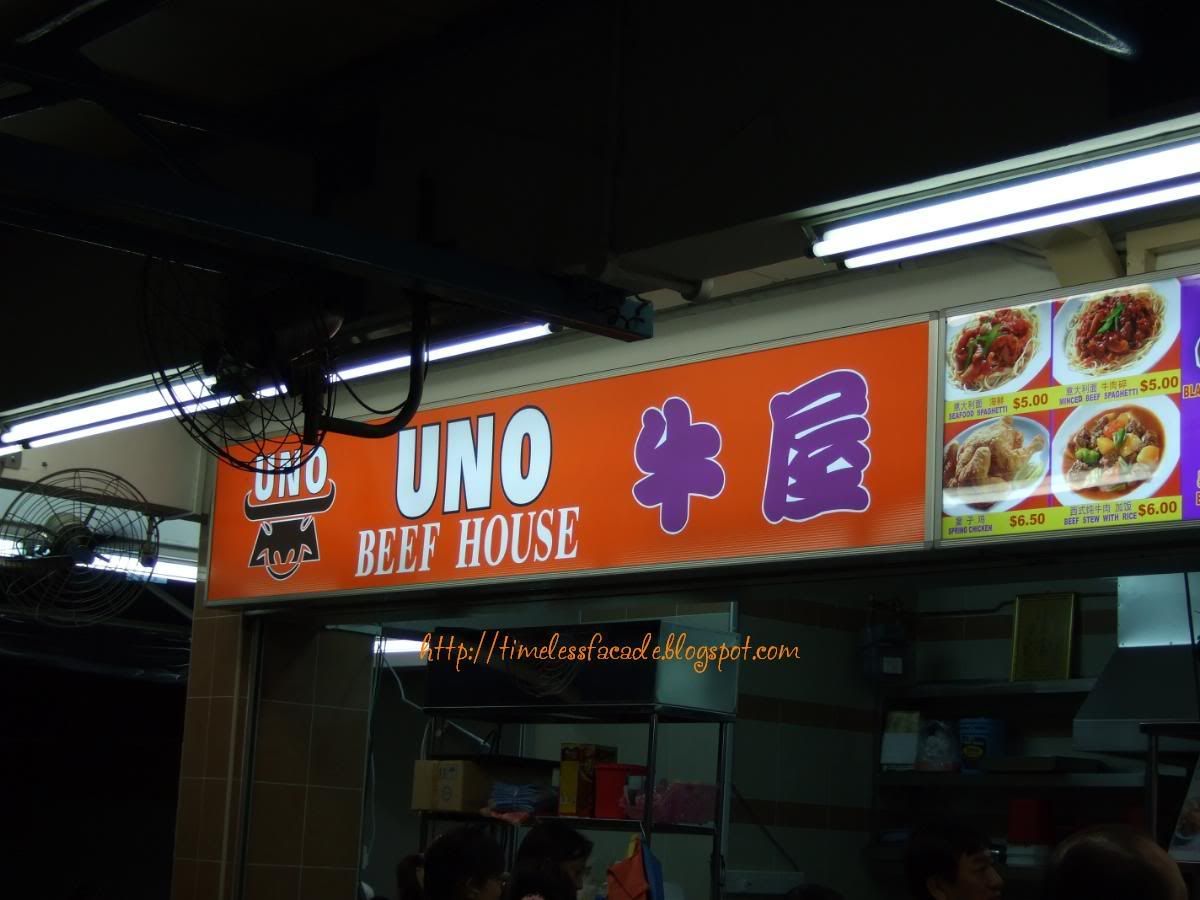 The popular Uno Beef House at Toa Payoh has a new outlet in the western regions of Singapore. Located in a prominent and brightly lit coffee shop along Dover road which runs parallel to the MRT line, it has its fair share of customers as well, but the waiting time here is definitely much shorter than its Toa Payoh counterpart.
Cream of Mushroom
I started off with the Cream of Mushroom soup ($2) which definitely came straight out of the can. There were undissolved chunks of coagulated soup at the bottom of the bowl, indicating a less than thorough stirring process. Having said that, I certainly didn't expect them to make their own mushroom soup, not for $2.


Pork Chops
My gf had the pork chops ($5) which was quite good. Chewy yet not too dry or tough, with lots of savoury made from scratch gravy to go along. Portions were decent, but definitely not sufficient for a glutton like me.
The purported star of the evening (they are called Uno
Beef
House for a reason), the tenderloin steak ($10), was served up medium rare as per my request. The meat was very well done, succulent and a little chewy but lacked the sweetness of really good tenderloins. The mushroom sauce was quite decent too, with slices of mushroom and onion in it. I would have liked a more robust sauce though.
Here comes the real star of the evening, the side of a single Potato Ball which was served alongside a small tomato. It had a buttery taste to it and reminded me very much of eating pineapple tarts minus the sweetened pineapple of course. Texture wise was also good, not too mashed up or soft. I wonder if the Potato Balls are available on their own.
In summary, I like this place and will definitely be back to patronise. Its definitely in the league of
Astons
for steak and considering the amount of hype that
Astons
has been getting, I rather stick to Uno.
Rating: 7/10
Address: 19A Dover Cresent (Branch) & Blk 51 Toa Payoh Lorong 6 (Main)