In recent years, many food outlets claiming to sell restaurant quality western food at coffeeshop prices have sprung up in the heartlands across Singapore. Think
Aston's
and
Botak Jones
. Western Chow is the latest contender to have jumped on the bandwagon.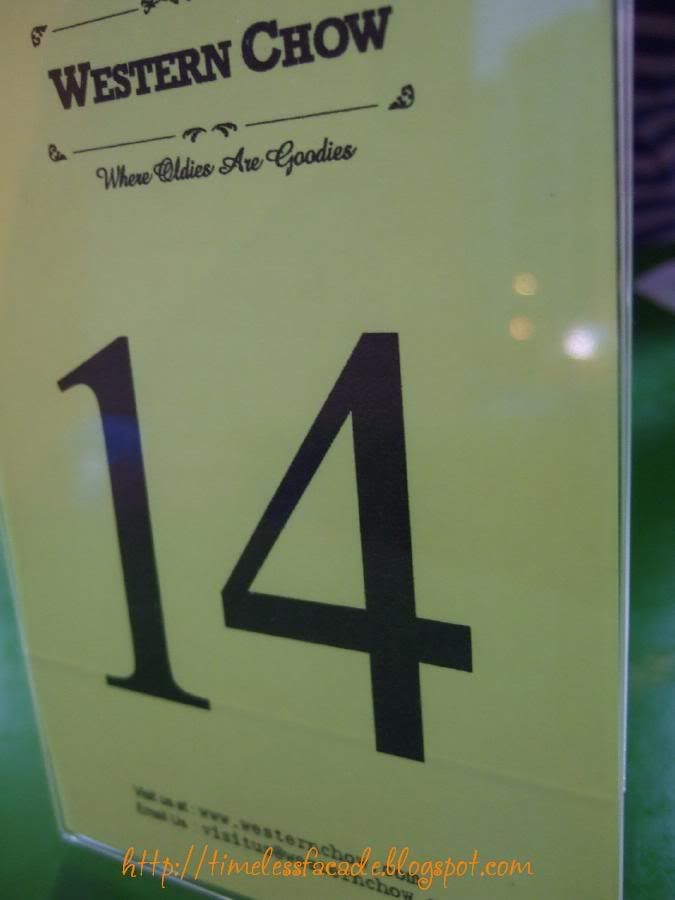 Opened just barely two weeks ago, Western Chow is hidden at the corner of a secluded coffeeshop just off Lorong Ah Soo. The system of ordering is simple. You make your order at the counter, pay up and you will receive an order number (as shown in the picture above). Take the number and sit anywhere you want and you will be served shortly.
Ribeye Steak ($14)
I had my ribeye medium rare and it came looking a shade of red, indicating its over doneness. That aside, the beef was way too soft, hinting of a possible use of tenderizer or "Peng Seh" as my parents term it. The beef had no bite whatsoever and no natural beef taste, masked by the overpowering black pepper sauce. Its really a sheer waste of such a good cut of beef.


Chicken Chop ($5.80)
As with the ribeye steak, the chicken chop was soft and a didn't really hold up to much chewing. I liked the sauce though, BBQ square with a dash of pepper. Having said that, the sauce alone wasn't enough to salvage the chicken chop. A pity really.


Namecard
The 3 of us spent $33.80 in total, which was relatively expensive given the below average quality of food. To give them credit, all of the staff were very friendly. I certainly hope they will do something about it before they start losing customers. Oh and if you do ever patronise, please sit along the fringes of the coffeeshop or risk smelling like cooked food when you are done due to the fumes from the Char Kway Teow stall.
Rating
: 6/10
Address: Blk 134 Lorong Ah Soo #01-454
Website: http://www.westernchow.com/