Had our monthly group dinner at Bonta last evening. Opened in April this year and helmed by chef Luca Pezzera, who was formerly the executive chef at Hotel Intercontinental, Jakarta, Bonta has been garnering rather rave reviews with regard to its food and service, hence making it our choice of restaurant for the month.
Interior
Located along the outskirts of UE Square just opposite Double O, Bonta boasts a modern chic outlook coupled with warm colours, ambient lighting and soothing pipe music to give it that cosy and relaxed feel. There's also a semi private room for a few couples on the second floor complete with a showcase wine cellar for a more romantic rendezvous. However, do note that the room is all glass, so people can see you from the ground level. And in case you are wondering, Bonta is relatively small, with a sitting capacity probably maxing out at about 30 people or so.


Menu


Complimentary Bread
The complimentary bread deserves a writeup devoted entirely to itself. Why so? Because its simply the best complimentary bread I've ever eaten so far (not that I've eaten alot though). The bread came served piping hot in a longish cup and when sliced open, emitted a fragrant and alluring aroma. Crispy on the outside yet soft and fluffy on the inside, the the pockets of cheese and walnuts within served to enhance its taste and bite. Really a most delightful bread. I understand that takeaway for the bread is available at $8/loaf for those who are interested (and can afford it). For cheapskates and financially struggling people like me, there's always the complimentary option.

Starters
Trout Crab Meat Rolls & Pan Fried Goose Liver
I didn't get a chance to try out the trout rolls but I did have a go at the goose liver or Foie Gras as some people might know it. The liver was pan fried till a little crisp on the exterior yet retaining its softness within. Taste wise was pretty good, with the raw taste of liver subtle and a slight hint of smokiness. However, I did find the aftertaste a little too strong for my liking. Also, the liver wasn't as quivery as I would have expected it to be, falling short of the standards set by
Ember
and
Il-Lido
.
Oven Baked Australian Scallops
At $22, this dish was really expensive given that only 4 pieces of scallops were served. However, money aside, it was just a just a little short of excellent. The scallops were quite a size and came served with their shell. Pop one into your mouth and enjoy the sweetness of the scallops with the accompanying Hollandaise sauce. To best enjoy this dish (in my personal opinion), you have to consume the whole thing - lock, stock and barrel (minus the shell of course) at one go.

Mains
Homemade Angel Hair, Spaghettini, Atlantic Cod Fillet & Roasted Mediterranean Seabass Fillet
I didn't try enough to comment on the above dishes. However, the general consensus was that none of the dishes were exactly up to the mark. One thing for sure though, the pan fried risotto that came with the seabass was terrible though, hard on the outside and mushy on the inside. That I did try!

Ravioli with Goose Liver & Black Angus Beef Sirloin Tagliata
Had a piece of the ravioli to try courtesy of LSD and didn't find it fantastic. I could barely make out the taste of the liver as it was almost entirely masked by the creamy sauce base. My beef fared slightly better though. It was served as requested, medium rare and nicely grilled for that subtle sweetness and char grilled flavour. However it did come across as a little weak on the natural beef taste, which was a pity really. On a side note, the accompanying Porcini mushrooms had this weird taste which neither LSD nor I could stomach.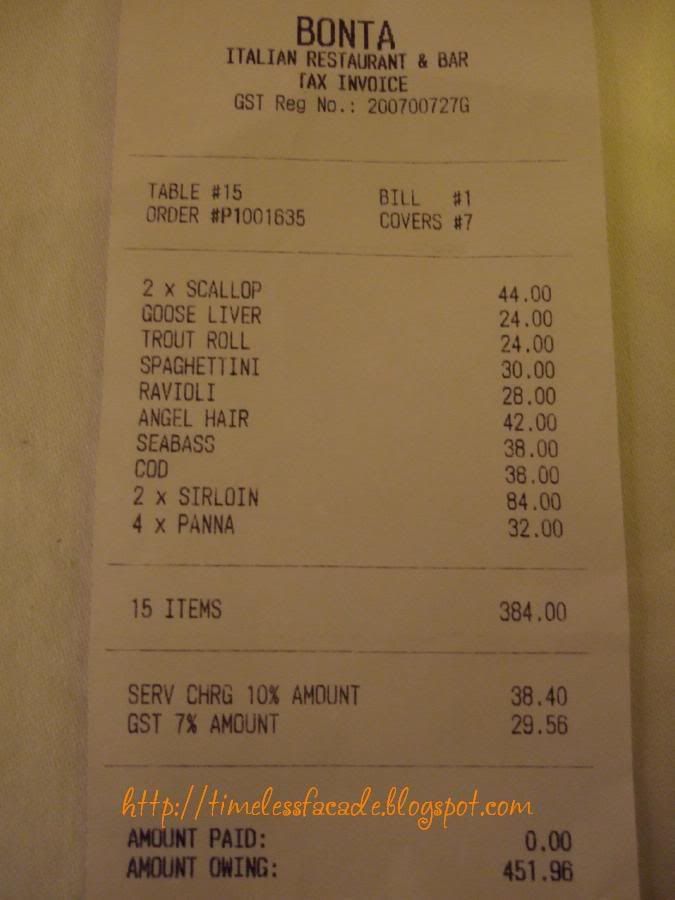 Bill

Disappointment. The icy cold word that pierces through your heart. That was the exact emotion all of us were feeling after the dinner. It was so bad that none of us had the heart to order any desserts, preferring to head down elsewhere. Service was good and attentive except for one major blip. They got one of our orders wrong twice. In the end, my friend had to settle for something he didn't order, which really marred the entire experience for him.
The 7 of us forked out $451 for a totally unsatisfying dinner, be it quantity or quality wise. Will I be back? I'll toss a coin and let you know, but chances are, no.
Likes: Nice place, good service generally
Dislikes: Pricey, average quality food
Final Verdict:
Ambience:7/10
Service:7/10
Food:6.5/10 (7.5/10 for the scallops)
Value for money:6/10

Overall:6.625/10

Address: #01-61 UE Square, 207 River Valley Road

Contact: 63338875
Opening Hours: 11.30am - 2.30pm, 6.30pm - 11pm daily