Its been a while since I last ate at Ellenborough Cafe, probably about 3 years or so. Just for the record, Ellenborough used to be the buffet venue of my choice when they still were charging something to the tune of $26/pax for dinner. Had the opportunity to revisit when one of my friends initiated a get together dinner there (It helped that she could get a 50% discount as well).
Well, since I dislike buffets and I am rather inapt at doing a writeup on it, I shall leave it to my amateur photographs to tell the story. Please pardon my photos, both quality and quantity wise, as it was a bad field trip for me.

Dessert Counter

Outdoor Counters


Shark's Fin Soup & Durian Pengat

Honestly, I think the standard of the food has gone south while the prices have steadily gone north. The shark's fin soup used to be decent but now its just a bowl of salty watered down starch serving with a couple of strands of shark's fin. The famous Durian Pengat, which used to have me going back for more (think 5-6 helpings), is now ridiculously sweet and diluted. Variety of food has stayed constant and I'm pretty sure that they have been serving up the same few dishes throughout the years. The additional outdoor counters are only there due to the restaurant having some anniversary promotion and even then, the food is really not up to the mark.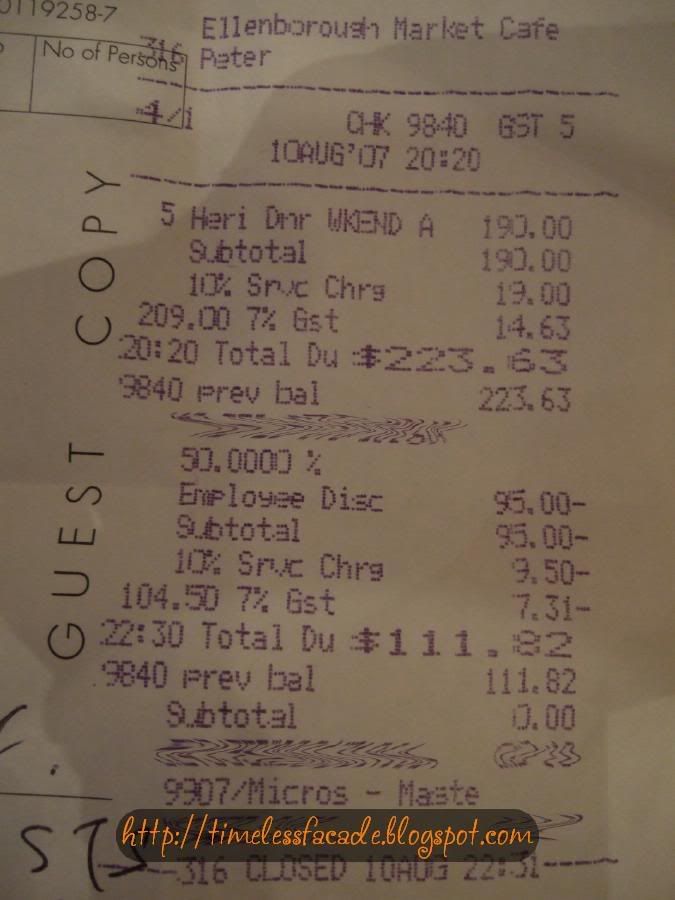 Bill
$223 for 5 pax (before discount) is pure madness for some common and average tasting fare. However factor in the 50% discount ($22/pax) and it will probably be worth it. No prizes for guessing if I'll be back.



Likes: Its a buffet!
Dislikes: Pricey, average food, average spread

Final Verdict:
Ambience:7/10
Service:7/10
Food:6/10
Value for money:6/10 (without discount)

Overall:6.5/10

Address: Merchant Court Hotel, 20 Merchant Road

Contact: 63372288

Opening Hours: Noon to 2.30pm, 6.30pm to 10pm daily