Hillman restaurant, or 喜临门大饭店 in Chinese, has been around since the 1960s and they are unabashed in displaying their rich heritage with blown up photographs of the good old days. Formerly located at Cantonment Road, they have since shifted (a few years back) to Jalan Besar and opened up a sister restaurant by the name of Manhill Restaurant (how innovative) at Pasir Panjang.
2nd floor interior
Inconveniently located along Jalan Besar Road just a few doors down from
Pu Tien
, getting there can pose quite a challenge for people unfamiliar with the area. If you are driving, it will be even more of a headache as parking lots are far and few. Strangely enough, this place seems to be very popular with Japanese folks for some reason beyond me.
Menu


Chicken in Paper Bag

A must have dish whenever I visit Hillman, the Chicken in Paper Bag aka
Zi Bao Ji
was very well executed with the chicken well seasoned, measuring in the right amounts of salt and sugar. The meat burst with flavoursome juices with every bite through the tender chicken meat. I'm not one to exaggerate, but this is probably one of the best
Zi Bao Ji
there is in the market now. Only downside to it was the difficulty in trying to seperate the chicken from the paper and of course the copious amount of oil involved.
Bright Stars Pot
Hillman has long been renowned for its claypot dishes or better known as
Sar Poh
. We ordered the Bright Stars Pot aka
Yi Ping Wor
which had a grand total of 8 different types of food in it. Namely mushrooms, chicken, pork, prawns, squid, carrot, vegetables and fried fish slices. Now thats a lot of variety in one dish and this is definitely one of the better claypot dishes I've ever had in Singapore with the food soaking in the essence of the wonderful gravy.
Sliced Fish with Kai Lan


The Kai Lan looked a little tired when it first arrived, probably due to overcooking. However, it surprised us with its crunchiness and light smoky taste. The accompanying fish slices were very decent, chewy and not too soft.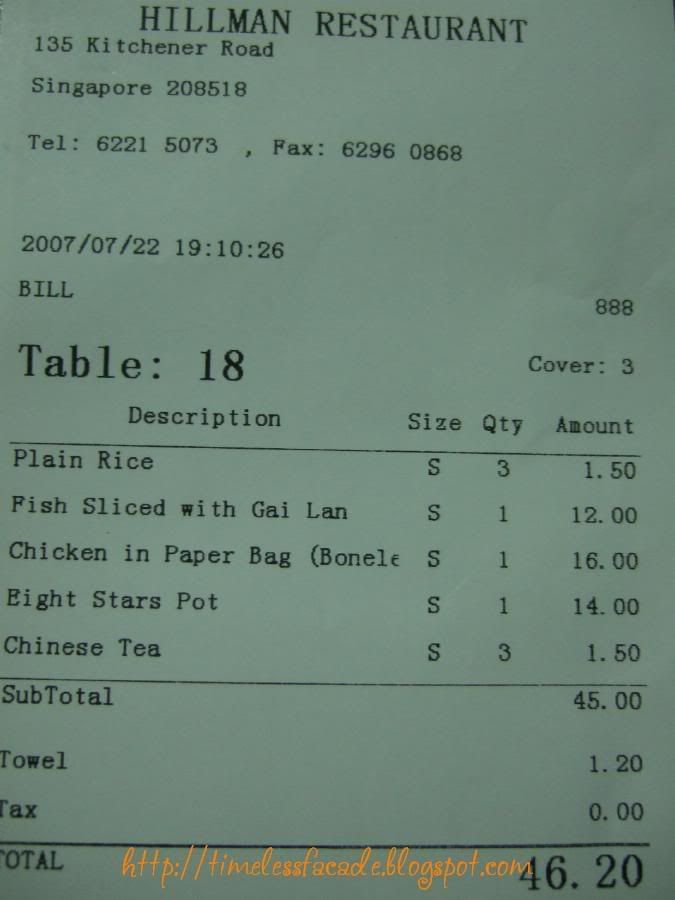 Bill
A great dinner for 3 pax set us back by about $46, which isn't too expensive really considering the quality of food. A pity it was rather quiet for a Sunday night probably due to its location and the spotlight its more prolific neighbour,
Pu Tien
, is enjoying. Just a warning, do not expect good service from this place though (Its still decent though).
Likes: Good food, not expensive
Dislikes: Service can be improved, bad location
Final Verdict:
Ambience:6.5/10
Service:6/10
Food:7.5/10 (8/10 for the chicken)
Value for money:7/10

Overall:6.75/10

Address: 135 Kitchener Rd

Contact: 6221 5073
Opening Hours: 11.30am - 2.30pm, 5.30pm - 10.30pm daily