Had dinner with my gf and her family at Manhill Restaurant, sibling to the renowned
Hillman Restaurant
at Kitchener Road. One interesting point to note is that both places are owned by the same family and have exactly the same menu.
Exterior & Interior

Located along Pasir Panjang Road, Manhill is hard to miss with its huge neon lighted signboard screaming its presence to passing motorists. Its really hard to imagine a restaurant located at such a nondescript place where housing developments are minimal and factory buildings aplenty. Its even harder to imagine such a huge turnout at the restaurant during the weekends, which essentially means that reservations are almost necessary and mind you, the place can sit close to 100 people! (my estimate).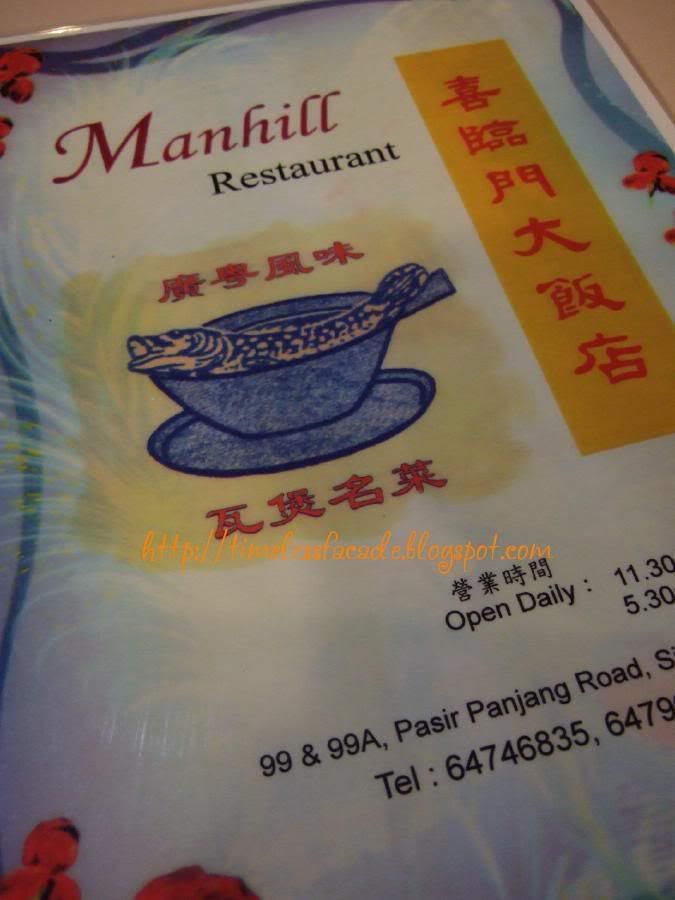 Menu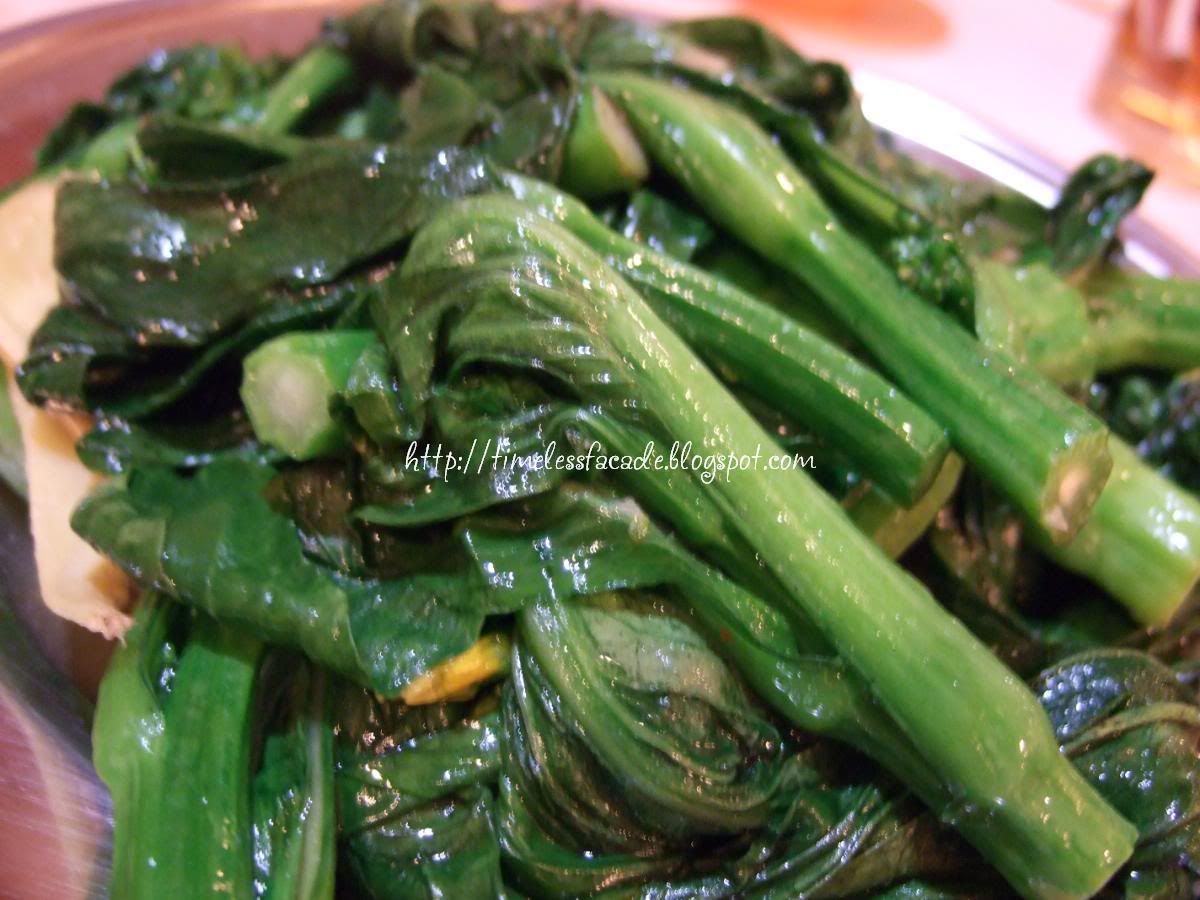 Chye Sim in Oyster Sauce
A very normal dish. Decent but not fantastic. The vegetables did come across as a tad too soggy though and the oyster sauce seemed a little runny.


Chicken in Paper Bag (Boneless)
As with the
Zi Bao Ji
at
Hillman
, this was excellent. Well marinated and cooked to perfection - tender meat with simmering juices encapsuled within the paper bags. Just watch out of the price because it certainly doesn't come cheap.
Crab Meat with Beancurd

An average dish and nothing more. The crab meat was plentiful but of inferior quality and the beancurd was your run off the mill kind.
Pot Roasted Pork with Sea Cucumber
As mentioned in my entry on
Hillman
, claypot dishes are a specialty at both
Hillman
and Manhill and rightly so. The Pot Roasted Pork with Sea Cucumber was hot favourite with the sea cucumber being soft yet retaining its firmness and the gravy tasty with all the goodness from the sea cucumber and roasted pork. The roasted pork was a little too fatty for my liking though.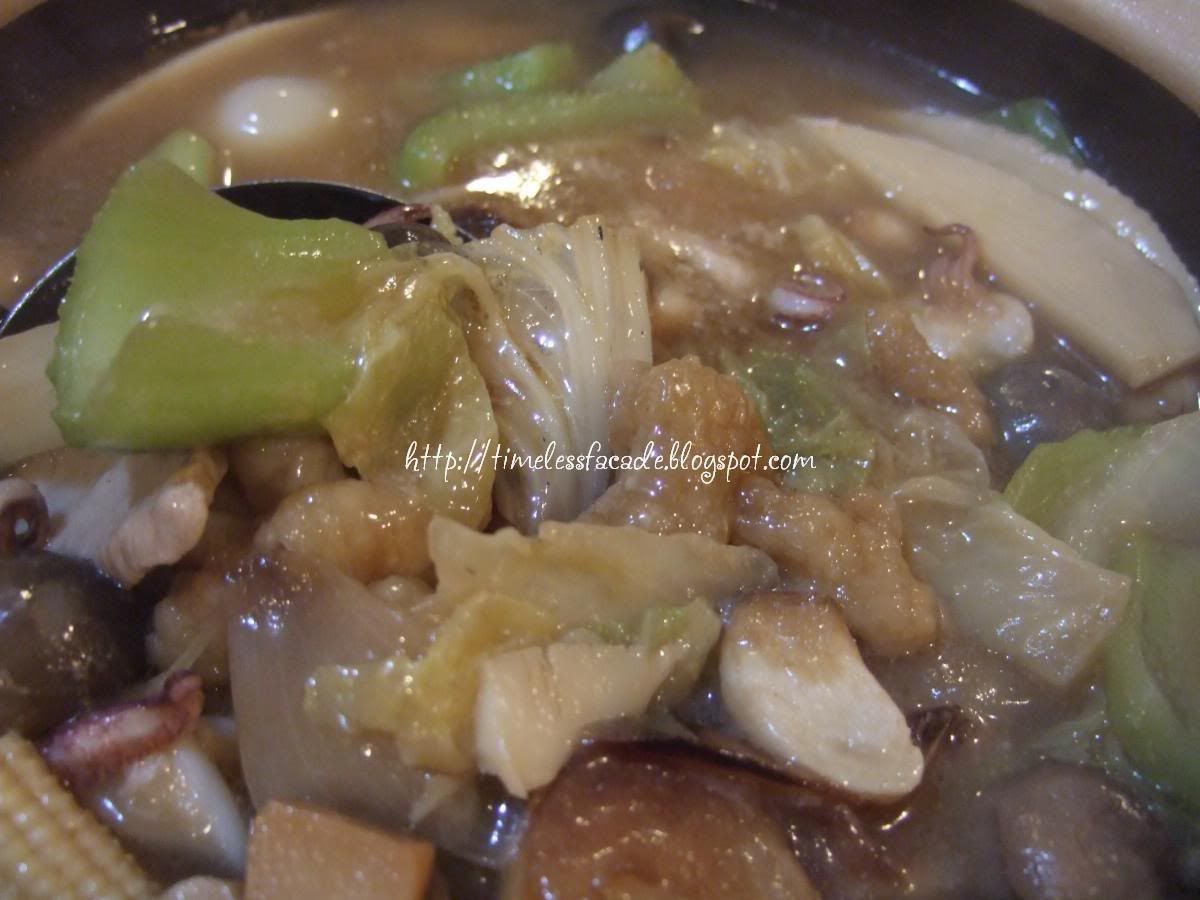 Eight Stars Pot
See
here
for my writeup on this dish. Sorry but I'm being lazy here.
Fried Pork Ribs in Chinese Style
The young chap (who I presume to be the owner's son) was promoting this dish as one of the signature dishes of Manhill, apart from the Chicken in Paper Bag and I should have slapped myself for listening to him. The texture of the pork ribs was a little too soft and moist for my liking and came across as too sweet. And I wasn't the only one who thought so.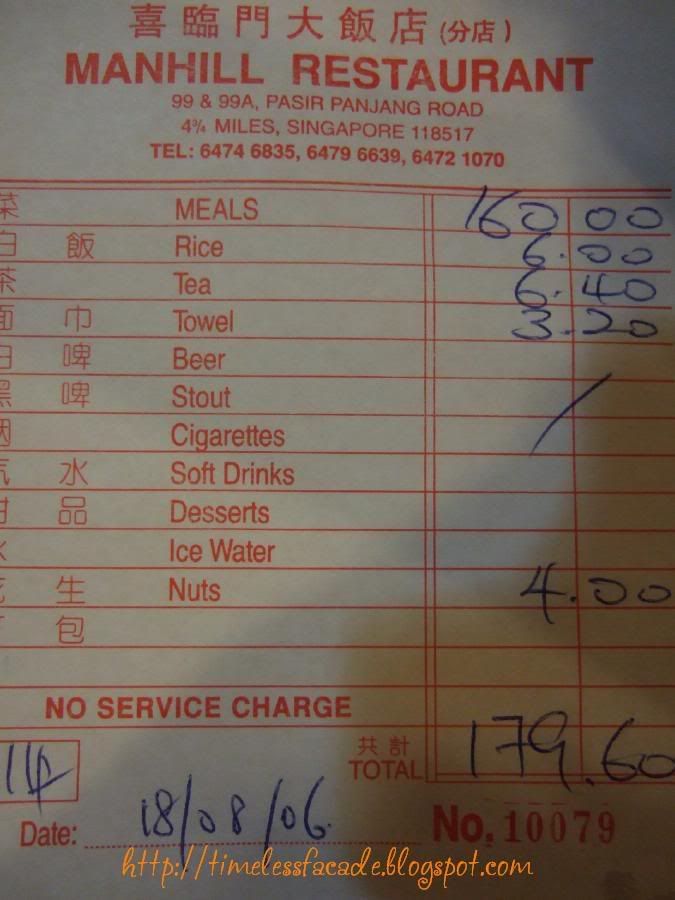 Bill
We were stuffed up, all 9 of us. Best thing was, it only cost $180. A reasonable price to pay for the quantity and quality of food, if not for the finger licking good chicken and claypot dishes. However I reckon
Hillman
edges Manhill slightly out in terms of food quality. And its much emptier as well.
Likes: Above average food, inexpensive
Dislikes: Inaccessible location, poor ventilation
Final Verdict:
Ambience:6.5/10
Service:6.5/10
Food:7/10 (8/10 for the chicken)
Value for money:7/10 (without discount)
Overall:6.75/10
Address: 99 Pasir Panjang Road
Contact: 64746835
Opening Hours: 11.30am - 2.30pm, 5.30pm - 10.30pm daily