Mention Italian restaurants and Senso, Garibaldi, IL Lido etc come to mind almost immediately. These are a few the big players in the Italian dining scene and most people would have probably heard of some, if not all of them. However, these restaurants only form one half of the spectrum - the fine dining portion. The other half, which is the casual dining portion, is made up of restaurants relatively unknown to most people (I happen to fall into this category). Here's where Romano Ristorante comes into the picture. Branded as a casual Italian restaurant (the first I've seen), Romano is wedged between a row of shops in the sleepy estate of Thomson Hills.
Interior
The casual branding is obvious the moment you step into the restaurant. The place looks more like a pizza house with its wide walkways, rough granite floors and homely atmosphere. To complete the picture, the solitary waitress is dressed up in a polo t shirt and a pair of jeans. Pets are allowed as well!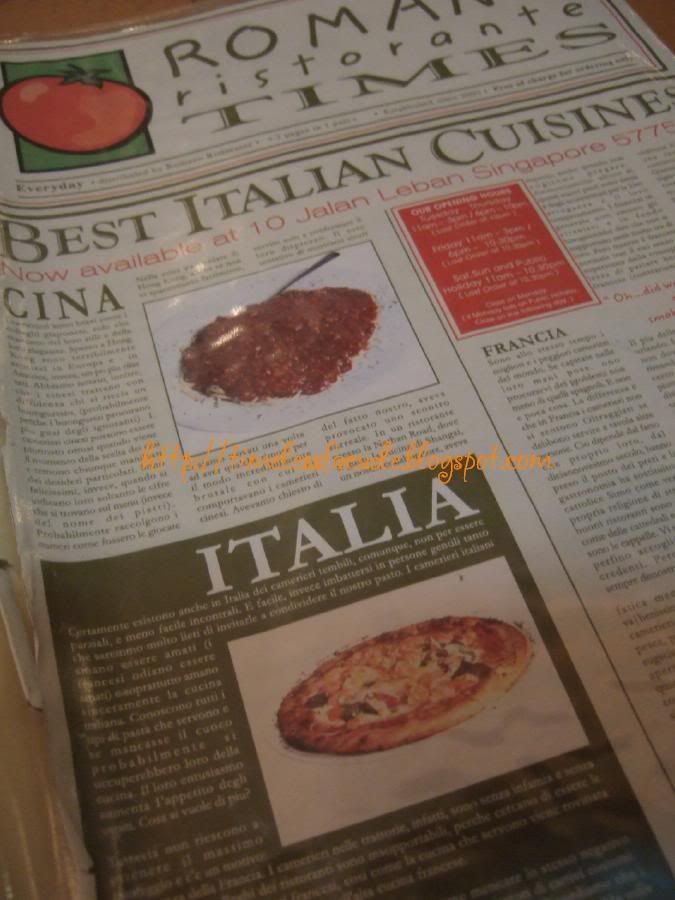 Menu


Bruschetta
The Bruschetta was a little different from the usual ones that I've come across. Interestingly, the base was garlic bread and the diced tomatoes were loaded on top after the garlic bread had been toasted. Surprisingly, the bread was really well made, soft and fluffy on the inside yet retaining a little crisp on the outside. Very unlike normal garlic bread which tends to be hard along the edges. In case you are wondering if the combination of garlic and tomatoes go well, let me assure you that it does. The garlic taste was rather faint and not the least bit overwhelming, complementing the sweetness of the tomatoes. Only gripe I have about the Bruschetta was that the tomatoes didn't really look very fresh and wasn't as juicy as I had expected.


Calamari
The calamari was coated with too much batter, rendering it a little too greasy from all the deep frying. The squid was chewy but the batter made me sick after a few mouthfuls. Luckily, the watered down tomato puree was nice and tangy without coming across as too strong, providing the sole consolation for this dish.


Chicken Milanese
I was a little disappointed by the Chicken Milanese to say the very least. Coming as a recommendation on the menu sort of raised my expectations a little higher. With all its seemingly wonderful preparation methods and ingredients, it tasted nothing more than a slab of chicken breast meat wrapped up in egg. Aesthetics wise, it portrayed a very messy image when I first set my eyes on it, with its myriad of not too pleasing colours. Very palatable, but not something I'll order again.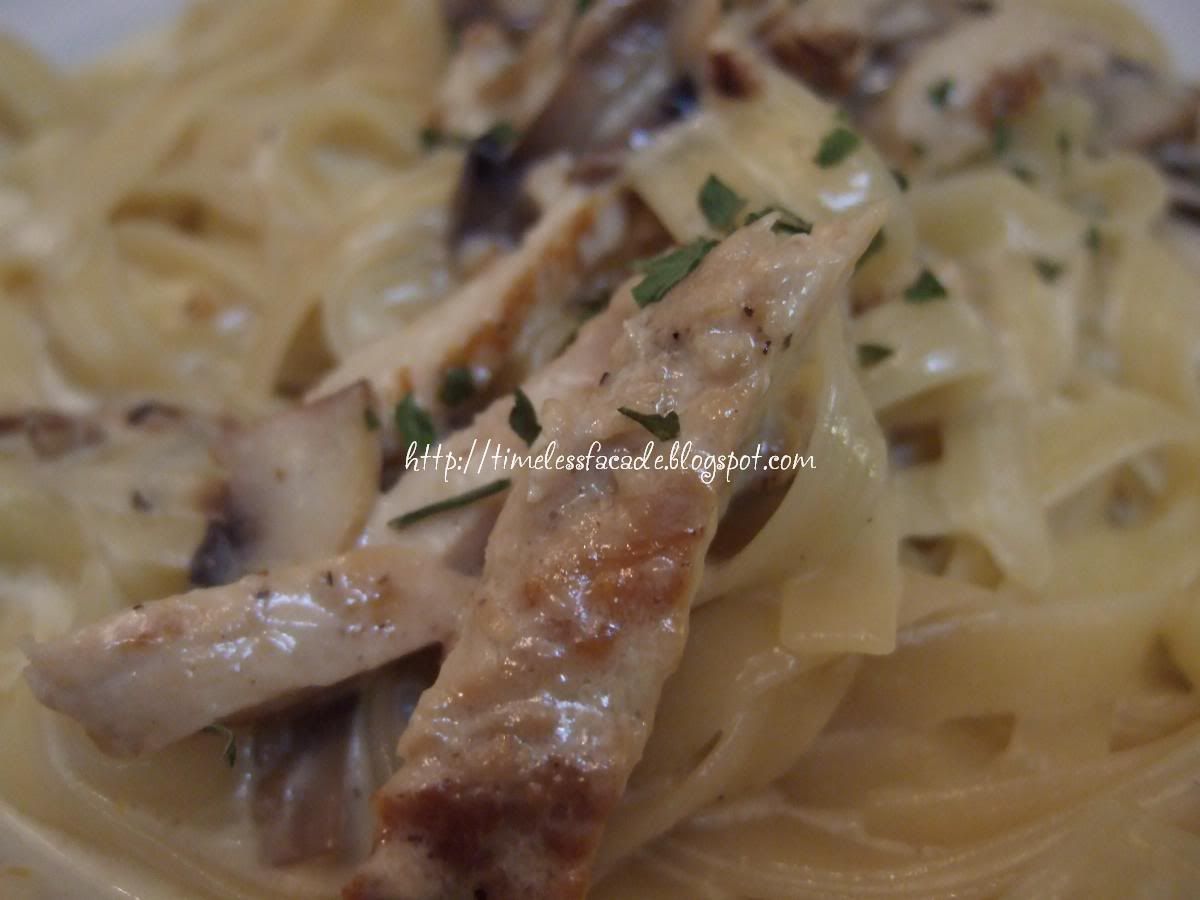 Fettuince Pollo E Funghi
An above average dish, but could have been better. The Fettuince was a wee bit too cooked (about four fifths instead of the three quarters rule of thumb) but the cream sauce was thick and tasty without being too rich. The chicken slices were nicely seasoned and grilled but was a tad too salty.


Tiramisu
I don't really fancy Tiramisu and Romano's rendition wasn't about to change my preference though I must comment that it was one of the better ones that I've tried. I personally liked it for its fluffiness and lightness on the palate. The cream to sponge ratio was quite balanced out which made eating it rather enjoyable.


Oreo Cheesecake
I'm sure the humble Oreo Cheesecake was never a staple Italian dessert but more of an addition to suit local tastebuds. After all, not many people can say no to an Oreo Cheesecake. Romano's offering was a little sticky yet not coming across as too cheesy. Pity about the soft Oreo wafer base though, which resulted in a loss of overall texture and form.


Bill
Plenty of homely and comforting grub for 2 pax, all for just $61, which is very worth it in my opinion. Throw in the fact that the environment is laid back, service is warm and there is no dress code and I'm a regular. Sure, the food is neither top notch nor fine, but what Romano lacks in finesse, it more than makes up for with heart. Having said that, they need to work on some of their dishes though, maybe tweak their recipes a little?
Likes: Filling portions, not expensive, decent Italian food
Dislikes: Rather secluded, some items are merely average
Final Verdict:
Ambience:7/10
Service:7/10
Food:7/10
Value for money:7/10
Overall:7/10
Address: 10 Jalan Leban
Contact: 64536818
Opening Hours:
Tues - Thurs
11am - 3pm (Lunch)
6pm - 10pm (Dinner)
Fri & Eve of Public Holiday
11am - 3pm (Lunch)
6pm - 10.30pm (Dinner)
Sat, Sun & Public Holiday
11am - 10.30pm
Closed on Mondays