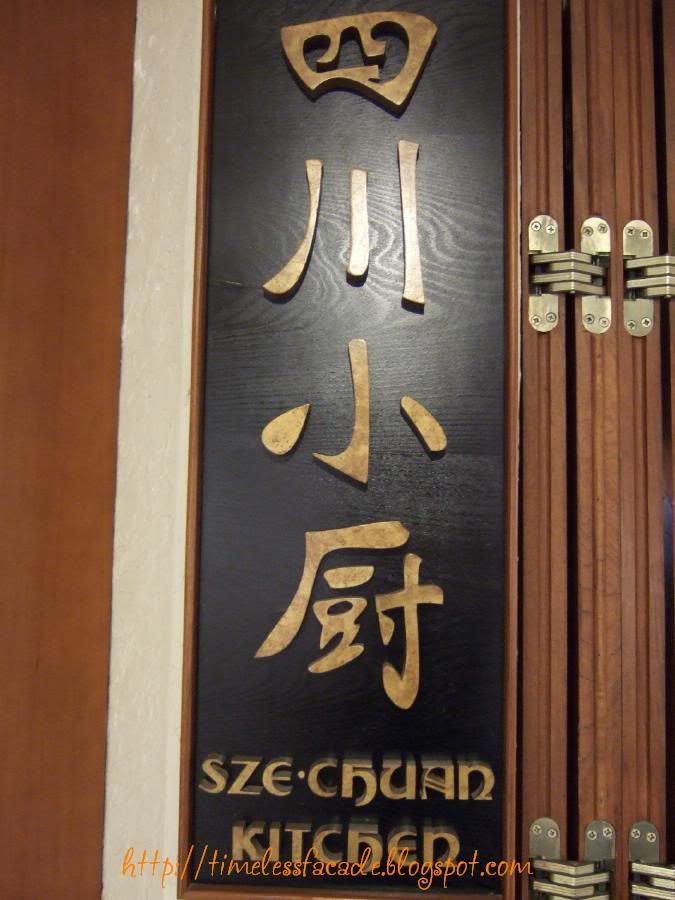 Was on leave on a Friday so dropped by Szechuan Kitchen with my colleague (who also happens to be on leave) for some dim sum since we were in the vicinity. Szechuan Kitchen is not to be confused with
Szechuan Court
, which I had the privilege to dine in sometime back. Szechuan Kitchen serves up dim sum and other simple dishes whereas
Szechuan Court
serves up exquisite Cantonese fare at a relatively higher price of course.
Table
Tucked away on the third floor of Raffles The Plaza and just next to
Szechuan Court
, Szechuan Kitchen very much resembles a small teahouse with its wooden furniture and paneling. Not that I'm complaining though. The teahouse look gave it a humble and down to earth feel. Only quirk was its table placement, which had a passageway in the middle for passers by to walk through.
Deep Fried Prawn and Banana Wrapped in Bean Curd Skin Roll
I've never ordered this dish before and to be honest, I sort of regretted it. The bean curd skin was crispy but oily and I couldn't quite taste the banana taste, probably due to the minuscule amounts present. The prawns were fresh though, but had their sweetness curtailed by the taste of the bean curd skin.


Steamed Pork Dumpling with Chinese Cabbage and Dried Scallop
The steamed pork dumpling aka
Siew Mai
was quite well done - tasty yet light on the palate. No oily residue or overwhelming pork taste to contend with. Definitely one of the better
Siew Mais
that I've tried.
Steamed Bun with BBQ Pork
A rather average rendition of the
Char Siew Bao
. The pastry was a little too thick and the
Char Siew
filling a little too sweet. Luckily it was served piping hot, which served to cover up most of its flaws (It helped that we were starving too).
Steamed Prawn Dumpling with Century Egg and Pink Ginger
This has got to be one of the weirdest
Har Gao
that I've ever eaten, with the addition of ginger and century egg. I appreciate the sense of innovation, but I really dislike ginger, especially when it comes in a sizable piece! That aside, the skin was relatively thin and not too starchy, with the prawns being fresh and crunchy. If only they would do something about the ginger. Oh and did I mention that there was no taste of century egg whatsoever?
Deep Fried Bacon Roll with Golden Mushrooms
My personal favourite, the Deep Fried Bacon Roll with Golden Mushrooms. As the name suggests, the golden mushrooms are wrapped with a layer of bacon and then coated with flour before deep frying it to a crisp. The result? A nice crispy layer of batter complementing the slightly salty bacon roll with the added crunchy texture of the golden mushroom. Even my colleague liked it!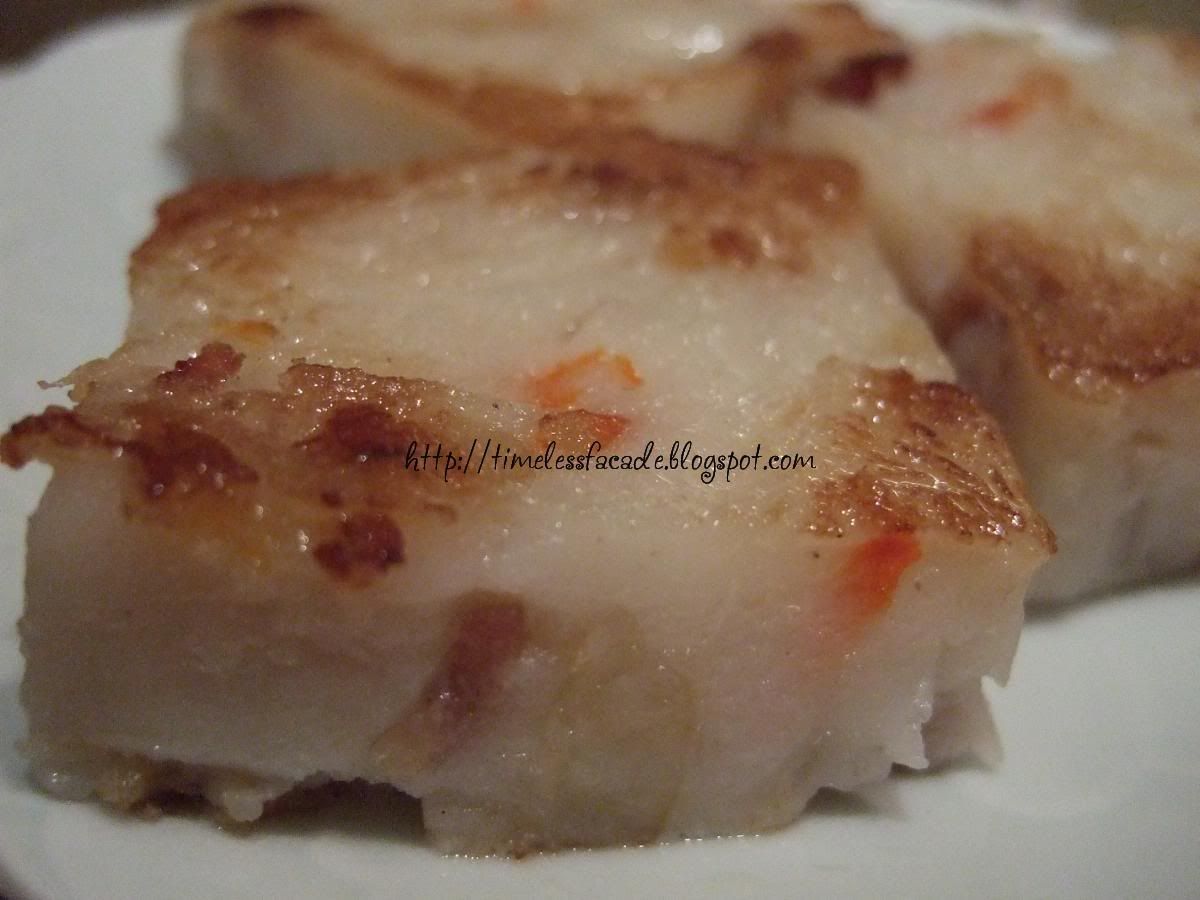 Pan Fried Carrot & Radish Cake with Chinese Sausage and Dried Shrimp
Disappointing sums this dish up. True, it was softer and silkier than your average carrot cake but it was so soft that it became a little gross. Nowhere close to the likes of
Royal China
or
Wah Lok
.
Baked BBQ Pork Pastry with Pork Floss & Cheese
Another innovative dish from Szechuan Kitchen -
Char Siew Sou
with cheese. The pastry had a distinct hearty oven baked taste but the
Char Siew
filling was a little bland. However, this was where the pork floss came into play, breathing a light sweetness into the whole dish. I could detect the presence of the cheese as well, but in a more subtle milky variant. All in all, an innovation well done.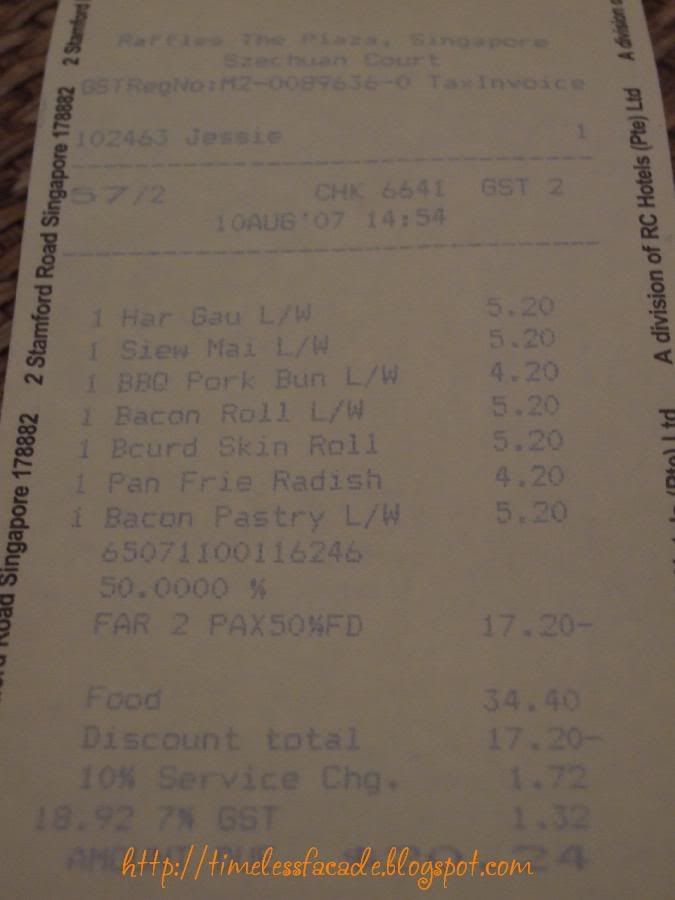 Bill
The bill came up to just over $40 (before discount, $20 after discount) for a non filling dim sum lunch for 2, which in my opinion, is relatively expensive for the quantity and merely above average quality of food. Service was generally faultless but could have been friendlier.
Likes: Rather innovative dim sum offerings
Dislikes: Pricey, merely above average food

Final Verdict:
Ambience:7/10
Service:7/10
Food:6.5/10
Value for money:6.5/10

Overall:6.75/10

Address: Level 3, Raffles The Plaza

Contact: 6431 6156

Opening Hours:

Lunch
Monday to Friday - 12:00 noon to 2:30 pm
Saturday, Sunday and public holidays - 12:00 noon to 3:00 pm

Dinner
Daily - 6:30 pm to 10:30 pm