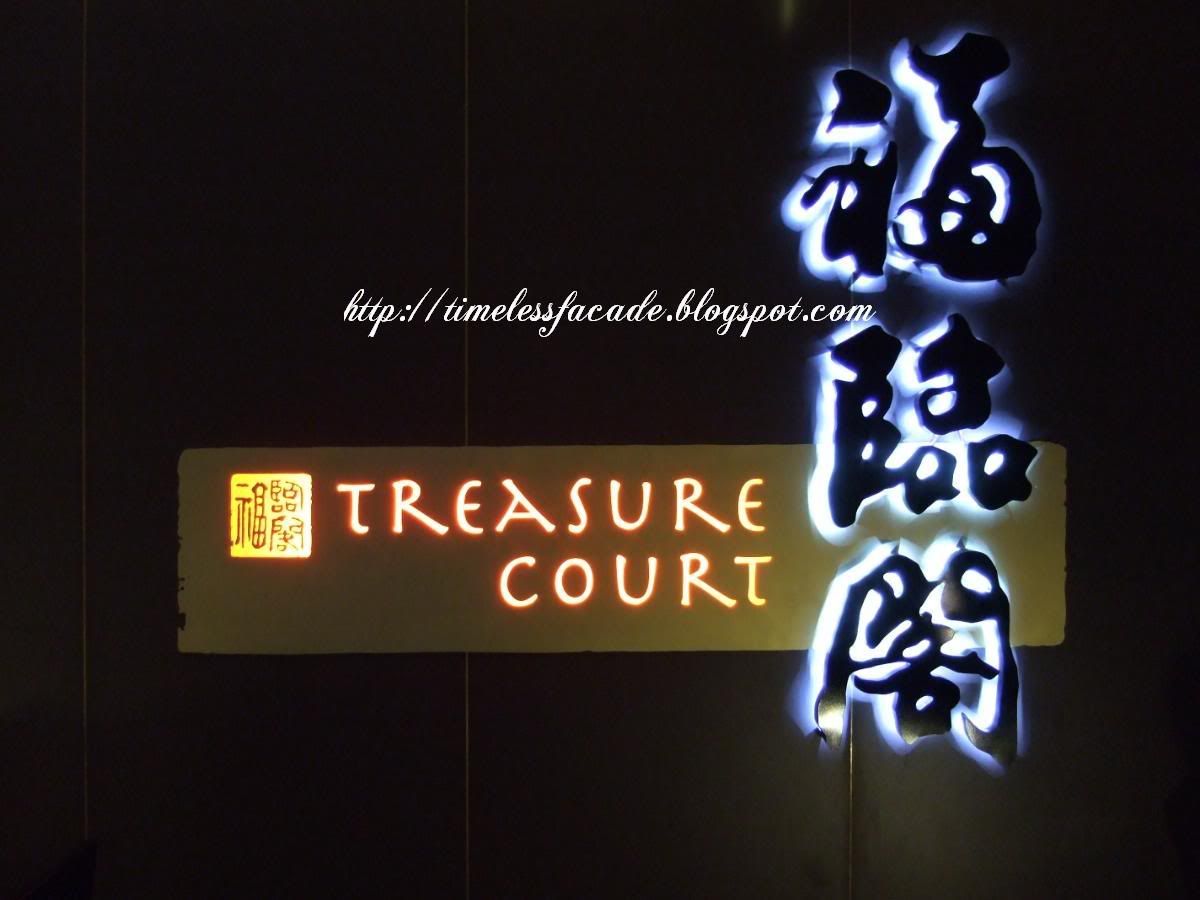 Swanky Millenia Walk finally has a Chinese restaurant with the grand opening of Treasure Court just last Friday. Owned and operated by The Mushroom Pot group, this is the group's first foray into mainstream Chinese cuisine.
Exterior & Interior
Located along the row of food outlets just opposite Conrad Centennial Hotel nearing Temasek Boulevard, Treasure Court seemed to blend it very well with its immediate Japanese Neighbour, so much so that we almost missed it. They could probably do with better visibility in the form of added signages along the carpark to inform potential customers of their existence.

At first looks, the restaurant was rather small, with about 10-15 tables in sight and probably about another 5-10 tables hidden in the private rooms. Decor was simplistic and a tad cosy through the use of clean white walls, overhanging Chinese style lamps and floor to ceiling glass windows.


Menu


Fresh Lobster Salad Served in Crispy Dough Cup
This dish was actually quite good with servings of fresh fruits together with lobster in a crispy
keropok
like cup and drizzled with mayonnaise. The fruits were sweet and went very well with the slices of lobster and the dough cup. Pity about the minuscule servings of lobster though.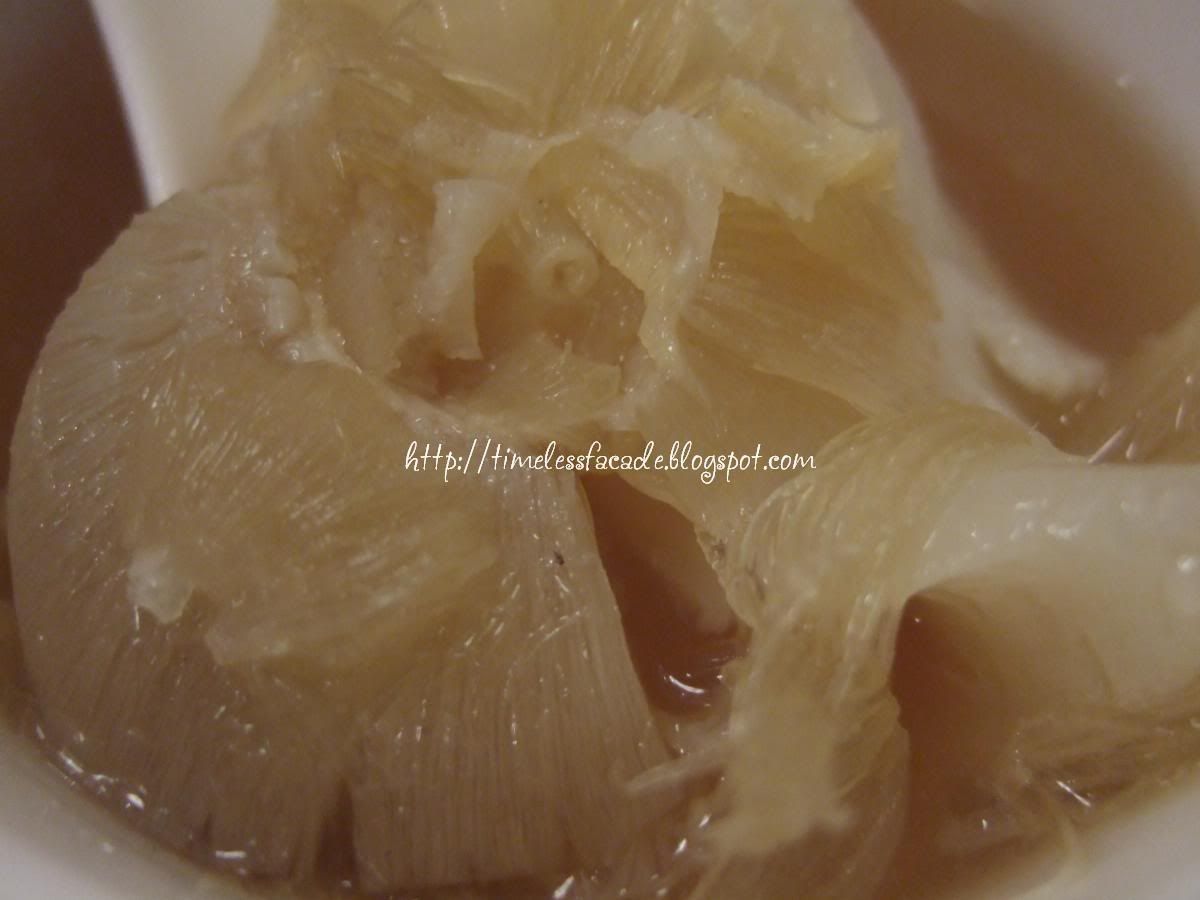 Doubled Boiled Shark's Fins with Fish Maw & Bamboo Piths Soup
For the price, I certainly didn't expect alot of fins or quality fins for that matter. But I was wrong. The servings of fins were generous and of relatively decent quality. The broth was light yet hearty, making for a tantalising dish. On a side note, there were 2 different types of fish maw in the soup. The fried variation and the raw kind, both not exactly my cup of tea.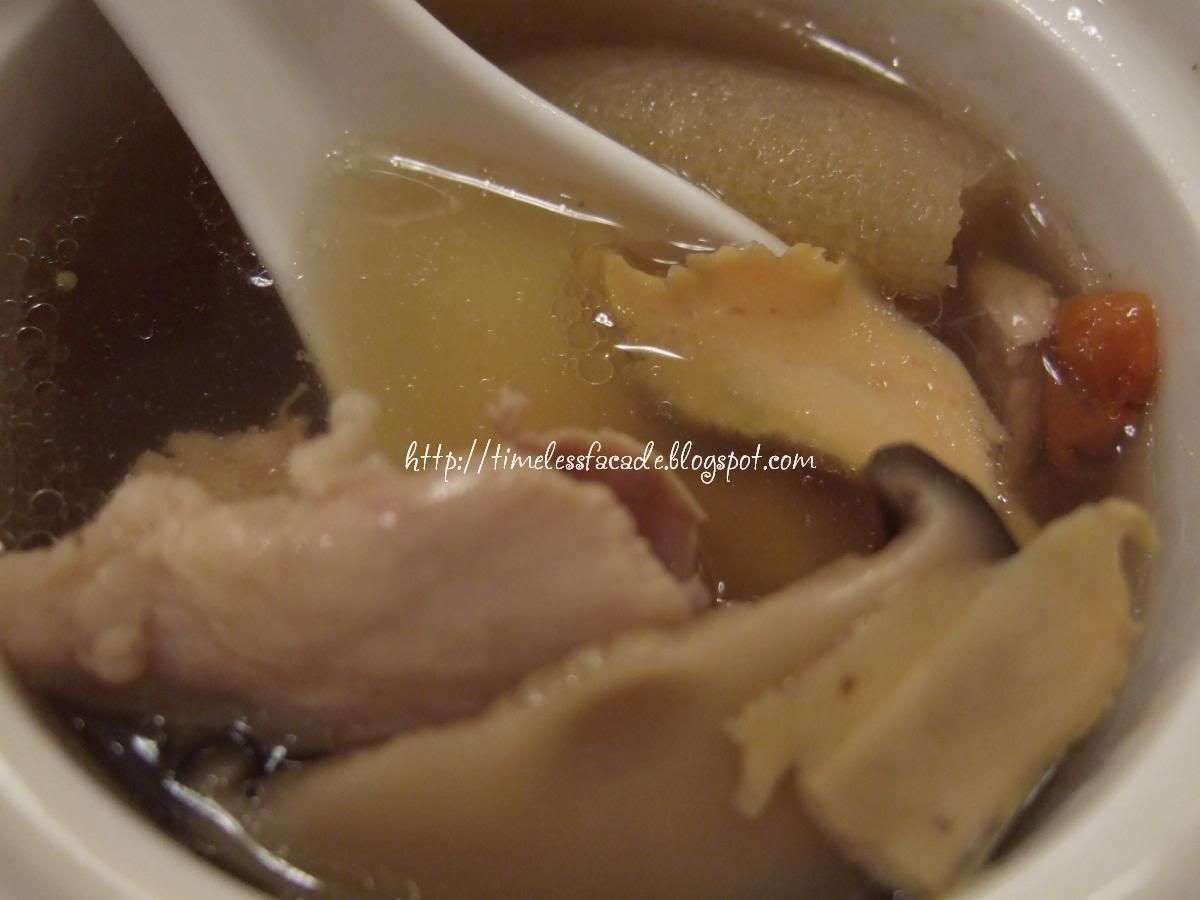 Complimentary Soup

As this was a complimentary soup, courtesy of one of the senior managers there, I didn't quite get the name of it. In all honesty, this soup actually tasted better than the shark's fin soup. It was chockfull of ingredients such as abalone slices, pork, chicken, wolfberries and a tubular like substance that tasted suspiciously like a cross between pig skin and fish maw. Being light and sweet and not to mention healthy, this soup had a double edged effect of nourishing everyone as well as filling us up really fast. Truth is, we were bloated after drinking it and this was only the 3rd dish!

Braised Wild Mushroom with Dried Scallop

Flashbacks of the traditional Teochew dish, Cabbage with dried scallops, greeted me as I set my eyes on this dish. Honestly, it tasted very similar as well, coming across as soft and mashed up and not to my liking. The wild mushrooms also tasted a little too raw for my liking or anyone's liking for that matter.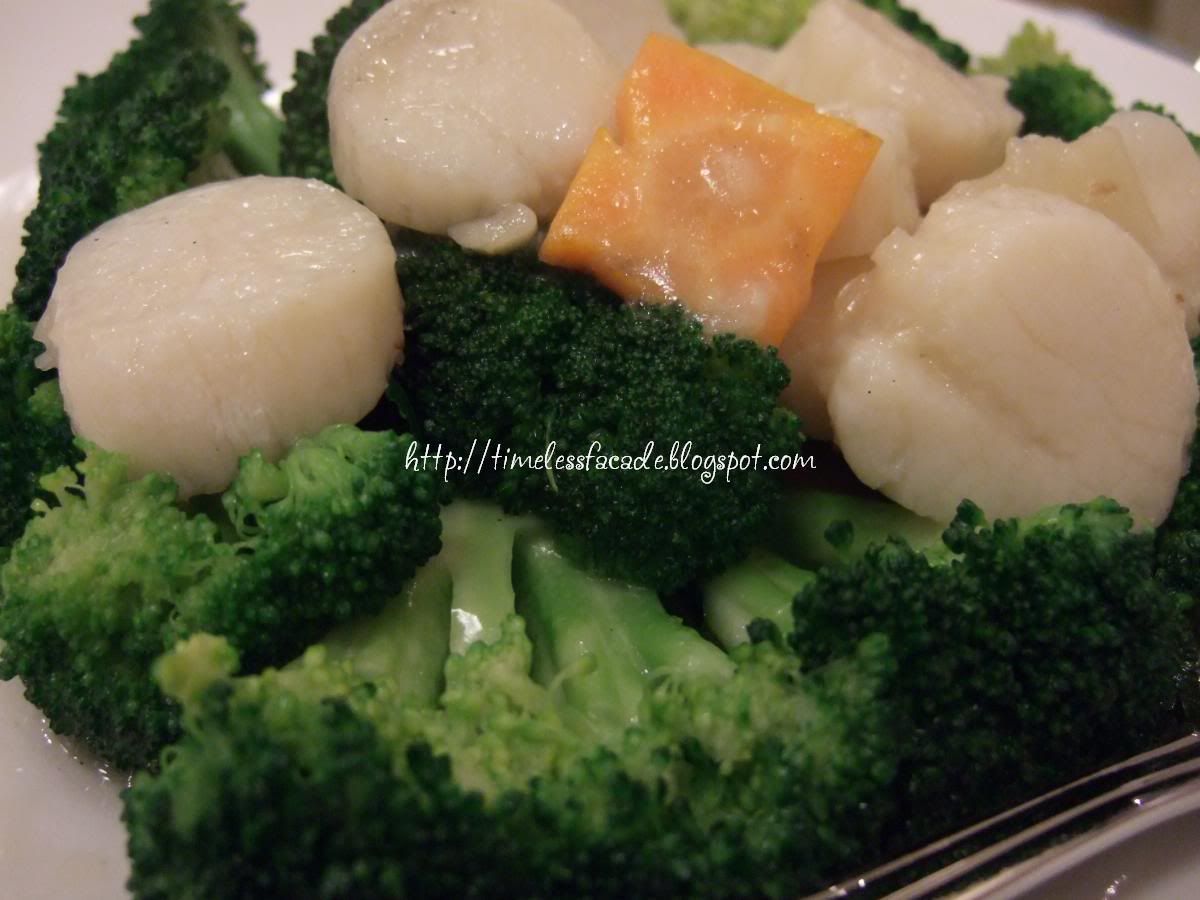 Sautéed Fresh Scallop with Broccoli

Alright this dish was supposed to be Sautéed Fresh Scallop with Asparagus, but they ran out of asparagus so we had to make do with Broccoli, which really wasn't a bad choice at all. The broccoli was crunchy and a little salty/buttery whereas the scallops were fresh and void of the overpowering raw taste.


Baked Cod Fish with BBQ Sauce
I had my initial skepticisms about this dish as I strongly believe that coating such an expensive fish with batter and baking it is akin to mincing Wagyu beef and making it into a patty. ie.
Iggy's
- a total waste. My reservations were actually unfounded as the fish was moist yet retaining its firm texture. However I must point out that the batter had a tinge of oil aftertaste, which isn't exactly ideal for such a dish, especially when cod fish itself isn't very flavourful to begin with. Refined fish and chips, anyone?
Steamed Fragrant Rice with Prawn Wrapped with Lotus Leaf
I had expected this to be something like
Lo Mai Fan
or
Luo Mi Fan
and boy, was I wrong. It looked the same, but tasted totally different. For starters, it wasn't the usual sticky glutinous rice, but normal rice steamed with chicken, prawns, gravy and wrapped in a large piece of lotus leaf. The result? A non sticky, less oily, fragrant and light on the taste buds rice dish. But here's a warning though. Eating too much will still render you nauseous.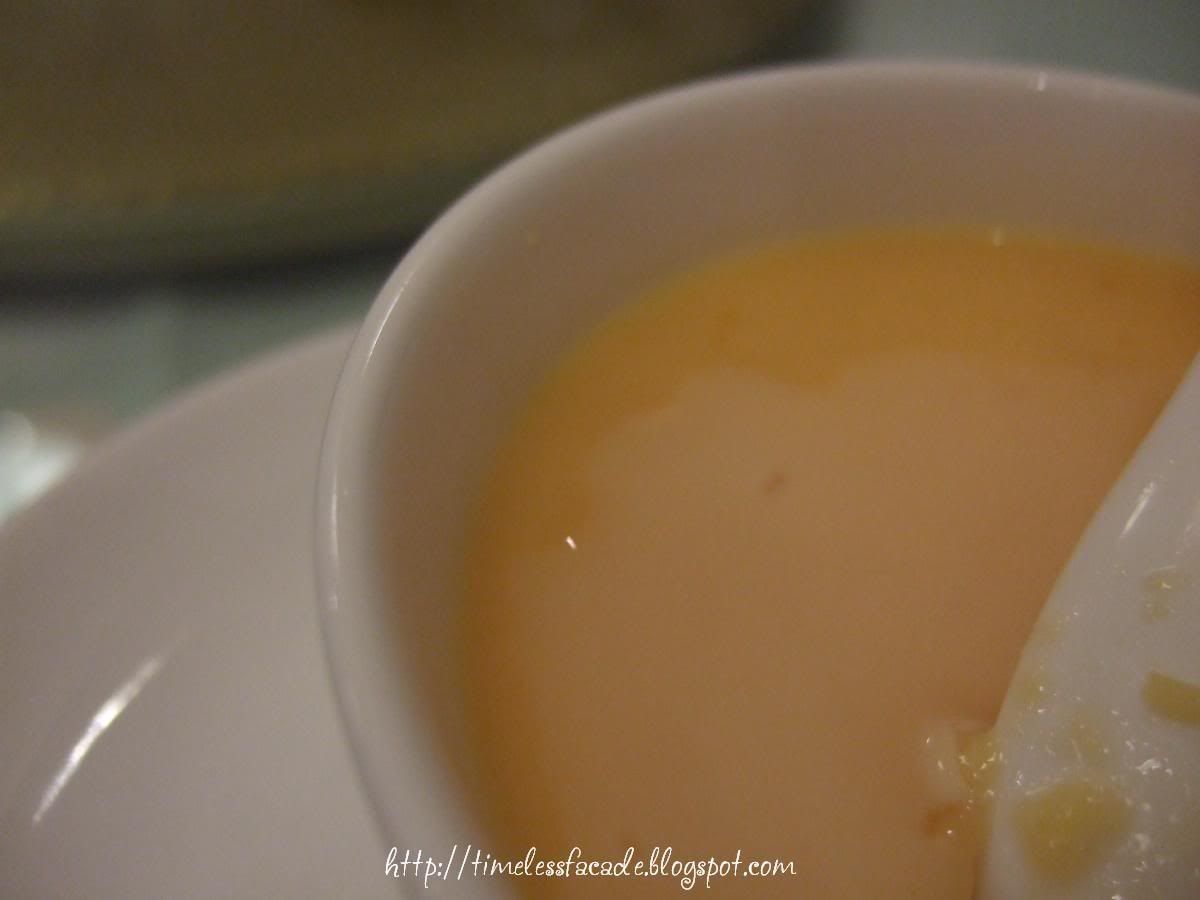 Mango Pudding
The Cream of Red Bean with Lotus Seeds Soup was out as well so we could choose any dessert off the menu, subject to availability. I had the mango pudding, which was way too ordinary to even blog about.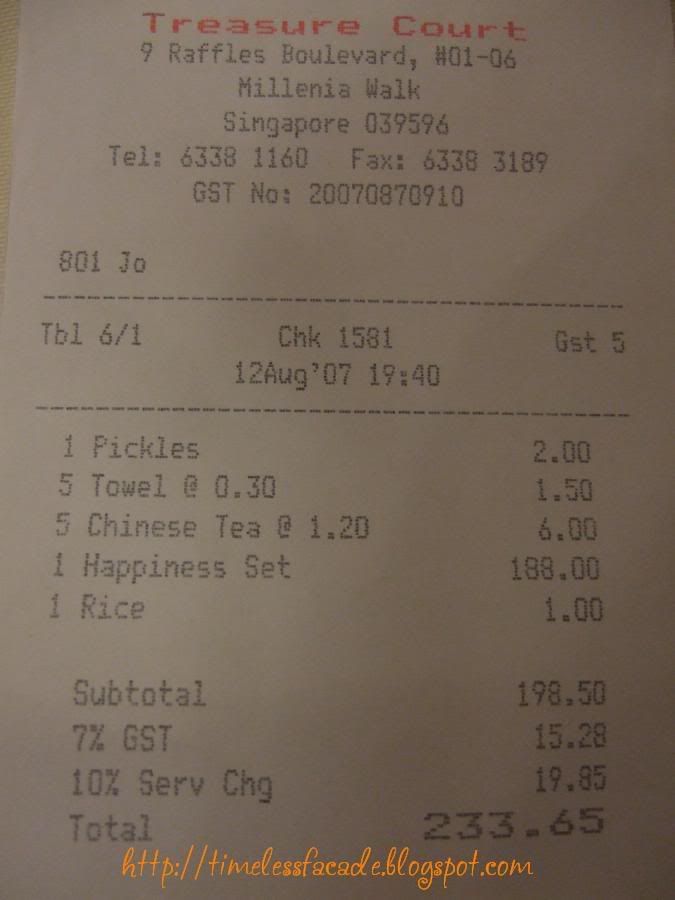 Bill
Although we had ordered a set meal for 4 pax, the portions were big enough to leave 5 of us satisfied. I must add that the meal wasn't exactly hearty though, but tended more towards finesse. What really filled us up was the soup, which strangely enough, had this weird ballooning effect. However, the general quality of the food is undeniable and $234 for 5 pax really isn't too much to pay. Service is excellent and friendly as well, paving the way for a potential revisit.



Likes: Good food, excellent service
Dislikes: Some dishes can be a little pricey

Final Verdict:
Ambience:7.5/10
Service:8/10
Food:7.5/10
Value for money:7/10

Overall:7.5/10

Address: #01-06 Millenia Walk, 9 Raffles Boulevard

Contact: 63381160

Website: http://www.treasurecourt.com