Had dinner with my parents at Borshch Steakhouse, a Russian restaurant run by a Hainanese (How weird) and just a mere 10 minute walk from our house. Not much is known about Borshch (I tried googling!) except for the fact that its been around since god knows when. I probably wasn't even in existence then!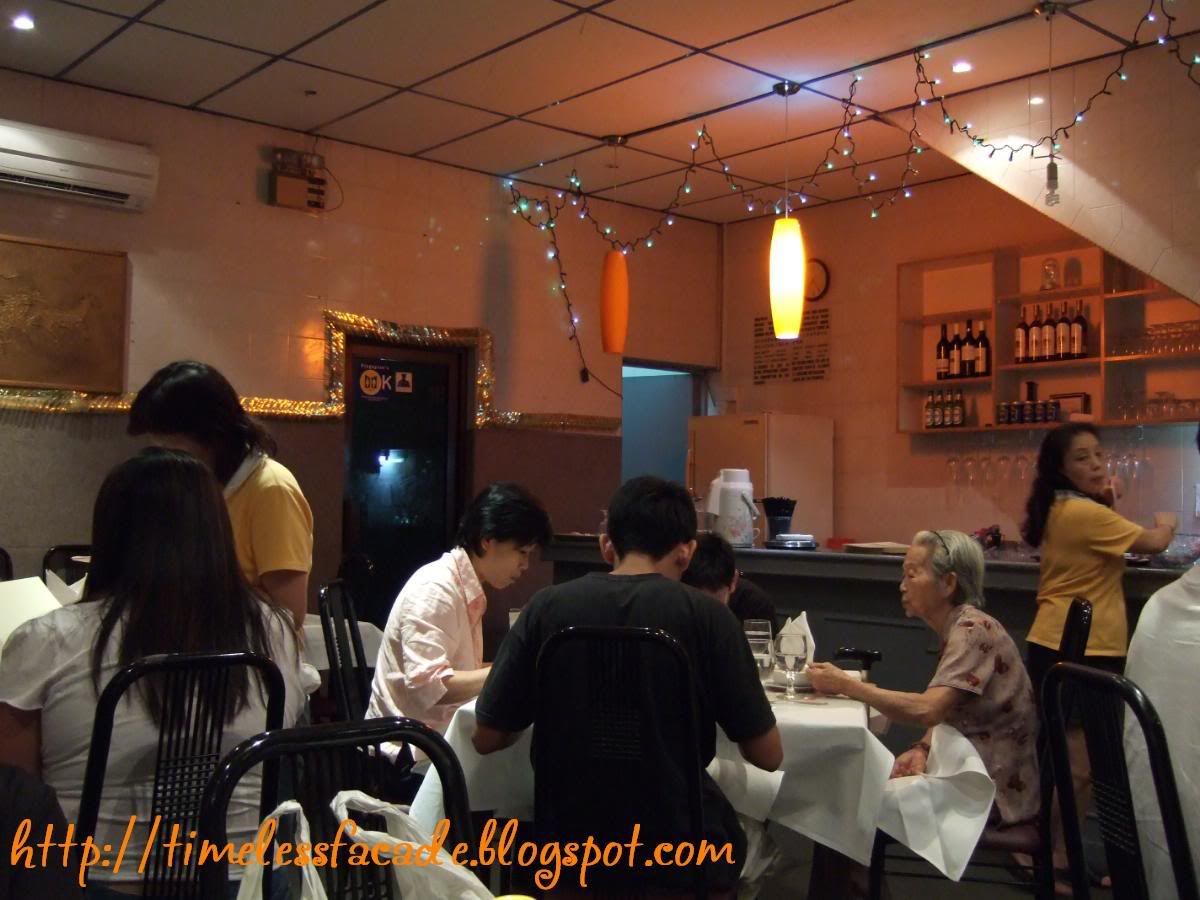 Interior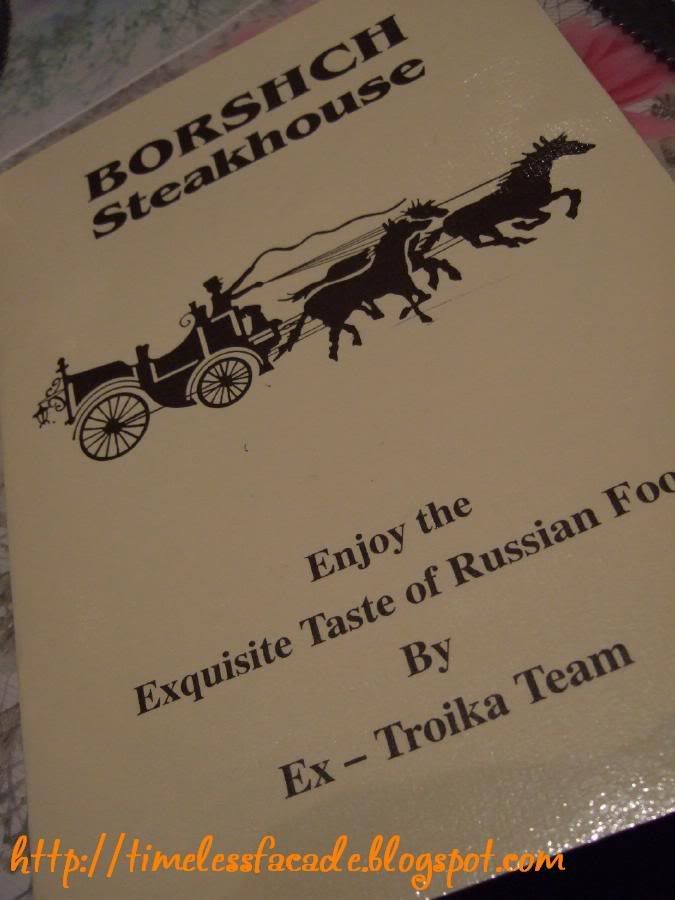 Menu
Going to Borshch for a meal is akin to stepping into an air conditioned grilling area as you walk out of it reeking strongly of cooking fumes. It certainly doesn't help that the place is rather small and crampish which only serves to contain the fumes.


Cream of Mushroom and Garlic Bread
Whats a meal without soup? The cream of mushroom soup was thick and starchy and tasted exactly like the can of Campbell soup I have sitting in my kitchen cabinet. In the same vein, the garlic bread was unremarkable and was merely slices of unevenly toasted but crispy baguettes spread with a thin layer of butter atop.


Shrimp Cocktail
I honestly don't know what to make of this appetiser as the shrimps were really tiny! Not that they tasted fresh either, masked by the overwhelming and over generous salad dressing.


Grilled Pork Chop
For a Hainanese run eatery, I would have expected a reasonably good dish of pork chop and Borshch didn't disappoint. The grilled pork chop was evenly grilled with a nice slightly chewy texture to boot. I did find the slab of meat to be a little too fatty though.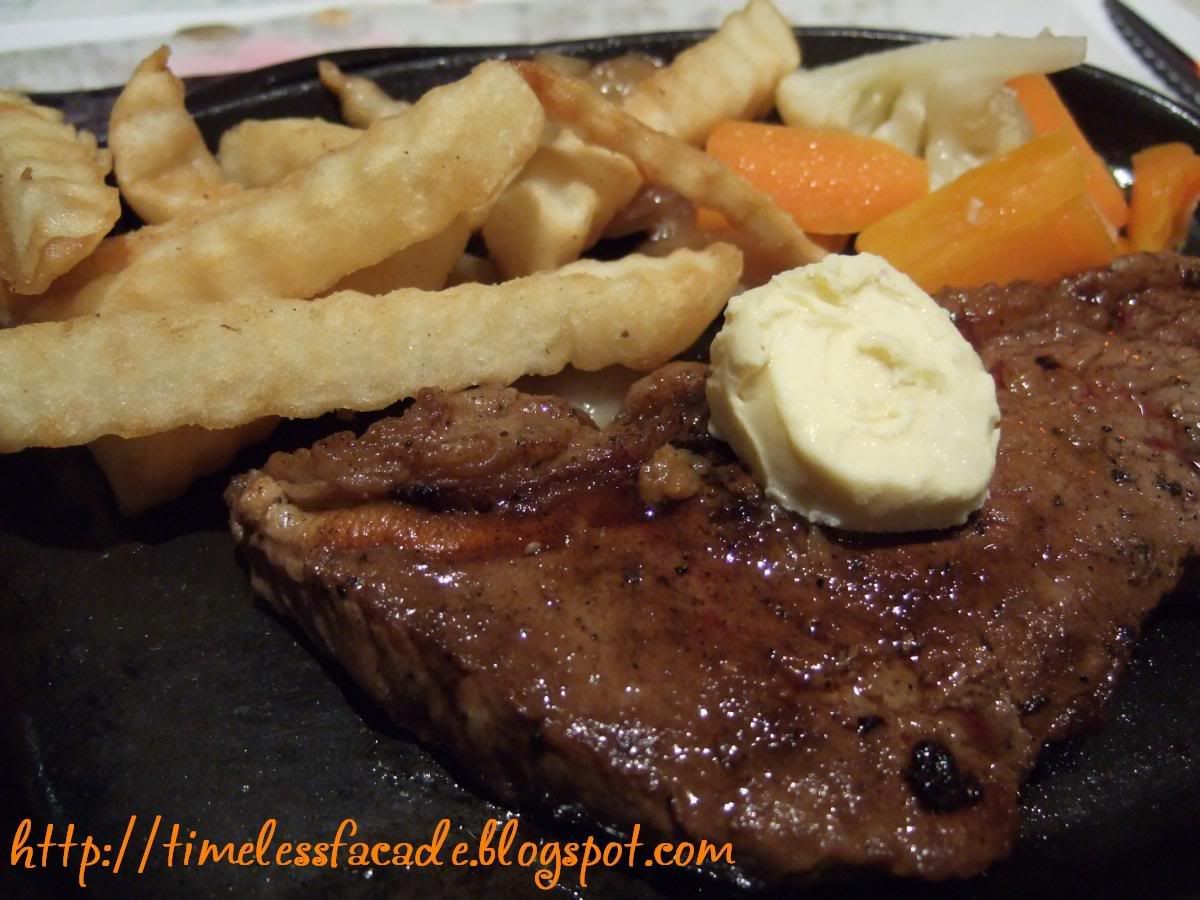 Sirloin Steak


I was rather skeptical about ordering a steak in such a place, especially when Astons was just next door. However, skepticism soon turned to mild appreciation as I subjected the steak to the taste test. First of all, the steak was done as per my request, medium rare. Second, the meat was fibrous and a tad tasty even without the accompanying gravy. Portions were also quite respectable for the price. I also personally like this dish for the fact that a small mold of butter was allowed to sizzle in the hotplate to give the meat an added boost in terms of taste and smell.
Fancy Pancake and Peach Melba
The desserts were lousy. I couldn't see or taste what was so fancy about the pancake save for a tiny slice of banana wrapped up in the middle. The ice cream in the Peach Melba had ice chips in it and tasted familiarly like Wall's tub ice cream. Four words. I can do better.


Baked Alaska
No visit to a Russian eatery is complete without an order of the famous Baked Alaska, which is essentially ice cream and sponge cake encased within a thick layer of meringue which is then briefly placed in an extremely hot oven to firm the meringue. Borshch's rendition was a slight variation of the original concept, opting to pour a small quantity of rum onto the meringue and flambéing it till it turned a shade of burnt. I personally found it quite good, with the meringue frothy and blending well with the sponge cake and ice cream. Then again, not many places in Singapore do up this dish so its hard to form any basis for comparison. Please note that this dessert is meant to be shared.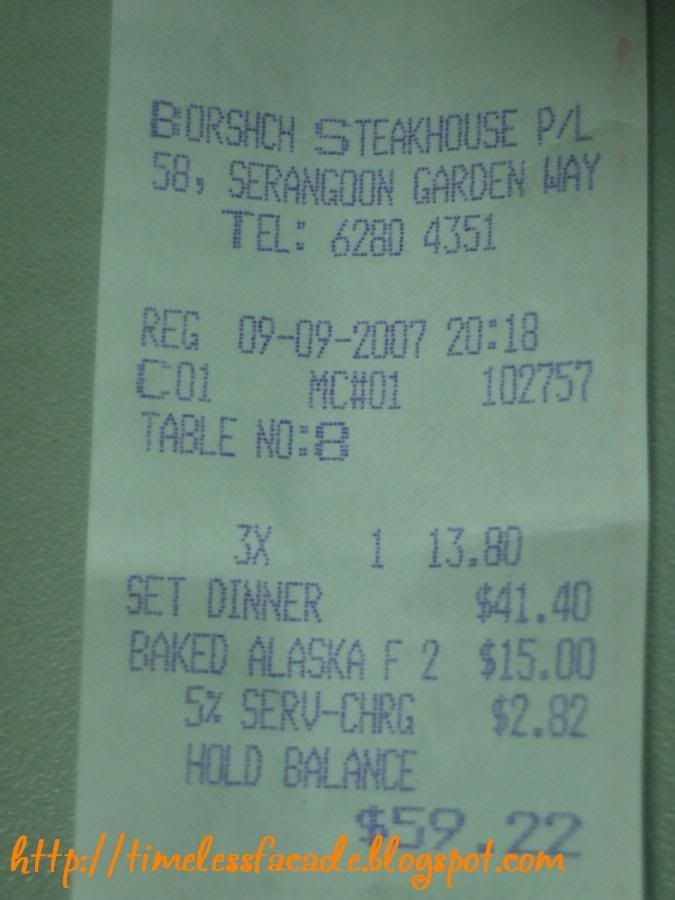 Bill
A decently satisfying dinner for 3 cost almost $60, which isn't too expensive to pay considering that the mains were decent and so was the Baked Alaska. Service is practically nonexistent though so please do not expect any. Now, they really should do something about the ventilation.



Likes: Reasonably priced, some dishes are decent
Dislikes: Non existent service, some dishes are bad, bad ventilation

Final Verdict:
Ambience:6/10
Service:6/10
Food:6.5/10
Value for money:7/10

Overall:6.375/10

Address:58 Serangoon Garden Way

Contact: 62804351

Opening Hours: 11.00am to 3.00pm & 6.00pm to 10.00pm Daily